14 Nov
World Meteorological Organisation figures show global temperature is 1.2C above pre-industrial levels and will set a new high for the third year running
A heatwave in India where temperatures were recorded at 51.0C. Climate change means the occurrence and impact of extreme weather events has risen. Photograph: NurPhoto/Getty Images
2016 will very likely be the hottest year on record and a new high for the third year in a row, according to the UN. It means 16 of the 17 hottest years on record will have been this century.
The scorching temperatures around the world, and the extreme weather they drive, mean the impacts of climate change on people are coming sooner and with more ferocity than expected, according to scientists.
The World Meteorological Organization (WMO) report, published on Monday at the global climate summit in Morocco, found the global temperature in 2016 is running 1.2C above pre-industrial levels. This is perilously close to to the 1.5C target included as an aim of the Paris climate agreement last December.
The El Niño weather phenomenon helped push temperatures even higher in early 2016 but the global warming caused by the greenhouse gas emissions from human activities remains the strongest factor.
"Another year. Another record," said WMO secretary-general, Petteri Taalas. "The extra heat from the powerful El Niño event has disappeared. The heat from global warming will continue."
"Because of climate change, the occurrence and impact of extreme events has risen," he said. "'Once in a generation' heatwaves and flooding are becoming more regular."
The WMO said human-induced global warming had contributed to at least half the extreme weather events studied in recent years, with the risk of extreme heat increasing by 10 times in some cases.
"It is almost as if mother nature is making a statement," said climate scientist Michael Mann, at Penn State University in the US. "Just as one of the planet's two largest emitters of carbon has elected a climate change denier [Donald Trump] – who has threatened to pull out of the Paris accord – to the highest office, she reminds us that she has the final word."

US president says it is in world's interest for Greece to stay in eurozone and praises EU as 'one of greatest political and economic achievements of modern times'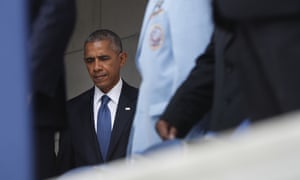 Barack Obama will shortly embark on a trip to Europe, which will be his final state visit as president. Photograph: Pablo Martinez Monsivais/AP
The US president, Barack Obama, has signalled he will use a critical two-day visit to Athens this week to step up calls for the country to be given "meaningful debt relief".
Weighing in on the potentially explosive issue of how best to revive the European Union's most financially strained member state, the outgoing president said debt forgiveness would play a pivotal role in giving people hope. "I am a strong believer that to make reforms sustainable, people need hope," he told the Greek newspaper Kathimerini before the trip, which will be his final state visit before leaving office. "The International Monetary Fund has said that debt relief is crucial to put Greece's economy on a sustainable path and set the stage for a return to prosperity."
Obama, who has blamed the excoriating effects of austerity on Europe's slowing growth, said while Athens needed to implement reforms, a nominal write-down would help reignite an economy that has lost over 25% of its output since the nation's financial woes first surfaced seven years ago. At around €330bn (£284bn), or 180% of gross domestic product, Greece's staggering debt is by far the biggest in the EU.
"That is why I will continue to urge Greece's creditors to take the steps needed to ensure the country is well placed to return to robust economic growth, including by providing meaningful debt relief," he said in the interview. "Getting that done would not only fuel the Greek economic recovery, it would show that Europe can make its economy work for everyone."

Committee vote puts Israel on track for clash with courts and international community over illegal settlements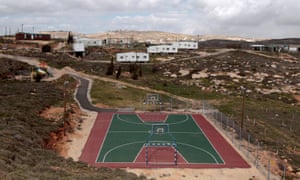 The bill has been pushed through to try to prevent the demolition of the illegal outpost Amona, north of Ramallah. Photograph: Baz Ratner/Reuters
The Israeli government has set itself on a collision course with international opinion – and its own legal system – after a ministerial committee voted unilaterally in favour of a bill to "legalise" outposts Israel previously regarded as illegal.
Critics say that if the proposed bill passes into law it will allow the "theft" of any Palestinian-owned land, while others, including those on the right, say it endangers Israel's international standing.
The vote by the ministerial committee for legislation on Sunday evening came despite the bill being opposed by the prime minister, Benjamin Netanyahu, and the attorney general, Avichai Mandelblit, who described it as indefensible.
While all Israeli settlements in the occupied West Bank and east Jerusalem are regarded as illegal by most of the international community, outposts built by hardline settlers without Israeli government approval have also been treated as illegal by Israel.
The opposition leader, Isaac Herzog, said the proposed legislation was a "serious stain on Israel law books, because it authorises theft and robbery. There is no precedent, nothing like it, in which the Israeli government authorised a law that allows taking land from private people."
The Israeli anti-occupation group Yesh Din said in a statement: "The regulation (outpost) bill approved today … is a legal stunt designed to legally sanction takeover of Palestinian land in the West Bank.
"This bill is discriminatory and authorises exploitation – confiscation of Palestinian landowners' ability to make use of their land, denying them the right to appeal."
The proposed law must still pass the Knesset but Sunday's vote means it will have coalition support as it proceeds. It could still be challenged in court.
The bill was one of two controversial pieces of legislation to be approved by the committee on Sunday. A second seeks to ban loudspeakers for the Muslim call to prayer.

Native Americans fear that the Dakota Access oil pipeline – a $3.7bn project that would carry crude oil from the Bakken oil field in North Dakota to a refinery in Patoka, Illinois – would contaminate sacred lands and their water supply from the Missouri river. Here, protesters at a camp near the Standing Rock Sioux reservation give their views on what the election of Donald Trump might mean for their campaign

Source: CBS / 60 minutes
President-elect Donald Trump maintains his pre-election pledge to build a wall on the US border with Mexico and says he plans to deport up to 3 million undocumented immigrants. Speaking to CBS's 60 Minutes, broadcast on Sunday, Trump admits that fencing may form part of his wall
Internal investigation under way in Traverse City, Michigan, after off-duty officer drove his pickup truck bearing flag near group protesting against election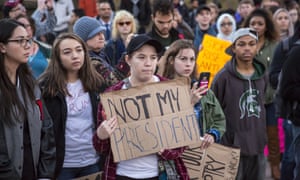 Students at Wayne State University protest the election of Donald Trump as US president in Detroit, Michigan. Photograph: West/Zumsa Wire/Rex Shutterstock
Associated Press in Traverse City, Michigan
A northern Michigan police officer has been suspended with pay after he was seen off-duty driving a pickup truck bearing a Confederate flag around a group protesting against the election of Donald Trump as president.
There have been numerous reports of threats, intimidation and racially charged violence around the country since Trump defeated Democrat Hillary Clinton on Tuesday.
Officer Michael Peters' suspension was announced on Sunday by Traverse City police chief Jeff O'Brien, who earlier said an internal investigation would start on Monday to see whether Peters broke any departmental rules.
"He is not working as a police officer," O'Brien told the Traverse City Record-Eagle. "I do not condone his actions."
O'Brien confirmed that Peters was in a photo taken at Friday's rally. The newspaper could not reach Peters for comment, and the Associated Press was unable to find a telephone number for Peters.
The Confederate battle flag is seen by many people as a symbol of hatred and intimidation of African Americans following the civil war and the end of slavery.
Its official use in southern states came under pressure in 2015, after a shooting at a church in Charleston, South Carolina in which nine African American members of a bible study group were killed by a gunman who was later found to have posed for photographs with the flag.
The flag was flown from the rear bed of a pickup near a "Love Trumps Hate" rally in the city. The truck was then parked near the rally where the driver was seen drinking a beer.
O'Brien said the behavior was intimidating and not a reflection of the police department's mission, according to the newspaper.
"We will get through this," O'Brien said. "The community will get through this."
More:

From science denial to xenophobia to misogyny, Trump brings out the worst in Americans, and wants to reverse 50 years of progress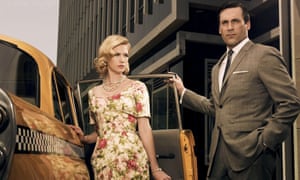 Characters Betty Draper and Don Draper from the television show Mad Men, which depicts the era Donald Trump would like to return America to. Photograph: Allstar/LIONSGATE TELEVISION
In September, Hillary Clinton came under fire for suggesting that half of Donald Trump's supporters belonged in "a basket of deplorables" consisting of "the racist, sexist, homophobic, xenophobic, Islamaphobic – you name it."
How did we get here?

Saturday Night Live opening sketch, 05 November 2016.
The nightly news programs have devoted zero time to discussing the candidates' climate plans. Media false balance has struck again.
Many are puzzled that a candidate with such generally unpopular policy plans and who has been endorsed by the KKK could be supported by over 40% of Americans and have a chance at winning the presidency of the United States. Unfortunately we seem to have entered a post-truth era in which facts simply don't matter.
The two American political parties have become so different that swing voters have virtually gone extinct and most conservatives would vote for Mister Ed, were he the Republican Party nominee. Political ideology trumps facts, truth, and reality. And Trump's support comes heavily from a single demographic: white men, mostly older and without a college degree.
Trump wants to regress to the white male-dominated 1950s

The Trump campaign slogan "Make America Great Again" suggests that he wants to return the country to some bygone era. Based on the candidate's words and his supporters' feelings about science, women, and minorities, that era resembles the 1950s.
These characteristics fit the era that Trump and his supporters appear to yearn for – an era in which white men dominated American society. Older, white male Americans who comprise the core of Donald Trump's base are also the predominant climate science-denying group in the country. Social scientists theorize this is due to the group's historical societal advantages. They have benefited from the societal status quo, and hence are least concerned with risks, especially when addressing those risks would mean changing the status quo from which they benefited.
Like it or not, the status quo is changing
White, male Americans are in the process of losing those historical societal advantages. As minority populations grow, they're losing their grip on the American majority. The first racial minority president was elected and re-elected. Women are approaching even footing with men in the labor force. Even social norms are changing, for example with gay marriage becoming legal.
You have a fateful choice to make. The policies of candidates and parties on climate change could hardly be more different. Hillary Clinton would continue to work with the international community to tackle the global warming crisis and help the transition to modern clean and renewable energies. Donald Trump denies that the problem even exists and has promised to go back to coal and to undo the Paris Agreement
If they resist this trend, I don't think they'll win the support of their people, and their country's economic and social progress will also be affected. I believe a wise political leader should take policy stances that conform with global trends
Americans: don't vote to reverse half a century of progress
Donald Trump's goal is to make America Mad Men again by reversing the progress we've made over the past half century and returning the country to a 1950s era-style society dominated by white men.

For a change from the same old news stories from the same old news networks, here are links to English-edition online newspapers from other parts of the world. Nearly all of these are English-edition daily newspapers. These sites have interesting editorials and essays, and many have links to other good news sources. We try to limit this list to those sites which are regularly updated, reliable, with a high percentage of "up" time.
Some of the available newspapers:
| | | |
| --- | --- | --- |
| Asia & CIS | | |
| | | |
| --- | --- | --- |
| China | | |
| | | |
| --- | --- | --- |
| China & Hong Kong | | |
| | | |
| --- | --- | --- |
| France | | |
| | | |
| --- | --- | --- |
| Israel | | |
| | | |
| --- | --- | --- |
| Norway | | |
| | | |
| --- | --- | --- |
| Palestine | | |
| | | |
| --- | --- | --- |
| Russia | | |
| | | |
| --- | --- | --- |
| Ukraine | | |
.