16 Nov
Tribunal has not lived up to hopes of international community, Moscow says, day after ICC report on Crimea annexation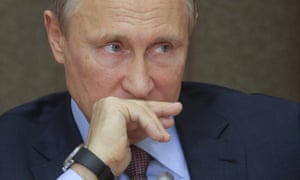 Vladimir Putin has issued a decree for Russia to withdraw from the Rome statute of the international criminal court. Photograph: Mikhail Metzel/TASS
Russia has said it is formally withdrawing its signature from the founding statute of the international criminal court, a day after the court published a report classifying the Russian annexation of Crimea as an occupation.
The Russian foreign ministry made the announcement on Wednesday on the orders of president Vladimir Putin, saying the tribunal had failed to live up to hopes of the international community and denouncing its work as "one-sided and inefficient".
Russia signed the Rome statute in 2000 and cooperated with the court, but had not ratified the treaty and thus remained outside the ICC's jurisdiction. This means that the latest move, though highly symbolic, will not change much in practice.
"This is a symbolic gesture of rejection and says a lot about Russia's attitude towards international justice and institutions," said Tanya Lokshina. of Human Rights Watch. "On a practical level it will not make much difference, but it is a statement of direction: it shows that Russia no longer has any intention of ratifying the treaty in future or of cooperating with the court."
In January, the Russian foreign ministry said it would reconsider its attitude to the court after rulings on the 2008 war between Russia and Georgia.
At the time, the foreign ministry spokeswoman, Maria Zakharova, said: "Russia stood at the origins of the ICC's founding, voted for its establishment and has always cooperated with the agency. Russia hoped that the ICC will become an important factor in consolidating the rule of law and stability in international relations.
"Unfortunately, to our mind, this did not happen. In this regard, and in the light of the latest decision, the Russian Federation will be forced to fundamentally review its attitude towards the ICC."
On Tuesday, the court published a report that recognised the annexation of Crimea as a military conflict between Russia and Ukraine, and classified it as an occupation.
"According to information received, the situation in the Crimea and Sevastopol is equivalent to the international armed conflict between Ukraine and the Russian Federation," a preliminary report from the ICC prosecutor Fatou Bensouda stated.
"The Russian Federation employed members of its armed forces to gain control over parts of the territory of Ukraine without the consent of the government of Ukraine."

Businessman Ziad Takieddine repeats claim of Libyan funding days before former French leader seeks nomination for 2017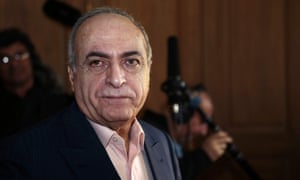 In a video on news site Mediapart, Ziad Takieddine says he handed over cases of cash to Nicolas Sarkozy. Photograph: Jacques Demarthon/AFP/Getty Images
A French-Lebanese businessman has publicly repeated claims that the former Libyan leader Muammar Gaddafi gave €50m (£43m) to fund Nicolas Sarkozy's successful 2007 campaign for the French presidency.
In a film published on the investigative news website Mediapart, Ziad Takieddine, who introduced Sarkozy to Gaddafi, insists he handed over cases stuffed with cash to the former French leader and his chief of staff, Claude Guéant.
Acting out the scene, Takieddine says in the video: "It was a case like that. It opened like this. And the money was inside."
He told Mediapart: "I have discovered things that should no longer be hidden. I wish to denounce the mafia state in which we are currently living."
The allegations first emerged five years ago, but Takieddine's claims are potentially damaging because they come days before Sarkozy seeks the presidential nomination of the centre-right Les Républicains party. The first round of the party's primaries, in which Sarkozy is trailing Alain Juppé, the mayor of Bordeaux, will be held on Sunday.
Outside the pool of candidates on the right, Emmanuel Macron, a former economy minister under François Hollande, is expected to launch his presidential campaign on Wednesday.
Sarkozy and Guéant have repeatedly denied taking money from Gaddafi. Guéant told Mediapart: "I have never received cash from the Libyan government or any other for that matter. Nor did I see any handed over. To claim otherwise is false and defamatory."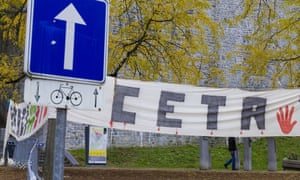 'The unfettered free trade we have now, based largely upon who can pay least to those producing our goods, is not fair trade. It has run its course,' writes Mike Mosley. Photograph: Thierry Monasse/AP
Matthew d'Ancona asserts that "the vigorous exchange of goods and labour is the greatest engine of prosperity the world has ever known" (Brexit meets Trumpism: the new special relationship, 14 November). Had he prefaced his remark with "the fair and vigorous exchange" I might have agreed with him. As it is, his comment is a meaningless mantra. Prosperity for whom? For a few, certainly, but not for millions of people in former manufacturing and mining areas, or for most people in those countries to which manufacturing and mining jobs have been transferred.
Matthew floats a scare story about hugely escalating costs of goods in the absence of free trade. Let me ask him this: would he support the free trade of goods produced by slaves, because it would make things even cheaper? I assume he wouldn't. But does he support those same goods being produced by people (often children, effectively in forced labour) paid pittances? Seemingly so, because that is the reality of much of current globalisation.
Fair trade should be welcomed. It is innovative and efficient. But the unfettered free trade we have now, based largely upon who can pay least to those producing our goods, is not fair trade. It has run its course. It has failed almost everyone and it is time the left woke up to that fact and grabbed the initiative from the far right, who have been allowed to benefit from the legitimate anger and frustration of ordinary people.
Mike Mosley
Norwich
•

A key lesson we need to draw from Donald Trump's election is that toxic trade deals like the US-EU agreement TTIP are as unwanted in American society as in Europe. Trump cynically exploited public anger about these deals to win the US presidency. But we know, like Ukip here, that Trump is actually in favour of deregulation, privatisation and putting profit before people. His policies will not serve the interests of working-class communities, they will simply divide them and create the sorts of international tensions that, in previous times, sparked world wars.
TTIP was killed off by a movement of ordinary people who believe in an open, equal and democratic society where diversity is embraced and everyone's rights are respected. We objected to TTIP because it would be bad for ordinary people and will hand power to big money – to businessmen like Donald Trump.
We know that politicians are now fearful of opposing deals like Ceta – the EU-Canada deal which is currently making its way through the European parliament. This is exactly the wrong lesson to pull from Trump's election. To defeat the politics of racism and hatred represented by Trump and the far right in Europe, we call on politicians to support economic policies that will benefit the majority of people, eradicate poverty, create decent jobs and good public services and halt climate change. The first step politicians in Europe must take is to vote to stop Ceta in the coming weeks.
Nick Dearden Global Justice Now, Mark Dearn War on Want, Molly Scott Cato Green party MEP, Dave Prentis Unison, Len McCluskey Unite, Kevin Courtney National Union of Teachers, Bert Schouwenburg GMB, Ruth Bergan Trade Justice Movement, Tim Flitcroft NoTTIP UK
•

Your report (Trump's bad jokes test fearful Mexicans' sense of humour, 14 November) is, presumably, referring to Nafta – the North American Free Trade Agreement – when it says "rules devised in Washington which impoverished Mexico's interior and sent millions north seeking work". But Nafta, far from being a unilateral imposition by Washington, was a Mexican initiative, devised by the Salinas administration (1988-94), and concluded after long and arduous bilateral negotiations. While its regional and sectoral impact can be debated (mass Mexican migration to the north long antedated the agreement and, in recent years, net migration has in fact ceased), Nafta has, on balance, benefited Mexico, in part by codifying the economic relationship and curbing American unilateralism. Which is why Trump wants to tear it up and the Mexicans are justifiably worried.
Emeritus Professor Alan Knight
St Antony's College, Oxford

Energy Transfer Partners accused the Obama administration of being motivated purely by politics and said it would pursue rights to build controversial oil line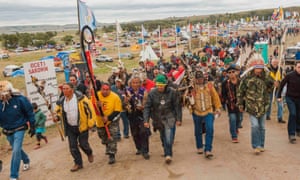 Protesters demonstrate against the Dakota Access pipeline near the Standing Rock Sioux reservation in Cannon Ball, North Dakota. Photograph: Andrew Cullen/Reuters
The operator of the Dakota Access pipeline has asked a federal judge to approve immediate construction under the Missouri river just one day after the US government delayed the oil project that has faced international opposition from indigenous groups and environmental activists.
Energy Transfer Partners, the owner of the $3.7bn pipeline, accused President Barack Obama's administration of being "motivated purely by politics" and said it would "vigorously pursue its legal rights" to build under the river that provides the Standing Rock Sioux tribe's water supply.
"Dakota Access Pipeline has waited long enough to complete this pipeline," CEO Kelcy Warren said in a statement. "It is time for the Courts to end this political interference and remove whatever legal cloud that may exist over the right-of-way beneath federal land at Lake Oahe."
The company said in court filings that the army's "intransigence in completing its review has already cost Dakota Access hundreds of millions of dollars" and that additional delays will result in further costs.
On Monday, the US army corps of engineers announced that it needed "additional discussion and analysis" – including consultations with the Standing Rock Sioux tribe – before it would issue a final permit for the DAPL to drill on army land under the river, striking a blow to the oil company. Further construction on army corps property is not allowed until the final permit is issued.
The company had been emboldened by the election of Donald Trump, who is invested in Energy Transfer Partners and Phillips 66, which will have a 25% stake in the pipeline once it is completed. Trump has indicated that he will favor fossil fuels over clean energy and has a history of conflict with Native American tribes, motivated by competition over casinos.
"I'm 100% sure that the pipeline will be approved by a Trump administration," Warren told NBC News on Saturday. "I believe we will have a government in place that believes in energy infrastructure."
"Dakota Access is so desperate to get this project in the ground that it is now suing the federal government on the novel theory that it doesn't need an easement to cross federal lands," the Standing Rock Sioux tribal chair, Dave Archambault II, said in a statement.
He also pointed out that the corporation has previously said in court that if it were not delivering oil by 1 January 2017, its shipper contracts would expire and the project would be in jeopardy.
"So they are rushing to get the pipeline in the ground hastily to meet that deadline," Archambault said. "The only urgency here was created by their own reckless choice to build the pipeline before it had all the permits to do so."

AIA chief executive apologises for saying members were committed to working with president-elect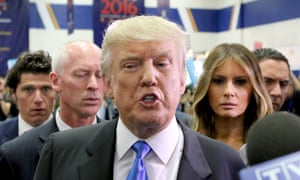 Architects expressed outrage at the AIA's 'normalisation' of Donald Trump. Photograph: Michael Bocchieri/Getty Images
The head of the professional body for US architects has been forced to apologise after a pledge to work with Donald Trump created fury in the profession.
Following Trump's political victory, Robert Ivy, chief executive of the American Institute of Architects, issued a conciliatory press release suggesting architects were willing to put the controversies of the election behind them
It noted that the campaign had been contentious but added: "The AIA and its 89,000 members are committed to working with president-elect Trump to address the issues our country faces, particularly strengthening the nation's ageing infrastructure."
The statement provoked an angry backlash against the AIA and calls for Ivy to resign over the "normalisation of Donald Trump" and apparent eagerness to work with a man who repeatedly made bigoted statements about women and minorities during the campaign and who has dismissed climate change as a hoax. An award-winning Maryland-based architect, Fritz Read, resigned in disgust from the AIA.
Students at the Yale School of Architecture issued a statement saying: "Our profession been plagued by a history of racial and gender inequity. The AIA's immediate and unquestioning pandering to the Trump administration threatens a continuation of our troubled past and demonstrates a willingness to pursue financial gain at the expense of our values."
More US Politics:

Opinion:
Four in five of you put perceived injustices and immediate gain ahead of a greater good more in line with Christianity's teachings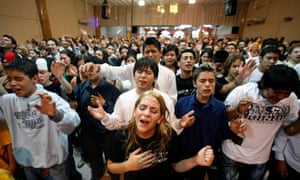 'The words of Jesus are apparently worthless to people who are angry that immigrants might be made citizens without suffering enough.' Photograph: Enrique Marcarian/REUTERS
A

s we enter the era of Donald Trump, I have to confess that I only now understand how purely cruel my fellow Christians are. I find it hard to pray as a result.
White American evangelicals, who produced me, and among whom I must count myself, have thoroughly demonstrated how little we care about our representation of Christ to the world, how gleefully willing we are to put our own interests and grievances above the teachings of Jesus. And we have done that where we always do it: in the voting booth.
Four in five white evangelicals who cast a vote last week did so for president-elect Trump, who repeatedly encouraged violence at his rallies and bragged that being a celebrity meant no one would stop him from grabbing women "by the pussy". A dozen women came forward to accuse him of mistreating them. And Christians have such contempt for the work of government that we voted for him anyway.
Dismantle the social safety net, the argument goes, and let the church do the work it was called to do. God forbid the church simply express gratitude for aid in a work so infinite that Jesus himself said "The poor you will always have with you."
But the words of Jesus are apparently worthless to people who are angry that immigrants might be made citizens without suffering enough. If you want your impoverished neighbor's insulin supply cruelly torn away from her on the extremely slim chance that it might make your own monthly health insurance premiums go down, you will find little validation in the Sermon on the Mount. If you want to halt immigration for people who are fleeing persecution, you will have some trouble with the God of Zechariah, who tells you in so many words, "[D]o not oppress the widow or the orphan, the stranger or the poor; and do not devise evil in your hearts against one another."
Why must an abused child be forced to carry another child to term? Why shouldn't women be able to easily access birth control or surgeries that will prevent them from dying of sepsis? I can't find answers for these questions in my Bible.
Perhaps white Christians simply gave ourselves the extravagant gift of forgetfulness before entering the voting booth. Perhaps we simply didn't care. A map circulated on Twitter showing all but one state blue, illustrating the youth vote, but I confess I find it cold comfort. Older voters can always be relied upon to value themselves and their bruised feelings over the arc of history, because they will depart from history sooner. They won't need their portfolios and 401(k)s when the New York Stock Exchange is under water. And they don't seem to care about those who will, especially if those people don't look and sound like them.

For a change from the same old news stories from the same old news networks, here are links to English-edition online newspapers from other parts of the world. Nearly all of these are English-edition daily newspapers. These sites have interesting editorials and essays, and many have links to other good news sources. We try to limit this list to those sites which are regularly updated, reliable, with a high percentage of "up" time.
Some of the available newspapers:
| | | |
| --- | --- | --- |
| Asia & CIS | | |
| | | |
| --- | --- | --- |
| China | | |
| | | |
| --- | --- | --- |
| China & Hong Kong | | |
| | | |
| --- | --- | --- |
| France | | |
| | | |
| --- | --- | --- |
| Israel | | |
| | | |
| --- | --- | --- |
| Norway | | |
| | | |
| --- | --- | --- |
| Palestine | | |
| | | |
| --- | --- | --- |
| Russia | | |
| | | |
| --- | --- | --- |
| Ukraine | | |
.