19 Nov
If imitation is the sincerest form of flattery, Donald Trump must be fairly chuffed with his reception Down Under this week. With Peter Dutton attacking refugee policy, Malcolm Turnbull bashing the media and Bill Shorten targeting foreign workers, echoes of the Don's campaign were suddenly everywhere.
The broad lesson absorbed by both sides is a pretty compelling (if somewhat obvious) one: in the context of ongoing and rapid economic change, you abandon disaffected voters at your peril. As the PM put it, the rising tide must be seen to lift all boats.

Bill Shorten has announced a proposed crackdown on 457 visas for foreign workers. Photo: Paul Jeffers
Meanwhile Shorten, who once described the President-elect's views as "barking mad", was keen to Make Australia Great Again. "We will buy Australian, build Australian, make in Australia and employ Australians," he told The Australian Financial Review, announcing a proposed crackdown on 457 visas for foreign workers. "My party will heed the lessons of Detroit, Michigan, of Ohio and Pennsylvania. We're not going to lose our blue-collar voters like the Democrats did."
Aussie jobs became the theme of Labor's week. Turnbull's own Trump-esque moment came on the 730 program on Monday night, when he repeatedly dubbed the ABC the "elite media" and said it was obsessed with fringe issues. "The real issue, and real challenge, for politicians and, dare I say it, journalists, is to actually get in touch with the people, listen to the people," Turnbull implored.
As far as media criticism goes, it's not quite as blunt as the "CNN sucks" chants from supporters  at some of Trump's campaign rallies. But it was a peculiar narrative for the PM to weave, , given he is historically an enthusiastic supporter of Aunty.
Deputy prime minister Barnaby Joyce tried the same tack just hours later on Q&A. He said people were frustrated at media outlets such as the ABC for embodying the "political class" and getting tangled up in "beltway" issues. Joyce can at least pull off the man-of-the-people shtick a little more credibly than Turnbull.

Dozens of people flee Souda camp with at least two wounded after molotov cocktails and rocks thrown at tents and occupants
The Souda refugee camp on the Greek island of Chios burns after it was attacked with Molotov cocktails and rocks on Thursday night, purportedly by a far-right group affiliated with the Greek extreme right party Golden Dawn. Mohammed al Jazeer, a Syrian refugee described seeing two petrol bombs land amongst the tents. Shortly afterwards, a group of about 30 people attacked migrants standing at the entrance to the camp, police said
Dozens of people have been driven out of a refugee camp on the Greek island of Chios after two successive nights of attacks by a far-right group.
At least two people were wounded after attackers threw Molotov cocktails and rocks as big as boulders from elevated areas surrounding the Souda camp, activists said.
Three tents were burned down and three others were hit by rocks. A 42-year-old Syrian man was assaulted, while a Nigerian boy was hit by a rock.
Fearing a third attack on Friday night, about 100 former occupants refused to re-enter the camp, instead taking shelter in a nearby car park. "We do not have any kind of protection," Mostafa al-Khatib, a Syrian refugee, told the Guardian. "No one cares about us."
Gabrielle Tan, an aid worker with Action From Switzerland, a grassroots organisation working on Chios, said those sheltering in the car park included families with babies and toddlers. "They'd rather sleep outside in the cold than go back inside," said Tan.
The mayor of Chios said the attackers were thought to be affiliated with Greece's main far-right party, Golden Dawn. "Of course Golden Dawn supporters are suspected to have participated," Manolis Vournous told the Guardian.
Activists and camp occupants said the rocks appeared to have been thrown with the intention of killing people. Tan said: "These rocks were probably the size of a shoebox, weighing approximately 15kg. Some of them I can't even lift."
There were conflicting reports about who started the clashes on Wednesday. According to Vournous, the unrest began after Algerians and Moroccans stole alcohol and fireworks from a shop, frightening local residents. But some activists claimed the events escalated after a planned assault by Golden Dawn.

Refugee council report says punitive rules and processing delays are preventing thousands of people from reuniting with their families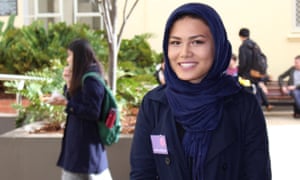 Afghan Hazara woman Gulima arrived in Australia with her mother and siblings five years after her father came in by boat, and counts herself and her family among the lucky ones. Photograph: Supplied
Thousands of people across Australia have been kept from reuniting with their families because of Australia's immigration policies, new research from the Refugee Council of Australia has found.
The report, Addressing the Pain of Separation for Refugee Families, found people were kept from their families by punitive and exclusionary policies, processing delays and exorbitant costs, even those found to be Australian citizens.
"Significant bureaucratic barriers are preventing people who have been recognised as refugees from bringing their families to safety," the report found.
Tim O'Connor, acting chief executive of the council, said current policies were creating separate classes of citizens, undermining social cohesion and setting refugees up to fail.
"This important new research brings to light a crisis which is taking place within our own communities," he said.
"People who have fled persecution and successfully applied for refugee status in Australia should be able to bring their families here to safety."
The report recommended an end to restrictions on people who arrived by boat, an allocation of at least 5,000 visas under the family stream for refugee and humanitarian entrants, the introduction of needs-based concessions and a significant reduction in processing times, cost and other bureaucratic obstacles.

Move does not mean the agency is downgrading threat of the mosquito-borne virus that can result in severe neurological defects in newborns, officials said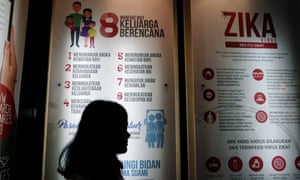 The World Health Organization said emergency measures had led the world to an 'urgent and coordinated response', but the virus had continued to spread. Photograph: Iqro Rinaldi/Reuters
Staff and agencies
The United Nations health agency has declared that the Zika virus and related neurological complications no longer constitute an international emergency and said it is preparing a longer-term response to the mosquito-borne virus that can result in severe neurological defects in newborns whose mothers were infected.
World Health Organization officials were quick to note that the move does not mean the agency is downgrading the threat of the virus that has spread across Latin America, the Caribbean and elsewhere. Nearly 30 countries have reported birth defects linked to Zika, with 2,100 cases of nervous-system malformations reported in Brazil alone.
The officials also emphasized that the now lifted "public health emergency of international concern" was declared in February, when Zika clusters were appearing and a sharp increase in research was needed and with the looming Rio Olympics in mind.
WHO said the emergency measures had led the world to an "urgent and coordinated response", but the virus had continued to spread. It acknowledged that "many aspects of this disease and associated consequences still remain to be understood, but this can best be done through sustained research".
"It is a significant and enduring public health challenge, but it no longer represents an emergency," Dr David Heymann, who heads the WHO emergency committee on Zika, said after the panel met for the fifth time this year. "There was no downgrading of this."

We Russians have watched our president embrace anyone prepared to join his gang and do his bidding. Americans will see the same from their new president
A

s someone from Russia, which has been ruled by an alt-right autocratic regime for 17 years, I have the privilege of being able to convey messages from the future to my friends in the US and Europe.
The first message is about Trump's racism and xenophobia. The president-elect and members of his team are accused of spreading hatred towards Muslims, Jews and Hispanics. The outrage is justified, but if Trump is to become a successful alt-right autocrat, he will soon neutralise this criticism by co-opting numerous representatives of these communities into his camp, and indeed the government.
For someone like Trump or the Russian president, Vladimir Putin, xenophobia is only a means of mobilisation, not an end in itself, like it was for Hitler. They have no qualms about embracing someone they hated just a second ago. Trump and Putin are ecumenical nationalists.
Putin's approach is a good example. He has always been able to reach out and find support among Muslims, Jews, Chechens and even part of the LGBT community. But while Putin's version of nationalism is truly non-ethnic and non-racist, it is just as vicious and radical as the nationalist movements that took over much of Europe in the 1930s.
Putin created a version of modern nationalism that I and many others in Russia call "nashism". It comes from the word nashi, which means "our folks" and was used by Putin and his alt-right predecessors in the 1990s to define supporters and their enemies, who would naturally fall into the category of "not ours". They included everyone who disagreed with the system. Some were minority activists, but mostly they were straightforward Russian liberals of non-exotic origins and walks of life.
In the same vein, I can see how Trump can appeal to African-Americans, Jews and Hispanics. I met members of these communities at Trump rallies while driving through the midwest swing states the week before the election, and I am now writing from Brighton Beach, a Russian-speaking Jewish district of New York that is overwhelmingly and vehemently pro-Trump.

Donald Trump's proposed national security adviser took a nuanced line as a general in Afghanistan but now says fearing Islam is a rational response to terror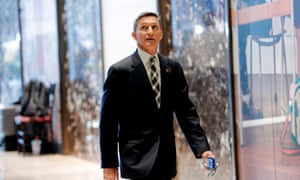 Michael Flynn arrives at Trump Tower in New York City to meet President-elect Donald Trump. Photograph: Mike Segar/Reuters
Long before Michael Flynn led a chant demanding the imprisonment of Hillary Clinton, and before he came to view an entire religion as responsible for terrorism, he issued a public plea for nuance in intelligence.
In 2009, Flynn followed his longtime friend from the elite Joint Special Operations Command (JSOC), Stanley McChrystal, to Afghanistan. Their partnership had transformed JSOC into an apparatus that collected and disseminated intelligence as rapidly as it killed people, and then fed that intelligence back into its internal systems to accelerate the lethal process.
As with JSOC, McChrystal would command the war and Flynn would run its intelligence shop. But Flynn soon considered the entire US intelligence apparatus in Afghanistan to be focusing on the wrong targets.
The trouble, in Flynn's estimation, was that US intelligence focused too much on the Taliban insurgency. It gave comparatively little emphasis on granular data about trends among Afghans themselves, which at the time the coterie of counterinsurgents around McChrystal considered decisive. Win the people, the thinking went, and the insurgency would lose the base of support necessary to survive.
In a rare move for a serving intelligence officer, Flynn took his critique public.
"The most salient problems [in Afghanistan] are attitudinal, cultural and human," he wrote in a January 2010 paper for the Center for a New American Security, at that point the ascendant defense thinktank and a job pipeline into the Obama Pentagon. "[M]erely killing insurgents usually serves to multiply enemies rather than subtract them."
Commanders, Flynn and his co-authors wrote, needed information including "census data and patrol debriefs; minutes from shuras with local farmers and tribal leaders … polling data and atmospherics reports from psychological operations and female engagement teams."
Refocusing on "population-centric information", the authors wrote, was crucial to victory. It would admittedly offer "few clues about where to find insurgents", but it would "provide elements of even greater strategic importance – a map for leveraging popular support and marginalizing the insurgency itself".
The 2010 paper, which took many in intelligence circles by surprise, was the first time most outside the military had encountered Flynn. It made his career in Washington.
Flynn was instantly considered sagacious, even courageous, for his public criticism, which was in keeping with Washington's now-faded enthusiasm for counterinsurgency over what would come to be called "targeted killing".
James Clapper, who would soon become the US intelligence chief – and a major antagonist of Flynn – called him a "superstar in intelligence". After McChrystal flamed out when his staff derided the Obama White House in a Rolling Stone interview, replacement David Petraeus kept Flynn.
Nearly seven years and two presidential elections later, some of those who worked with Flynn throughout his military career profess bewilderment at what they consider his changes in temperament and focus.


Opinion
Donald Trump's son-in-law was accepted into the Ivy League university in the wake of a $2.5m pledge made by his parents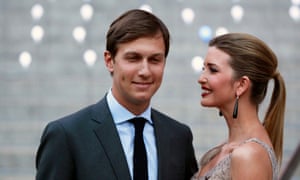 Jared Kushner with wife Ivanka Trump: he is tipped to be one of the powers behind Donald Trump's presidency. Photograph: Lucas Jackson/Reuters
I

would like to express my gratitude to Jared Kushner for reviving interest in my 2006 book, The Price of Admission. I have never met or spoken with him, and it's rare in this life to find such a selfless benefactor. Of course, I doubt he became Donald Trump's son-in-law and consigliere merely to boost my lagging sales, but still, I'm thankful.
My book exposed a grubby secret of American higher education: that the rich buy their underachieving children's way into elite universities with massive, tax-deductible donations. It reported that New Jersey real estate developer Charles Kushner had pledged $2.5m to Harvard University not long before his son Jared was admitted to the prestigious Ivy League school, which at the time accepted about one of every nine applicants. (Nowadays, it only takes one out of 20.)
I also quoted administrators at Jared's high school, who described him as a less-than-stellar student and expressed dismay at Harvard's decision.
"There was no way anybody in the administrative office of the school thought he would on the merits get into Harvard,'' a former official at the Frisch school in Paramus, New Jersey, told me. "His GPA [grade point average] did not warrant it, his SAT scores did not warrant it. We thought, for sure, there was no way this was going to happen. Then, lo and behold, Jared was accepted. It was a little bit disappointing because there were at the time other kids we thought should really get in on the merits, and they did not.''
Risa Heller, a spokeswoman for Kushner Companies, said in an email on Thursday that "the allegation'' that Charles Kushner's gift to Harvard was related to Jared's admission "is and always has been false". His parents, Charles and Seryl Kushner, "are enormously generous and have donated over $100m to universities, hospitals and other charitable causes. Jared Kushner was an excellent student in high school and graduated from Harvard with honours.'' (About 90% of Jared's 2003 class at Harvard also graduated with honours.)
My Kushner discoveries were an offshoot of my research for a chapter on Harvard donors. Somebody had slipped me a document I had long coveted: the membership list of Harvard's Committee on University Resources. The university wooed more than 400 of its biggest givers and most promising prospects by putting them on this committee and inviting them to campus periodically to be wined, dined and subjected to lectures by eminent professors.
My idea was to figure out how many children of these corporate titans, oil barons, money managers, lawyers, high-tech consultants and old-money heirs had gone to Harvard. A disproportionate tally might suggest that the university eased its standards for the offspring of wealthy backers.
………….Charles Kushner differed from his peers on the committee in another way: he had a criminal record. Five years after Jared entered Harvard, the elder Kushner pleaded guilty in 2004 to tax violations, illegal campaign donations and retaliating against a witness. (As it happens, the prosecutor in the case was Chris Christie, recently ousted as the head of Trump's transition team.) Charles Kushner had hired a prostitute to seduce his brother-in-law, who was cooperating with federal authorities. Kushner then had a videotape of the tryst sent to his sister. He was sentenced to two years in federal prison.

For a change from the same old news stories from the same old news networks, here are links to English-edition online newspapers from other parts of the world. Nearly all of these are English-edition daily newspapers. These sites have interesting editorials and essays, and many have links to other good news sources. We try to limit this list to those sites which are regularly updated, reliable, with a high percentage of "up" time.
Some of the available newspapers:
| | | |
| --- | --- | --- |
| Asia & CIS | | |
| | | |
| --- | --- | --- |
| China | | |
| | | |
| --- | --- | --- |
| China & Hong Kong | | |
| | | |
| --- | --- | --- |
| France | | |
| | | |
| --- | --- | --- |
| Israel | | |
| | | |
| --- | --- | --- |
| Norway | | |
| | | |
| --- | --- | --- |
| Palestine | | |
| | | |
| --- | --- | --- |
| Russia | | |
| | | |
| --- | --- | --- |
| Ukraine | | |
.