21 Nov
The German newspaper Handelsblatt says further that ThyssenKrupp is looking into the deal following Israeli media reports suggesting improprieties.
Ofer Aderet
Israeli Prime Minister Benjamin Netanyahu surveys a submarine arriving at the Haifa port in January 2016.Baz Ratner/Reuters
Miki Ganor, the Israeli representative of the German company selling submarines to Israel, will receive some 10-30 million Euros for brokering the deal, according to Germany's Handelsblatt newspaper, which previously reported on corruption at the firm, ThyssenKrupp.
A source in the German company said that although there were no indications of improper behavior by consultants related to Israel, "a comprehensive check" would be made because of recent reports in the Israeli press.
Martin Murphy, a senior reporter for Handelsblatt, said Prime Minister Benjamin Netanyahu's lawyer and confidant, David Shimron, "was involved in Ganor's work with ThyssenKrupp."
Murphy reported that "at least in once case, Shimron was present at a meeting between Ganor and a concern from the city of Essen."
Ganor has represented ThyssenKrupp in Israel since 2009 in arms deals as well as other, smaller deals, according to the report. A source in ThyssenKrupp is quoted as saying that Ganor earned a commission of up to 2% from the deals, "between 10 and 30 million euros."
A Handelsblatt reporter told Haaretz that the sum is lower than what consultants and brokers in other countries received in similar deals with Germany.
However, the reporter remarked that Ganor is also involved in non-arms related deals that ThyssenKrupp made in Israel, whose value is very high, and so "he received a higher amount."
The reporter said that the other deals, which accompanied the big submarine deal, served in other countries as a source of corruption and bribery payments in the country with which the deals were signed.


Jeff Sessions offered a false explanation when later questioned by Senators about the alleged incident involving Democratic county commissioner Douglas Wicks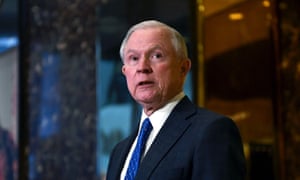 US Senator Jeff Sessions of Alabama incorrectly said 'there was not a black county commissioner' in Mobile at the time of the alleged incident. Photograph: Jewel Samad/AFP/Getty Images
Donald Trump's nominee for US attorney general was once accused of calling a black official in Alabama a "nigger", and then gave a false explanation to the US Senate when testifying about the allegation.
Senator Jeff Sessions was said to have used the racist term in November 1981, when talking about the first black man to be elected as a county commissioner in Mobile, where Sessions was a Republican party official and a federal prosecutor.
Asked about the alleged remark five years later, during Senate hearings on his ill-fated nomination by President Ronald Reagan for a federal judgeship, Sessions denied saying it and claimed the alleged timing did not stand up to scrutiny.
"My point is there was not a black county commissioner at that time," Sessions said, in response to questions from Joe Biden, then a senator for Delaware. "The black was only elected later."
But this was not true. Public records show Douglas Wicks had become the first black person elected to one of Mobile's three county commission seats in September 1980 – more than a year before Sessions allegedly referred to him using the racist term.
Wicks, a Democrat, said in an interview that he was made aware of Sessions's alleged remark about him at the time. He alleged that Sessions was hostile toward him and other African Americans.
"Sessions wasn't the only one," said Wicks. "It was commonplace at the time. You had a very racist atmosphere."
A spokesman for Sessions did not respond to a request for comment.
The Republican-controlled US Senate judiciary committee voted in June 1986 to reject the appointment of Sessions to the southern Alabama judgeship, after hearing of the alleged slur about Wicks and several other allegations of racist remarks.
Sessions, a former US attorney and state attorney general, has been a US senator for Alabama since 1997. His nomination last week by Trump for US attorney general has reopened a decades-long dispute about his racial views.
Cornell Brooks, the president of the National Association for the Advancement of Colored People (NAACP), called his selection "deeply troubling". Democratic congressman Luis Gutierrez of Illinois said Sessions was the choice of people who had "nostalgia for the days when blacks kept quiet".
More US Politics:
UNAids chief says thousands of girls and young women are still being infected with HIV every week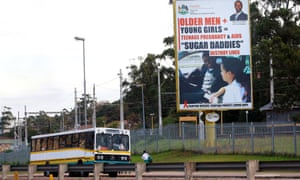 Billboard in Durban, South Africa, highlighting the dangers for young women of having sex with older men. Photograph: Rajesh Jantilal/AFP/Getty Images
Urgent action is needed to help and protect girls and young women from Aids in sub-Saharan Africa, thousands of whom are still being infected with HIV every week, the UN says.
Many adolescent girls do not know they have the virus and do not seek help or get treatment because they cannot tell their families they have had a sexual relationship with an older man. The death rates among adolescents are high.
In 2015, 7,500 girls and young women aged 15 to 24 were infected with HIV every week. More than 90% of the adolescents infected in sub-Saharan Africa are girls. Between 2010 and 2015, the total annual number of new infections among 15- to 24-year-old women fell just 6%, from 420,000 to 390,000. The UN target to reduce that number to fewer than 100,000 a year by 2020 is way off track, says the latest report from UNAids.
Too little has been done to help girls protect themselves and stay well, according to Michel Sidibe?, the executive director of UNAids. "Young women are facing a triple threat," he said. "They are at high risk of HIV infection, have low rates of HIV testing, and have poor adherence to treatment. The world is failing young women and we urgently need to do more."
Girls are particularly vulnerable in southern Africa because of their low status in a strongly patriarchal society. "Women's and girls' heightened vulnerability to HIV goes far beyond physiology: it is intricately linked to entrenched gender inequalities, harmful gender norms, and structures of patriarchy that limit women and girls from reaching their full potential and leave them vulnerable to HIV," says the report.
Helping girls avoid HIV is hard because efforts must address the issues of gender imbalance and violence in societies, as well as poverty, which causes some girls to have relationships with men for money, says the report. Education is also important. Studies have shown that girls who stay in school longer are less likely to become infected.

Charges laid against president Park Geun-hye's longtime ally Choi Soon-sil and two former presidential aides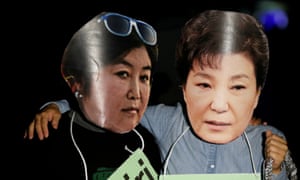 Protesters wearing cut-outs of South Korean president Park Geun-hye and Choi Soon-sil attend a protest denouncing Park over the influence-peddling scandal that has plagued her office. Photograph: Kim Hong-Ji / Reuters/Reuters
Agence France-Presse
South Korean president Park Geun-hye colluded with her close confidante in a major influence-peddling scandal that has engulfed her government, prosecutors said on Sunday, as they laid out charges against Park's longtime ally and two former presidential aides.
The scandal, which has become known as Choi-gate, sparked fury across the nation with hundreds of thousands of people taking to the streets to call for Park's resignation.
"The president played a collusive role in a considerable portion of the criminal activities involving the [three] people," said Lee Young-Ryeol, who is leading a probe into the scandal.
Park's ally Choi Soon-sil and one of the president's former aides were arrested earlier this month on charges of fraud, coercion and abuse of power. Another presidential aide was arrested for leaking confidential state documents.
Choi, 60, has been accused of using her personal ties with Park to meddle in state affairs and coerce local firms to "donate" tens of millions of dollars to non-profit foundations she then used for personal gain.
Park faces allegations that she helped Choi extract money from the firms and ordered her aides to leak state documents to Choi, who has no official title or security clearance.
Under South Korea's constitution, the incumbent president cannot be charged with a criminal offence except insurrection or treason but she can still be probed by prosecutors and potentially charged after leaving office.

Opinion
Midwestern workers voted for Obama in 2012, but they have lost faith in the establishment. Trump echoed their resentments while promising change
T

he rust-belt rebellion that is propelling Donald Trump into the White House has been a long time building. The fact that it surprised so many politicians and pundits only shows the unbridged canyon between the urban elites who thrive on the globalised economy and the millions of Americans who live in its wreckage.
A decade ago, even before the 2008 recession, I interviewed workers in Dayton, Ohio, where Delphi, the global auto parts maker, was about to close four of its five plants and lay off 5,700 workers. I found some of them toying with the ideas of Lyndon LaRouche, a fringe, leftwing demagogue.
In my book about Dayton and other hollowed-out old industrial cities, I warned: "Globalisation is made to order for demagogues. By its nature, it exposes the vulnerable to distant and mysterious forces. It enriches a new class of global citizens, but undermines a way of life for middle-class workers who can't understand what is happening to them and don't feel they deserve it. This is not the way life was supposed to be, and they seek someone to blame."
Dayton is in Montgomery County, which voted for Barack Obama in 2008 and 2012. This year, only seven of Ohio's 88 counties stayed Democratic. Montgomery wasn't one of them. Like dozens of industrial counties across the midwest, it gave its votes – and thus the election – to Trump.
This was Hillary Clinton's blue wall, the states she had to win to become president. Of the 11 swing states that decided the election, five – Pennsylvania, Ohio, Michigan, Wisconsin and Iowa – lie in this battered old industrial heartland. If, as expected, Trump's lead in Michigan holds, she lost them all. How did it happen? There are many reasons. The Clinton team barely campaigned there and in Wisconsin until it was too late. Misogyny played a role. So did Clinton's personal unpopularity and the relatively low turnout.
But the real reason is that the industrial era created this region and gave a good middle-class way of life to the people who worked there. That economy began to vanish 40 years ago, moving first to the sun belt and then Mexico, before finally China. The good jobs that were left increasingly went to robots. Factories closed. So did the stores and bars and schools around them. The brightest kids fled to universities and then to the cities – to New York or Chicago or the state capital. Those left behind worked two or three non-union jobs just to stay afloat. Families broke up. Drug use increased. Life spans shortened.
And nobody seemed to care – until Trump. But does he really? Who knows? He said he did. His tirades – against trade, against elites, against Obamacare, against immigrants, against the Clintons – sounded like unhinged rants in cities and on campuses, which never took him seriously. In the old industrial zones and withering farm towns, he echoed their own resentments. Mitt Romney couldn't do this; neither could John McCain. But Trump did, and so they embraced him.
Why was this such a surprise? It's impossible to overstate the alienation between the two Americas, between the global citizens and the global left-behinds, between the great cities that run the nation's economy and media, and the hinterland that feels not only cheated but, worse, disrespected.
For the major media, almost all the campaign reporting focused on the candidates and polls. Almost nobody bothered to talk to the voters. The Chicago Tribune, the midwest's biggest newspaper, doesn't even have a midwestern beat any more and seldom sends reporters outside the Chicago metro area. Yet this was where the election was decided. Illinois may have voted Clinton and five of the six counties in Chicago's metro region went Democratic, but of the 96 others, 91 voted for Trump. The Tribune missed the story and so did its readers.
Read Full Article>>

For a change from the same old news stories from the same old news networks, here are links to English-edition online newspapers from other parts of the world. Nearly all of these are English-edition daily newspapers. These sites have interesting editorials and essays, and many have links to other good news sources. We try to limit this list to those sites which are regularly updated, reliable, with a high percentage of "up" time.
Some of the available newspapers:
| | | |
| --- | --- | --- |
| Asia & CIS | | |
| | | |
| --- | --- | --- |
| China | | |
| | | |
| --- | --- | --- |
| China & Hong Kong | | |
| | | |
| --- | --- | --- |
| France | | |
| | | |
| --- | --- | --- |
| Israel | | |
| | | |
| --- | --- | --- |
| Norway | | |
| | | |
| --- | --- | --- |
| Palestine | | |
| | | |
| --- | --- | --- |
| Russia | | |
| | | |
| --- | --- | --- |
| Ukraine | | |
.