22 Nov
Ramallah/ PNN/
A statistic prepared by the Jerusalem Institute for Israeli and Palestinian affairs showed that the number of Palestinians who have been killed since the start of the Al-Quds Intifada (Jerusalem Uprising) which broke out in October 2015, hit 265.
According to the statistic, the Hebron district topped the list of provinces with 78 martyrs, followed by Jerusalem, 57 martyrs, then Ramallah with 24 martyrs, then Jenin with 21 martyrs, Nablus with 19 martyrs, Bethlehem with 15 martyrs, Tulkarem with five martyrs, Salfit with four martyr, and Qalqilya with three martyrs, two Palestinians living in "Israel", and 34 martyrs from the Gaza strip.
119 of those were killed since the beginning of the year 2016.
In addition, 75 of those killed were children under the age of 18, making 29% of the overall number. This includes a three-month-old baby, Ramadan Thawabteh, who died of teargas inhalation in his hometown of Beit Fajjar near Bethlehem.
24 of the martyrs were women,  12 of them minors as young as eight years old, including a two-year-old, Rahaf Hassan, who was killed alongside her mother in Gaza.
The study confirmed that 80% of the families had found about about their relatives being killed through the media, and  over 86% expressed dissatisfaction with the institutions that follow-up with the martyr cases, and accused the media of failing to cover news about the martyrs.
60% of the martyrs have been politically independent (not affiliated to any political parties)
24 of the martyrs' bodies are still retained by Israeli Occupation Authorities


Twenty-six people hospitalized from 'mass casualty incident' that included bone fractures and hypothermia shown in dramatic video footage of standoff
Twenty-six people were hospitalized and more than 300 injured after North Dakota law enforcement officers trained water cannons, teargas, and other "less-than-lethal" weapons on unarmed activists protesting against the Dakota Access pipeline in below-freezing weather on Sunday night, according to a group of medical professionals supporting the anti-pipeline movement.
The Standing Rock Medic & Healer Council said that injuries from the "mass casualty incident" included multiple bone fractures from projectiles fired by police, a man with internal bleeding from a rubber bullet injury, a man who suffered a grand mal seizure, and a woman who was struck in the face with a rubber bullet and whose vision was compromised.
The majority of the patients suffered hypothermia, a result of being soaked by water cannons, the group said.
Civil rights groups are decrying the use of water cannons in below-freezing weather.
"It's absolutely a blatant disregard for the safety and humanity of unarmed protesters," said Jen Cook, policy director for the ACLU of North Dakota. "In combination with other tactics, it's a misuse of less-than-lethal weaponry … It's unjustifiable."
Dramatic video footage of the standoff between several hundred anti-pipeline protesters and law enforcement officers shows police repeatedly aiming the water cannon directly at individuals – and not at fires, as the Morton County sheriff's department claimed on Sunday night.
The footage also appears to show that law enforcement officers were separated from the demonstrators by a barbed wire fence and concertina wire, raising further questions about whether such force was justified.
The Morton County sheriff, Kyle Kirchmaier, defended the use of the water cannons in a press conference today, though he objected to the terminology.
"We don't have a water cannon," he said. "I don't know where the term water cannon comes from. This was basically just a fire hose."
Kirchmaier said that law enforcement officers did consider the low temperatures when they deployed the water, but said: "We're just not going to tolerate people and protesters in large groups coming and threatening officers. That's not happening. So as this was going on, the water was used as a tool to help quell that situation, and when it was no longer necessary, it was not used any longer."
The incident began on Sunday evening, when a group of activists, who refer to themselves as "water protectors", attempted to move two burned trucks off a bridge just north of the protesters' encampments. Law enforcement officers then began attacking the demonstrators with a barrage of less-than-lethal weapons, including teargas, rubber bullets, and concussion grenades.

Sophia Wilansky, 21, may lose her arm after being hit by projectile when officers threw less-than-lethal weapons, her father said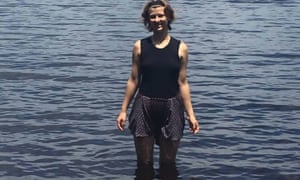 Sophia Wilansky is one of thousands of activists trying to halt the construction of the Dakota Access pipeline. Photograph: Wayne Wilansky
A 21-year-old woman was severely injured and may lose her arm after being hit by a projectile when North Dakota law enforcement officers turned water cannon on Dakota Access pipeline protesters and threw "less-than-lethal" weapons.
Sophia Wilansky was one of several hundred protesters injured during the standoff with police on Sunday on a bridge near the site where the pipeline is planned to cross under the Missouri river.
Graphic photographs of her injured arm with broken bones visible were circulated on social media.
"The best-case scenario is no pain and 10-20% functionality," said Wayne Wilansky, Sophia's father, who travelled to Minneapolis where his daughter underwent eight hours of surgery on Monday. He said his daughter had been hit by a concussion grenade thrown by a police officer and that the arteries, medial nerve, muscle and bone in her left arm had been "blown away".
Sophia will require additional surgery in the next few days and her arm may still have to be amputated, he added. "She's devastated. She looks at her arm and she cries," he said.
Sophia Wilansky is one of thousands of activists who have travelled to the Standing Rock Sioux reservation in North Dakota to attempt to halt the construction of the pipeline. Members of the Standing Rock Sioux tribe established a "spiritual camp" on the banks of the Missouri in April. The tribe fears the pipeline will jeopardise their water supply and say that construction has disturbed sacred burial grounds.

Danish and US researchers say warmer air and sea surface could lead to record lows of sea ice at north pole next year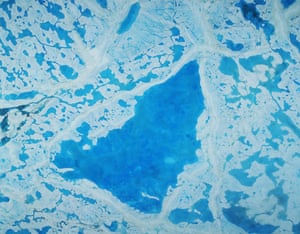 A large pool of melt water over ice on top of the Beaufort Sea in the Arctic Ocean. Photograph: Operation IceBridge/Nasa
The Arctic is experiencing extraordinarily hot sea surface and air temperatures, which are stopping ice forming and could lead to record lows of sea ice at the north pole next year, according to scientists.
The Danish and US researchers monitoring satellites and Arctic weather stations say they have been surprised and alarmed by air temperatures peaking at what they say is an unheard-of 20C higher than normal for the time of year. In addition, sea temperatures averaging nearly 4C higher than usual in October and November.
"It's been about 20C warmer than normal over most of the Arctic Ocean, along with cold anomalies of about the same magnitude over north-central Asia. This is unprecedented for November," said research professor Jennifer Francis of Rutgers university.
Temperatures have been only a few degrees above freezing when -25C should be expected, according to Francis. "These temperatures are literally off the charts for where they should be at this time of year. It is pretty shocking. The Arctic has been breaking records all year. It is exciting but also scary," she said.
Francis said the near-record low sea ice extent this summer had led to a warmer than usual autumn. That in turn had reduced the temperature difference between the Arctic and mid-latitudes.
"This helped make the jet stream wavier and allowed more heat and moisture to be driven into Arctic latitudes and perpetuate the warmth. It's a vicious circle," she added.
Sea ice, which forms and melts each year, has declined more than 30% in the past 25 years. This week it has been at the lowest extent ever recorded for late November. According to the US government's National Snow and Ice Data Centre, (NSIDC), around 2m square kilometres less ice has formed since September than average. The level is far below the same period in 2012, when sea ice went on to record its lowest ever annual level.
Francis said she was convinced that the cause of the high temperatures and ice loss was climate change. "It's all expected. There is nothing but climate change that can cause these trends. This is all headed in the same direction and picking up speed."

While court ruling has no bearing on the presidential election, in which Trump scored a surprise victory in the state, it could affect future US House races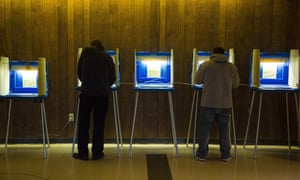 A court said state assembly voting districts drawn up by Republicans in 2011, after they took full control of state government, are unconstitutional. Photograph: Darren Hauck/Getty Images
District judges have struck a blow against the practice of gerrymandering – the deliberate manipulation of voting boundaries to favour one party over another – in a ruling that could reverberate across the US.
A court in Wisconsin said on Monday that state assembly voting districts drawn up by Republicans five years ago are unconstitutional and violate the rights of Democrats.
The ruling has no bearing on the 2016 presidential election, in which Donald Trump scored a surprise victory over Hillary Clinton in Wisconsin, taking its 10 electoral college votes, but could lead to a precedent that will affect future US House races.
"I feel enormous excitement about what this potentially might mean for American democracy," said Nicholas Stephanopoulos, a professor at the University of Chicago law school, who argued the case in court. "One of the worst aspects of our democracy has been the presence of partisan gerrymandering."
This is the first time in 30 years that a court has taken a stand against it, Stephanopoulos added. "If the supreme court upholds this decision, there could be very positive and dramatic consequences in states all over the country where gerrymandering has happened."
The Wisconsin case was described by voters who brought the case as the worst example of gerrymandering in modern history, turning what would otherwise be majority votes for Democrats in the state assembly into big Republican victories.
Republicans drew the maps in 2011 after they took full control of state government in the 2010 elections. According to American Prospect, the redistricting plan was "conceived in tight secrecy behind a private law firm's closed doors as part of a large-scale national Republican strategy to block Democrats from power through the careful manipulation of state legislative district lines".

Opinion
François Fillon may not be a populist. However, he is a Thatcherite who opposes equal marriage and leans towards a clash-of-civilisations approach on Islam
H

ave all elections become unpredictable these days? The former French president Nicolas Sarkozy must be asking himself that question after a humiliating defeat on Sunday in the first round of his party's primaries for next year's presidential election. This huge upset – for a man who believed he was the only one of the six candidates who could "save" France – didn't come from Alain Juppé, the right-of-centre mayor of Bordeaux who had been leading opinion polls for months. It came from Sarkozy's own prime minister for five years, a man he used to describe as a "collaborator", François Fillon.
Fillon's success came after a long campaign in which he often appeared a spent force, a man whose conservative views and lack of charisma were unable to match Sarkozy's energy and Juppé's experience. But he came out first, with a comfortable lead that should safely take him to victory in the second round this coming Sunday, against Juppé. The winner will immediately be favourite to become president of France next May.
There were two losers on Sunday. The first was obviously Sarkozy, whose populist language came across as insincere, and whose troubles in the courts may have finally proved too much, even for his supporters.
But it was also bad news for Marine Le Pen, the leader of the far-right National Front, who would have preferred to face Sarkozy, or Juppé with his soft approach on immigration and identity issues – rather than the impeccable conservative credentials of Fillon. After a glorious week for Le Pen in which foreign journalists were queuing to meet the supposed next in line after Donald Trump's victory, she is back to political reality in a country where the traditional right hasn't had its last word.

For a change from the same old news stories from the same old news networks, here are links to English-edition online newspapers from other parts of the world. Nearly all of these are English-edition daily newspapers. These sites have interesting editorials and essays, and many have links to other good news sources. We try to limit this list to those sites which are regularly updated, reliable, with a high percentage of "up" time.
Some of the available newspapers:
| | | |
| --- | --- | --- |
| Asia & CIS | | |
| | | |
| --- | --- | --- |
| China | | |
| | | |
| --- | --- | --- |
| China & Hong Kong | | |
| | | |
| --- | --- | --- |
| France | | |
| | | |
| --- | --- | --- |
| Israel | | |
| | | |
| --- | --- | --- |
| Norway | | |
| | | |
| --- | --- | --- |
| Palestine | | |
| | | |
| --- | --- | --- |
| Russia | | |
| | | |
| --- | --- | --- |
| Ukraine | | |
.