30 Nov

The McGlynn:

No surprise, still sickening.
Dialogue?
Romney: "What do you call this"
Trump: "Polonium"
Romney: "It's incredible. Just incredible. Divine."
Mitt Romney speaks after dinner with president-elect Donald Trump and Republican party chairman Reince Priebus in Manhattan on Tuesday. The 2012 Republican presidential candidate had strongly criticised Trump during the campaign

Outgoing US intelligence chief John Brennan says Donald Trump's opposition to nuclear deal is 'height of folly'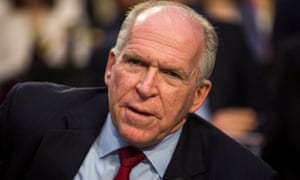 John Brennan said ditching the deal 'could lead to a weapons programme inside of Iran that could lead other states in the region to embark on their own programmes'. Photograph: Jim Lo Scalzo/EPA
The outgoing director of the CIA has warned of disastrous consequences if Donald Trump goes ahead with his threat of tearing up the US deal with Iran over nuclear weapons.
In an unusually frank interview with the BBC, John Brennan said Trump's opposition to the nuclear deal with Iran was the "height of folly".
Speaking to BBC Radio 4's Today programme, Brennan said: "I think it would be disastrous, it really would: for one administration to tear up an agreement that a previous administration made would be almost unprecedented."
Spelling out the dangers, the US intelligence chief added: "It could lead to a weapons programme inside of Iran that could lead other states in the region to embark on their own programmes with military conflict, so I think it would be the height of folly if the next administration were to tear up that agreement."
Brennan also expressed alarm about many of the key foreign policy pledges made by Trump during his election campaign, including the president-elect's admiration for Vladimir Putin, his anti-Islamic rhetoric and his willingness to use torture.
He said that in Syria, Russia and the Assad regime were responsible for "wanton slaughter of civilians that is … nothing short of outrageous".
Brennan said he hoped for an improvement in relations between Washington and Moscow, but urged Trump to be careful of cosying up to Putin.
He said: "Russia is a country that will pursue its national interests frequently to the detriment of the interests of the peoples of the countries wherein it operates. So I think President-elect Trump and the new administration need to be wary of Russian promises. Russian promises have not given us what it is they have pledged."
He also warned Trump not to reintroduce waterboarding and other interrogation techniques as he has threatened. And he revealed that he would disobey orders if Trump ordered him to use waterboarding, and that most in the agency were also opposed.
He said: "I would counsel my successor not to go down that route any more. Without a doubt, the CIA really took some body blows as a result of its experiences in intention interrogation programme. And some that were very, very damaging to our reputation as well as to our officers. The overwhelming majority of CIA officers would not want to get back into that business."
Asked about Trump's talk of the US being at war with radical Islam, Brennan said: "The new team needs to be disciplined in the language that they use, the messages that they send, because if they are not disciplined their language will be exploited by the terrorists and extremist organisations as a way to portray the United States and the government as being anti-Islamic, and we are not."

Cyber-attacks aim to delegitimise democratic process and elicit political uncertainty, says Bruno Kahl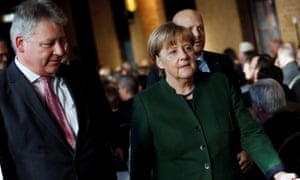 Bruno Kahl and Chancellor Angela Merkel have warned about the impact of cyber-attacks in the run-up to next year's elections in Germany. Photograph: Reuters
The head of Germany's foreign intelligence service has warned that next year's general election could be targeted by Russian hackers intent on spreading misinformation and undermining the democratic process.
Bruno Kahl, president of the Bundesnachrichtendienst, said Russia may have been behind attempts during the US presidential campaign to interfere with the vote.
"We have evidence that cyber-attacks are taking place that have no purpose other than to elicit political uncertainty," he told the Süddeutsche Zeitung in his first interview since he was appointed five months ago.
"The perpetrators are interested in delegitimising the democratic process as such, regardless of who that ends up helping. We have indications that [the attacks] come from the Russian region.
"Being able to attribute it to a state agent is technically difficult but there is some evidence that this is at least tolerated or desired by the state."
Kahl said the suspicion was that a large proportion of attacks were being carried out simply to demonstrate technical prowess. "The traces that are left behind in the internet create an impression of someone wanting to demonstrate what they are capable of," he said.
Kahl joins a range of leading voices in Germany who have recently expressed their concerns over Russian interference, particularly through the spread of fake news stories.

Apprehension and distrust pervade North Dakota protest site as promises from state that there are no plans to forcibly remove people does little to assuage fears
Morton County police use teargas, a water cannon and rubber bullets against demonstrators from Standing Rock in North Dakota on Sunday night. Protesters braved freezing conditions and percussion grenades as they resisted the controversial pipeline with chants of 'water not oil'. The company working on the pipeline, Energy Transfer Partners, has almost completed the system, but lack the permission to drill under the river
Police violence against Standing Rock protesters in North Dakota has risen to extraordinary levels, and activists and observers fear that, with two evacuation orders looming, the worst is yet to come.
A litany of munitions, including water cannons, combined with ambiguous government leadership and misleading police statements, have resulted in mass arrests, serious injuries and a deeply sown atmosphere of fear and distrust on the banks of the Missouri river.
Statements by the US Army Corps of Engineers and North Dakota state government that, despite their orders of evacuation, there are no plans to forcibly remove protesters opposing the Dakota Access pipeline have done little to assuage fears.
As the first snows have fallen and more protesters arrive in support, apprehension at the encampments about the coming days is running high.
"We're going to hope for the absolute best," said Linda Black Elk, a member of the Catawba Nation who works with the Standing Rock Medic & Healer Council. "If they do attempt to remove people forcibly, we are certainly preparing for mass casualties."
Harkening back to an earlier era, when police in Birmingham, Alabama, attacked African American schoolchildren with dogs and high-pressure water hoses, North Dakota officers trained water cannons on hundreds of Dakota Access pipeline protesters.
On the night of 20 November, though, the temperature was below freezing and the protesters, who call themselves "water protectors", were camping outdoors for the evening.
Water is just one many "less-than-lethal" munitions that have been trained against the activists.
"They seem to have almost an infinite arsenal of different types of weapons," said Rachel Lederman, attorney for the National Lawyers Guild (NLG). "I don't think local law enforcement understands how dangerous they are."
As an Indigenous American, Joe Whittle never questioned his need to travel to Standing Rock. The resolve he saw to protect a sacred space was transformative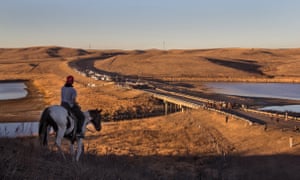 Photograph: Joe Whittle/Joe Whittle for The Guardian
A

s an Indigenous American, there was never any question of whether I should travel to Standing Rock or not. I needed to witness firsthand what was happening there, and wanted to offer solidarity to those fighting for the right of tribes to exercise agency over their own futures.
Only one problem remained: I had to find a way to go.
I am not a man of means. I weighed obligations, such as bills and work, and considered travelling expenses. I glanced at my vehicle, already knowing it was hardly suited for the 1,100-mile drive from my home in north-east Oregon, and resigned myself to staying home. I just couldn't afford the trip.
But as police use of force escalated and news came out of private oil company security contractors using dogs against protesters, more and more people began to reach out to me, expressing a desire to help.
In early November, I was contacted by my good friend Jamie Stone, who said he wanted to go and offered his truck and trailer to haul supplies. Jamie also happens to be a former oil worker on the North Slope of Alaska. His uncle is an oil executive, and his brother works for oil companies around the globe, but he also has family members who are farmers in the midwest and have had easements forced across their own land for oil pipelines.
"This issue brings a lot of people together for a lot of reasons," Jamie told me, "whether it's eminent domain, protecting water rights, or just people sick of 'profit over people'. These corporate terrorists need to get the point that people are changing, and we aren't going to be their sheep for much longer."
I quickly agreed to the opportunity, but requested that we attempt to raise donations for the water protectors, the group of Native Americans representing over 300 different tribes who are encamped near the location where the pipeline is slated to cross the Missouri river. They had put out a call for donations of firewood and winter camping supplies.
Large supplies of firewood are not easy to come by on the Great Plains – especially enough to keep a camp of several thousand people warm. Where I live, in the wooded mountains of north-east Oregon, firewood is abundant. So the first thing I did was start reaching out to people for firewood donations.
The response was overwhelming. Within 24 hours, we had reached our goal and acquired two more full-sized pickups and another trailer to accompany us. People also gave winter clothes, bulk food, horse feed and tack for the Sioux youth riders who have been active on the front lines of the movement since day one.

Workers took part in protests in New York, Chicago, Kansas City, Los Angeles and other places Tuesday to call for fairer minimum wages nationwide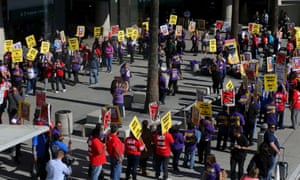 Demonstrators participate in a Fight for $15 wage protest at San Diego's international airport in California on Tuesday. Photograph: Mike Blake/Reuters
Thousands of Fight for 15 supporters chanted, marched, sat in and got arrested in 340 cities across the US on Tuesday, declaring that they won't back down no matter who is in the White House.
Tuesday's large protest – the fast-food movement's 12th one-day strike – was a far cry from four Novembers ago when the Fight for 15 held its first one-day strike. That day, just 200 workers walked out in one city, New York, calling for fairer wages. On Tuesday, 500 workers at Chicago's O'Hare airport alone went on strike, led by the Service Employees International Union (SEIU).
"Today is the fourth anniversary, and we want to send a strong message: we're not going anywhere regardless of who resides in 1600 Pennsylvania Avenue," said Terrence Wise, a Burger King worker in Kansas City and a member of the Fight for 15's organizing committee.
Wise was in Manhattan to mark the movement's fourth anniversary and to get arrested along with two dozen others for a sit-in outside a McDonald's near Wall Street in Manhattan.
"With the new administration taking office, we're going to double our pressure, we're going to take bigger and bolder action," Wise said. "We plan to ramp up our efforts to continue to build our movement."
Fighting for better wages under President Trump
The Fight for 15 has grown into one of the nation's largest progressive movements, alongside movements by undocumented immigrants, Black Lives Matter and environmental activists fighting global warming. Beginning with fast-food workers, the Fight for 15 now includes other groups, including childcare workers, home-care aides, airport workers and adjunct professors.
Brad Lander, a city council member from Brooklyn who participated in Tuesday's Manhattan sit-in, said, "I'm getting arrested because the Fight for 15 workers are the most inspiring group of people I know fighting for a fairer economy. The difference they've made over the last four years is quite extraordinary." Two other city council members and one state assemblyman were also arrested in New York.
"The courage, vision and solidarity that the Fight for 15 has shown is exactly what we need not only to resist Trump, but to put forward a forthright vision of the country we want," Lander added. "It's more important in the time of Trump, partly because the goal is to show a more equal, more inclusive economy that offers real opportunity and higher wages for everyone – including workers in Michigan, Wisconsin, Ohio and other states."

Opinion
The president-elect keeps news cycles churning with his unhinged tweets, but it's the current administration's expanding military license that should scare us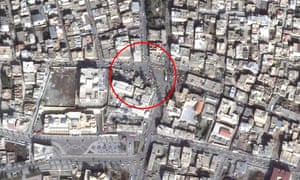 'Make no mistake: Trump will have a free hand to use the law meant for the perpetrators of 9/11 to wage war around the world.' Photograph: Microsoft Bing
I

n all the outrage about the unhinged things Donald Trump keeps tweeting and saying, there's been almost zero criticism at the fact that Obama will be partly responsible for the extraordinary scope of powers Trump inherits. The Obama administration has not only done nothing to curtail the slew of extreme national security and war powers that Trump is about to acquire since the election – the White House is actively expanding them.
One of the most undercovered aspects of Obama's legacy has been how he has waged war, unilaterally expanding the original 2001 Authorization for Use of Military Force (AUMF) against the perpetrators of the September 11 attacks almost beyond recognition. It's currently being used to legally justify the administration's war on Isis in about a half dozen countries (that we know of), despite Isis not being in existence at the time AUMF was passed. It's also being used to authorize action against a host of other groups, though who they are is classified.
Now, the Obama administration has warped the AUMF even further. As the New York Times reported on Monday, the White House is claiming it can use the 2001 law to go after al-Shabaab in Somalia, another group that didn't exist in 2001, which the Times openly states in its lead paragraph "will strengthen President-elect Donald J Trump's authority" to wage war when he enters office.
Council on Foreign Relations senior fellow Micah Zenko didn't mince words in the Times when describing what the Obama administration is doing: "It's crazy," he said of the administration's redefining the law out of existence. "This administration leaves the Trump administration with tremendously expanded capabilities and authorities."
Make no mistake: Trump will have a free hand to use the law meant for the perpetrators of 9/11 to wage war around the world, fashioning it to different enemies at his command, and he will be able to point to precedent set by the Obama administration as he does it.
Per usual, all the White House's decisions are being made under the veil of official secrecy. The only reason we know about it is not because the administration announced it, but because the New York Times reported it after unnamed officials leaked it to them.
Also this weekend, in another story that was overlooked while Donald Trump was tweeting nonsense that held everyone's attention, the Washington Post reported that Obama dramatically expanded the power of the secretive Joint Special Operations Command (JSOC), the secretive military unit that gained notoriety during the Osama bin Laden raid, "to track, plan and potentially launch attacks on terrorist cells around the globe" – even far away from battlefields. JSOC was already operating out of an untold number of countries, but the relaxed rules will allow the group to skip portions of the chain of command and potentially broaden its reach even further.

For a change from the same old news stories from the same old news networks, here are links to English-edition online newspapers from other parts of the world. Nearly all of these are English-edition daily newspapers. These sites have interesting editorials and essays, and many have links to other good news sources. We try to limit this list to those sites which are regularly updated, reliable, with a high percentage of "up" time.
Some of the available newspapers:
| | | |
| --- | --- | --- |
| Asia & CIS | | |
| | | |
| --- | --- | --- |
| China | | |
| | | |
| --- | --- | --- |
| China & Hong Kong | | |
| | | |
| --- | --- | --- |
| France | | |
| | | |
| --- | --- | --- |
| Israel | | |
| | | |
| --- | --- | --- |
| Norway | | |
| | | |
| --- | --- | --- |
| Palestine | | |
| | | |
| --- | --- | --- |
| Russia | | |
| | | |
| --- | --- | --- |
| Ukraine | | |
.