04 Dec

He made the company a punchbag during his anti-globalisation election crusade, and now takes credit for saving jobs. But how did it happen, and who really won?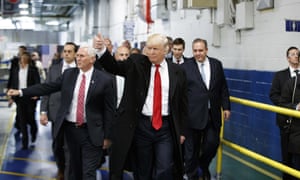 Donald Trump and Mike Pence at the Carrier factory in Indiana. The company has reversed its decision to outsource jobs to Mexico. Photograph: Evan Vucci/AP
Donald Trump scored an early public relations win this week as he took the credit for persuading a US firm not to outsource jobs to Mexico. But the case – and its implications – are more complex than they first appeared.
How did an air conditioner manufacturer become a big political story?
In February, United Technologies, parent company of Carrier Corporation, a furnace and air conditioner maker, announced the closure of a plant in Indianapolis with the loss of 1,400 jobs, along with a factory in the northeastern Indiana city of Huntington with a further 700 casualties. A video of angry workers being informed about the decision soon went viral.
Carrier told Indiana officials that it would save $65m a year by shifting production to a 645,000-sq foot factory under construction outside Monterrey, Mexico, where wages are much cheaper. Carrier rejected a tax incentive package from the state.
Enter Republican candidate Donald Trump, who sued Carrier over a malfunctioning air-cooling system at the Trump International Hotel in New York in 2007. On Twitter he condemned the company and said such closures would not happen if he was president. Indiana governor Mike Pence blamed federal regulations as a factor, but Democratic senator Joe Donnelly blamed the action on the company seeking to cut labour costs.
Why didn't the issue go away?
Trump turned Carrier into a punchbag during his election campaign crusade against globalisation, trade deals and outsourcing to Mexico, promising to restore manufacturing and "put America first" in his appeal to blue collar workers in the midwest. Since 2000, Indiana has lost 150,000 manufacturing jobs; 5m disappeared nationally over the same period.
In April, Trump was cheered at an Indianapolis campaign rally when he said he would impose a stiff import tariff on goods made by American manufacturers that moved jobs offshore. He essentially clinched the Republican nomination by winning the Indiana primary election on 3 May.
But Carrier and the United Steelworkers Local 1999 union reached a severance package deal for the Indianapolis plant workers, including reimbursement for education and technical training. Job cuts were scheduled over three years starting in 2017.
What changed?
Trump stunned the world with his 8 November election win. On 24 November, Thanksgiving Day, he tweeted: "I am working hard, even on Thanksgiving, trying to get Carrier A.C. Company to stay in the U.S. (Indiana). MAKING PROGRESS – Will know soon!"
……………….Carrier will keep 1,100 jobs at the Indianapolis plant, although that includes 300 positions that never were scheduled to leave the country. But it still plans to send 1,300 jobs to Mexico and shutdown the factory in Huntington, Indiana. Trump's boasting did not acknowledge that.
For him, however, it was low hanging fruit in PR terms before he even takes office. Washington Post columnist James Hohmann wrote: "The vast majority of Americans will see nothing more than the headline that just says Trump saved 1,000 jobs. For the president-elect, that is mission accomplished."…………
Donald Trump tells NBC News in November 2015 that if elected president, he would implement a system to track Muslims in the country. 'There should be a lot of systems, beyond databases,' he tells NBC at a campaign event in Iowa, saying such policies would help America to crack down on illegal immigrants. Asked how he would implement such a system, Trump replied: 'Good management'
This video was originally published on 20 November 2015. It was updated on 18 Nov 2016 to include more of Trump's interview with NBC
Undercover investigation by China Labor Watch exposes low wages, hazardous chemicals and overtime beyond legal limits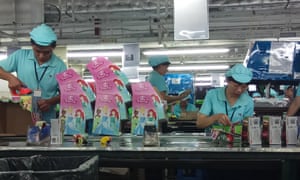 Disney Princess dolls on the production line at Shenzhen Wei Lee Fung Plastic Products. Photograph: Gethin Chamberlain/China Labor Watch
Xiao Fang thinks she's one of the luckier workers making Barbie dolls for the Christmas market at the Mattel toy factory in Chang'an.
True, she says, she works 11-hour days, six days a week, and shares a dormitory with nine other women and gets to see her husband only once a week. She had to leave her three-year-old daughter back home in Sichuan. And there is only a communal bathroom, and if they want hot water they must fetch it from another floor. But at least she has a job, she says. And others have it worse.
Xiao is one of thousands of workers in Chinese factories making some of this year's must-have Christmas toys.
An investigation with the US-based NGO China Labor Watch reveals that toys including Barbie, Thomas the Tank Engine and Hot Wheels were made by staff earning as little as 86p an hour.
Overtime can run to nearly three times the legal limit. In some factories – including one producing Happy Meal toys for McDonald's from the new DreamWorks movie Trolls – that means some are on 12-hour shifts and have to work with hazardous chemicals.
According to China Labor Watch, the world of toys may be heaven for children, but it is a world of misery for toy factory workers.
The group's founder and executive director, Li Qiang, said: "We can't tolerate that children's dreams are based on workers' nightmares, and we must fight against the unfair oppression of workers who manufacture toys."
Undercover investigators infiltrated four factories, and the group shared wage slips and pictures with the Observer to support their findings.
The investigators said that they found workers making toys in factories supplying Disney, Mattel, Fisher-Price and McDonald's who reported having to do more than 100 hours of overtime a month – nearly three times the legal limit in China.
But the toy industry's own watchdog, the ICTI Care Foundation, says it is powerless to stop many Chinese factories breaking the law on overtime.

City records show citations, charge of 'illegal interior building structure'
Former resident says she reported building to fire marshal in 2014
Sam Levin and Alan Yuhas in Oakland
Sgt Ray Kelly of the Alameda County sheriff's office speaks after a fire at a party in a warehouse in Oakland, California, that left nine people dead and 25 unaccounted for. Kelly says rescue teams are having to deal with 'very twisted debris' and will use excavators to remove wreckage. 'We are talking about maybe bringing in cadaver dogs to help us out, using remote technologies, robots and whatnot, to get into spots that are really tight,' he says.
• Oakland 'Ghost Ship' warehouse party fire leaves nine dead and 25 missing
An Oakland warehouse in which a fire killed at least nine people had a history of violations and complaints, city records show. A police spokesman said "maybe at least a couple dozen" people could have died in the blaze.
Numerous formal complaints were filed about the building, according to city records which included a 14 November "housing habitability" charge regarding "illegal interior building structure".
The documents did not specify the structural problems at the "Ghost Ship" warehouse, in the Fruitvale neighborhood, but said the city's investigation into that complaint was still pending when the fire broke out late on Friday.
A former resident of the warehouse, who asked for anonymity because of past confrontations with the building's management, told the Guardian she reported the building to the fire marshal in 2014, based on fears of a fire.
Friday's fire broke out while a party was taking place. Twenty five people were reported missing. At a Saturday afternoon press conference, Ray Kelly, a spokesman for the Alameda County sheriff's office, said total fatalities could not be determined.
He added: "We're expecting the worst, maybe at least a couple dozen people here."
Last month, the city of Oakland also issued a violation notice related to a "blight complaint", records show. That citation referenced garbage "piling up on the property" and items left on the sidewalk.
"Some of trash was hazardous," the complaint said, adding that the problem was creating a "health issue" for the neighborhood.
The building also faced a blight complaint in 2014, related to trash and "construction debris". That violation was eventually corrected, according to records.
City councilman Noel Gallo, who represents the Fruitvale district, told the Guardian building hazards and fire code violations are not uncommon in Oakland.
"It's throughout these neighborhoods," said Gallo, who lives near the site of the fire and surveyed the damage early on Saturday morning. "We need to enforce the rules. This is the not the first and maybe not the last."

Trudeau's approval of project some find analogous to Standing Rock incited thousands of activists, politicians and First Nations members to increase action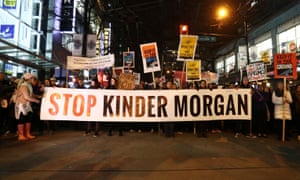 Opponents of a contentious Canadian pipeline project are preparing for a lengthy, multifaceted battle that will see thousands take to the country's streets, courts and legislatures to contest the government's recent approval of the project.
Prime minister Justin Trudeau announced on Tuesday that the Liberal government had cleared the way for Kinder Morgan's C$6.8bn Trans Mountain Expansion project. Designed to transport Alberta's landlocked bitumen to international markets via Vancouver's harbour, the project will expand an existing pipeline to nearly triple capacity on the artery to 890,000 barrels a day.
But the decision will run into a roar of opposition, said grand chief Stewart Phillip of the Union of British Columbia Indian Chiefs. "The marches and rallies will intensify. It will become more litigious, it will become more political and the battle will continue."
More than 14,000 people have so far signed onto his organisation's pledge to halt the project, driven by concerns over environmental risks, First Nations rights and the fight against climate change.
Other actions are also being planned, from a public interest group that has signed up hundreds of volunteers to canvass signatures for citizen-drafted legislation to block the pipeline to a group that is working to train its members on how best to physically block construction.
"Let's be clear," said Caitlyn Vernon of the Sierra Club of British Columbia. "Prime minister Trudeau has picked a fight with British Columbians by approving Kinder Morgan – and it starts now. The Kinder Morgan pipeline will not be built. Not on our watch."
Trudeau said the approval of the project was the best option for all Canadians. "This is a decision based on rigorous debate, on science and evidence. We have not been and will not be swayed by political argument, be they local, or regional or national," he said. "We have made this decision because we are convinced it is safe for BC, and it is the right one for Canada."

General Assembly to pass resolution recognising need to investigate death of former general secretary who died in 1961 plane crash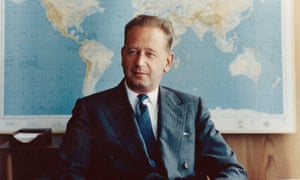 What caused the 1961 plane crash that killed former UN secretary general Dag Hammarskjöld? A Swedish-led UN inquiry the following year concluded that the plane, the Albertina, had crashed in northern Rhodesia (now Zambia) as a result of "pilot error". But this failed to satisfy many who have long suspected foul play.
There were claims that the Albertina, which was carrying Hammarskjöld and a 15-strong team seeking to negotiate a ceasefire in the breakaway African republic of Katanga, was riddled with bullets. Several witnesses said they saw as many as eight white men, armed and in combat fatigues, at the crash site.
An industrialist in the copper belt of the old northern Rhodesia apparently saw convoys of Land Rovers heading into the bush after the crash.
Even the former US president Harry Truman was suspicious. The day after the crash he told reporters that Hammarskjöld was at "the point of getting something done when they killed him. Notice that I said 'when they killed him'."
Now, more than 50 years on, the UN is poised to accept that the findings of its original inquiry could be wrong. In a historic move, the UN general assembly will pass a resolution this Tuesday reaffirming its "responsibility to pursue the full truth concerning the conditions and circumstances resulting in the tragic death of Dag Hammarskjöld and of the members of the party accompanying him".
The resolution recognises "that a further inquiry or investigation would be necessary to finally establish the facts of the matter" and requests that the secretary general "appoint an eminent person to review the potential new information, including that which may be available from member states, to assess its probative value and to determine the scope that any further inquiry or investigation should take".

For a change from the same old news stories from the same old news networks, here are links to English-edition online newspapers from other parts of the world. Nearly all of these are English-edition daily newspapers. These sites have interesting editorials and essays, and many have links to other good news sources. We try to limit this list to those sites which are regularly updated, reliable, with a high percentage of "up" time.
Some of the available newspapers:
| | | |
| --- | --- | --- |
| Asia & CIS | | |
| | | |
| --- | --- | --- |
| China | | |
| | | |
| --- | --- | --- |
| China & Hong Kong | | |
| | | |
| --- | --- | --- |
| France | | |
| | | |
| --- | --- | --- |
| Israel | | |
| | | |
| --- | --- | --- |
| Norway | | |
| | | |
| --- | --- | --- |
| Palestine | | |
| | | |
| --- | --- | --- |
| Russia | | |
| | | |
| --- | --- | --- |
| Ukraine | | |
.