07 Dec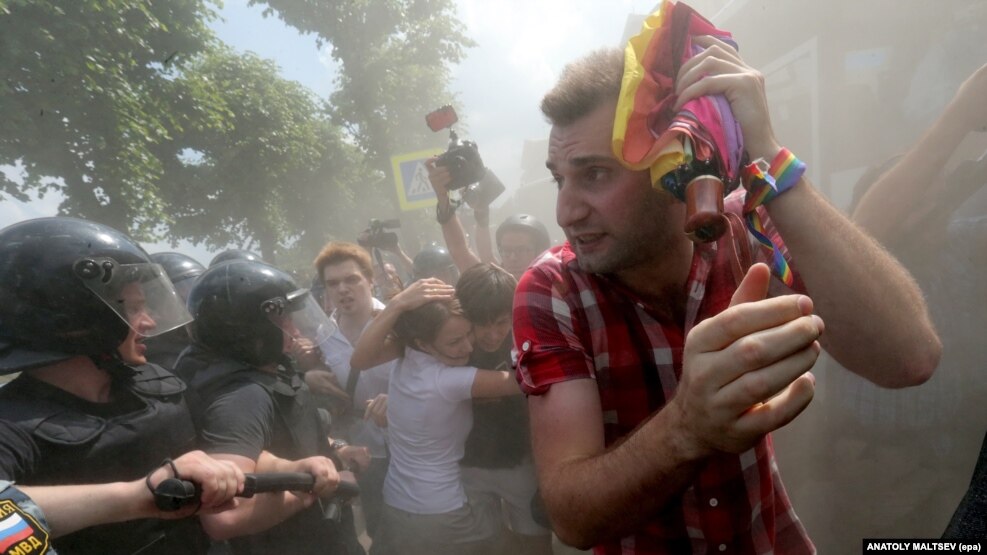 Anecdotal evidence and internal accounting from lawyers working with sexual minorities suggest a sharp rise in the number of LGBT individuals from Russia seeking U.S. asylum. Activists warn of a growing number of hate crimes.
Carl Schreck
WASHINGTON — The number of new U.S. asylum applications by Russian citizens has jumped for the fourth straight year in 2016, reaching the highest level in more than two decades and more than doubling since President Vladimir Putin's return to the Kremlin for a third term.
Russian citizens filed 1,912 new U.S. asylum application in the fiscal year ending September 30, up 31 percent compared to 2015 and 164 percent since 2012, when Putin was again elected president following a four-year stint as prime minister, new official statistics show.
RFE/RL obtained the U.S. Department of Homeland Security data after filing a request under the Freedom Of Information Act.
While the data does not indicate the basis for applicants' persecution claims, immigration attorneys link this multiyear surge to policies in Russia seen as discriminatory toward sexual minorities, a squeezing of dissent during Putin's third term, and widespread corruption.
Anecdotal evidence and internal accounting from lawyers working with sexual minorities suggest a sharp rise in the number of lesbian, gay, bisexual, and transgender (LGBT) individuals from Russia seeking U.S. asylum since Putin signed a 2013 law banning "propaganda of nontraditional sexual relations" to minors.
The so-called "gay propaganda" law was widely denounced by Western governments and international rights groups as state-sponsored homophobia — a charge the Kremlin rejects. Rights activists have also warned of increasing numbers of hate crimes committed against LGBT individuals in recent years.
Immigration Equality, the largest legal-advocacy group in the United States devoted to assisting LGBT individuals with immigration matters, says it received 245 inquiries from Russians interested in asylum by November this year, up from 199 inquiries in all of 2015.
"Clients report increased violence. We have a lot of clients that are coming to us because they've been targeted and have suffered some sort of physical attack in Russia," Pamela Denzer, the client programs director at the New York City-based organization, tells RFE/RL.
Russian prospective asylum seekers are also "concerned about the safety of their partners and children" and about "the Russian government targeting their families," Denzer says.
She adds that Immigration Equality has seen an uptick in inquiries by prospective asylum seekers from other former Soviet republics, including Ukraine, Uzbekistan, and Georgia.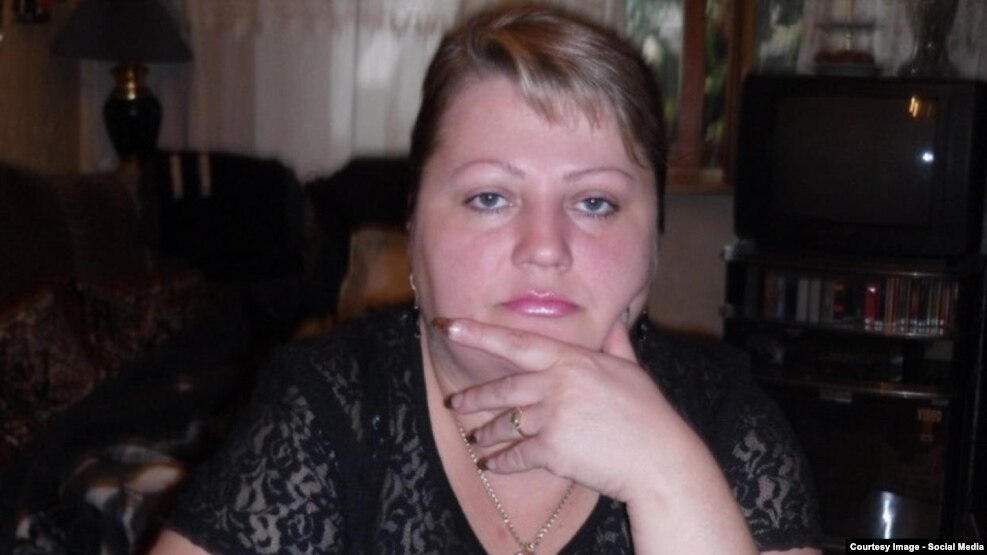 Oksana Sevastidi spent 14 months in pretrial detention, during which time prosecutors questioned her only twice. Her own defense attorney never visited her.
Lyubov Chizhova, Andrei Sharogradsky, Robert Coalson
Oksana Sevastidi, a 46-year-old shopkeeper from the Black Sea resort city of Sochi, is serving a seven-year prison sentence for high treason.
Although she was convicted and sentenced in March, Sevastidi's case only became widely known this month, after her desperate relatives contacted the Memorial human rights organization for help appealing the court's ruling.
Even more alarmingly, human rights lawyers say, Sevastidi is just one of at least 10 people similarly charged and sentenced by a secret court in Russia's southern Krasnodar region.
Sevastidi was convicted of sending two SMS messages in the first half of 2008 that the Russian government argued contained secret information about military movements in the direction of the breakaway Georgian region of Abkhazia. Russia and Georgia fought a brief war over Abkhazia and a second Georgian region, South Ossetia, in August 2008, after which Moscow recognized both regions as independent.
Sevastidi still cannot quite believe what happened at her trial, which was held in the basement of the local Federal Security Service (FSB) branch under tight secrecy.
"The prosecutor didn't let me say a word in my own defense," she recalled in an interview with the website Meduza published on December 5. "Everything was done in one day: the arguments, the concluding statements, and the sentence. It was all very fast and mixed up, like in a dream. And as if through a shroud, I heard the words 'seven years.'"
The speed of the trial contrasted sharply with the pace of the pretrial proceedings. Sevastidi was arrested by the Krasnodar branch of the FSB in January 2015. She spent 14 months in pretrial detention, during which time prosecutors questioned her only twice. Her own defense attorney never visited her.
"When my mother called him, he hung up," Sevastidi told Meduza. "He turned his telephone off."


Claims emerge lobbyist Bob Dole spent six months setting up controversial phone call between US president-elect and Tsai Ing-wen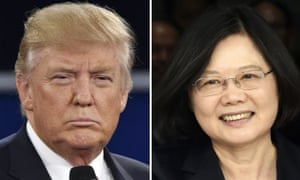 The phone call between Donald Trump and Taiwan's President Tsai Ing-wen has angered Beijing. Photograph: AFP/Getty Images
China has urged Washington to deny Taiwan's president entry to the United States as Donald Trump's protocol-shredding conversation with Tsai Ing-wen continued to create frictions between the world's two largest economies.
Tsai, who was elected Taiwan's first female leader in January, is expected to fly through the US next month en route to a three-country tour of Central America with stops in Nicaragua, Guatemala and El Salvador.
There has been speculation – denied by a number of Trump advisers – that she may stop over in New York for a meeting with the US president-elect ahead of his 20 January inauguration.
Beijing, which views Taiwan as part of its own territory and does not recognise Tsai's authority over the self-ruled island, called on the US to prevent that happening.
China hoped the United States "does not allow her transit, and does not send any wrong signals to 'Taiwan independence' forces", the foreign ministry told Reuters in a statement.
The foreign ministry claimed the true aim of Tsai, of the independence-leaning Democratic Progressive party (DPP), was "self-evident".
A spokesperson for the US state department appeared to dismiss China's calls, noting that allowing Taiwanese leaders to transit through the US was part of a "long-standing US practice, consistent with the unofficial nature of our relations with Taiwan".
China's calls came as it emerged that former Republican presidential nominee Bob Dole may have played a role in setting up the controversial 10-minute conversation between Trump and Tsai that has so angered Beijing.
The New York Times reported that in the lead-up to that call Dole, now a Washington lobbyist, had spent six months working behind the scenes to establish high-level contact between Taiwanese officials and Trump staff.
"It's fair to say that we may have had some influence," Dole was quoted as saying by the Wall Street Journal.
Dole's law firm, Alston & Bird, reportedly received US$140,000 from the Taipei economic and cultural representative office, which functions as an unofficial embassy in the US.

Huge flock of migratory birds landed on acidic waters of an open pit mine where employees attempted to scare them off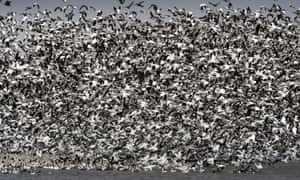 Witnesses said the pit in Montana looked like '700 acres of white birds'. Photograph: Keith Myers/AP
Associated Press
Several thousand snow geese have died after a snowstorm forced large flocks to take refuge in the acidic, metal-laden waters of an old open pit mine in Montana.
Mark Thompson, environmental affairs manager for mine company Montana Resources, said witnesses described the pit as like "700 acres of white birds" on 28 November.
Along with Atlantic Richfield, Montana Resources is responsible for Berkeley Pit in Butte.
Since 28 November, employees of MR and Arco had used spotlights, noise makers and other efforts to scare or "haze" the birds off the water and prevent others from landing.
The companies estimated that more than 90% of the birds had been chased off by 29 November, Thompson said.
Workers received some advance notice about the incoming flock from an off-duty Montana Resources employee about 25 miles away, who called to report there were about 25,000 geese in the air in Anaconda, Thompson said.
"I can't underscore enough how many birds were in the Butte area that night," Thompson said. "Numbers beyond anything we've ever experienced in our 21 years of monitoring by several orders of magnitude."
The employees worked hard to save the birds, he said.
Typically, Butte sees between 2,000 and 5,000 birds all year, including spring and water migration, Thompson said.
The estimated death toll is based on drone and aircraft flights over the pit, which holds about 45bn gallons (175bn litres) of water.
Thompson said federal and state agencies were still confirming the number of dead geese. Nonetheless the company expected the total would be many times more than the 342 that died in 1995, prompting a mitigation effort that seeks to protect birds from the toxic water.
The companies would investigate to try and determine what circumstances led to "this kind of perfect storm", with thousands of birds making a late migration and then facing a snowstorm at a time that Berkeley Pit had the only open water in the area.

Opinion
The former head of Breitbart and senior Trump strategist blames the decline of Judeo-Christian values for most of the western world's ills
J

ust what does Steve Bannon believe? For some, his thinking can be boiled down to racism. For others, he is merely a sinister opportunist taking advantage of Trump and the "alt-right", a far-right movement in the US, for economic gain and fame. But what if he is fundamentally driven by something else? Like: religion.
During a 2014 conference hosted by the very conservative Human Dignity Institute at the Vatican, Bannon laid out his belief in "traditionalism". To him, it signifies, among other things, a third-way attempt to counter the "crony capitalism" of neoliberalism, and the "state sponsored capitalism" of the Soviet Union and China.
His traditionalism is predicated on a rather speculative historical argument. He argues that a form of "enlightened capitalism" defined Western political economies from World War II until roughly the downfall of the Soviet Union. This type of capitalism was predicated on the Judeo-Christian tradition, which, for reasons Bannon does not explain, was adequately able to represent the culture and economic interests of the working-classes.
However, increasing secularization in the west eroded the Judeo-Christian tradition. This set the stage by the 1990s for enlightened capitalism to be supplanted by a new form of political economy, namely neoliberalism. The defining feature of neoliberalism, as Bannon describes it, involves the establishment of an international class of political and corporate elites – the "Davos party" – who presumably lack the values necessary to represent the economic and cultural interest of anyone else besides themselves.
This religious worldview provides one compelling explanation as to why he is willing to work with the political fringe. What is driving the populist movement is, according to him, primarily a reaction to neoliberalism. A return to Judeo-Christian traditionalism will allow for the necessary economic forms that will pave the return to enlightened capitalism, which in turn will "wipe out" the racist elements of right-wing parties. It will also provide the necessary virtues, Bannon argues, to resist the global threat of "radical Islam".
His alleged Leninism is to be found here. He aims to destroy the political establishment and infuse the re-established state with Judeo-Christian traditionalism. This will aid in redirecting the central bureaucratic state away from globalism and towards economic nationalism.
Perhaps Bannon's apocalyptic worldview will have little influence on Trump. Regardless, it is a dangerous ideology that entails a number of dubious political assumptions. His repeated claim that the racial fringe will be washed out by the political revolution to come is pure naiveté.
More problematic is the question of where Bannon derives his understanding of traditionalism. There are plenty of traditionalists Bannon could mention who have pointed out the shortcoming of liberalism: the moral philosopher Alasdair MacIntyre or even the theologian John Milbank come to mind.
Instead he references none other than Julius Evola – one of the intellectual godfathers of European fascism who promoted a spiritual type of racism – whose reception in Russian under Putin has inspired a traditionalist movement from which Bannon believes there is much to learn.
The most bothersome feature of Bannon's talk is the fact that a Catholic group at the Vatican responded to it with enthusiasm. Their questions demonstrate that they knew Bannon's desire to make his message receptive to right-wing populist parties. Excitement over his idea of a renewed Judeo-Christian Europe seemingly trumped such concerns. This is same political ideology that galvanized Evangelicals to vote for Trump.

For a change from the same old news stories from the same old news networks, here are links to English-edition online newspapers from other parts of the world. Nearly all of these are English-edition daily newspapers. These sites have interesting editorials and essays, and many have links to other good news sources. We try to limit this list to those sites which are regularly updated, reliable, with a high percentage of "up" time.
Some of the available newspapers:
| | | |
| --- | --- | --- |
| Asia & CIS | | |
| | | |
| --- | --- | --- |
| China | | |
| | | |
| --- | --- | --- |
| China & Hong Kong | | |
| | | |
| --- | --- | --- |
| France | | |
| | | |
| --- | --- | --- |
| Israel | | |
| | | |
| --- | --- | --- |
| Norway | | |
| | | |
| --- | --- | --- |
| Palestine | | |
| | | |
| --- | --- | --- |
| Russia | | |
| | | |
| --- | --- | --- |
| Ukraine | | |
.