09 Dec

By Shannon Jones
9 December 2016
The pro-company, anti-worker character of the recently announced deal between President elect Donald Trump and heating and cooling manufacturer Carrier is quickly being exposed as a fraud.
As opposed to initial claims by President Elect Trump and the United Steelworkers that 1,100 jobs would be saved, only 730 production jobs and 70 maintenance jobs out of 1,400 current positions would remain in Indianapolis. The deal also sanctions the shutdown of Carrier's Huntington, Indiana, plant and the elimination of 700 more jobs. The jobs of more than 500 production workers would still be affected by outsourcing to Mexico.
For its part, Carrier's parent, United Technologies (UTC), will profit enormously, pocketing $7 million in state tax breaks over the next ten years. In addition, Trump promised the UTC boss, Gregory Hayes, that he would "reform" federal tax codes and regulations that would allow Hayes "to print money."
The United Steelworkers had initially bestowed effusive praise on the deal brokered by Trump. However, facing growing worker anger as details became available, the USW Local 1999 president who oversees the Indianapolis Carrier plant, Chuck Jones, told the Washington Post Tuesday that Trump "lied his ass off" about the number of jobs saved at the factory.
The next day, Trump, in his characteristic thuggish manner, responded with several Twitter posts attacking Jones. In the first post, he wrote, "Chuck Jones, who is President of United Steelworkers 1999, has done a terrible job representing workers. No wonder companies flee country!" Later he followed up with, "If United Steelworkers 1999 was any good, they would have kept those jobs in Indiana. Spend more time working-less time talking. Reduce dues."
Following Trump's outburst, Jones reported receiving phone threats, including against his wife and children.
In an interview with MSNBC News following the exchange between Trump and Jones, USW President Leo Gerard said he would not let Trump's attack stand in the way of forging closer collaboration with the incoming administration. Expressing "disappointment" with Trump's comments, he called Jones a "hero."
Gerard went on to defend the record of the USW against Trump's suggestion that excessive wage demands were responsible for driving companies like Carrier to seek cheaper labor overseas.
The steelworkers chief noted that the USW had offered massive concessions to Carrier, only to be rebuffed. "Our union offered Carrier 'what would it take to keep you here' and they said, 'there is nothing you could do to keep us here unless you would work for under $5 an hour.'" As it stood, the USW accepted huge concessions at Carrier, including a three-tier wage scale with starting pay at the near poverty level of $14 an hour.
Later Gerard went on to complain, "The USW has been fighting the export of jobs to developing countries for more than 35 years. We could not work low enough in wages and benefits to maintain jobs against Mexican workers, against Chinese workers, against Bangladeshi workers or Vietnamese workers."
These remarks demonstrate that the USW functions as a fifth wheel for management. If the USW has not yet been able to force down wages to third world levels, it has not been for lack of effort, but due to the bitter resistance of US workers to poverty wages.
In recent contracts at ArcelorMittal and US Steel, the USW forced through concession-laden deals imposing higher out of pocket health care costs, an effective wage freeze and other cuts. At Allegheny Technologies (ATI), the USW forced through a concessions deal after deliberately isolating workers during a six-month lockout.
While the USW claims it has fought to defend jobs, the reality is the union collaborated with billionaire asset stripper Wilbur Ross, recently named as Trump's Commerce Secretary, to shut down whole sections of the steel industry. In the process, workers were robbed of their pensions while the financial assets of the USW were preserved.


National Park Service documents bar access to key sites around time of inauguration, including those celebrated for their role in 1960s protests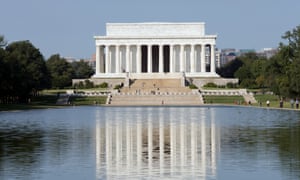 The Lincoln Memorial is among the areas out of bounds to the Women's march on Washington. Photograph: Paul Franklin/Getty Images/Dorling Kindersley
For the thousands hoping to echo the civil rights and anti-Vietnam rallies at Lincoln Memorial by joining the women's march on Washington the day after Donald Trump's inauguration: time to readjust your expectations.
The Women's March won't be held at the Lincoln Memorial.
That's because the National Park Service, on behalf of the Presidential Inauguration Committee, filed documents securing large swaths of the national mall and Pennsylvania Avenue, the Washington Monument and the Lincoln Memorial for the inauguration festivities. None of these spots will be open for protesters.
The NPS filed a "massive omnibus blocking permit" for many of Washington DC's most famous political locations for days and weeks before and after the inauguration on 20 January, said Mara Verheyden-Hilliard, a constitutional rights litigator and the executive director of the Partnership for Civil Justice Fund.
Previously, Verheyden-Hilliard has led court battles for protest access on inauguration day itself.
But banning access to public land for protesters days after the inauguration is "extremely unique", she said in a press conference held by the Answer [Act Now to Stop War and End Racism] Coalition.
"It hasn't come up in any way previously, where you've had a groundswell of people trying to have access on the Saturday, January 21, and thousands of people want to come, and the government is saying we won't give you a permit," she said.
"What they've done is take all of these spaces out of action," she said, many of which, the Answer Coalition noted in its press release, are "historic spaces for dissent".
It's partly a practical issue. Inauguration bleachers and viewing stands started being erected on 1 November and it will take until 1 March to completely clear the major public spaces from all of the inauguration works, said Mike Litterst, spokesman for the NPS.
"They're construction zones, effectively," said Litterst.
But the plan greatly limits the options for public protesting.

Climate change and human activity are threatening the existence of some of the world's largest lakes. These photographs document dramatic changes to the landscape in Bolivia, the Middle East, the former Soviet Union , China and west Africa
Presiding judge says anti-Islam politician's conviction over 2014 incident is punishment enough
Geert Wilders, the far-right Dutch politician, in court in Schiphol in March. Photograph: Michael Kooren/Reuters
Agencies in Amsterdam
A Dutch court has convicted populist anti-Islam politician Geert Wilders of hate speech charges at the end of a trial he branded a politically motivated "charade" that endangered freedom of speech.
Presiding Judge Hendrik Steenhuis said the court would not impose a sentence on Wilders, saying that the conviction was punishment enough for a democratically elected politician.
The charges stem from a 2014 incident in which Wilders led supporters to chant that they wanted "Fewer! Fewer! Fewer!" Moroccans in the Netherlands.
Wilders was not in court for the verdict that came just over three months before national elections. Wilders' Party for Freedom is currently narrowly leading a nationwide poll of polls and has risen in popularity during the trial.
Before the verdict, Wilders vowed not to let a conviction muzzle him, tweeting: "Whatever the verdict, I will continue to speak the truth about the Moroccan problem, and no judge, politician or terrorist will stop me."

Opinion
Why is there a Twitter fantasy about his satanic cranial outgrowths? Because his election really does feel like something out of a horror film
Time magazine denies doing it on purpose, yet the sign is there. The mark – and this one is much more visible than the 666 that I have been told by a maverick Vatican priest is tattooed on Donald Trump's left buttock.
There was no unpredictability about Time's choice for its person of the year. Just as in 1214 it had to be Genghis Khan and in 1462 Time could not fail to recognize Vlad the Impaler's impact – the screaming bodies he left on stakes across Transylvania were a tribute to his determination and foreign policy strength – this year it had no choice but to put the president-elect of the United States on its cover.
He looks the part. Photographed inside Trump Tower by Nadav Kander, the most powerful man in the world radiates the grandeur of destiny. Turning to look at us from his expensive and ornate, indeed monarchical, chair, he wants it to be seen that he means business. He is not smiling. He is not joking. He is not even tweeting.
Time calls him "President of the Divided States of America," and Kander's photograph casts one side of Trump's face in shadow. Is that facial division into light and dark meant as an allegory of the "divided" nation to which Time's cover refers? Or is it a suggestion of his apparent dark side, the unreasonable id that seemed to expose itself in his readiness to resort to extreme language, images and threats during his mad and triumphant campaign?
Portraying Trump as a man flawed and divided in the manner of the Batman character Two-Face might seem quite gothic enough on a magazine cover that is in theory celebrating the most important, influential, impactful human being of the year. Yet many people have spotted something still more sinister. Looking at the way the two pointed arches of the M in TIME seem to rise out Trump's golden slick of power-hair, they have suggested on Twitter that the magazine deliberately made the incoming president look like the devil.
The claim that Time gave Trump horns has spread so fast online that the magazine has actually felt the need to deny what surely started as facetious speculation. It insists that it had no such intention and this is simply what happens when you have a big M at the top of the page: "Any resemblance to … devil horns is entirely coincidental."
Tell that to Father Jerzy Bolochs, the former exorcist and consultant to paranormal thrillers who I interviewed this morning in an abandoned cemetery outside Pisa. In his opinion this is no "coincidence". That would be like saying the rain of sheep that fell on Paris on the eve of the Black Death was a coincidence.
Of course the editors of Time did not intentionally give Trump devil horns. God did. This is, fears Bolochs, one final sign before the Antichrist is inaugurated as president in the New Year. If you've seen the Omen series, you will know how far the devil is prepared to go to get his offspring into high political office. Yet in Omen III Damien only became an ambassador. That's more the level of Britain's Nigel Farage than his boss Donald Trump.

For a change from the same old news stories from the same old news networks, here are links to English-edition online newspapers from other parts of the world. Nearly all of these are English-edition daily newspapers. These sites have interesting editorials and essays, and many have links to other good news sources. We try to limit this list to those sites which are regularly updated, reliable, with a high percentage of "up" time.
Some of the available newspapers:
| | | |
| --- | --- | --- |
| Asia & CIS | | |
| | | |
| --- | --- | --- |
| China | | |
| | | |
| --- | --- | --- |
| China & Hong Kong | | |
| | | |
| --- | --- | --- |
| France | | |
| | | |
| --- | --- | --- |
| Israel | | |
| | | |
| --- | --- | --- |
| Norway | | |
| | | |
| --- | --- | --- |
| Palestine | | |
| | | |
| --- | --- | --- |
| Russia | | |
| | | |
| --- | --- | --- |
| Ukraine | | |
.