11 Dec

Senator calls for James Comey to resign for withholding information revealed in CIA report that Russian operatives gave hacked emails to WikiLeaks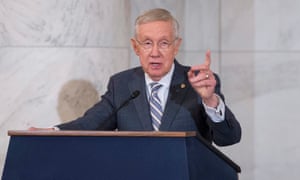 Outgoing Senate minority leader Harry Reid called for James Comey's resignation and compared him to FBI founder J Edgar Hoover. Photograph: Michael Reynolds/EPA
The FBI covered up information about Russia seeking to tip the 2016 presidential election in Donald Trump's favour, a senior Democrat claimed on Saturday, after reports emerged about spy agencies' investigations into hacks of US political parties.
Harry Reid, outgoing Senate minority leader, compared FBI director James Comey to the agency's notorious founder, J Edgar Hoover, and called for his resignation.
A secret CIA analysis found that people with connections to the Russian government provided emails, hacked from the Democratic National Committee and Hillary Clinton's campaign, to the whistleblower website WikiLeaks in the final months of the election, according to a Washington Post report published late Friday.
"The FBI had this material for a long time but Comey, who is of course a Republican, refused to divulge specific information about Russia and the presidental election," Reid told MSNBC on Saturday. Comey testified to Congress in July that he was no longer a registered Republican, though he belonged to the party most of his life.
"Everyone should know WikiLeaks was involved from the very beginning," Reid continued. "They leaked the information as if it was run by one of the great political operatives in America when in fact it was run by the political operatives in Russia.
"Russia has a pretty good way of cheating. Look at what they did with athletes," he added, alluding to the long-running doping scandal of Russian Olympic athletes.
Pressed on whether he believed Comey had information on Russia's influence and sat on it, Reid replied: "That's right, that is true."
"I am so disappointed in Comey. He has let the country down for partisan purposes and that's why I call him the new J Edgar Hoover, because I believe that," Reid added, calling for the director's resignation.
"I think he should be investigated by the Senate. He should be investigated by other agencies of the government including the security agencies because if ever there was a matter of security it's this … I don't think any of us understood how partisan Comey was."
Comey had previously angered Democrats when, 10 days before election day, he sent a letter to Capitol Hill leaders indicating the FBI had located additional emails potentially related to its investigation of Clinton's private email server. Two days before the election, he sent another letter saying the review was complete and that he stood by the bureau's original conclusion finding no criminal wrongdoing.
A month before the election, the US government formally accused Russia of a campaign of cyber-attacks against Democratic party organisations, with an intention to interfere in the US election. Intelligence officials did not specify that a Trump victory was the ultimate goal at the time. On Friday, Barack Obama ordered a review of evidence that Russia had interfered in the election.
Gene Sperling, a former national economic adviser to Obama and former president Bill Clinton, tweeted: "So at end of close election, FBI deeply hurt HRC [Clinton] based on no evidence, while CIA sat on clear evidence of Putin interference for Trump."
On Saturday Adam Schiff, the ranking member of the House committee on intelligence, said in a statement that though he could not "comment on or confirm any intelligence briefings … one would also have to be wilfully blind not to see that these Russian actions were uniformly damaging to Secretary Clinton and helpful to Donald Trump."
He added: "I do not believe this was coincidental or unintended."

But environmentalists raise concerns about measure in bill reducing protections on California's Bay-Delta estuary amid 'partisan games'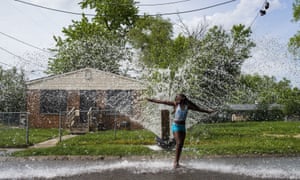 Alaysia Carr, 9, spins around as she dances under a fountain-like spray of water coming from a fire hydrant in Flint in May. The Senate has passed a bill including funding to remove lead-tainted pipes from the city's water supply. Photograph: Jake May/AP
In some of its last business of the year, the Senate on Friday passed a bill that included $170m in funding to remove lead-tainted pipes from the water supply in Flint, Michigan.
Environmentalists were concerned, however, about a "poison pill" in the legislation which rolled back environmental protections in California's Bay-Delta estuary.
"We should not have to trade delinquent congressional action in Michigan for the erosion of endangered species protection and a threat to fishing jobs in California," said Scott Slesinger, legislative director at the Natural Resources Defense Council, in a statement.
"But that is the result of the partisan games at play in this bill."
Drought relief was cited as the reason for the easing of protections in the Bay-Delta. The bipartisan bill, crafted by two Californians, the Democratic senator Dianne Feinstein and the Republican representative Kevin McCarthy, will steer more water from the bay to farms for irrigation. It also opens the door to new dams, desalination and other water projects.
The outgoing California senator Barbara Boxer strongly opposed the measure, calling it "dangerous" and a "disgrace" in remarks on the Senate floor.
"You're destroying the Endangered Species Act," Boxer said, "and what right does anybody have to do that, in the middle of the night?"
Feinstein said: "After three years and dozens of versions of legislation, I think this is the best we can do."
The bill was one of dozens passed in a mad dash before lawmakers return home for the holidays. Senators also passed a resolution to keep the government funded through April.
The outlays to tackle Flint's water crisis were celebrated by Michigan government officials.
"It's past time for Congress to put partisan politics aside and help the people of Flint, who are still without access to clean, safe drinking water from their taps," said Senator Gary Peters.

Some protesters plan to lend solidarity to campaigns, including fight against meth addiction, a proposed telescope in Hawaii and other oil pipelines
People line up in their cars as they leave Oceti Sakowin camp in North Dakota on 6 December. Photograph: Stephanie Keith/Reuters
For months, Julie Richards has been planning for the battles that would come the moment that she was no longer needed at the Standing Rock encampments. When that day came, the 43-year-old Oglala Lakota woman knew that she needed to take the fight back home.
"I have a crew ready to go back to my homeland, to set up a camp like this, and move against meth," she said in November.
Richards' home is the Pine Ridge Indian Reservation in South Dakota. She founded Mothers Against Meth Alliance (Mama) there five years ago, when her own daughter got hooked on the drug .
On Friday, as she prepared to pack up her tent in the Standing Rock encampments – her home for many months – her thoughts turned to an addiction crisis whose origins she sees in the gas and oil boom of the American west.
"We're going to do a Mama awareness tour and recruit more warriors, then we are going to set up a Mama headquarters on Pine Ridge," she said, envisioning "a Mama's safe house for women and children affected by meth."
A week after the Army Corps of Engineers denied a final permit for the Dakota Access pipeline to drill under the Missouri river, the thousands of indigenous "water protectors" who travelled to North Dakota to support the Standing Rock Sioux are trying to figure out their next steps.
Few believe the pipeline is truly dead. Energy Transfer Partners, the pipeline's company, has gone to court over the permit denial, and the president-elect, Donald Trump, is openly supportive of the Dakota Access pipeline and fossil fuel extraction in general.
But with another winter storm bearing down, and with the tribal chairman of the Standing Rock Sioux asking people to leave, many are taking the opportunity to move on. Where one week ago, the road to Oceti Sakowin, the main encampment, was packed with cars, busses, and trucks bringing supplies and reinforcements, today the traffic is heading in the opposite direction.
"There's time for people to take a breath and rest and get ready," said Dave Archambault, the tribal chairman, in an interview on Friday .
Though Archambault said that he agrees with his critics that the permit denial was just one battle within a larger war to defeat the pipeline, he argued that the next stage would be fought in the courtroom and in Washington DC, not on the banks of the Missouri river.
"There isn't really a purpose for the camp

Songwriter sends a speech and Patti Smith to the Nobel awards dinner in Sweden rather than attending in person
A nervous Patti Smith sings 'A Hard Rain's A-Gonna Fall' in Stockholm on Saturday, in a performance given to mark Bob Dylan's Nobel prize for literature. Dylan, whose speech was read out by US ambassador to Sweden Azita Raji, says the prize was 'something I never could have imagined or seen coming'
Bob Dylan admitted he was stunned and surprised when he was told he had won a Nobel prize because he had never stopped to consider whether his songs were literature.
Dylan, whose speech was read out by the US ambassador to Sweden at the annual awards dinner, said the prize was "something I never could have imagined or seen coming".
He said from an early age he had read and absorbed the works of past winners and giants of literature such as Kipling, Shaw, Thomas Mann, Pearl Buck, Albert Camus and Hemingway. But said it was "truly beyond words" that he was joining those names on the winners list. "If someone had ever told me that I had the slightest chance of winning the Nobel prize, I would have to think that I'd have about the same odds as standing on the moon," he wrote.
The announcement that Dylan had won the literature prize caused controversy with critics arguing his lyrics were not literature. On learning he had been awarded the literature prize Dylan said he thought of Shakespeare. "When he was writing Hamlet, I'm sure he was thinking about a lot of different things: 'Who're the right actors for these roles? How should this be staged? Do I really want to set this in Denmark?'
"His creative vision and ambitions were no doubt at the forefront of his mind, but there were also more mundane matters to consider and deal with. 'Is the financing in place? Are there enough good seats for my patrons? Where am I going to get a human skull?' I would bet that the farthest thing from Shakespeare's mind was the question: 'Is this literature?'
"Like Shakespeare, I too am often occupied with the pursuit of my creative endeavours and dealing with all aspects of life's mundane matters. 'Who are the best musicians for these songs? Am I recording in the right studio? Is this song in the right key?' Some things never change, even in 400 years. Not once have I ever had the time to ask myself 'are my songs literature?' So, I do thank the Swedish academy, both for taking the time to consider that very question and ultimately, for providing such a wonderful answer."
Formally presenting the award Horace Engdahl, a Swedish literary critic and member of the Swedish academy behind the prize, responded to international criticism of the choice of a popular lyricist as recipient. In defence of the decision, Engdahl said that when Dylan's songs were heard first in the 1960s: "All of a sudden, much of the bookish poetry in our world felt anaemic."
The academy's choice of Dylan, Engdahl added, speaking in Swedish, "seemed daring only beforehand and already seems obvious".
And it was an unconventional prize-giving nigh

Activists display almost 4,000 notes from backers on the side of the Newseum, an institution celebrating free speech near the White House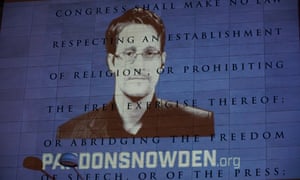 An image of Edward Snowden is projected on to the side of the Newseum, in Washington DC. Photograph: Pardon Snowden
Edward Snowden has been the subject of several high-profile appeals this year, calling on Barack Obama to pardon the National Security Agency whistleblower and allow him to return home to the US. Writers, intelligence experts, film stars and tech tycoons have all joined the chorus.
Now the most audacious display of support for Snowden is under way. Messages calling for his pardon are being beamed on to the outside wall of the Newseum, the Washington institution devoted to freedom of speech and the press that stands less than two miles from the White House.
The event is a guerrilla action carried out without the knowledge or approval of the Newseum itself, though the organisers of the stunt from the Pardon Snowden campaign are hoping they will be given a sympathetic reception.
"We sincerely hope that the Newseum supports what we are doing as an affirmation of the significance of a free press," Noa Yachot, the campaign's director, told the Guardian before the event.
Almost 4,000 messages backing Snowden's decision to expose mass government surveillance of emails and phone calls have been gathered by the campaign, from across the US and around the world.
The messages include this one, from Casey: "I'm a 69-year-old vet and applaud your guts, we owe you lots and let's hope you can come home to your family and friends."
And this, from Tess: "Ed, I'm on your side. You're a hero and an example of what it means to be an American. Thank you for making such an incredible sacrifice in order that we might move a bit more toward the truth."
Frank offers: "True patriotism: speaking up when your government loses its moral compass."

For a change from the same old news stories from the same old news networks, here are links to English-edition online newspapers from other parts of the world. Nearly all of these are English-edition daily newspapers. These sites have interesting editorials and essays, and many have links to other good news sources. We try to limit this list to those sites which are regularly updated, reliable, with a high percentage of "up" time.
Some of the available newspapers:
| | | |
| --- | --- | --- |
| Asia & CIS | | |
| | | |
| --- | --- | --- |
| China | | |
| | | |
| --- | --- | --- |
| China & Hong Kong | | |
| | | |
| --- | --- | --- |
| France | | |
| | | |
| --- | --- | --- |
| Israel | | |
| | | |
| --- | --- | --- |
| Norway | | |
| | | |
| --- | --- | --- |
| Palestine | | |
| | | |
| --- | --- | --- |
| Russia | | |
| | | |
| --- | --- | --- |
| Ukraine | | |
.