13 Dec

Rex Tillerson, the 64-year-old Exxon Mobile CEO, is president-elect Donald Trump's nominee for US secretary of state. Tillerson has worked at the oil giant for his entire 41-year career and has strong links with Rosneft in Russia – and with the Kremlin. His appointment now depends on finding majority support among Republicans in the Senate
Twelve people released on bail amid concerns controversial order is impractical and impinges on rights of minority groups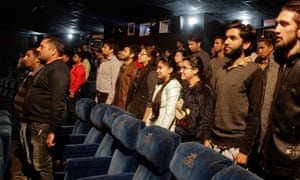 India's supreme court announced last month that cinemas had to start film screenings by playing the national anthem. Photograph: Channi Anand/AP
Twelve people have been arrested at an international film festival in south India for refusing to comply with a supreme court order to stand for the national anthem at cinemas.
The group were detained after festival organisers complained to police that some moviegoers had refused to stand for the anthem before a film screening on Monday, an investigator with the Kerala police, Anil Kumar, told the Guardian.
They were released on bail but Kerala police have started an investigation into whether they breached the Prevention of Insults to National Honour Act of 1971. Intentionally breaching the act is punishable by a fine and up to three years in prison.
India's supreme court announced last month that cinemas across the country had to start film screenings by playing the anthem, during which time doors should be locked and moviegoers should stand.
The court said the order was needed so that citizens would "feel that they live in a nation", and that too much disrespect of national symbols had been indulged in the name of "individually perceived notions of freedom".
The decision played into concerns held by some Indians that the country's traditionally pluralist character was being undermined by a coarser nationalism that leaves less room for minority rights or dissent.
About 100 people took part in protests outside cinema venues in Kerala on Tuesday, holding signs that read: "Playing the national anthem in theatre is like selling it for free in a supermarket. Please don't degrade my national anthem."

Two women say they were stopped by Knesset guards whom MP accuses of acting as 'modesty police'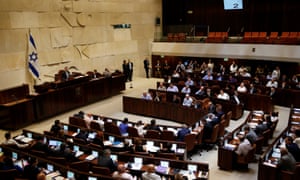 New rules have been introduced restricting access to the Knesset to people in 'appropriate attire'. Photograph: Ronen Zvulun/Reuters
Two female political aides working in Israel's parliament were stopped from entering the assembly in recent days after security guards deemed their dresses insufficiently "modest".
The women were stopped despite the fact that they were wearing dresses that came down to the mid-thigh. Both aides said they had worn the dresses to work before.
Critics condemned the separate incidents as an apparent sign of Israel's growing social and political conservatism – not least with regards to women.
The incidents occurred after new rules were introduced a month ago to restrict access to the Knesset to people wearing "appropriate attire". Inappropriate attire is listed as "tank/spaghetti tops, cropped tops, shorts or three-quarter length trousers, ripped trousers, shirts with political slogans, short skirts and short dresses, flip-flops or open-back clogs".
In the first case, Shaked Hasson, an assistant to Zionist Union MP Merav Michaeli, said she was stopped from entering the parliament for work on Sunday.
Hasson said she was detained at the entrance gate for an hour, during which time five different male guards examined her, before ruling that her dress was too short. She said the issue was only resolved when Michaeli intervened.
Michaeli criticised the guards' actions in a Facebook post, writing that they had humiliated her assistant. She accused the guards of acting as "modesty police", adding that "the Knesset dress code cannot be used as a means to oppress women".
"It goes without saying that men don't have to go through such checks on their bodies," Michaeli wrote.

Malak al-Shehri's tweet defying Saudi dress code caused backlash, with many people calling for her to be executed, but supporters comparing her to Rosa Parks
Saudi police have arrested a young woman who tweeted a picture of herself outdoors without the body-length robes and head scarf that women in the kingdom are required to wear.
A woman identified as Malak al-Shehri posted a picture of herself on Twitter in a jacket and multi-colored dress last month after announcing that she would leave her house without her abaya, a long loose-fitting robe, and headscarf.
The tweet caused a backlash with many calling for Shehri – whose first name means angel, which was also her moniker online – to be executed with the hashtag "We demand the arrest of the rebel Angel Shehri."
The picture posted on the downtown Riyadh street of al-Tahliya, led to someone filing a complaint with the religious police, and eventually to the woman's arrest, according to the local Arabic-language Al-Sharq newspaper.
A police spokesman told the newspaper that Shehri, who is in her 20s, was taken to prison and he also accused her of "speaking openly about prohibited relations with (non-related) men".
"Police officers have detained a girl who had removed her abaya on al-Tahliya street, implementing a challenge she announced on social media several days ago," the newspaper quoted Colonel Fawaz al-Maiman as saying.

The state with the highest per-capita homeless rate is trying to raise standards for those in shelters but critics say without more housing outcomes will worsen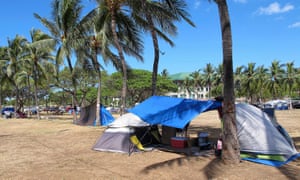 Tents line a park at a homeless encampment in Honolulu. New rules for shelters have raised fears that more people, including children, could end up on the streets. Photograph: Cathy Bussewitz/AP
Hawaii appears poised to force up to a third of its temporarily sheltered homeless people back on to the streets after the introduction of rules that could have catastrophic consequences in the state, which has the highest per-capita rate of homelessness in the US.
The requirements are part of a new process for applying for new state funding contracts; shelters had to submit an operational plan by 12 December that met new criteria, including providing 50 cubic feet of air space per person with three feet of separation between each bed, increased ratios of bathrooms, and separate facilities for families with children.
The shelters initially estimated the requirements would force them to cut 35% of their total bed count across the state.
"The requirements are not in touch with reality," Bill Hummel, director of Lighthouse Shelter in Waipahu, said. "Even if there was enough money, there isn't enough time." Hummel said his shelter would be forced to close in a matter of weeks unless requirements changed.
Connie Mitchell, director of the Institute for Human Services, said they would stagger sleeping shifts between night and day hours to ensure their clients all still had a place to sleep.
"Children may end up on the streets," said Sheila Beckham, the head of Waikiki Health's Next Step Shelter. "It's a very scary and painful thing to be involved in." The shelter only has one sleeping facility, and will no longer be able to serve families.
But Scott Morishige, the state's homeless coordinator, defended the introduction of the new regulations, which he said had been created to address complaints that shelters were crowded and unsafe. "The changes will be difficult, but we can't continue to do the same thing and expect a different result," he said.


For a change from the same old news stories from the same old news networks, here are links to English-edition online newspapers from other parts of the world. Nearly all of these are English-edition daily newspapers. These sites have interesting editorials and essays, and many have links to other good news sources. We try to limit this list to those sites which are regularly updated, reliable, with a high percentage of "up" time.
Some of the available newspapers:
| | | |
| --- | --- | --- |
| Asia & CIS | | |
| | | |
| --- | --- | --- |
| China | | |
| | | |
| --- | --- | --- |
| China & Hong Kong | | |
| | | |
| --- | --- | --- |
| France | | |
| | | |
| --- | --- | --- |
| Israel | | |
| | | |
| --- | --- | --- |
| Norway | | |
| | | |
| --- | --- | --- |
| Palestine | | |
| | | |
| --- | --- | --- |
| Russia | | |
| | | |
| --- | --- | --- |
| Ukraine | | |
.