14 Dec
Two thirds of Palestinians believe the two-state solution is no longer viable and want Palestinian President Mahmoud Abbas to step down, a Palestinian Center for Policy and Survey Research (PSR) poll revealed on Wednesday, as the public perception of the Palestinian situation remained ever more grim.
According to the responses of the 1,270 Palestinians polled by PSR, 64 percent want Abbas to resign, while only 32 percent sad they wanted him to remain president. In the Gaza Strip, the number of respondents who called for Abbas' resignation soared to 72 percent.
In the wake of Fatah's seventh conference, a majority of respondents expressed dissatisfaction regarding the outcome of the Palestinian Authority (PA) ruling party's congress. Only 33 percent said they were satisfied with the decision to reappoint Abbas at the head of the party, with 57 percent of respondents saying they were dissatisfied.
Furthermore, 48 percent did not believe that Abbas' new mandate as Fatah chairman would consolidate his legitimacy as president of the Palestinian Authority or head of the Palestine Liberation Organization (PLO).
Regarding the US presidential elections in November, those polled had a dismal view of the achievements of outgoing President Barack Obama regarding the Israeli-Palestinian conflict, with 83 percent saying that he had not made serious efforts to resolve the conflict.
PSR reported a sharp increase in the number of respondents who stated that they believed the two-state solution was no longer viable, jumping from 56 percent three months ago to 65 percent now, with only 31 percent remaining confident that it was still feasible. A further 62 percent said they supported abandoning the Oslo Accords.
A little over half of respondents — 54 percent — believe that Israel's long term goal was to fully annex the occupied Palestinian territory and expel its Palestinian inhabitants, as nearly three quarters — 73 percent — said they were worried of being hurt by Israel or that their lands and homes would be confiscated or demolished.
And:


Controversial leader – who has endorsed extrajudicial executions of drug offenders – says he killed to show police officers 'if I can do it, why can't you?'
*****************
The McGlynn: Trump is as mad as Duterte.
According to CNN:
President-elect Donald Trump told Philippines President Rodrigo Duterte that he is going about his controversial fight against drugs "the right way," Duterte said.
Duterte says he was greatly pleased with the "rapport" he had with the newly elected U.S. president..
Duterte made the comments to reporters in Davao City on Saturday after a brief phone call last night with President-elect Donald Trump. Government officials earlier passed along snippets of their conversation.
"He was quite sensitive to our war on drugs and he wishes me well in my campaign and said that we are doing, as he so put it, 'the right way,' " the President said.
************
And in a statement , Duterte shared details of a seven-minute conversation that took place with Trump. He said that during the call, Trump endorsed his campaign against drug users and dealers — a campaign that has left at least 4,500 Filipinos dead in about five months. Trump told Duterte that he was doing it the "right way," according to Duterte's account.
"I could sense a good rapport, an animated President-elect Trump," he added. "And he was wishing me success in my campaign against the drug problem."
The McGlynn
*****************
Philippines president Rodrigo Duterte says he personally killed suspected criminals when he was mayor of the southern city Davao. Speaking on Monday evening at a business forum in Manila, Duterte says he cruised the streets 'looking for trouble' to show police that it was possible
Rodrigo Duterte has announced he personally killed suspected criminals when he was mayor of his home city of Davao in the Philippines, cruising the streets on a motorcycle and "looking for trouble".
The country's president made the comments in a speech late on Monday night as he discussed his campaign to eradicate illegal drugs, which has seen police and unknown assailants kill around 5,000 people since he became president on 30 June.
"In Davao I used to do it personally. Just to show to the guys [police officers] that if I can do it, why can't you," he was quoted as saying by AFP, talking of his two decades as major of the southern city of 1.5 million people.
"And I'd go around in Davao with a motorcycle, with a big bike around, and I would just patrol the streets, looking for trouble also.
"I was really looking for a confrontation so I could kill."
The former mayor was nicknamed "Duterte Harry", after the fictional and ruthless police inspector played by Clint Eastwood, for his support for vigilante death squads that killed hundreds of suspected criminals.
Duterte previously has both denied and acknowledged his involvement in the Davao death squads.
Since taking his bloody anti-crime campaign to the nation level, he has been criticised by the United States and United Nations, whose concerns have drawn only angry rebukes.
"If they say that I am afraid to stop because of the human rights and guys … including Obama, sorry, I am not about to do that," Duterte said in English during his speech at the presidential palace this week.
Duterte has a better relationship with US president-elect Donald Trump, who he said had praised his war on drugs during a phone call this month. This was not confirmed by Trump's team.
As president Duterte has publicly encouraged civilians to kill drug addicts and said he will not prosecute police for extrajudicial executions. But he has also said he and his security forces will not break the law.
In October Duterte compared himself to Adolf Hitler and said he would be "happy to slaughter" three million drug addicts.
(This article is over one year old)
A newly unearthed missive from Lenny Bernstein, a climate expert with the oil firm for 30 years, shows concerns over high presence of carbon dioxide in enormous gas field in south-east Asia factored into decision not to tap it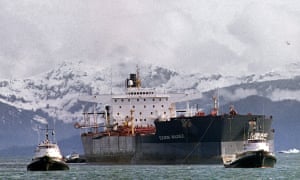 Tugboats tow the oil tanker Exxon Valdez off Bligh Reef in Prince William Sound 5 April 1989. Exxon became aware of climate change as early as 1981, according to a newly discovered email. Photograph: Chris Wilkins/AFP/Getty Images
ExxonMobil, the world's biggest oil company, knew as early as 1981 of climate change – seven years before it became a public issue, according to a newly discovered email from one of the firm's own scientists. Despite this the firm spent millions over the next 27 years to promote climate denial.
The email from Exxon's in-house climate expert provides evidence the company was aware of the connection between fossil fuels and climate change, and the potential for carbon-cutting regulations that could hurt its bottom line, over a generation ago – factoring that knowledge into its decision about an enormous gas field in south-east Asia. The field, off the coast of Indonesia, would have been the single largest source of global warming pollution at the time.
"Exxon first got interested in climate change in 1981 because it was seeking to develop the Natuna gas field off Indonesia," Lenny Bernstein, a 30-year industry veteran and Exxon's former in-house climate expert, wrote in the email. "This is an immense reserve of natural gas, but it is 70% CO2," or carbon dioxide, the main driver of climate change.
However, Exxon's public position was marked by continued refusal to acknowledge the dangers of climate change, even in response to appeals from the Rockefellers, its founding family, and its continued financial support for climate denial. Over the years, Exxon spent more than $30m on thinktanks and researchers that promoted climate denial, according to Greenpeace.
Exxon said on Wednesday that it now acknowledges the risk of climate change and does not fund climate change denial groups.
Some climate campaigners have likened the industry to the conduct of the tobacco industry which for decades resisted the evidence that smoking causes cancer.
In the email Bernstein, a chemical engineer and climate expert who spent 30 years at Exxon and Mobil and was a lead author on two of the United Nations' blockbuster IPCC climate science reports, said climate change first emerged on the company's radar in 1981, when the company was considering the development of south-east Asia's biggest gas field, off Indonesia.
That was seven years ahead of other oil companies and the public, according to Bernstein's account.
Climate change was largely confined to the realm of science until 1988, when the climate scientist James Hansen told Congress that global warming was caused by the buildup of greenhouse gases in the atmosphere, due to the burning of fossil fuels.
By that time, it was clear that developing the Natuna site would set off a huge amount of climate change pollution – effectively a "carbon bomb", according to Bernstein.
In the run-up to the US election, aide to John Podesta spotted phishing email but flagged it as 'legitimate' instead of 'illegitimate'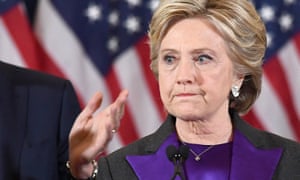 The revelations give further credence to the CIA finding that the Kremlin intervened to help Donald Trump defeat Hillary Clinton. Photograph: Jewel Samad/AFP/Getty Images
Russian hackers were able to access thousands of emails from a top-ranking Democrat after an aide typed the word "legitimate" instead of "illegitimate" by mistake, an investigation by the New York Times has found.
The revelation gives further credence to the CIA's finding last week that the Kremlin deliberately intervened in the US presidential election to help Donald Trump. The president-elect has angrily denied the CIA's assessment, calling it "ridiculous".
In the run-up to the election, the US Democratic National Committee (DNC) received numerous phishing emails, the paper reported on Tuesday. One of them was also sent to John Podesta, the chairman of Hillary Clinton's campaign. An aide, Charles Delavan, spotted the message sent to Podesta's private account. It asked Podesta to change his password.
Delavan realised the email was a phishing attack and forwarded it to a computer technician. However, he made a typo, writing: "This is a legitimate email." He added: "John needs to change his password immediately."
The blunder gave Kremlin hackers access to about 60,000 emails in Podesta's private Gmail account. According to US intelligence officials, Moscow then gave the email cache to WikiLeaks. The website released them in October, and the email scandal dominated the news cycle and was exploited by Trump.
The FBI had known for some time that Russia was making a wide-ranging and systematic attempt to hack US political institutions including the White House and the State Department, the paper reported. In September 2015 the FBI discovered that a cyber-espionage team linked to the Russian government had penetrated the DNC.
But instead of sending a top-level delegation and raising the alarm, the FBI got a single special agent to make a phone call. The agent, Adrian Hawkins, rang the DNC and was put through to the IT helpdesk. He told the tech-support contractor on duty, Yared Tamene, that a group called "the Dukes" had hacked the DNC's computer networks.
According to the paper, Tamene thought Hawkins's message might have been a prank call. He googled "Dukes" but found nothing. He then failed to alert senior staff after his cursory search of the DNC's computer system logs revealed no obvious sign of an intrusion.
Hawkins rang back repeatedly over the next few weeks. Tamene, however, did not respond. "I did not return his calls, as I had nothing to report," he wrote in a memo seen by the New York Times.
The FBI's laid-back approach meant that Russian hackers were able to roam inside the DNC's computer systems for almost seven months, before Democratic officials finally realised the gravity of the attack and brought in external cybersecurity experts.
In March 2016 a second Russian hacking group targeted the DNC. It sent hundreds of phishing emails, which began: "Someone just used your password to try to sign into your Google account." One of the scam's victims was Billy Rinehart, a former DNC regional field director, who clicked on the "change password" message while half asleep.
According to the New York Times, the Obama administration was slow to respond to the hacking threat, underestimated its seriousness and fluffed several opportunities to stop it. The resulting email furore damaged Clinton's election prospects and helped Trump to victory, as the Kremlin had almost certainly intended.
After the data breach the DNC hired CrowdStrike, a cybersecurity company. It quickly established the hack had originated in Russia and identified two groups, Cozy Bear and Fancy Bear. Cozy Bear, linked to Russia's FSB spy agency, had begun its phishing operation in summer 2015, the paper reported.
Fancy Bear joined the attacks in March 2016. The hacking group is linked to the GRU, Russian military intelligence. It was Fancy Bear that hacked Podesta's email account, the paper said. The two Kremlin hacking groups were seemingly unaware of each other, sometimes stockpiling the same stolen documents.

Decision to suspend sales of precision-guided munitions over high civilian death toll leaves UK diplomatically exposed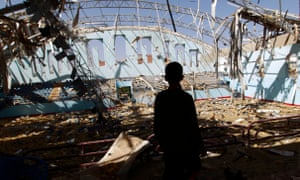 A Yemeni boy inspects the damage at a sports hall partially destroyed by Saudi-led airstrikes in Sana'a. Photograph: Mohammed Huwais/AFP/Getty Images
The US is preparing to halt planned arms sales to Saudi Arabia because of the high death toll among civilians in the kingdom's bombing campaign in Yemen.
Obama administration officials were quoted on Reuters, who broke the story, saying that the "systematic, endemic problems in Saudi Arabia's targeting drove the US decision to halt a future weapons sale involving precision-guided munitions".
"We've decided not to move forward with some foreign military sales cases for air-dropped munitions, PGMs (precision-guided munitions)," a US official said.
A second official confirmed the decision to suspend the sale of certain weaponry.
The US move would leave the UK exposed diplomatically and faced with an awkward dilemma because of the scale of its arms sales to the kingdom and the presence of UK military personnel at the Saudi headquarters from where the bombing campaign is being conducted.
Andrew Smith of the UK-based Campaign Against Arms Trade (CAAT) said: "Like the US, the UK has licensed billions of pounds worth of arms to Saudi forces. Like their US counterparts, UK arms companies have fuelled and profited from the destruction taking place. If even the US is questioning its support for Saudi Arabia, then why is the UK government pulling out all stops to support them? Why are human rights regarded as less important than arms company profits?"
Brendan O'Hara, the SNP's defence spokesman, said the party had been urging the UK government to suspend arms sales to Saudi. "It is something the government has resisted and it must be embarrassing that the US takes the lead in suspending arms sales. How bad does a regime have to be for the UK government to act?" he asked.
The UK has staff at Saudi headquarters who are involved in giving advice on targeting. The UK Ministry of Defence has repeatedly said that its advice is limited to whether the targets comply with international law and that it does not help choose the targets.
But the US criticism of the Saudi targeting will raise even more questions about the UK presence. The US is to offer Saudi Arabia training in targeting.
Human rights organisations have protested about the scale of the bombing in the almost two-year-long Saudi action against the Houthis, who are backed by Iran. Yemen has become caught between Saudi and Iran, one of the proxy wars that the UK foreign secretary, Boris Johnson, complained about in criticism of the Gulf kingdom that earned him a rebuke by Downing Street.
Reuters reported that a specific arms sale already put on hold appeared to involve the sale of hundreds of millions of dollars worth of guidance systems manufactured by Raytheon Co that convert dumb bombs into precision-guided munitions that can more accurately hit their targets.

Breach of Belle Fourche pipeline highlights the potential for spills that could taint drinking water, an issue at the core of the Dakota Access pipeline protest
'Water protectors' at Standing Rock. True Cos, the operator of the ruptured Belle Fourche pipeline, has a history of oil field-related spills. Photograph: Pacific Press/REX/Shutterstock
Associated Press
Electronic monitoring equipment failed to detect a pipeline rupture that spewed more than 176,000 gallons of crude oil into a North Dakota creek, according to the pipeline's operator, about 150 miles from the site of the Standing Rock protests.
The potential for a pipeline leak that might taint drinking water is at the core of the months-long standoff at the Dakota Access pipeline, where thousands of people have been protesting against its construction. That pipeline would cross the Missouri river.
It's not yet clear why the monitoring equipment didn't detect the leak, Wendy Owen, a spokeswoman for Casper, Wyoming-based True Cos, which operates the Belle Fourche pipeline, said.
A landowner discovered the spill near Belfield on 5 December, according to Bill Suess, an environmental scientist with the North Dakota health department.
Suess said the spill migrated about six miles from the spill site along Ash Coulee creek, and it fouled an unknown amount of private and US Forest Service land along the waterway. The creek feeds into the Little Missouri river, but Seuss said it appears no oil got that far and that no drinking water sources were threatened.
He said about 37,000 gallons of oil had been recovered as of Monday.
Owen said the pipeline was shut down immediately after the leak was discovered. The pipeline is buried on a hill near Ash Coulee creek, and the "hillside sloughed", which may have ruptured the line, she said.
"That is our number one theory but nothing is definitive" Owen said. "We have several working theories and the investigation is ongoing."
True Cos has a history of oil field-related spills in North Dakota and Montana, including a January 2015 pipeline break into the Yellowstone River. The 32,000-gallon spill temporarily shut down water supplies in the downstream community of Glendive, Montana, after oil was detected in the city's water treatment system.
The six-inch steel Belle Fourche pipeline is mostly underground but was built above ground where it crosses Ash Coulee creek, Suess said.
Owen said the pipeline was built in the 1980s and is used to gather oil from nearby oil wells to a collection point.

For a change from the same old news stories from the same old news networks, here are links to English-edition online newspapers from other parts of the world. Nearly all of these are English-edition daily newspapers. These sites have interesting editorials and essays, and many have links to other good news sources. We try to limit this list to those sites which are regularly updated, reliable, with a high percentage of "up" time.
Some of the available newspapers:
| | | |
| --- | --- | --- |
| Asia & CIS | | |
| | | |
| --- | --- | --- |
| China | | |
| | | |
| --- | --- | --- |
| China & Hong Kong | | |
| | | |
| --- | --- | --- |
| France | | |
| | | |
| --- | --- | --- |
| Israel | | |
| | | |
| --- | --- | --- |
| Norway | | |
| | | |
| --- | --- | --- |
| Palestine | | |
| | | |
| --- | --- | --- |
| Russia | | |
| | | |
| --- | --- | --- |
| Ukraine | | |
.