Source:Global Times – Communist party-controlled newspaper
The US will not encourage Taiwan to declare independence, but in the meantime will not sit back and watch China use force to conquer Taiwan in any case, said Newt Gingrich, former Speaker of the US House of Representatives, on Tuesday. He said the message US President-elect Donald Trump is sending to Beijing is that China should not be so "strong and aggressive."
As a firm supporter of Trump, Gingrich is considered as one of the influential figures in Trump's team, yet he is not in the cabinet. According to his own words, he does not want to join the administration and intends "to be focused on strategic planning."
It is uncertain to what extent Gingrich's remarks represent Trump and his team. But he stated the Republican Party's traditional mindset as well as the US' long-standing policy over the Taiwan Straits when he simultaneously stressed that Washington did not support Taiwan independence and would not accept reunification through military force.
Time will tell after Trump's team takes over the US, whether it will willfully utilize the one-China policy as leverage to blackmail Beijing or restrain itself in actual practice.
In any case, the current farce has made China vigilant.
It is possible for Washington to activate the Taiwan card in a crude manner at any moment. The tacit understanding and hidden rules made between China and the US over the Taiwan Straits can hardly be respected for long. Even the one-China policy can be attacked unexpectedly. That mirrors the fact that we are far from able to control the destructiveness of the Taiwan question.
The long-stalled puzzle over Taiwan has turned into a huge cost in China's rise and so far there is no sign that this cost will contract.
If the Chinese mainland won't pile on more pressure over realizing reunification by using force, the chance of peaceful unification will only slip away. Independent forces on the island publicly believe that time is on their side, because Taiwan people's recognition of their Chinese identity is gradually decreasing and against such a backdrop, they can turn the tables with the help of international forces.
It might be time for the Chinese mainland to reformulate its Taiwan policy, make the use of force as a main option and carefully prepare for it. Once Taiwan independence forces violate the Anti-Secession Law, the Chinese mainland can in no time punish them militarily. Moreover, getting ready to achieve reunification through the use of force can pose a serious deterrence to Taiwan independence.
The military status quo across the Taiwan Straits needs to be reshaped as a response and punishment to the current administration of the Democratic Progressive Party (DPP)'s destruction of the political status quo in cross-Straits ties. And we should also foster forces which support reunification through a variety of ways on the island.
The future of Taiwan must not be shaped by the DPP and Washington, but by the Chinese mainland. It is hoped that peace in the Taiwan Straits won't be disrupted. But the Chinese mainland should display its resolution to recover Taiwan by force. Peace does not belong to cowards.




Exclusive: Canada's prime minister tells the Guardian why, in a world where populism, divisiveness and fear are on the rise, he's taking the opposite approach
In an exclusive interview with the Guardian, the Canadian prime minister talks about Donald Trump, the environment and Canada's role in a world where populism is on the rise
Ordinary people around the world have been failed by globalisation, Justin Trudeau has told the Guardian, as he sought to explain a turbulent year marked by the election of Donald Trump, the Brexit vote and the rise of anti-establishment, nation-first parties around the world.
"What we're facing right now – in terms of the rise of populism and divisive and fearful narratives around the world – it's based around the fact that globalisation doesn't seem to be working for the middle class, for ordinary people," the Canadian prime minister said in an interview at his oak-panelled office in the country's parliament. "And this is something that we identified years ago and built an entire platform and agenda for governing on."
Last year, at a time when Trump was being described as a long shot for president and the threat of Brexit seemed a distant possibility, Trudeau, 44, swept to a majority government on an ambitious platform that included addressing growing inequality and creating real change for the country's middle class.
If we can show you can have growth that works for everyone … that diffuses a lot of the uncertainty, the anger

Justin Trudeau
One year on, what has emerged is a government that seems to go against the political tide around the world; open to trade, immigration and diversity and led by a social media star whose views on feminism, Syrian refugees and LGBT rights have provoked delight among progressives.
But as he enters his second year in power, Trudeau – a former high school teacher and snowboarding instructor – is under pressure to show the world that his government has found an alternative means of tackling the concerns of those who feel they've been left behind.
He cited the signing of Ceta – the free trade deal between the EU and Canada – and a hotly contested decision to approve two pipelines as examples of this approach.
"We were able to sign free trade agreement with Europe at a time when people tend to be closing off," he said. "We're actually able to approve pipelines at a time when everyone wants protection of the environment. We're being able to show that we get people's fears and there are constructive ways of allaying them – and not just ways to lash out and give a big kick to the system."

Senator Leila de Lima says 'mass murder' is grounds for ousting, but justice minister defends president's admission of extrajudicial executions
Two Philippine senators have said President Rodrigo Duterte's admission that he used to personally kill suspected criminals when mayor of Davao city is grounds for impeachment.
Senator Leila de Lima, Duterte's foremost domestic critic, and Senator Richard Gordon, who heads the senate justice committee, said the president's comments provided a legal avenue for his ousting.
"That is betrayal of public trust and that constitutes high crimes because mass murders certainly fall into the category of high crimes. And high crimes is a ground for impeachment under the constitution," de Lima told CNN.
Speaking to reporters, Gordon said: "When he says that, he's opening himself up, so what's the legal way, then go ahead and impeach him."
But justice minister Vitaliano Aguirre waved away Duterte's comments as "hyperbole".
"He always exaggerates just to put his message across," Aguirre said, adding that even if Duterte had killed, he did not necessarily break the law.
"It could be done with a justifiable cause and justified circumstances as a public officer in order to arrest but if they resisted. He must have been forced," he said.
Any move to impeach Duterte is unlikely to succeed. Not only does he command huge domestic support for his bloody war on drugs, the firebrand nicknamed "the Punisher" also has allies in the lower and upper house of congress.
Although only a one-thirds vote in the house of representatives is needed to start the process of of impeachment, conviction requires a two-thirds vote in the senate.
De Lima, a former justice minister in a previous administration, had led an inquiry into the war on drugs, and has been the target of hatred for speaking out against Duterte. Allies of the president filed a criminal complaint against her this week.

Targeted sanctions and peacekeeping force among measures urged at special session of UN human rights council as violence compared with Rwanda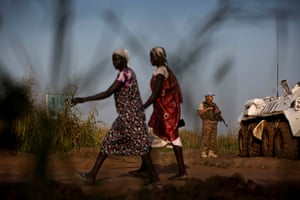 Women walk past a UN peacekeeper outside the protection of civilian camp in Bentiu. The UN human rights council has been urged to deploy a 4,000-strong protection force in South Sudan. Photograph: Kate Holt/Unicef
Conditions in South Sudan were repeatedly likened to those in Rwanda on the eve of its genocide at a special session of the UN human rights council held on Wednesday, with a top official warning that escalating ethnic violence has left the country teetering on the brink of disaster.
On the third anniversary of the civil war in the world's youngest country, members states heard that swift action was required to prevent a genocide, including targeted sanctions and the deployment of a 4,000-strong protection force to separate the warring parties.
The meeting heard severe criticism of the role of the existing UN peacekeepers in South Sudan, who risked becoming "guilty bystanders" to atrocities.
UN Watch, which monitors the performance of the global body, said it was "deeply concerned" by reports of peacekeepers' reluctance to protect civilians. The UN needed to lead by example it said.
Amid warnings of an "all-out ethnic civil war", the meeting in Geneva was advised that violence in South Sudan could destabilise the wider east Africa region.
"With the beginning of the dry season South Sudan teeters on the brink of a disaster," said Zeid Ra'ad al-Hussein, the UN high commissioner for human rights.
"Weather conditions mean armed groups, militias and bandits can roam more swiftly across the landscape and there is a high potential for clashes between the government and fighters on multiple fronts."
Tens of thousands have been killed in fighting in South Sudan, and more than a million people have fled the country.
Zeid said that threats of violence decreased when local leaders intervened recently to halt hate speech, suggesting "there may still be some space for

Malcolm Roberts attends meeting with Trump EPA transition team head Myron Ebell and other longtime deniers
A

key figure picked to prepare the US federal environment agency for life under a Donald Trump administration has met in Washington DC with some of the world's most notorious and longest-serving climate science deniers, including One Nation senator Malcolm Roberts.
Myron Ebell, of the Competitive Enterprise Institute (CEI), was picked by the now president-elect to lead the Environmental Protection Agency "transition team" back in September.
Trump has pledged to strip many powers from the EPA to boost fossil fuel production
Ebell has spent two decades trying to undermine the science linking dangerous climate change to fossil fuel burning.
E&E News reported that Ebell was at one meeting hosted by the CEI and held in the hearing room of the Senate Environment and Public Works (EPW) Committee.
The EPW committee is chaired by Senator James Inhofe who, like Trump, has described human-caused climate change as a hoax.
The meeting was not open to the public or the press, E&E News reported, with Ebell refusing to give any details.
Climate denial who's who
But details of the gatherings have been made public by some of the climate science denialists who attended. The attendee list reads like a who's who of the climate science denial world.
Australian senator Malcolm Roberts, of the far-right One Nation party, who is in the US, revealed he had given a speech at a CEI meeting with Ebell.
Roberts wrote the meeting was a gathering of the Cooler Heads Coalition and then listed some of the participants.
The views of most of the attendees are in direct contradiction to the overwhelming majority of scientific research published over decades, as well as the positions of the world's major scientific academies.
Also listed by Roberts as attending was Breitbart writer James Delingpole, who published a picture of himself, Roberts and Ebell on his Twitter account.

For a change from the same old news stories from the same old news networks, here are links to English-edition online newspapers from other parts of the world. Nearly all of these are English-edition daily newspapers. These sites have interesting editorials and essays, and many have links to other good news sources. We try to limit this list to those sites which are regularly updated, reliable, with a high percentage of "up" time.
Some of the available newspapers:
| | | |
| --- | --- | --- |
| Asia & CIS | | |
| | | |
| --- | --- | --- |
| China | | |
| | | |
| --- | --- | --- |
| China & Hong Kong | | |
| | | |
| --- | --- | --- |
| France | | |
| | | |
| --- | --- | --- |
| Israel | | |
| | | |
| --- | --- | --- |
| Norway | | |
| | | |
| --- | --- | --- |
| Palestine | | |
| | | |
| --- | --- | --- |
| Russia | | |
| | | |
| --- | --- | --- |
| Ukraine | | |
.