17 Dec
© Wojtek Radwanski / AFP | Protesters outside the Polish parliament on December 16, 2016.
Thousands of Warsaw residents joined in a spontaneous protest in front of Poland's parliament against a plan by the conservative ruling party to limit reporters' access to legislators.
Mobilized by the civic movement, the Committee for the Defense of Democracy, or KOD, the crowd on Friday waved white-and-red national flags and chanted "Free media!" in cold winter weather.
Radek Sikorski, a former foreign minister, was among the government critics who addressed the protest, harshly denouncing Poland's political direction under Jaroslaw Kaczynski, the powerful chairman of the ruling Law and Justice party that is introducing many sweeping changes.
Earlier Friday, inside the parliament's session hall, a large group of liberal opposition lawmakers protested the new media rules by standing on and around the speaker's podium for several hours. They blocked a vote on the 2017 state budget.
The budget vote was eventually taken by the ruling party's lawmakers in another hall, but the opposition questioned its legality. It was the most serious crisis in Poland's parliament in many years.
"The political crisis has grown more aggravated," Law and Justice lawmaker Tadeusz Cymanski said.
The crowd blocked lawmakers' cars, preventing them from leaving the parliament area. After a few hours, police had to make way for them, as the crowd chanted "We will win!" A new protest was called for Saturday noon in front of the Presidential Palace.
At the heart of the issue was free access to information.
In the 27 years of Poland's democracy, journalists have been a constant presence in the parliament's halls. Banned from the main assembly room, they can grab politicians for interviews in the halls.
The ruling party, which is under European Union scrutiny for policies deemed anti-democratic by opponents, plans new rules starting Jan. 1 that would drastically limit reporters' access in parliament.
Ruling party leader Kaczynski denounced the obstruction of parliament as "hooliganism" and threatened protesters with consequences.
"We will not allow ourselves to be terrorized," he said.


Denying facts used to be for extremists only. Now from Aleppo to Trump, it's becoming mainstream, destroying the ground we all stand on
S

ixteen years ago, I sat in court 73 of the Royal Courts of Justice in London and felt the ground crumble beneath my feet. I was following the libel trial brought by David Irving, the Holocaust denier and "pro-Nazi polemicist" – to quote the judge's eventual verdict – against Penguin Books, which had dared publish a text which told the truth about him.
I watched as Irving discarded the usual rules of evidence. The eyewitness testimony of survivors was dismissed as lies. Confessions by the guilty were waved away as fake. Inconvenient documents were written off as forgeries. All that was left was what he wanted to believe.
At the time, it struck me that Irving was threatening something greater even than the memory of the Holocaust: he was undermining the very idea of facts, history and truth. If every item of evidence could be rubbished as bogus, then how could anyone ever prove anything? How would we know that Henry VIII had six wives or that Napoleon fought at Waterloo?
Hence the queasy sensation the ground was falling away. As I wrote at the time: "If we start to doubt corroborated facts, how can we prevent ourselves being swallowed up in doubt, unable to trust anything we see? It might all be a conspiracy, a legend, a hoax. This is the bizarre, never-never world inhabited by David Irving. Now the court has to decide: is this our world too?"
That feeling returned to me this week, brought back by a screening of the film Denial, released next month, which dramatises the Irving trial of 2000. But it was also prompted by the reaction to events in Aleppo and, more widely, by the way 2016 has punched truth in the face, leaving it bruised and bleeding.
As Aleppo endured its final agonies, the simple act of circulating any account – a video, a photograph, a news report – would trigger an unnerving response. Someone, somewhere would reply that the photograph was doctored, the source was a stooge, the rescued child was not really a child or not really rescued.
Of course, we're used to people taking different sides on conflicts far away, arguing bitterly over who is to blame. At its most extreme, it results in a newspaper like the Morning Star sinking so low that it hails the human devastation of Aleppo – where every hospital was bombed and where the slaughter of civilians became routine – not as a crime, but as a "liberation".
But this is about more than assigning blame for this death or that bombing. This is about refusing to accept that the death or bombing occurred at all. This is about defenders of Bashar al-Assad, and his Russian and Iranian enablers, coming on television to say that what is happening on the ground is not happening, that it is all an illusion. The late US senator Daniel Patrick Moynihan used to say: "You're entitled to your own opinion, but you're not entitled to your own facts." But that distinction seems to have broken down. Now people regard facts as very much like opinions: you can discard the ones you don't like.
This problem is not confined to Syria. This week the CIA joined 17 other US intelligence agencies in concluding that Russia was behind the hacking of Democratic emails, adding its conclusion that Moscow had done so in order to tilt the US election towards Donald Trump. "Ridiculous," said Trump, who has not looked at the CIA's evidence and has refused to receive the daily intelligence briefing provided for all incoming presidents on the grounds that he is "like, a smart person".
After Iraq and the weapons of mass destruction that never were, plenty are understandably wary of accepting the word of the intelligence agencies. But Trump's scepticism – cynicism is a better word – operates on a different level. "Nobody really knows," he says about the hacking charges, the very words he uses about climate change, in the face of a vast body of evidence. Recall that he also says that he won the US popular vote "if you deduct the millions of people who voted illegally", a flagrantly false claim for which there is no evidence whatsoever.
We've been calling this "post-truth politics" but I now worry that the phrase is far too gentle, suggesting society has simply reached some new phase in its development. It lets off the guilty too lightly. What Trump is doing is not "engaging in post-truth politics". He's lying.
Philippine president repeats claims of killing suspected criminals when he was mayor of Davao City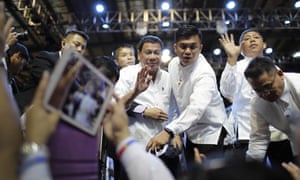 Rodrigo Duterte waves to his compatriots in Singapore. More than 5,000 people have been killed in the Philippines since he took office in June. Photograph: Wong Maye-E/AP
Staff and agencies
In an hour-long speech on Friday to Filipinos in Singapore, Duterte referred to international news coverage of his claims this week that in his previous role as mayor of a major southern city he killed suspects to set an example for police.
"To spare you embarrassment about the crawlers on television that have been running on CNN and even the BBC since yesterday that says Duterte admits killing or shooting the criminals: they were not mistaken," he said.
People in the 6,500-strong crowd cheered as Duterte used his trademark strong language to promise his drug war would continue.
"Sons of whores I will really kill these idiots," he said.
"My campaign on drugs will not end, until the end of my term six years from now when every drug pusher is [killed]," he said, making a throat-cutting gesture.
Speaking to Filipino journalists travelling with him in Singapore, Duterte said the killings he claims to have committed were part of legitimate operations against drug pushers.
Duterte said he had killed three men during a hostage-taking incident in Davao City

Irish Human Rights and Equality Commission enjoins government to prioritise legislation on identification and protection of human trafficking victims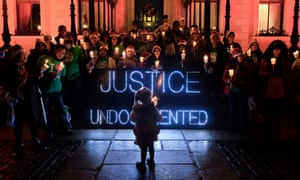 Undocumented adults and children hold a candlelit memorial for loved ones lost in 2015, organised by Migrant Rights Centre Ireland outside the Mansion House in Dublin. Photograph: Artur Widak/NurPhoto via Getty Images
The Irish government is failing to protect victims of human trafficking, according to the country's human rights watchdog.
In a report submitted to the Council of Europe, the Irish Human Rights and Equality Commission (IHREC) said there is a "deficit" in the protection of victims of trafficking and called on the Irish government to act immediately to ensure victims are properly identified and protected.
"Victims of human trafficking in Ireland are not getting the kinds of supports they should be getting," said Emily Logan, the organisation's chief commissioner.
Logan met with members of the Council of Europe's Group of Experts on Action Against Trafficking in Human Beings (Greta), who visited Ireland last week. They are examining how the Irish state deals with human trafficking and how victims are supported and protected. Their second evaluation report is due to be published in 2017, four years after the group's initial report highlighted numerous gaps in the protections given to victims of trafficking in Ireland.
Colin Smith, a leading Irish human rights barrister who specialises in trafficking law, said IHREC's report highlights the "unhappy fact" that Ireland lacks a coherent anti-trafficking system capable of effectively prosecuting and punishing traffickers while also protecting their victims.
"It underlines, in particular, the urgent need for a statutory mechanism to identify victims of trafficking," said Smith. "Every day that passes without substantive reform means that traffickers are going unpunished and victims are going unprotected. We need to move away from thinking of trafficking as an immigration problem and towards a system that is quick and fair, and that treats human trafficking as a serious human rights issue."
Logan highlighted the case of a 54-year-old Vietnamese woman known as "Ms P", who was charged with drug offences after being arrested by Irish police during a raid on a cannabis grow house in 2012. Ms P said she was trafficked, but the police did not recognise her as a victim and she was detained for nearly three years. Last year her case against the police was heard in the High Court and the judge ruled that the scheme for identifying and protecting trafficked victims in Ireland was inadequate under EU law.
"The identification process has not improved for victims of trafficking in Ireland," said Logan.
The report said reform of Ireland's system for the early identification of trafficking victims was "long overdue". Logan urged the Irish government to legislate immediately for the identification and protection of victims of trafficking.

For a change from the same old news stories from the same old news networks, here are links to English-edition online newspapers from other parts of the world. Nearly all of these are English-edition daily newspapers. These sites have interesting editorials and essays, and many have links to other good news sources. We try to limit this list to those sites which are regularly updated, reliable, with a high percentage of "up" time.
Some of the available newspapers:
| | | |
| --- | --- | --- |
| Asia & CIS | | |
| | | |
| --- | --- | --- |
| China | | |
| | | |
| --- | --- | --- |
| China & Hong Kong | | |
| | | |
| --- | --- | --- |
| France | | |
| | | |
| --- | --- | --- |
| Israel | | |
| | | |
| --- | --- | --- |
| Norway | | |
| | | |
| --- | --- | --- |
| Palestine | | |
| | | |
| --- | --- | --- |
| Russia | | |
| | | |
| --- | --- | --- |
| Ukraine | | |
.