21 Dec
Barak Ravid
Israeli Ambassador to the U.S. Ron Dermer and Kellyanne Conway at Trump Tower, November 17, 2016.
Ron Dermer, considered to be one of the people closest to Prime Minister Benjamin Netanyahu, is the most significant Israeli official to call on the president-elect to move the embassy.
Israel's Ambassador to the U.S. Ron Dermer on Tuesday called on the incoming Trump Administration to move the U.S. Embassy from Tel Aviv to Jerusalem. Addressing the Embassy of Israel's annual Hanukkah reception, Dermer said that such a move would be "a great step forward toward peace."
Dermer's remarks come several days after Trump's appointment of David Friedman as the next U.S. ambassador to Israel. In his statement announcing the appointment, Friedman noted that one of his tasks will be to move the embassy to Jerusalem.
While Dermer, considered one of the closest people to Prime Minister Benjamin Netanyahu, did not directly refer to the incoming administration and did not mention Trump by name, he is the most significant Israeli official to call on the president-elect to realize his campaign promise to move the embassy.
"I hope that next year, the U.S. ambassador to Israel lights the menorah in his embassy in Jerusalem, where the Maccabees lit it 2,200 years ago," Dermer said, adding that the embassy's presence in Tel Aviv and not Jerusalem is the equivalent of Israel's embassy being located in New York and not Washington. He said that the embassy's move to Jerusalem needed to happen many years ago, and that such a move would serve as "a strong message against the delegitimization of Israel."
On Tuesday, Haaretz reported on a December 1 meeting between Michael Flynn, Trump's designated national security adviser, and Mossad chief Yossi Cohen and Israel's acting National Security Adviser Jacob Nagel. During the meeting, Flynn said that Trump is serious about moving the embassy to Jerusalem and intends to do so.


The actor claims confidentiality clause prevented release of Apprentice outtakes that reportedly show president-elect using 'offensive' slurs and insulting his son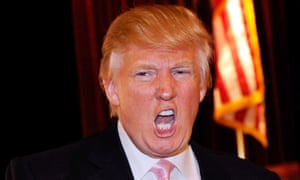 Tom Arnold said Arnold Schwarzenegger's agent had asked him to release Trump video before election to help Hillary Clinton win. Photograph: David Becker/Getty Images
The actor Tom Arnold has claimed to have video of Donald Trump using racist language, obscenities and denigrating his own son in outtakes of The Apprentice.
"I have the outtakes to The Apprentice where he says every bad thing ever, every offensive, racist thing ever. It was him sitting in that chair saying the N-word, saying the C-word, calling his son a retard, just being so mean to his own children," Arnold told the Seattle-based radio station KIRO.
The actor and comedian said a contact from the reality TV show passed him the material before last month's election, but he did not release it because of a confidentiality clause and the expectation that Trump would lose.
"[When] the people sent it to me, it was funny. Hundreds of people have seen these. It was sort of a Christmas video they put together. He wasn't going to be president of the United States."
Arnold said that the Sunday before the election Arnold Schwarzenegger's Hollywood agent asked him to release the material on behalf of Hillary Clinton.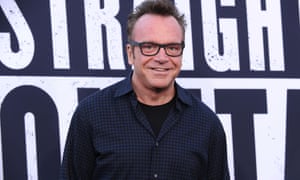 Tom Arnold. Photograph: Jason LaVeris/FilmMagic
"I get a call from Arnold's CAA agent, sitting next to Hillary Clinton. They said, 'I need you to release him saying the N-word.' I said, 'Well, now these people – two editors and an associate producer – are scared to death. They're scared of his people, they're scared of they'll never work again, there's a $5m confidentiality agreement."
There was no immediate way to verify the claims. Arnold's representatives did not respond to an interview request to elaborate on the allegations. Nor did Trump or his representatives immediately respond.
Reducing wood-burning, gas-flaring and global diesel emissions would be 'quick win' in combating irreversible climate change, scientists say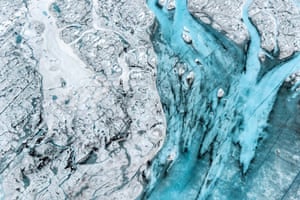 The icesheet in the Ilulissat region of Greenland. The dark patches are cryoconite, formed by windblown dust, soot and ash particles that settle on the ice and turn the snow dark. Photograph: Daniel Beltra
World leaders should redouble efforts to cut soot emissions because it is the cheapest and fastest way to combat climate change, climate scientists and advocates have told the Guardian.
Deposits of soot – unburned carbon particles – have stained parts of the Arctic black, changing the ice from a reflector of sunlight to an absorber of heat, and accelerating the melting of ice and snow, which itself is starting to alter global weather patterns.
Some scientists believe reducing the concentration of soot particles and other so-called "short-lived climate pollutants" entering the atmosphere may be easier in the short term than bringing down carbon dioxide emissions.
Such a "quick win" would be important to provide breathing space while world populations reduce their use of fossil fuels, scientists say.
Paul Bledsoe, a former White House adviser who has worked on climate science issues for a decade, said: "Limiting short-lived climate pollutants is the cheapest, fastest way to prevent ice melt globally, particularly in the Arctic."
Durwood Zaelke, president of the Institute for Governance and Sustainable Development, said: "You can't solve a fast-moving problem like Arctic warming without fast-moving solutions. Cutting the short lived-climate pollutants is the fastest solution we've got.
"Cutting these super climate pollutants can cut Arctic warming by two-thirds in the near term."
The vast expanse of ice and snow covering the Arctic may look startlingly white from a distance, but on closer examination the glaciers and snow cover are patched by dark streaks of inky black and dusty grey and brown. Some are small and self-contained; others are miles long. All are the mark of man.
Hailong Wang, an atmospheric scientist at the US Pacific Northwest National Laboratory, said that both observational and modelling evidence showed that soot was warming the Arctic.

Thousands head to pollution-free regions as haze descends on the country's northern industrial heartland
The haze caused by industry's reliance on coal and emissions from old, inefficient cars is affecting nearly half a billion people
Tens of thousands of "smog refugees" have reportedly fled China's pollution-stricken north after the country was hit by its latest "airpocalyse" forcing almost half a billion people to live under a blanket of toxic fumes.
Huge swaths of north and central China have been living under a pollution "red alert" since last Friday when a dangerous cocktail of pollutants transformed the skies into a yellow and charcoal-tinted haze.
Greenpeace claimed the calamity had affected a population equivalent to those of the United States, Canada and Mexico combined with some 460m people having to breathe either hazardous pollution or heavy levels of smog in recent days.
A picture from Henan province, showing more than 400 students sitting an exam on a football pitch after their school was forced to close, was widely circulated on social media:
Lauri Myllyvirta, a Beijing-based Greenpeace activist who has been chronicling the red alert on Twitter, said that in an attempt to shield his lungs he was avoiding going outside and using two air purifiers and an industrial grade dust mask "that makes me look like Darth Vader".
"You just try to insulate yourself from the air as much as possible," said Myllyvirta, a coal and air pollution expert.

Rodrigues fruit bats and Amur tigers are among the species supported by WCS, which operates five wildlife parks in New York City and works to save wildlife and wild places in nearly 60 countries and all the world's oceans

A juvenile western lowland gorilla ( Gorilla gorilla gorilla) rides backwards sits on its mother in the Congo Gorilla Forest at the Bronx zoo. There are five young gorillas under the two-years-old at the Bronx zoo, making for a very busy exhibit. Entry fees to the Congo Gorilla Forest are used to fund WCS conservation programmes in Africa and have contributed more than $14m (£11.3m) since the award-winning exhibit opened in 1999.
Photograph: Julie Larsen Maher/WCS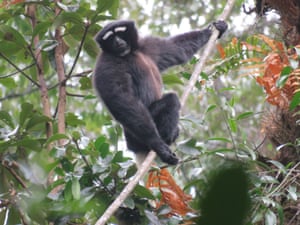 For a change from the same old news stories from the same old news networks, here are links to English-edition online newspapers from other parts of the world. Nearly all of these are English-edition daily newspapers. These sites have interesting editorials and essays, and many have links to other good news sources. We try to limit this list to those sites which are regularly updated, reliable, with a high percentage of "up" time.
Some of the available newspapers:
| | | |
| --- | --- | --- |
| Asia & CIS | | |
| | | |
| --- | --- | --- |
| China | | |
| | | |
| --- | --- | --- |
| China & Hong Kong | | |
| | | |
| --- | --- | --- |
| France | | |
| | | |
| --- | --- | --- |
| Israel | | |
| | | |
| --- | --- | --- |
| Norway | | |
| | | |
| --- | --- | --- |
| Palestine | | |
| | | |
| --- | --- | --- |
| Russia | | |
| | | |
| --- | --- | --- |
| Ukraine | | |
.