22 Dec

Peter Navarro has been picked by to lead US trade and industrial policy – a move which may upset Beijing
An image from Peter Navarro's 2012 documentary Death by China Photograph: Netflix
The Chinese government is a despicable, parasitic, brutal, brass-knuckled, crass, callous, amoral, ruthless and totally totalitarian imperialist power that reigns over the world's leading cancer factory, its most prolific propaganda mill and the biggest police state and prison on the face of the earth.
That is the view of Peter Navarro, the man chosen by Donald Trump to lead a new presidential office for US trade and industrial policy, a move likely to add to Beijing's anxieties over the billionaire's plans for US-China relations.
China's rulers initially appeared to embrace the possibility that improved ties with Washington could be negotiated with the deal-making US president-elect.
But that enthusiasm has dimmed after Trump angered Beijing with a succession of controversial interventions on sensitive issues including Taiwan and the South China Sea.
The appointment of Navarro, a University of California, Irvine business professor, to run the White House's newly created national trade council, represents a further blow to those hopes.
Trump's team described the 67-year-old academic, who is infamous in China watching circles for being a radical hawk, as "a brilliant policy mind and a tireless worker".
But Beijing is unlikely to second such emotions.
Navarro has penned a number of vociferously anti-China tomes including Death by China and Crouching Tiger: What China's Militarism Means for the World.
In The Coming China Wars – a 2006 book that Trump has called one of his favourite on China – Navarro portrays the Asian country as a nightmarish realm where "the raw stench of a gut-wrenching, sweat-stained fear" hangs in the air and myopic, venal and incompetent Communist party officials rule the roost.
The Harvard-educated hardliner accuses "cheating China" of destroying both American factories and lives by flooding the US with illegally subsidised and "contaminated, defective and cancerous" exports.
American politicians must "aggressively and comprehensively address the China problem" before it leads to full-blown conflict, Navarro writes.
Amariyanna Copeny became the face of the lead poisoning crisis after writing to Obama and seven months after they met her message is: 'Don't forget about Flint'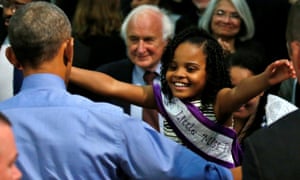 Amariyanna 'Mari' Copeny, embraces Barack Obama after he delivered remarks in Flint, Michigan, in May 2016. Photograph: Carlos Barria/Reuters
In the seven months since Barack Obama visited Flint, Michigan, to examine the impact of the city's lead-tainted water system, Amariyanna "Mari" Copeny has been busy.
From organizing toy drives and meet-and-greets with the president's successor, to raising awareness on social media about Flint, Copeny – who is known by her nickname, "Little Miss Flint" – has become a face of the water crisis in the city of 100,000.
It was Copeny, nine, whose words spurred Obama's visit to Flint, months after officials urged residents not to drink the water – and two years after residents first began pleading with the same officials to address the contaminated liquid flowing from their faucets. In a letter to Obama, Copeny asked to meet with Obama while she was in Washington for congressional hearings focused on Flint's water.
"My mom said chances are you will be too busy with more important things," Copeny wrote at the time, "but there is a lot of people coming on these buses and even just a meeting from you or your wife would really lift people's spirits."
Copeny's mother received a call letting her known that, actually, he would be coming to Flint instead, and would like to meet her.
The visit was welcomed, but it did little to alter the new normal in Flint: despite moves to repair the water system and reassurances from officials that the water is safe, many residents including Copeny still won't drink the water.
"Nothing's changed," she said by phone with a faint voice, "because the water's been making my skin itchy. You can't drink it, too."
Independent studies revealed the percentage of Flint children with elevated blood lead levels spiked after the city began using the local river as its main source of water in April 2014. The state later admitted that officials failed to require Flint's water department to use corrosion control agents that would have prevented lead from leaching off water pipes and flowing into households. As a result, officials said, all children under the age of six in the city – about 8,000-9,000 – needed to be treated as if they had been exposed to lead.
Thirteen people have now been criminally charged in Flint for their roles in the contamination, and officials say more charges are still to come. Water from the corrosive Flint river isn't being used any more, the US Congress has approved $170m to remove lead pipes in the city, and officials have pointed to promising signs of a water system that's being repaired.
And earlier this month, researchers who first aided the effort to uncover the lead contamination announced new results that Flint's water quality has dramatically improved. But many remain deeply skeptical of the proclamation, after having been assured previously by city and state officials that the water was safe to drink, even when it wasn't.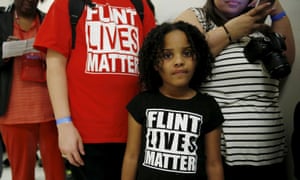 Mari Copeny waits in line to enter a hearing room on Capitol Hill in Washington on 17 March. Photograph: Kevin Lamarque/Reuters
"While some tests are coming back and showing improvement, there are other tests that are coming back as being negative," said Copeny's mother, Loui "Lulu" Brezzell.
Brezzell said she was aware of at least one resident who just this month received a high lead test. About 31,000 people have been tested for lead poisoning since October 2015, state records show, when Michigan's governor, Rick Snyder, conceded that officials failed to require Flint to properly treat its water.
Testing by the Genesee County health department, which oversees Flint, has identified 230 children under 18 with blood lead levels greater than 5 micrograms per deciliter, a level deemed by the Centers for Disease Control and Prevention to be "much higher than most children's levels". Researchers say there is no safe level of lead exposure. The potent neurotoxin is also only detectable for up to 30 days.
Brezzell said Copeny was administered a test, and it returned a low result. But she is skeptical about whether the test would show lead exposure because of its timing.
"We didn't realize we had lead in our water, so we delayed testing until way over 30 days, which is the time that lead stays in the blood," she said.

From Donald Trump to Brexit, the refugee crisis and war in Syria to the continuing catastrophe of climate change – 2016 has been a difficult year. But the Guardian's independent reporting has sought to make sense of events and hold power to account.

United Nations refugee agency and EU's Echo aid department accused of failing to properly 'winterise' camps
I want the world to know about the conditions we are living in': 11-year-old Syrian refugee Yamama shows Guardian journalists around her makeshift home within a disused warehouse. Her family are one of 60,000 people stranded in Greece, where the snow started falling earlier this month. While some have been moved into housing blocks, an estimated 20,000 are left in derelict accommodation without cooking facilities, adequate heating, reliable electricity and little in the way of education. This is in spite of millions of pounds of EU funding to deal with the crisis handed out to major NGOs and the Greek government, leading to accusations of mismanagement. The Guardian visits three of these camps to discover what people are facing as winter sets in
The UN refugee agency and the EU's aid department have been accused by other aid groups of mismanaging a multimillion-pound fund earmarked for the most vulnerable refugees in Europe, leaving thousands sleeping in freezing conditions in Greece.
The Greek government, which has ultimate jurisdiction over camp activities, has also been criticised for failing to use nearly €90m (£75m) of separate EU funding to adequately improve conditions at the camps before the onset of winter. No single actor has overall control of all funding and management decisions in the camps, allowing most parties to distance themselves from blame.
The EU aid department, known as Echo, has given UNHCR more than €14m since April to help prepare roughly 50 refugee camps for the winter in Greece, where an estimated 50,000 mainly Syrian refugees have been stranded since the adoption of new European migration policies in March. A further €24m has been given to UNHCR for other projects.
Both organisations stand accused by other aid groups of squandering this money, after failing to properly "winterise" or evacuate dozens of camps before snow fell in Greece earlier in December.
In addition to providing warmer bedding and clothes, UNHCR was expected to use this money to move people from tents to heated containers or formal housing; heat warehouses where other refugees are living; provide a consistent supply of hot water; and install insulated flooring for anyone still left in tents.
Months after the funds were dispersed, roughly half of those living in camps had yet to be transferred to formal housing by the onset of winter. Of the 45 camps that were still active at the start of the month, the Guardian visited or was made aware of at least 15 camps that had yet to be properly adapted by the time snow fell in northern Greece at the start of December. UNHCR admitted it was itself aware of only eight camps where all the residents have been moved out of tents and into prefabricated containers.
In a recent UNHCR video, promoted by Echo, the two institutions hailed the success of their winterisation work. In early December, the EU also said that Greece was safe enough to return refugees there from other European countries.
But refugees and independent aid workers say Echo and UNHCR had initially ignored the gravity of the situation. The head of Medécins Sans Frontières in Greece, Loic Jaeger, described the situation as a failure.
"We are outraged about the positive communications [from UNHCR and the EU] that are completely disconnected with reality," said Jaeger, speaking before UNHCR began to admit flaws in the process on 9 December.

Provincial newspaper publisher shot dead after writing a column alleging official negligence, sparking calls for investigation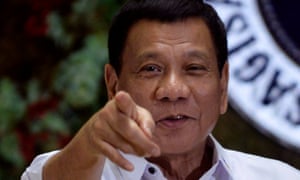 Philippine President Rodrigo Duterte points to photographers during an award ceremony. The journalists' union has called on him to investigate the killng of a newspaper publisher. Photograph: Ezra Acayan/Reuters
Reuters
A Philippine provincial newspaper publisher has been shot dead after writing a column alleging official negligence over a recently discovered methamphetamine laboratory, in the first killing of a journalist during the country's war on drugs.
The National Union of Journalists of the Philippines (NUJP) condemned Monday's murder of Larry Que, publisher of a news site on the island of Catanduanes, and said it "challenged" President Rodrigo Duterte to find the perpetrators and utilise a special task force he set up to protect media.
The Philippines enjoys one of Asia's most liberal media environments, and one of the most dangerous for journalists.
Scores have been killed in the past three decades, with radio broadcasters who cover provincial politics among the most common victims. Investigations of killings have often been inconclusive.
The NUJP said Que had run Catanduanes News Now, a new publication, for only two weeks before he was shot in the head outside his workplace. He also owned an insurance firm and previously ran for local office.
His article, according to NUJP, suggested local officials were negligent when a laboratory was illegally set up to make "shabu", a methamphetamine that Duterte has vowed to wipe out, along with anyone selling it.
Duterte signed an administrative order in October to create a task force of ministers, police, defence and justice officials to protect media, investigate attacks on media workers and create an oversight body to scrutinise probes.
The NUJP said the presidential panel should be put to work to find Que's killers. It criticised the government for its approach towards media and for what it said was a tendency to accuse journalists of distorting the president's words.
"We call on this administration to walk the talk and prove its professed respect for press freedom, not only by quickly solving these brazen assaults on press freedom but, just as importantly, by ending its penchant of falsely blaming media for deliberately misinterpreting its often inconsistent and incoherent messages," the NUJP said.
Duterte's office has often issued statements that contradict the mercurial president's public remarks. After some of his most controversial comments, his communications team has said his words should be taken seriously, but not literally.

For a change from the same old news stories from the same old news networks, here are links to English-edition online newspapers from other parts of the world. Nearly all of these are English-edition daily newspapers. These sites have interesting editorials and essays, and many have links to other good news sources. We try to limit this list to those sites which are regularly updated, reliable, with a high percentage of "up" time.
Some of the available newspapers:
| | | |
| --- | --- | --- |
| Asia & CIS | | |
| | | |
| --- | --- | --- |
| China | | |
| | | |
| --- | --- | --- |
| China & Hong Kong | | |
| | | |
| --- | --- | --- |
| France | | |
| | | |
| --- | --- | --- |
| Israel | | |
| | | |
| --- | --- | --- |
| Norway | | |
| | | |
| --- | --- | --- |
| Palestine | | |
| | | |
| --- | --- | --- |
| Russia | | |
| | | |
| --- | --- | --- |
| Ukraine | | |
.