25 Dec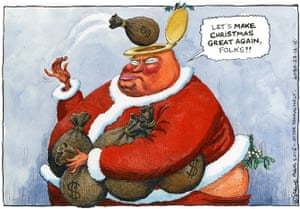 Nonprofits such as Planned Parenthood and ACLU saw more fundraising as they approached end-of-year drives, with many donating instead of gift-giving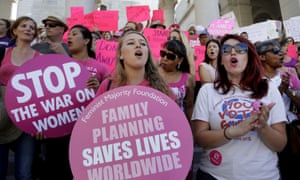 Planned Parenthood has receivedmore than 300,000 donations in the six weeks since the election, 40 times its normal rate. Photograph: Nick Ut/Associated Press
One man wrote a check for $10,000 to an organization that helps women get elected to office, saying he was "embarrassed" that Donald Trump won the presidential election.
Someone else walked into the office of an organization advocating for immigrant rights and handed over a bag of cash he had just collected from members of his local community civics group.
From smaller local organizations to household names such as Planned Parenthood and the ACLU, nonprofit organizations across the US reported fundraising tallies many magnitudes higher than in previous years as they approached their end-of-year donation drives.
"This is always our big time of year, but this year it's huge," said Loretta Prescott, development director for the Immigration Legal Advocacy Project in Maine. "Instead of giving gifts, people are making donations to causes they believe in."
This is always our big time of year, but this year it's huge. Instead of giving gifts, people are making donations

Loretta Prescott, Immigration Legal Advocacy Project
Progressive causes in the US saw a spike in donations immediately after the election on 8 November from voters dismayed, outraged or even frightened by the outcome. In the weeks since, this wave of strategic giving has compounded.
Planned Parenthood has received more than 300,000 donations in the six weeks since the election, 40 times its normal rate. Around half the donors were millennials and 70% had never given to the family planning organization before, a spokesman told the Guardian.
The ACLU donations web page crashed the day after the election as visitors increased by 7,000%, and in the next five days it raised more than $7m from 120,000 donors. Now it says it has raised almost $23m from more than 300,000 individual gifts in just online donations.
Advocacy consulting group 270 Strategies – created in 2013 by veterans of Barack Obama's two presidential election campaigns and which specializes in advising progressive causes on grassroots organizing – said many of its hundreds of clients were reporting a surge in support.
2016 was a turbulent year for the world – and a defining moment for the Guardian's fearless independent journalism in America. Our memorable stories include powerful interviews with women accusing Donald Trump of sexual assault, deep investigations into the CIA's efforts to hide the truth about torture, stunning reports on a wave of climate refugees from the Marshall Islands – and an unexpected look at the frustrations of Cuban skateboarders

Prime minister stops funding to some UN bodies, after security council resolution demanding end to Israeli settlement building in occupied territories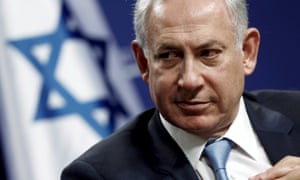 Benjamin Netanyahu has announced a review of Israel's relationship with the UN, including the presence of UN representatives in Israel. Photograph: Jonathan Ernst/Reuters
Reuters in Jerusalem
Israel will reassess its ties with the UN following the adoption by the security council of a resolution demanding an end to Israeli settlement building, the prime minister, Benjamin Netanyahu, has announced.
The vote was able to pass the 15-member council on Friday after the US broke with a longstanding approach of diplomatically shielding Israel and did not wield its veto power as it had many times before – a decision that Netanyahu called "shameful".
"I instructed the foreign ministry to complete within a month a re-evaluation of all our contacts with the United Nations, including the Israeli funding of UN institutions and the presence of UN representatives in Israel," Netanyahu said on Saturday.
"I have already instructed to stop about 30m shekels (£6.3m) in funding to five UN institutions, five bodies, that are especially hostile to Israel … and there is more to come," he said.
The Israeli leader did not name the institutions or offer any further details.
Defying heavy pressure from longstanding ally Israel and the president-elect, Donald Trump, for Washington to use its veto, the US abstained in the security council decision, which passed with 14 votes in favour.
On Saturday Trump waded into the row, tweeting:
The big loss yesterday for Israel in the United Nations will make it much harder to negotiate peace.Too bad, but we will get it done anyway!
Israel has for decades pursued a policy of constructing Jewish settlements on territory captured by Israel in a 1967 war with its Arab neighbours, including the West Bank, Gaza and East Jerusalem.
Most countries view Israeli settlement activity in the West Bank and East Jerusalem as illegal and an obstacle to peace. Israel disagrees, citing a biblical connection to the land.
Related:
From air pollution to Trump and wildlife extinction, we look at the major environmental issues for the year ahead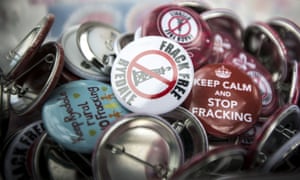 Exploratory fracking for shale gas will begin in England in 2017. Only 17% of British people are in favour of fracking. Photograph: McCaren/LNP/Rex/Shutterstock
After five years of false starts and delays, 2017 will see exploratory fracking for shale gas begin in earnest in England. The first wells will likely be drilled in Lancashire and Yorkshire by the summer, and Cuadrilla, Third Energy and other companies will hope to confirm commercially viable quantities of the gas by the end of the year. With only 17% of people in Britain in favour of fracking, local and national protests are certain.
Brexit negotiations will affect farming subsidies and possibly all European nature protection laws, including those for birds and habitats, air and water pollution, GM foods and animal welfare. If ministers attempt to roll back or trade off decades of environmental regulation, as some have threatened, they are likely to meet the most intense opposition.
Air pollution, now known to kill nearly 40-50,000 people a year in Britain, will be high on the political agenda in the spring with the government under court orders to publish a new plan to meet EU legal limits. The draft, to be published in April, is almost certain to propose more fully funded clean-air zones in major cities, tighter restrictions on some vehicles and fuels, and further measures to encourage walking and cycling.
London will also come under pressure to join Paris, Madrid, Athens, and Mexico City in pledging to ban diesel vehicles in the city centre within a few years. The movement of world cities signing up to be fossil-free within 30 years is expected to grow too.
The global climate debate will be dominated by whether the president-elect Donald Trump withdraws the US from the Paris global agreement to reduce emissions.
He has appointed climate sceptics to head all the key agencies responsible for either monitoring or dealing with climate change and is known to want to increase oil, gas and coal production. If he pulls the US out of the Paris deal, it would gift China climate leadership, set back efforts to brake emissions and do untold diplomatic damage with hundreds of countries who followed Obama's leadership in 2015. Insiders expect him to ignore the voluntary commitments the US has made and to increase fossil fuel emissions. Many US climate scientists expect to lose research grants in what some expect to become a witch-hunt.

For a change from the same old news stories from the same old news networks, here are links to English-edition online newspapers from other parts of the world. Nearly all of these are English-edition daily newspapers. These sites have interesting editorials and essays, and many have links to other good news sources. We try to limit this list to those sites which are regularly updated, reliable, with a high percentage of "up" time.
Some of the available newspapers:
| | | |
| --- | --- | --- |
| Asia & CIS | | |
| | | |
| --- | --- | --- |
| China | | |
| | | |
| --- | --- | --- |
| China & Hong Kong | | |
| | | |
| --- | --- | --- |
| France | | |
| | | |
| --- | --- | --- |
| Israel | | |
| | | |
| --- | --- | --- |
| Norway | | |
| | | |
| --- | --- | --- |
| Palestine | | |
| | | |
| --- | --- | --- |
| Russia | | |
| | | |
| --- | --- | --- |
| Ukraine | | |
.