26 Dec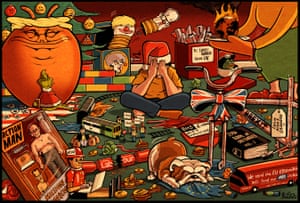 President-elect's nuclear policy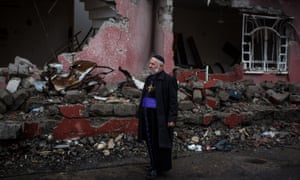 Pastor Saher Quraikos Hanna views a destroyed street near his home in Bartella. The town was recently liberated from Isis as part of the Mosul offensive. 'When are we going to hear about civilian casualties in Mosul,' aks Tim Barlow. Photograph: Chris McGrath/Getty Images
As Giles Fraser points out (How to defeat terrorists? Extremism, 23 December), "Moses and Jesus and Muhammad were all extremists. They trusted in God over their instincts." You also reported that Trump, president-elect of the notably churchgoing USA, "calls for nuclear arsenal to be expanded". Does that make him an extremist or a terrorist?
Kit Hill
Axminster, Devon
Israeli PM said to have told ministers two will not meet at Davos, but his office denies a meeting was ever scheduled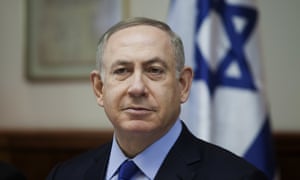 Benjamin Netanyahu's office said no meeting with May had been due to take place. Photograph: Dan Balilty/AP
Israel's prime minister, Benjamin Netanyahu, has apparently snubbed Theresa May over the UK's support of a highly critical UN resolution condemning Israeli settlement building.
The move is the latest in a series of diplomatic retaliations by Israel against the countries that supported a UN security council resolution describing Jewish settlements in the occupied Palestinian territories as a "flagrant violation" of international law and an obstacle to peace.
Reports in the Israeli media said Netanyahu had told ministers at his weekly cabinet meeting on Sunday that he did not intend to meet May in Davos at the forthcoming World Economic Forum.
Responding to the reports, the UK's deputy ambassador, Tony Kay, said he regretted the decision. "It is a disappointment that the Israeli government has announced that Prime Minister Netanyahu does not want to have a conversation with Theresa May," Kay told Israel Army Radio on Monday.
Kay had been called in with other ambassadors and senior diplomats of the other members of the security council who voted for the motion or abstained, including the US ambassador Dan Shapiro, to be reprimanded for supporting a resolution that reiterated the view of the international community that Jewish settlements are illegal and an obstacle to peace.
"I'm sure there will be many conversations between the two prime ministers moving forward and we look forward to having those conversations, and we'll certainly continue to have those conversations in Tel Aviv," Kay said.
In response to the reports, Israeli officials said no meeting had been scheduled with May. "No meeting with the UK prime minister had been set therefore no meeting was cancelled," a spokesperson said.
However, the Israeli media later reported that – despite the official denial – there had been discussions about May and Netanyahu speaking in Davos, although Britain had not been officially informed of the cancellation.
The prime minister is regarded as one of the most pro-Israeli leaders in Europe, recently describing it as "a remarkable country" and "a beacon of tolerance".
Kay's comments came as the fallout from Friday's vote continued to reverberate, amid growing fears in Israel that the US and the security council may be considering further moves against Israel before Donald Trump is inaugurated as US president on 20 January.

From the man who tackled the Nice truck killer to the women who opened their homes to those in peril, there are plenty of good people out there
Amanda Mellet, who went up against the Irish state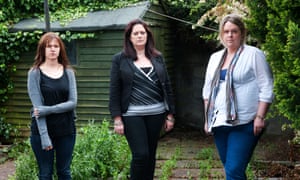 Amanda Mellet, Arlette Lyons and Ruth Bowie all travelled to the UK to have abortions because the babies they were carrying were not going to survive outside the womb. Photograph: Kim Haughton
Amanda Mellet made history in 2016 by forcing the Irish state to compensate her for the trauma she suffered when she had to travel to Britain for an abortion.
Mellet became the first of three Irish women to fight against Ireland's strict anti-abortion laws by asking the UN to denounce a ban in the case of fatal foetal abnormalities – when pregnancies are doomed because of serious defects in the foetus's brain or other vital organs.
Mellet and her husband, James, took their case to the UN's human rights committee in 2013 after the couple were forced to obtain a termination in England. In her testimony Mellet spoke of the trauma of having to go abroad for the procedure after being told her baby would not survive.
Speaking previously to the Guardian Mellet stressed that this was "very much a wanted baby" but given that the pregnancy was doomed, she and her husband had no option but to have a termination.
The committee ruled in the summer that she had been subjected to discrimination and cruel and inhuman treatment. Significantly, the UN body urged the Irish state to amend its law on termination of pregnancy, to ensure healthcare providers were in a position to supply full information on safe abortion services.
It also called on the Irish state to provide Mellet with adequate compensation and to make available any psychological treatment she required.
Rather than oppose the ruling, Ireland's health minister, Simon Harris, offered €30,000 in November as compensation for the trauma inflicted on Mellet.
Reacting to the original UN judgment in June, Mellet said: "With today's decision in hand, I wish to finally leave behind these painful memories, and hearing the committee's findings today does help in my own healing.
"I hope the day will soon come when women in Ireland will be able to access the health services they need in our own country, where we can be with our loved ones, with our own medical team, and where we have our own familiar bed to go home and cry in. Subjecting women to so much additional pain and trauma must not continue."

A year after severe floods in wake of Storm Desmond, John Krebs says ministers still have no coherent long-term plan to deal with it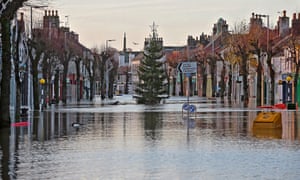 The flooded high street in Cockermouth in the Lake District, days after Storm Desmond on 6 December 2015. Photograph: Christopher Furlong/Getty Images
Major flooding in the UK is now likely to happen every year but ministers still have no coherent long-term plan to deal with it, the government's leading adviser on the impacts of climate change has warned.
Boxing Day in 2015 saw severe floods sweep Lancashire and Yorkshire, just weeks after Storm Desmond swamped Cumbria and parts of Scotland and Wales. The flooding, which caused billions of pounds of damage, led to the government publishing a review in September which anticipates 20-30% more extreme rainfall than before.
But Prof John Krebs, who leads the work on adapting to global warming for the government's official advisers, the Committee on Climate Change (CCC), told the Guardian: "We are still a long way from where we need to be, in that there is still not a coherent long-term view."
Lord Krebs said it was important for both government and households to learn from the run of floods that have affected many parts of the country in recent years. "Almost every year there has been some more or less major flooding event and that is a key message," he said. "We have to now get it embedded that this is something that will happen somewhere most years."
Increased flooding is the biggest impact of climate change for the UK, but the CCC has also warned that the nation is poorly prepared for deadly annual heatwaves, water shortages and difficulties in producing food. However, Krebs, who is stepping down from his CCC role after eight years in January, said: "There is still hope this country will make the progress it needs to make."
Pressure to act now must continue from the CCC in its watchdog role and from the public, he said: "This is not something in the long-term future, this is something here and now. But it will also be worse for your children and grandchildren than it is for us, unless we do something about it.
"At the extreme end, parts of the world could become uninhabitable and there could be mass migration," Krebs said. "At the more modest end, we are likely to experience more extreme weather events in this country and we need to prepare for that."
Krebs also said ministers would regret cutting flood protection measures for new homes. New laws passed earlier in 2016 aim to drive the building of 1m new homes but Krebs, an independent member of the House of Lords, said he was disappointed ministers had rejected proposals to cut the risk of the homes flooding and make them cheap to heat.

Opinion
The US president's collusion in the UN resolution on Israeli settlements is too little too late to drive peace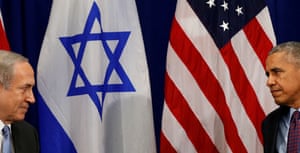 Barack Obama meets with Binyamin Netanyahu in New York in September. 'Both have contributed, since 2009, to a chronic deterioration in US-Israel relations.' Photograph: Kevin Lamarque/Reuters
I

n a way, Binyamin Netanyahu and Barack Obama deserve each other. Both promised great things. Both proved themselves masters of their respective political spheres. And yet both have contributed, since 2009, to a chronic deterioration in US-Israel relations and the wider Middle East meltdown. This process of polarisation and mutual alienation culminated last Friday with Obama's active connivance in the passing of a landmark UN security council resolution. The resolution condemned all Israeli settlements in occupied Palestinian territory as a "flagrant violation" of international law that imperilled a future two-state peace.
Amid talk of betrayal, the Israeli response, personally orchestrated by Prime Minister Netanyahu, has been swift and furious. Ambassadors from the 14 countries that backed resolution 2334 were carpeted at the foreign ministry on Christmas Day. Israel has withdrawn its ambassadors from two of the countries concerned, New Zealand and Senegal, and cut aid assistance to the latter. Planned diplomatic exchanges have been cancelled, future Israeli cooperation with UN agencies placed under urgent review, and civilian coordination with the Palestinian Authority suspended. "We will do all it takes so Israel emerges unscathed from this shameful decision," Netanyahu said.
If he really believes settlements undermine peace, why abstain? Why not go the whole hog and condemn them?
In a sense, these are symbolic actions in response to a symbolic vote. Resolution 2334 is unenforceable. Nobody, least of all the Americans, will attempt to evict the 430,000 Jewish settlers currently living in the West Bank or the 200,000 in east Jerusalem. Nobody can force Israel to embrace John Kerry's recycled ideas about a two-state solution, although the US secretary of state is expected to spell them out one more time before he leaves office next month. Resolution 2334 joins UN resolutions 242 (1967) and 338 (1973) in the theoretical, consistently bypassed legal canon of the Israel-Palestine issue. It says what should happen. It does not say how.
Yet for all that, the US abstention and UN vote are not lacking in significance. Netanyahu's smug suggestion that he need only wait for the advent of a Donald Trump presidency is misleading. It is likely Trump will give him a more sympathetic hearing. He may well move the US embassy to Jerusalem – a gratuitously inflammatory gesture.
The personal chemistry between Trump and Netanyahu will be vastly different; insecurity, aggression and paranoia are their shared characteristics. But Trump's vain, vague boast that he could be the one to "solve" the Israel-Palestine conflict is as insubstantial as his many other foreign policy pledges. And a Trump administration cannot simply reverse the stated will of the UN security council – backed in this case by permanent members China, Russia, France and Britain – any more than it can unilaterally scrap last year's multinational nuclear deal with Iran.
It is likely the resolution will accelerate existing moves to prosecute Israel at the international criminal court. By specifically instructing UN members to "distinguish between the territory of the state of Israel and the territories occupied since 1967", it may also encourage new boycotts and sanctions. But more than that, the UN vote has highlighted the extraordinary extent of Israel's international isolation under Netanyahu. Even he cannot persuasively dismiss the unanimous opinion of countries as diverse as Japan, Ukraine, Malaysia, Venezuela, Angola and Spain. It takes a lot to make an enemy of New Zealand, but Netanyahu has managed it.
This was the world telling Netanyahu, with one voice, that the expanded settlement policy he has encouraged and justified is wrong – wrong legally, wrong morally, wrong politically, and wrong in terms of Israel's future peace and security. The odd thing is, he knows this. In 2009, Netanyahu, newly re-elected, described his "vision" of a historic peace, "of two free peoples living side by side in this small land, with good neighbourly relations and mutual respect, each with its flag, anthem and government, with neither one threatening its neighbour's security and existence". Although he appeared to renege during last year's election campaign, Netanyahu still claims to support a two-state solution. Now the international community's message is unequivocal: you were right in 2009. So stop undermining the prospect of peace. Honour your promise.

For a change from the same old news stories from the same old news networks, here are links to English-edition online newspapers from other parts of the world. Nearly all of these are English-edition daily newspapers. These sites have interesting editorials and essays, and many have links to other good news sources. We try to limit this list to those sites which are regularly updated, reliable, with a high percentage of "up" time.
Some of the available newspapers:
| | | |
| --- | --- | --- |
| Asia & CIS | | |
| | | |
| --- | --- | --- |
| China | | |
| | | |
| --- | --- | --- |
| China & Hong Kong | | |
| | | |
| --- | --- | --- |
| France | | |
| | | |
| --- | --- | --- |
| Israel | | |
| | | |
| --- | --- | --- |
| Norway | | |
| | | |
| --- | --- | --- |
| Palestine | | |
| | | |
| --- | --- | --- |
| Russia | | |
| | | |
| --- | --- | --- |
| Ukraine | | |
.