27 Dec

Organizers of women's rights event: 'We're not targeting Trump specifically'
Protests to be held in 30 cities nationwide, with others around the world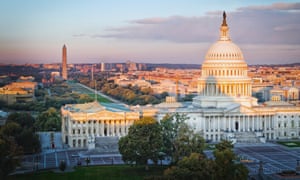 The Women's March on Washington will take place on 21 January on an as yet undisclosed route in the national capital. Photograph: Danita Delimont/Getty Images/Gallo Images
More than 200,000 people are expected to participate in a mass demonstration the day after Donald Trump's inauguration, the Women's March on Washington. Since the idea first emerged with a vision to take over the Lincoln Memorial in the days after the election results, plans have shifted, developed and expanded worldwide.
Here's what you need to know about protest plans on 21 January.
Where is the Women's March on Washington?
Many locations on the National Mall in Washington are off-limits to protesters, including the Lincoln Memorial. This is in large part because inauguration equipment including bleachers won't have been cleared from these areas yet. But march organizers say they have now secured a permit, and the event will start at 10am at the intersection of Independence Avenue and Third Street SW, near the US Capitol. Organizers say they haven't publicized the route for security reasons.
Do I have to go to Washington?
No. Although the largest march is expected to take place in Washington, at least 30 cities nationwide are also holding their own women's march rallies on 21 January. The best way to find information is to locate the state chapter for each group on the main event's Facebook page. Protests will also be held around the world in cities including Sydney, Zurich and Mexico City.
Who is organizing the women's march?
The march emerged as a grassroots effort in the days after election, but after the Facebook event went viral, traditional political organizers and groups became involved. The three co-chairs are now Linda Sarsour (executive director of the Arab American Association of New York), Tamika D Mallory (political organizer and former executive director of the National Action Network), Carmen Perez (executive director of political action group The Gathering for Justice) and Bob Bland (a fashion designer who focuses on ethical manufacturing).
Planned Parenthood has just become an official partner of the march and will assist leaders in providing staff and large-scale event planning knowledge.
"It takes more than I ever imagined to organize a mass mobilization," said co-chair Sarsour. "Negotiating with the six federal agencies on the route, insurance, fundraising, vendors, private security."
What is the message of the march?
The Women's March on Washington is quick to say it is not an anti-Trump protest. "We're not targeting Trump specifically. It's much more about being proactive about women's rights," said Cassady Fendlay, spokeswoman for the march.
The march is a very broad church, with Sarsour explaining it as a "stand on social justice and human rights issues ranging from race, ethnicity, gender, religion, immigration and healthcare".
Planned Parenthood got involved specifically because it thinks the march will "send a strong message to the incoming administration that millions of people across this country are prepared to fight attacks on reproductive healthcare, abortion services and access to Planned Parenthood," said Cecile Richards, president of Planned Parenthood Federation of America.
Throughout his election campaign, Trump promised to defund the reproductive health organization because it performs abortions.
Planned Parenthood has helped shape the march's policy agenda, and in return, it hopes that many of the protesters will mobilize in its defense when Trump and congressional Republicans make their attempt to strip the organization of millions in federal funding.
Former volunteer for the Bharatiya Janata party (BJP) says she was told to criticise journalists, actors and political figures online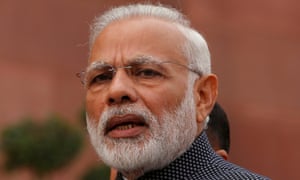 The volunteer says Narendra Modi's campaign posted criticism on social media about public figures who did not support him. Photograph: Adnan Abidi/Reuters
Social media trolling against Indian public figures including journalists and actors has been directly co-ordinated from inside the country's ruling party, a new book has claimed.
An Indian former troll has alleged the 2014 prime ministerial campaign of Narendra Modi used social media volunteers to push critical messages about public figures perceived to be opposed to the Bharatiya Janata party (BJP).
Whether intended by the BJP or not, the social media campaigns would often spill over into religious and sexual trolling of the target, especially if it was a woman, said Sadhavi Khosla, the 37-year-old former party volunteer.
The trolls' "hit list" included political opponents, such as the Congress party vice-president, Rahul Gandhi, and screenshots provided by Khosla also show that the Bollywood star Aamir Khan, was among those singled out.
She says the social media unit responsible for directing her and hundreds of other volunteers continues to operate.
The BJP did not respond to the Guardian's request for comment but the former head of the party's social media unit, Arvind Gupta, told the Indian Express that Khosla's claims were unsubstantiated and that she was a supporter of the opposition Congress party.
He said the BJP had published social media guidelines on its website and never "encouraged trolling".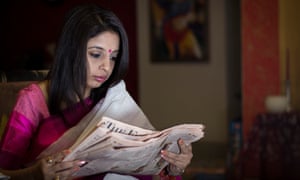 Sadhavi Khosla, who claims India's ruling party directly coordinated social media campaigns against leading journalists and actors. Photograph: Ahmer Khan for the Guardian
Khosla's account is contained in a new book by the journalist Swati Chaturvedi, published in India on Tuesday, I Am a Troll, which investigates the ties between abusive social media accounts and the BJP.
Prominent Indian women, particularly journalists, have been raising concerns for more than three years about the scale and tone of the abuse they face online, with much of it anonymous, sexually charged and fiercely nationalist.
Khosla claims in the book that starting late in 2013, and for nearly two years after, she was one of hundreds of BJP supporters receiving direct instructions on messages to push online from senior members of the party's social media unit.
She received the orders through WhatsApp but also met senior members of the digital unit, she claims.
A fervent Modi supporter at the time, Khosla said she enthusiastically participated, using her Twitter account to criticise Rahul Gandhi and his mother Sonia, both senior members of the Congress party, which has ruled India for much of the 70 years since independence.
But she claims she grew uncomfortable when ordered to tweet criticisms of prominent Indian journalists, such as Rajdeep Sardesai and Barkha Dutt, which sometimes featured "slanderous claims".
"It was a never-ending drip-feed of hate and bigotry against the minorities, the Gandhi family, journalists on the hit list, liberals, anyone perceived as anti-Modi," she is quoted in the book as saying.
The targets of the social media unit would end up being swarmed by critical messages that occasionally veered into criminal threats, Khosla said.
"I simply could not follow [the] directions anymore when I saw rape threats made against female journalists like Barkha Dutt," she said.
"Every day some new person was a target and they would attack like a swarm of bees with vile sexual innuendoes, slander, rape and death threats … It made me feel suffocated as a woman."

Palestinian president hopes conference in France will set timetable to stop further building as Israel pushes ahead with plans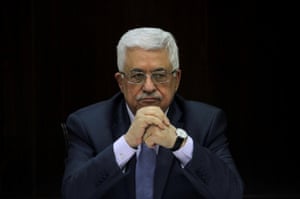 Mahmoud Abbas: 'The world rejects the settlements.' Photograph: Reuters
Staff and agencies
The Palestinian president has expressed hope that a Middle East conference in France will set a timetable to end settlements – as Israel pushed ahead with plans to build thousands of homes in contravention of a recent UN resolution.
Mahmoud Abbas spoke days after a US abstention allowed the security council to condemn Israeli settlements in the West Bank and east Jerusalem as a "flagrant violation" of international law.
Addressing a meeting of his Fatah party on Tuesday, Abbas said: "The [resolution] proves that the world rejects the settlements, as they are illegal, in our occupied land including east Jerusalem."
He also said: "The decision lays the foundation for any future serious negotiation … and it paves the way for the international peace conference slated to be held in Paris next month, and we hope this conference comes up with a mechanism and timetable to end the occupation."
However, , Jerusalem authorities are set to approve thousands of new housing units in the eastern sector of the city this week, despite the resolution.
France is expected to host a Middle East conference on 15 January – days before the US president, Barack Obama, leaves office. Dozens of countries could endorse an international framework for peace between Israel and the Palestinians at the meeting. The Israeli prime minister, Benjamin Netanyahu, vehemently opposes such activity, saying it undermines the negotiating process, and has refused to participate in the Paris conference.
Netanyahu has repeatedly called on Abbas to meet for direct talks without preconditions. Abbas has refused unless Israel ends settlement construction first.
Palestinians lay claim to the West Bank and east Jerusalem – home to holy sites sacred to Jews, Muslims and Christians – as part of their future state. Israel says settlements, along with other core issues such as security, should be agreed in peace talks.
Meanwhile, the pro-Netanyahu daily newspaper Israel Hayom reported that the Jerusalem district zoning committee was meeting on Wednesday to discuss approving fresh construction work in that part of the city.
"We remain unfazed by the UN vote, or by any other entity that tries to dictate what we do in Jerusalem," said the deputy Jerusalem mayor, Meir Turgeman, who heads the zoning committee. "I hope the Israeli government and the new US administration will support us, so we can make up for the lack [of construction] during the eight years of the Obama administration."

A selection of images captured by photographers over the past 12 months, including a Donald Trump lookalike pheasant, kissing parakeets, and a lost sloth
Opinion
The arc of change may be long, but we must keep fighting. Shared values can build momentum, shift culture and even influence policy over time
I

nitially, I didn't plan to attend the Women's March on Washington, slated for the day after the inauguration.
Though a long-time feminist activist and a passionate proponent of nonviolent resistance, I had a long list of reasons I didn't want to protest on 21 January. At first, I blamed the aftershocks of the terror I felt after realizing that a significant amount of voters willfully chose to affirm hateful rhetoric, xenophobia, corruption and sexually predatory behavior.
Then, I reasoned that my concerns about the march's shaky inception, initial lack of diverse leadership and a permit were not only a hindrance, but a potential deal breaker.
My mom had other ideas.
She called on a recent Monday at sunrise. "Get ready for a trip to Washington, DC. We're going to that women's march," she said. Mom was a seasoned activist who marched with Dr Martin Luther King in 1963, survived the Orangeburg Massacre and participated in lunch counter sit-ins during segregation. "The election results illustrate how far we need to go. Let's get to work."
She's right. Although the arc of change may be long, I've witnessed first-hand how amplifying shared values can build momentum, shift culture and even influence policy over time. Carrying the banner leading 2004's million-person March for Women's Lives was my own rite of passage.
Eclipsed only by the exhilaration of marrying my soulmate, the march was one of the greatest days of my life. Even though I participated in activism with family and friends since childhood, working as Planned Parenthood's national youth organizer for the event defined my trajectory for over a decade. Most importantly, the 2004 march taught me that my voice was powerful and that exercising my hard-won right to free expression and assembly was a birthright my ancestors fought and died for.
That's why, even though another march to protest similar issues 12 years later may make it look like we haven't made progress, that isn't the case. We're playing a much longer game. As Coretta Scott King said when she spoke years ago at my college: "Struggle is a never-ending process. Freedom is never really won, you earn it and win it in every generation."
Every time I hear speculation that Trump's administration will be like the second Bush administration on steroids, I remember that I participated in the formation of a broad coalition of gender justice and civil liberties organizations that mobilized over a million people to oppose attacks on reproductive healthcare and equal rights during a hostile political and cultural climate.
And in the years following that 2004 march, emergency contraception became legal over the counter, more reproductive health and rights organizations integrated intersectional frameworks (with admittedly more work to do), and the Affordable Care Act expanded access to preventative care and contraceptive coverage with no copay. Moreover, we've had a pro-choice president for the past eight years, and a trailblazing popular vote winner who famously proclaimed that "women's rights are human rights".

For a change from the same old news stories from the same old news networks, here are links to English-edition online newspapers from other parts of the world. Nearly all of these are English-edition daily newspapers. These sites have interesting editorials and essays, and many have links to other good news sources. We try to limit this list to those sites which are regularly updated, reliable, with a high percentage of "up" time.
Some of the available newspapers:
| | | |
| --- | --- | --- |
| Asia & CIS | | |
| | | |
| --- | --- | --- |
| China | | |
| | | |
| --- | --- | --- |
| China & Hong Kong | | |
| | | |
| --- | --- | --- |
| France | | |
| | | |
| --- | --- | --- |
| Israel | | |
| | | |
| --- | --- | --- |
| Norway | | |
| | | |
| --- | --- | --- |
| Palestine | | |
| | | |
| --- | --- | --- |
| Russia | | |
| | | |
| --- | --- | --- |
| Ukraine | | |
.