28 Dec
**************
Note: Haaretz describes itself as having "a broadly liberal outlook both on domestic issues and on international affairs". Others describe it alternatively as liberal,  centre-left, or left-wing.  The newspaper opposes retaining control of the territories and consistently supports peace initiatives. Haaretz is editorially supportive of groups of Israelis who are exploited or discriminated against, such as sex workers, foreign workers, Israeli Arabs, and Ethiopian immigrants.
The McGlynn
**************
After the settlements censure, Israel's consul general in New York suggested linking Israeli know-how to diplomatic support. But that would be like cutting off our nose to spite our export markets.
Sami Peretz
Prime Minister Netanyahu, October, 2016. Tomer Appelbaum
I think that Monday morning, when I read the tweet by Israel's consul general in New York, Dani Dayan, I understood the right wing's pain over the UN Security Council resolution against the settlements.
Dayan, the former chairman of the Yesha Council of settlements, is a decent and straight-talking guy, even if you don't agree with him. But Monday morning he let loose with a really strange tweet in Hebrew: "The era is over in which countries benefit from Israeli know-how in high-tech, in security and so on, and from the prestige of a visit to Israel and involvement in the Middle East without providing diplomatic repayment."
We could dismiss this tweet as delusional if Dayan wasn't a person who usually talks sensibly. So we can only interpret it as an expression of pain and disappointment. Or at least we can hope so.
Let's leave aside the question of whether a visit to Israel and involvement in the Middle East is prestigious. Let's go to the heart of the matter.
Countries don't "benefit from Israeli know-how" for no reason. Instead, they buy it with real money. Israeli exports totaled $92 billion in 2015, and almost half came from the high-tech and defense industries.
Even other export industries, such as agriculture, are based on "Israeli know-how." If we punish the world and stop selling it Israeli know-how, the Israeli economy will collapse. No one is doing us a favor by buying our products, however good they are.
This looks like a deal to cut off our nose to spite our export markets. In any case, we don't see Check Point, Amdocs or Intel Israel consulting before they sell something to a customer overseas.
Also, let's remember where our export markets are located: the European Union 29%; Asia, 25%; the United States, 24%. These aren't Senegal or Venezuela that sponsored the UN resolution.
The second aspect is Dayan's comparison between economic compensation and diplomatic remuneration. For years, Yesha and Israeli governments have fought the boycott, divestment and sanctions movement precisely over this issue. BDS has attempted economic pressure for political goals, and this is exactly the kind of deal Dayan is proposing.
But we aren't big and strong enough to boycott economic powers and exact a price for their positions. Moreover, we enter this debate after almost half a century of ruling over the Palestinians, an inconvenient departure point.
read more: http://www.haaretz.com/israel-news/1.761514
Read Full Article>>
Related:


Netanyahu allies claim 'iron-clad information' from Arab sources reveals Obama administration drafted document to end settlements, which US abstained from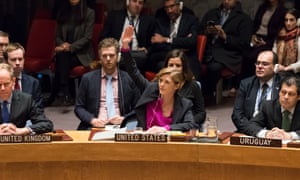 Samanta Power, the US ambassador to the UN, raises her hand to indicate US abstention from voting on the security council resolution to condemn Israeli settlements. Photograph: Albin/Pacific/Barcroft Images
Israel has escalated its already furious war with the outgoing US administration, claiming that it has "rather hard" evidence that Barack Obama was behind a critical UN security council resolution criticising Israeli settlement building, and threatening to hand over the material to Donald Trump.
The latest comments come a day after the US ambassador to Israel, Dan Shapiro, was summoned by Netanyahu to explain why the US did not veto the vote and instead abstained.
The claims have emerged in interviews given by close Netanyahu allies to US media outlets on Monday after the Obama administration denied in categorical terms the claims originally made by Netanyahu himself.
However, speaking to Fox News on Sunday, David Keyes – a Netanyahu spokesman – said Arab sources, among others, had informed Jerusalem of Obama's alleged involvement in advancing the resolution.
"We have rather iron-clad information from sources in both the Arab world and internationally that this was a deliberate push by the United States and in fact they helped create the resolution in the first place," Keyes said.
Doubling down on the claim a few hours later the controversial Israeli ambassador to Washington, Ron Dermer, went even further suggesting it had gathered evidence that it would present to the incoming Trump administration.
"We will present this evidence to the new administration through the appropriate channels. If they want to share it with the American people, they are welcome to do it," Dermer told CNN.
According to Dermer, not only did the US not stand by Israel's side during the vote, it "was behind this ganging up on Israel at the UN".
Dermer is a controversial figure in Washington, blamed by the Obama administration for organising the invitation for Netanyahu to address the US Congress in the midst of Israel's campaign against the Iran nuclear deal.
His comments on CNN seem to represent an even more egregious breach of protocol, not least over the vague sourcing of the evidence alluded to by Keyes and Dermer.
Indeed, Israel was accused by unnamed US officials in a Newsweek article two years ago of "very sobering … alarming … even terrifying" levels of espionage targeting the US refuted as a " malicious fabrication aimed at harming relations" by then foreign minister Avigor Lieberman.
Last year, however, US officials again accused Israel of spying, this time on the Iran nuclear talks, with one telling the Wall Street Journal: "It is one thing for the US and Israel to spy on each other. It is another thing for Israel to steal US secrets and play them back to US legislators to undermine US diplomacy."
Dermer's threat on CNN to hand information to Trump would seem to replicate some of those concerns.

Israeli PM reportedly warned that support for motion on settlements would 'rupture relations' between two countries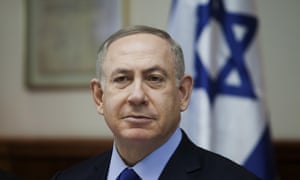 Benjamin Netanyahu reportedly told Murray McCully, the New Zealand foreign minister: 'This is a scandalous decision.' Photograph: Dan Balilty/AP
Benjamin Netanyahu reportedly told New Zealand's foreign minister that support for a UN resolution condemning Israeli settlement-building in the occupied territories would be viewed as a "declaration of war".
According to reports in Israeli media, the Israeli PM called Murray McCully, the foreign minister of New Zealand, before Friday's resolution, which was co-sponsored by Wellington. Netanyahu told him: "This is a scandalous decision. I'm asking that you not support it and not promote it.
"If you continue to promote this resolution, from our point of view it will be a declaration of war. It will rupture the relations and there will be consequences. We'll recall our ambassador [from New Zealand] to Jerusalem."
McCully, however, refused to back down, telling Netanyahu: "This resolution conforms to our policy and we will move it forward."
A western diplomat confirmed that the call took place and described the conversation as "harsh".
The details of the call – disclosed in Haaretz – suggest a mounting sense of panic on the part of Netanyahu in the run-up to the UN security council resolution that passed on Friday demanding an end to settlement building.
As well as the Netanyahu call, a senior official in Israel's foreign ministry called New Zealand's ambassador to Israel, Jonathan Curr, and warned that if the resolution came to a vote, Israel might close its embassy in Wellington in protest.
Israel responded furiously to the vote, threatening diplomatic reprisals against the countries that voted in favour. Diplomatic ties with New Zealand were temporarily severed and ambassador Itzhak Gerberg was recalled.
But in a sign that the international pressure may be being felt by the Netanyahu administration, scheduled plans to consider for approval 600 new settlement houses in occupied east Jerusalem were abruptly removed from the agenda of the city's municipality on Wednesday.
Netanyahu's language and behaviour – which has resulted in ambassadors being reprimanded and consultations with foreign leaders, including the UK's Theresa May, cancelled – has raised eyebrows among foreign diplomats, who point out that the UN resolution does no more than confirm the longstanding view of the international community on Jewish settlements.

Dozens have been arrested amid clashes with police as impoverished workers demand a trebling of pay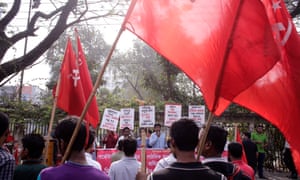 Garment factory workers protest in Dhaka on 23 December. A week-long shutdown at 50 factories ended on Tuesday. Photograph: Abir Abdullah/EPA
At least 1,500 workers have been sacked from Bangladesh garment factories after protests forced a week-long shutdown at dozens of sites supplying top European and American brands.
Tens of thousands of workers walked out of factories this month in the manufacturing hub of Ashulia which make clothes for top western brands such as Gap, Zara and H&M, prompting concerns over supply during the holiday season.
The protests were sparked by the sacking of 121 workers, but soon evolved into a demand for the trebling of workers' pay from the current monthly minimum of 5,300 taka (£54).
More than 50 factories were closed last week to try to contain the protests, which escalated after police fired rubber bullets that injured 10 demonstrators, according to labour leader Taslima Akhter.
Police have branded the protests illegal and said they had arrested 30 workers including seven union leaders, as well as a television reporter covering the unrest.
On Tuesday, they said factory owners had sacked around 1,500 workers and resumed operations.
"All the factories have resumed their operations. Some 90% of the workers have joined work," said Nur Nabi, assistant superintendent of police.
"Around 1,500 workers have been sacked [by the owners]. The owners have filed five cases against the unruly workers," he told AFP.
Many of the sacked workers discovered their fate only after arriving at work to see a list of those affected posted on factory gates.
The monthly minimum wage for Bangladeshi textile workers was raised in 2013 after the collapse of the Rana Plaza factory complex which killed 1,134 people. It triggered massive protests and international scrutiny of the industry.
But it remains one of the lowest wages in the world, less than one-fifth of what some campaigners estimate to be the country's living wage.

Trump presidency poses 'serious threat' to workers and labor organizing, said leaders of Service Employees International Union, an active group in Fight for $15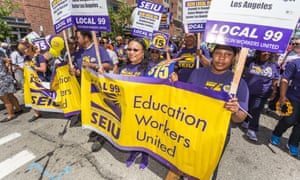 SEIU Local 99 protesters march under a banner of 'education workers united'. The union plans to rethink its expansion during the Trump administration. Photograph: Wayne Huang/Courtesy of SEIU Local 99
The two-million-member union that was a driving force behind the Fight for $15 minimum wage protests is planning to cut its internal budgets by 30% in anticipation of the Donald Trump administration, according to an internal memo.
The Service Employees International Union (SEIU) president, Mary Kay Henry, has told staff that "[b]ecause the far right will control all three branches of the federal government, we will face serious threats to the ability of working people to join together in unions" and that cuts would start immediately, with a 10% budget reduction by this Saturday. News of the 14 December internal memo was first reported by Bloomberg on Tuesday.
Trump's triumph shocked the union. In the memo, obtained by the Guardian, Henry said "the outcome of the November 2016 election results" had made a it necessary to "dramatically rethink" the SEIU's plans for expansion.
In an emailed statement, an SEIU spokeswoman, Sahar Wali, told the Guardian that the planned cuts were necessary "as we prepare to fight back against the forthcoming attacks on working people and our communities under an extremist-run government". Wali said that SEIU was looking for "financial refinements to implement" that would best allow the SEIU to grow.
"Working families are fed up with not being able to improve their families' lives no matter how hard or how long they work while greedy corporations and self-interested politicians continue to rig our economy and political system," Wali wrote.
Last month the SEIU president joined the New York state attorney general, Eric Schneiderman, and others in denouncing Trump's nominee for labor secretary, Andy Puzder. Puzder is the CEO of the restaurant group that owns Hardee's and Carl's Jr, two fast-food chains; he has broadly criticized minimum wage increases and advocated for automating jobs currently performed by low-income workers.
The Fight for $15 campaign has achieved success in California and New York, and it has cut into the margins of the fast-food industry from which Puzder hails. But there are other threats to the union, notably from rightwing legislatures pushing anti-labor laws.
Anti-labor activists managed to have a National Right-to-Work bill, sponsored by the Kentucky senator Rand Paul, introduced in February last year. It was referred to committee. Under a Trump administration and with Republican majorities in the House and the Senate, SEIU and others fear the return of a similar bill, which would eliminate unions by preventing them from charging dues or requiring membership.
Read Full Article>>

For a change from the same old news stories from the same old news networks, here are links to English-edition online newspapers from other parts of the world. Nearly all of these are English-edition daily newspapers. These sites have interesting editorials and essays, and many have links to other good news sources. We try to limit this list to those sites which are regularly updated, reliable, with a high percentage of "up" time.
Some of the available newspapers:
| | | |
| --- | --- | --- |
| Asia & CIS | | |
| | | |
| --- | --- | --- |
| China | | |
| | | |
| --- | --- | --- |
| China & Hong Kong | | |
| | | |
| --- | --- | --- |
| France | | |
| | | |
| --- | --- | --- |
| Israel | | |
| | | |
| --- | --- | --- |
| Norway | | |
| | | |
| --- | --- | --- |
| Palestine | | |
| | | |
| --- | --- | --- |
| Russia | | |
| | | |
| --- | --- | --- |
| Ukraine | | |
.