10 Jun
News and Analyses, A Foreign Perspective
Nearly all of these are English-edition daily newspapers. These sites have interesting editorials and essays, and many have links to other good news sources. We try to limit this list to those sites which are regularly updated, reliable, with a high percentage of "up" time.

Liverpool plains farmer Megan Kuhn says cows are being slaughtered because there is no way of feeding them after years of extreme weather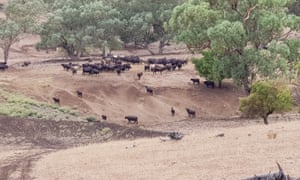 The Liverpool plains have suffered seven years of below-average rainfall, leaving farmers few options. Photograph: Megan Kuhn
In the south-west corner of NSW's Liverpool plains, in an area called Bundella, farmer Megan Kuhn runs beef cattle and merino sheep with her husband, Martin.
They have 400 breeding cows that will calve in six weeks. Shortly, 89 of those cows will leave the property, sold to an abattoir because the cost of feeding the animals during drought has become too great.
"There is nowhere to send them to pasture so they are going to be slaughtered," Kuhn says.
"We're killing a cow and a calf at this late stage of pregnancy. The drought is so widespread there's just no options left for stock producers to put them anywhere. That's why it's so heartbreaking.
"Australia doesn't realise. The cattle we've got are rapidly diminishing because of the drought."
Further north, about 20 km from Mullaley, Margaret Fleck is seeing conditions on her property she has not encountered in the 20 years she has been there.
She and her partner Paul run beef cattle, producing grass-fed beef for the domestic and export markets.
December was the end of their seventh calendar year of below-average rainfall. In the 12 months to May this year, they have had just over 50% of their annual average rainfall.
"It's terrible on the back of seven below-average rainfall years in a row," Fleck says.
"We can't get over a string of really hot summers. With the sheer consistency of extreme temperatures, the rate of evaporating is so high. We don't have any surface water left on our property."
They are relying on two bores and have begun selling their cattle as it becomes harder to sustain the high cashflow that's necessary to buy in feed.
Everywhere is worse than I've ever seen it

Jane Judd, National Parks and Wildlife adviser
"We spoke to the owners who had this property from 1954 to 1989. We asked what the creek was like in their 34 years. They said it had never dried up," Fleck says.
During the past 14 months, the Bureau of Meteorology has recorded below-average rainfall across New South Wales, central Queensland, the north-west of Victoria and into South Australia.
NSW has been the hardest hit in 2018. With the exception of the north and south coasts, most of the state has recorded the lowest rainfall in a five-month period since 1900.
Soil moisture levels are below average across much of Australia and in its latest winter outlook, the bureau is forecasting warmer and drier than average conditions across large parts of the country.
Communities in NSW say people are struggling and the rest of the country is not aware of the extent of the troubles in parts of that state.
World Politics
United States
At summit, president hit EU and Canada on trade, urged kindness to Russia and enthused about meeting North Korea's dictator
World leaders surround Donald Trump and his national security adviser, John Bolton. Photograph: Jesco Denze Handout/EPA
Donald Trump flew to Singapore on Saturday for the most momentous meeting of his presidency, a "one-time shot" summit with North Korea. He left behind a trail of confusion and frustration among traditional US allies.
The president departed a summit of the G7 major industrialised democracies in Quebec the same way he arrived, firing off threats of a trade war. His fellow leaders were warned not to respond to the steel and aluminum tariffs he has imposed on them.
"If they retaliate, they're making a mistake," Trump told reporters before leaving several hours early, ducking sessions on climate change and the oceans.
Trump later upped the ante with tweets saying he had asked US representatives not to endorse the joint communique put out by the G7 leaders because of the Canadian prime minister Justin Trudeau's "false statements" to reporters.
Trump tweeted that Trudeau's remarks at a news conference, where he said Canada would not be pushed around, "were very dishonest and weak".
"PM Justin Trudeau of Canada acted so meek and mild during our @G7 meetings only to give a news conference after I left saying that, 'US Tariffs were kind of insulting' and he 'will not be pushed around.' Very dishonest & weak. Our Tariffs are in response to his of 270% on dairy!" the US president tweeted.
Based on Justin's false statements at his news conference, and the fact that Canada is charging massive Tariffs to our U.S. farmers, workers and companies, I have instructed our U.S. Reps not to endorse the Communique as we look at Tariffs on automobiles flooding the U.S. Market!
In a tense session on trade on Friday, European and Canadian leaders had sought to defuse the gathering conflict, rolling out statistics on how many US jobs depended on their countries' trade and investment and arguing that the US had more barriers to trade than its partners.
The discussion had no effect on Trump, who stuck to the claims he made throughout his election campaign: that the US was being ripped off.
"The European Union is brutal to the United States," he railed. "And they understand that. They know it. When I'm telling them, they're smiling at me. You know, it's like the gig is up."
Canada too, the president said, "can't believe it got away" with its trade deal with the US.
"We're like the piggy bank that everybody's robbing. And that ends," Trump said.
The president even threatened to stop doing business with US partners if they did not change their policies.
It is impossible to negotiate with him. He is fixated on something that doesn't make any sense

Thomas Wright, Brookings Institution
"And it's going to stop," Trump said. "Or we'll stop trading with them. And that's a very profitable answer, if we have to do it."
The disparaging tone towards leaders seen by all former administrations as America's closest allies was in marked contrast to the hopeful language he used in anticipation of Tuesday's planned summit with Kim Jong-un.

We urgently need consumers, business and governments to cut consumption of single-use, throwaway plastics, writes the UN Environment chief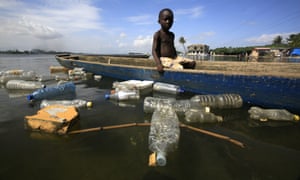 Plastic bottles floating on the Ebrie lagoon in the city of Abidjan, Ivory Coast. Photograph: Legnan Koula/EPA
Plastic pollution has grabbed the world's attention, and with good cause.
More than 100 years after its invention, we're addicted. To pass a day without encountering some form of plastic is nearly impossible. We've always been eager to embrace the promise of a product that could make life cheaper, faster, easier. Now, after a century of unchecked production and consumption, convenience has turned to crisis.
Beyond a mere material amenity, today you'll find plastic where you least expect it, including the foods we eat, the water we drink and the environments in which we live. Once in the environment, it enters our food chain where, increasingly, microplastic particles are turning up in our stomachs, blood and lungs. Scientists are only beginning to study the potential health impacts.
That's why we urgently need consumers, business and governments to step up with urgent, decisive action to halt this crisis of consumption of single-use, throwaway plastics. If we do that, we'll also help fight climate change, create a new space for innovation and save some species in the process.
Since we began our love affair with this now ubiquitous material, we've produced roughly nine billion tonnes of plastic. About one-third of this has been single-use, providing a momentary convenience before being discarded. The straw in your average drink will be used for just a few minutes, but in the environment, it will last beyond our lifetimes. In your shopping trolley, a plastic bag will be used for less than an hour, but when they find their way to the ocean they kill more than 100,000 marine animals a year. Whales have been washed up in Norway and Spain choked with indigestible shopping bags – part of the 13m tonnes of plastic litter that end up in the ocean each year.
Unlike other environmental challenges, sceptics are hard-pressed to refute the reality of what we can see with our own eyes. Instead, the counter-narrative aims to undercut the urgency of efforts to beat plastic pollution – sometimes by painting the problem as a waste management issue, as if we had infinite landfill space.
But let there be no doubt: we are on edge of a plastic calamity. Current projections show that global plastic production will skyrocket in the next 10-15 years. This year alone, manufacturers will produce an estimated 360m tonnes. With a booming population driving demand, production is expected to reach 500m by 2025 and a staggering 619m tonnes by 2030. So the next time you see scenes of plastic choking a river or burying a beach, consider double that impact in just over 10 years.
Avoiding the worst of these outcomes requires more than awareness, it demands a movement. A wholesale rethinking of the way we produce, use and manage plastic. That's why United Nations Environment is now focusing on a simple yet ambitious goal: beat plastic pollution.
First, citizens must act as both responsible consumers and informed citizens; demanding sustainable products and embracing sensible consumption habits into their own lives.
Individuals are increasingly exercising their power as consumers; turning down plastic straws and cutlery, cleaning beaches and coastlines, and rethinking their purchase habits. If this happens enough, retailers will get the message and look for alternatives.
The private sector must then innovate by adopting business models that reflect responsibility for the downstream impact of their products, and bring about scalable alternatives. Ultimately our plastic problem – much like the state of the global economy – is one of design, both in the plastics themselves and the linear economic model that makes throwing things away profitable. Public and private investment in the fields of green design and green chemistry need to be increased and manufacturers must be held to account for the life cycle of their products.
And finally, governments must lead by enacting strong policies that mandate responsible design, production and consumption of plastics. Kenya has banned throwaway plastic bags recently, and the result is that its stunning national parks are even more attractive and city drains are less blocked, helping reduce flooding. Rwanda has done it too, making Kigali one of the world's cleanest cities and the kind of place people choose to live and do business.