06 Jun
News and Analyses, A Foreign Perspective
Nearly all of these are English-edition daily newspapers. These sites have interesting editorials and essays, and many have links to other good news sources. We try to limit this list to those sites which are regularly updated, reliable, with a high percentage of "up" time.
Judge is first to be recalled by US voters since 1977 after ex-student given just six months in prison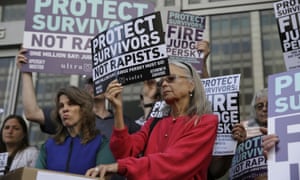 The campaign to recall Judge Aaron Persky eventually collected enough signatures to qualify for the 2018 ballot. Photograph: Eric Risberg/AP
The California judge in the Stanford sexual assault case has been recalled from office by local voters, an extremely rare outcome in the US court system and a major victory for activists who waged a two-year campaign against the official.
Judge Aaron Persky faced international scrutiny in June of 2016 after he sentenced the ex-Stanford University student Brock Turner to six months in jail. Turner, whose name became synonymous with campus sexual assault across America, had been convicted of three felonies for assaulting an unconscious woman outside of a fraternity party on the elite campus in northern California.
The law prescribed a minimum of two years in state prison for Turner's offenses, but Persky ordered more limited jail time and probation, which resulted in the then 20-year-old being released after three months.
Persky, who recently said he had no regrets about the case, is the first judge to be recalled by US voters since 1977, and the first in California since 1932.
The Stanford case ignited international debates about sexual violence long before the #MeToo movement shone a light on assault, harassment and abuse in a wide range of industries. The case went viral after the victim read a powerful 7,000-word statement in court about rape culture and the trauma she endured in the aftermath of the attack and during the trial.
The judge also received backlash for expressing sympathy to Turner during sentencing, saying: "A prison sentence would have a severe impact on him." Turner's father was also criticised for lamenting that his son was facing consequences for "20 minutes of action".
Days after the sentencing, Michele Landis Dauber, a Stanford law professor and family friend of the victim, announced the launch of a recall campaign, eventually collecting enough signatures to qualify for the 2018 ballot. The initiative received the backing of celebrity activists, including Rose McGowan and Amber Tamblyn, with supporters casting the recall effort as a movement to fight for survivors of sexual assault and take on a criminal justice system that has long failed victims.
The campaign, however, quickly divided the traditionally liberal Palo Alto and faced intense opposition from a coalition of legal experts, judges, public defenders, criminal justice reformers and some feminists and sexual assault survivors. Critics have argued that, even if they disagreed with Persky's individual sentencing for Turner, it would set a dangerous precedent to recall a judge based on outrage over a light sentence.
Recall opponents have said that judicial discretion helps defendants receive fair treatment, and that if judges are pressured to issue harsher sentences, it would harm low-income people and people of color disproportionately charged and convicted in US courts.
Advocates for the recall effort analyzed Persky's old cases, bringing to light other rulings that they said revealed his biases and indifference to female victims. The Guardian interviewed a domestic violence victim upset with her ex-boyfriend's minor jail sentence in Persky's courtroom and reported on another case in which the judge was overseeing a much harsher sentence than Turner's for a Latino sexual assault defendant.
Proponents of Persky, however, have argued that he has been consistent in criminal cases, following probation recommendations and approving plea agreements between defendants and prosecutors.
Two months after the controversial Turner sentencing, Persky also removed himself from all criminal cases, but the recall campaign continued.

World Politics
United States
Report says idea country is becoming more liberal is 'wide of the mark'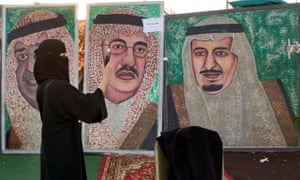 Paintings showing Saudi King Salman, right, and Crown Prince Mohammed bin Nayef in Jeddah Photograph: Amr Nabil/AP
Saudi Arabia is systematically using anti-terror laws to justify torture, suppress all dissent and imprison human rights defenders, the UN has concluded following a five-day official inspection of the country at the invitation of the government.
The report presents a damning assessment of Saudi's human rights record, and is made more powerful by the fact that it is the product of an official Saudi invitation.
The UN's special rapporteur on anti-terrorism, the British QC Ben Emmerson, met senior Saudi politicians, judges, police and prosecutors during his trip.
"Those who peacefully exercise their right to freedom of expression are systematically persecuted in Saudi Arabia," the report found. "Many languish in prison for years. Others have been executed after blatant miscarriages of justice.
"A culture of impunity prevails for public officials who are guilty of acts of torture and other ill-treatment. Peaceful avenues for redress of grievances are foreclosed by the use of repressive measures to silence civil society."
The inquiry was completed before the most recent wave of arrests of human rights activists in recent weeks.
Saudi Arabia issued its first driving licences for women this week, ahead of 24 June when it is due to end the world's only ban on female drivers.
Crown Prince Mohammed bin Salman has positioned himself as a reformer, determined to return the country to "moderate Islam" and transform its moribund, oil-dependent economy.
However, the historic shift has been overshadowed by the detention last month of many of the most prominent figures who have campaigned against the driving ban for years, and in some cases decades. Eight have now been released, but nine are still being held.
"Under Crown Prince Mohammed bin Salman, Saudi Arabia is undergoing the most ruthless crackdown on political dissent that the country has experienced in decades," Emmerson told the Guardian. "Just as the Kingdom is handing out the first driving licences for women, it is locking up the very people who campaigned for this modest reform."
"Reports that Saudi Arabia is liberalising are completely wide of the mark," Emmerson said. "The last two years have seen an unprecedented concentration of executive power in the monarchy across every sphere of public life."
Emmerson said it was "a matter of shame for the UN that it allowed Saudi onto the UN human rights council (HRC)" in 2016, and warned investors that there was no independent judiciary in the country, making any overseas investment vulnerable to expropriation.
"The judiciary has now been brought entirely under the control of the king, and lacks any semblance of independence from the executive," he said. "Put simply, there is no separation of powers in Saudi Arabia, no freedom of expression, no free press, no effective trade unions and no functioning civil society."
In his report, published by the UN on Wednesday, Emmerson writes that he was repeatedly denied access to many prisons or named arrested human rights activists that he said he wished to interview confidentially. Riyadh said the individuals could not be made available or did not fall within Emmerson's remit.