07 Jun
News and Analyses, A Foreign Perspective
Nearly all of these are English-edition daily newspapers. These sites have interesting editorials and essays, and many have links to other good news sources. We try to limit this list to those sites which are regularly updated, reliable, with a high percentage of "up" time.
World Politics
United States
Donald Trump lets it all hang out – cartoon

President reportedly invoked war of 1812 when Canadian PM asked how he could justify tariffs on national security grounds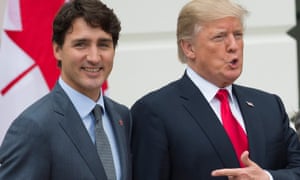 Justin Trudeau and Donald Trump shared a testy phone call last month. Photograph: Saul Loeb/AFP/Getty Images
He has criticized Canada's trade polices as "unfair" and dismissed its dairy policy as "a disgrace". Now, Donald Trump has reportedly added a 200-year-old battle to his litany of complaints against the United States' northern neighbor.
During a tetchy phone call last month to discuss looming steel and aluminum tariffs, Canada's prime minister, Justin Trudeau, reportedly asked how Trump could justify the new duties on national security grounds.
In reply, Trump asked, according to CNN: "Didn't you guys burn down the White House?" The White House did not respond to a request for comment and Canadian officials declined to comment on the record.
The White House was burned by British troops in 1814 as part of a failed invasion of the mid-Atlantic, more than 50 years before the signing of Canada's confederation paved the way for the founding of modern-day Canada.
Although the British successfully took Washington and burned much of the city, they failed in their major goal of taking Baltimore when their forces were rebuffed at the battle of Fort McHenry.
Trump's comments come at a time of increased tensions between the US and Canada, shortly before the US president unilaterally announced increased tariffs without congressional approval, citing national security needs.
The border between the US and Canada has been demilitarized for two centuries.
Trump's justification for the new duties has provoked outrage from Canadians.
Trudeau said in an interview with NBC on Sunday: "One of the things that I have to admit I'm having a lot of trouble getting around is the idea that this entire thing is coming about because the president and the administration have decided that Canada and Canadian steel and aluminum is a national security threat to the United States."
The Home Office is deporting desperate people to places where they face persecution – often because of colonial-era laws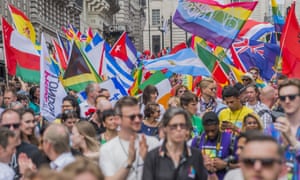 'It is now Pride season in Britain. Members of the government will wrap themselves in the rainbow flag.' Photograph: Guy Bell/Rex/Shutterstock
"M

y neighbours will put a tyre around my neck and set it on fire." That is what Rosemary fears will happen if she, a lesbian, is deported by Britain back to Nigeria. She fled her homeland nearly a decade ago after her husband discovered her sexuality and threatened to kill her. She knew she was gay from the age of 12 but, she says: "I come from a culture where you have to get married: my mother threatened to kill herself if I didn't."
None of this satisfied the Home Office. It asked her why, if she was gay, she got married, had children and didn't come out until she'd left the country. Even though she's an active member of Leicester's LGBT community, the authorities refused to believe her, and locked her up in Yarl's Wood detention centre for four months. "It's a place you wouldn't wish on your enemy – a place of torture," she tells me. She is now fighting deportation to Nigeria, a nation that forbids homosexuality, and where surveys suggest that nine out of 10 people oppose same-sex relations.
Rosemary's story is a damning indictment of the chasm that exists between the government's rhetoric on LGBT rights and its actual record. The prime minister herself repeatedly voted to keep anti-gay laws until a few years ago. While it was a Tory government that introduced equal marriage – though most Tory MPs did not vote for it – this is an issue of life and death for gays, lesbians and bisexuals. It is also, in part, about our colonial legacy. Many of the countries they face deportation to have anti-gay laws that were designed while the British were in power. We have a moral duty to offer support and safety to LGBT people fleeing repression for which Britain shares responsibility. Yet, according to Home Office figures released last year, of 3,535 asylum claims related to sexuality over a two-year period, a staggering two-thirds were rejected. The government hopes that the furore over Windrush has dissipated, that scrutiny of the "hostile environment" and the injustices it perpetrates has gone. That must not happen.
Take 50-year-old Larry, who fled Lagos in Nigeria in 2014. He realised he was gay aged 14 but, like so many gay Nigerians, had to stay firmly in the closet for his own safety. Although there were whispers and rumours about his sexuality, he married a woman in 1999. But his wife found him with another man four years ago and "raised the alarm". Local people invaded his flat and beat him; later, police officers beat him, too, and forced him to pay money to avoid arrest. When he was attacked again, he fled the country, fearing his life was in danger.
He stayed with a cousin and family friend, but was detained by immigration officers in 2016. He was imprisoned in three detention centres, and given a deportation order backdated by several weeks, meaning his appeal time had already lapsed. He fell into mental crisis, slamming his head against his cell wall and door until he was rushed to hospital. "I will be subjected to persecution back home and I fear for my life," he says, noting that his involvement with British LGBT organisations is all over the internet.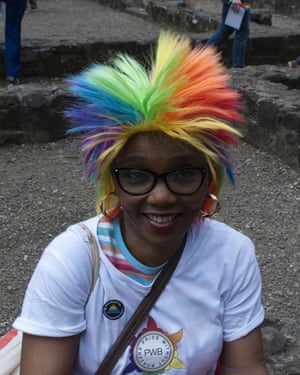 Rosemary fears for her life if the Home Office deports her back to Nigeria.
Other stories are equally distressing. Roseline, 26, came here from Nigeria aged 12: she survived a car crash two years earlier, which claimed her parents' lives. A guardian accompanied her to the UK and was then deported, leaving Roseline and her sisters in foster care. "They treated me like a slave," she says. She was forced to clean, cook, look after the family's children, and faced physical and verbal abuse. School was no escape: there, she suffered racist bullying. Later, she was arrested and imprisoned for false representation in an immigration case, then detained at Yarl's Wood, where she suffered from "hallucinations and terror". Roseline, who speaks with a thick London accent, faces being deported to a country she left as a child, being separated from her fiancee, and being put in grave danger. As Karen Doyle, the national organiser for Movement for Justice – which plays a critical role defending gay refugees – tells me, many deportation decisions challenge the sexuality of the defendant, failing to take account of how complex the coming-out process can be, not least for those fleeing countries with anti-gay laws.

The eagles – and four other protected species – are alleged to have been poisoned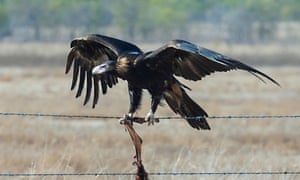 The dead wedge-tailed eagles were found at Tubbut, near the NSW border. Photograph: Alamy Stock Photo
More than 100 wedge-tailed eagles have been found on a farm in eastern Victoria, prompting a criminal investigation.
Officers from the Department of Environment, Land, Water and Planning (DELWP) found the carcasses on a property at Tubbut, which is on the edge of the Snowy River national park near the New South Wales border in East Gippsland.
Guardian Australia understands that the eagles are alleged to have been poisoned.
Four other protected species were also allegedly killed.
The penalty for deliberately killing the animals, which are a protected species under the Victorian Wildlife Act, is a fine of up to $7,928.50 or six months' imprisonment. An additional penalty of $792.85 is applicable for each additional bird killed, which could push the maximum fine in this case to more than $90,000.
A spokesman from DELWP said the matter was still under investigation and that charges had not yet been laid.
"DELWP is taking this matter very seriously," he said.
The department has asked community members with any information about the alleged poisoning of birds of prey to report it to Crimestoppers.
East Gippsland is a hotspot for wedge-tailed eagles, which are the largest bird of prey in Australia with a wingspan of up to 2.8 metres.
Local landowners, who are reluctant to speak publicly about the issue for fear of reprisal, have told Guardian Australia that as many as 10 pairs have been seen at one time wheeling over the area the valley in which Tubbut lies.
Photos posted publicly on Facebook and tagged Tubbut in April showed a dead wedge-tailed eagle alongside the carcass of a lamb, from which it had apparently been feeding. Guardian Australia does not allege that the person who uploaded the photo is the subject of a DELWP investigation.
Wedge-tailed eagles have historically come into conflict with farmers for feeding on livestock, particularly lambs. Various Australian governments had bounties in place to encourage the killing of wedge-tailed eagles until the 1970s, when they were protected under law and numbers began to recover. They are now the most abundant large eagle species in the world.
Victorian authorities have only issued three permits to kill wedge-tailed eagles in the past 10 years, resulting in the deaths of 12 birds.
Sean Dooley from Birdlife Australia said the stigma against wedge-tailed eagles for killing livestock was unwarranted because they primarily ate carrion, or preyed on animals that were already very weak.
"They're primarily scavengers," he said. "When they are seen at lambs, the lamb has probably already died."