03 Oct
News and Analyses, A Foreign Perspective
Nearly all of these are English-edition daily newspapers. These sites have interesting editorials and essays, and many have links to other good news sources. We try to limit this list to those sites which are regularly updated, reliable, with a high percentage of "up" time.

Senators Nelson (D-FL), Schumer (D-NY) and Cantwell (D-WA) led a group of 26 Senate Democrats yesterday in sending a letter to the White House outlining their top priorities for Puerto Rico recovery. Stressing that "strong and decisive leadership is needed," the Senators identified eight areas for immediate action:
All municipalities in Puerto Rico need to be included in the Individual Assistance Disaster Declaration.

A Special Assistant for Rebuilding to the President should be created to create a single point of contact in the White House.

Inclusion of funding and necessary emergency support for the Puerto Rico Medicaid program in any emergency request the administration submits to Congress.

All appropriate resources must be allocated to quickly restore power to Puerto Rico in collaboration with the Puerto Rico Electric Power Authority (PREPA) in a way that is respected by PREPA's creditors.

The Department of Defense is uniquely qualified to meet some of Puerto Rico's critical recovery needs and should be more involved in the efforts.

Work with Congress to set the federal cost share at 100 percent on all categories of Public Assistance, including permanent repairs.

Prioritize to restoring communications devices as quickly as possible.

Ensure that FEMA, the Coast Guard, and DOD are working as quickly as possible to restore the Roosevelt Roads Naval Staten and other port infrastructure to make them operational.
The three leading Senators were joined by 37 of their colleagues: Sen. Markey (D-MA), Sen. Baldwin (D-WI.), Sen. Gillibrand (D-NY), Sen. Schatz (D-HI), Sen. Carper (D-DE), Sen. Hassan (D-NH), Sen. Bennet (D-CO), Sen. Durbin (D-IL), Sen. Hirono (D-HI), Sen. Van Hollen (D-MD), Sen. Shaheen (D-NH), Sen. Booker (D-NJ), Sen. Cortez Masto (D-NV), Sen. Heinrich (D-NM), Sen. Menendez (D-NJ), Sen. Feinstein (D-CA), Sen. Murphy (D-CT), Sen. Blumenthal (D-CT), Sen. Coons (D-DE), Sen. Kaine (D-VA), Sen. Brown (D-OH), Sen. Klobuchar (D-MN), Sen. Merkley (D-OR), Sen. Peters (D-MI), Wyden (D-OR), Casey (D-PA), King (I-ME), Murray (D-WA), Cardin (D-MD), Duckworth (D-IL), Stabenow (D-MI), Franken (D-MN), Harris (D-CA), Leahy (D-VT), Sanders (I-VT), Warren (D-MA) and Reed (D-RI).

World Politics
United States
********************
A racist, a liar, a tax cheat, a draft-dodger, a deadbeat, a Russian agent, and a complete jackass. Nuclear trigger on his desk.
Madness brought on by the Republican Party and the fools who voted for him.
Get him out of our country. Hell, get him out of our world. Send him to Mars!
The McGlynn
********************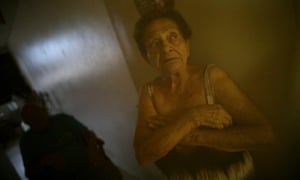 A woman stands next to her apartment door at the Las Teresas retirement community, where about 200 elderly people live without electricity following Hurricane Maria in Carolina, Puerto Rico. Photograph: Carlos Barria/Reuters
W

hen the volunteers reached the second-floor landing at Las Teresas, a retirement community on the outskirts of San Juan, they found an elderly man in wheelchair sitting alone in the stifling dark.
He was a double amputee and was clearly in a bad state. It wasn't clear how long the man had gone without food, but he sucked ravenously at a nutritional shake he was offered while a doctor started to examine him.
Four floors up, the team came across a white-haired woman in housecoat printed with dainty flowers. She was leaning against the partially opened window through which came the faintest of breezes.
"What do you need?" asked one of the volunteers. "Food, water, medicine?"
"All of them," she replied faintly.
"You don't have anything?"
She shook her head, and as the volunteer embraced her, she began to sob.
The humanitarian crisis which Hurricane Maria unleashed on Puerto Rico has affected all of the 3.5 million Americans who live on the island. But at the territory's retirement homes, more than a week without drinkable water, electricity or communication has become a matter of life or death.
Elderly people are particularly vulnerable during natural disasters; when Hurricane Irma hit the US mainland last month, the biggest single death toll was the 12 residents of a Florida nursing home who died after being left without air-conditioning in the sweltering heat.
Puerto Rico's power grid was knocked out completely by the storm, and officials say that it could take up to six months for electricity to be restored. Without electricity, many older people are stranded on their apartment floors because the elevators don't work and they can't walk up and down stairs.
Fresh supplies of medicine, food and water are unreachable without caretakers or administrators who have left to deal with their own problems or have been prevented from reaching the buildings by the debris that still blocks many roads.
At Las Teresas, two apartment buildings for people older than 62, residents were dehydrated, without food and low on medical supplies including oxygen tanks.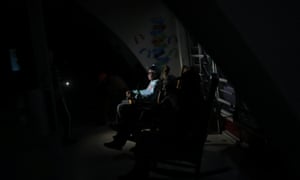 A man uses a flashlight to light up a room at the Las Teresas retirement home. Photograph: Carlos Barria/Reuters
The administrator had left before the storm, so residents who had not been retrieved, or visited, by their family were on their own – until this weekend, when a small brigade of volunteers arrived at the building, offering food, clean water, medicine and hugs.
The brigade, organized by San Juan's municipal government, was one of many groups which have arisen as the island's community struggles to respond to the disaster.
The volunteers, between 50 and 100 people each day, include former police officers, teenagers, lawyers, medics and city workers.
In the first 10 days after Maria hit, they made more than 20 trips to retirement homes and sheltered housing.
"I am wary if we don't do something quickly, there will be a mounting number of people who die," said Rolance Chavier, a doctor who has been volunteering with the group.
The official death toll from Maria remains at 16 people, but it is expected to rise.
The island's healthcare system was crippled after the storm, which could mean the storm's toll is dozens or hundreds higher than the government has reported, according to Centro de Periodismo Investigativo (CPI), a local investigative journalism project.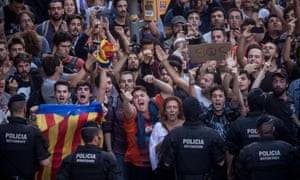 Catalan officers stand in front of protesters as they gesture at Spanish police a day after the referendum. Photograph: Chris McGrath/Getty Images
Large numbers of Catalans have taken part in a general strike to condemn police violence at a banned weekend referendum on independence, as Madrid comes under growing international pressure to resolve its worst political crisis in decades.
Schools and universities were shut on Tuesday and unions reported that most small businesses were closed after unions called for the stoppage to "vigorously condemn" the police response to the poll, in which Catalonia's leader said 90% of voters had backed independence from Spain.
"An attack on democracy without precedent in recent times calls for a united response," said Javier Pacheco, the secretary general in Catalonia of the Comisiones Obreras union. "We have called on all sectors to take part."
No public transport will be available between 9am and 5pm in Barcelona, and in Tarragona the municipal bus service was cancelled. In the Ebro delta, the rice harvest was halted for the day.
Barcelona's public universities were expected to join the strike, as was the contemporary art museum and the Sagrada Familia, the basilica designed by Antoni Gaudí and one of the city's most popular tourist sites.
FC Barcelona said it would take part in the strike, adding that it would close its headquarters and that none of its professional or youth teams would train.
Demonstrations have been called to begin at noon and Britain's Foreign Office warned travellers to expect further disruption in the region over the coming days.
The central government has vowed to stop the wealthy north-eastern region, which accounts for a fifth of Spain's GDP, breaking away from Spain and has dismissed Sunday's poll as unconstitutional and a "farce".
At least 893 people and 33 police officers were reported to have been hurt on Sunday after riot police stormed polling stations, dragging out voters and firing rubber bullets into crowds.
Violent scenes played out in towns and cities across the region as riot police moved in to stop people from casting their ballots.
The UN rights chief, Zeid Ra'ad al-Hussein, said he was "very disturbed" by the unrest while the EU president, Donald Tusk, urged Madrid to avoid further use of violence.
uropean parliament will hold a special debate on Wednesday on the issue.
Spain's national police flee station after protesters rally outside
"We call on all relevant players to now move very swiftly from confrontation to dialogue. Violence can never be an instrument in politics," said the European commission spokesman, Margaritis Schinas, breaking weeks of virtual EU silence on the Catalan issue.
Residents in many cities briefly stopped work at midday on Monday and descended on to the streets in silent, solemn protest.
In Barcelona, municipal police said about 15,000 people had stopped traffic as they rallied, many draped in the blue, yellow and red Estelada flag used by Catalan separatists, shouting: "The streets will always be ours."
"This was the norm under Franco," the crowd chanted, referring to the former dictator Francisco Franco, whose 1939-75 regime repressed Catalan language and culture.