14 Feb
News and Analyses, A Foreign Perspective
Nearly all of these are English-edition daily newspapers. These sites have interesting editorials and essays, and many have links to other good news sources. We try to limit this list to those sites which are regularly updated, reliable, with a high percentage of "up" time.

Following the Israel Police recommendation to indict Israeli Prime Minister Benjamin Netanyahu, MK and former Finance Minister Yair Lapid revealed that he is a key witness in one of the investigations into Netanyahu.
Yair Lapid and Benjamin Netanyahu Photo Credit: Haim Zach/GPO
It was revealed on Wednesday that MK and former Finance Minister Yair Lapid is a key witness in one of the corruption investigations into Israeli Prime Minister Benjamin Netanyahu. On Tuesday evening, the Israel Police released its recommendation to indict Netanyahu on charges of corruption. According to Lapid, Netanyahu should resign because "there is no way to run a state under such serious allegations."
Lapid explained today that he was approached by the Israel Police to give his testimony from his time in Netanyahu's government as Israel's finance minister. During his term, the controversial Milchan Law, on which Case 1,000 is based, was on the docket. The case explores the allegations that Netanyahu accepted gifts from Arnon Milchan in exchange for tax exemptions and reforms that benefited that Israeli businessman.
The Israeli MK stated that he "refused to pass the law" despite the pressure placed on him, allegedly by Netanyahu himself. Based on Lapid's testimony, the Israel Police believe that Netanyahu unsuccessfully sought to extend the tax exemption for 20 years in order to benefit Milchan and businessman James Packer in exchange for lavish gifts such as cigars and champagne from them.
As previously reported by JOL, Netanyahu's coalition is standing by him while the opposition is calling for his immediate resignation. The indictment recommendation that was publicized by the Israel Police sparked conversation about the future of the leadership in Israel. The decision to proceed with a trial and the call for resignation rest in the hands of the Attorney General and may take up to years to finalize.


Attorney general will examine evidence and decide whether to indict after police investigation of the prime minister in two cases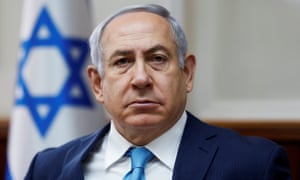 Benjamin Netanyahu has denied wrongdoing. Photograph: Ronen Zvulun/Reuters
Israeli police have recommended that Benjamin Netanyahu be indicted on charges of bribery and breach of trust, in an embarrassing blow that has thrown the prime minister's political future in doubt.
Following a 14-month investigation into two cases of alleged corruption, the country's attorney general will examine the evidence and then – possibly in several months' time – decide whether to indict.
The country has been anxiously waiting for the prosecutor's recommendation, which local media has speculated could force the prime minister to resign.
A police statement late on Tuesday said that enough evidence had been gathered against the prime minister for committing the crimes of "bribery, fraud, and breach of trust".
Minutes after the news of the police report spread across Israeli media, Netanyahu held a press conference in Jerusalem, vehemently denying any wrongdoing and dismissing rumours that he would step down.
He said the development was the latest in a long list of endeavours to remove him from government. "All these attempts end up with nothing because I know the truth. I tell you, also this time, things will end up with nothing.
"I will continue to lead Israel responsibly and faithfully," he said, adding he plans to run in elections that must be held by the end of next year.
Police have questioned Netanyahu several times at his official residence in Jerusalem during the past few months regarding the two cases in which he is a suspect.
Case 1000, or the so-called "gifts affair", involves claims that he and his family received valuable gifts from international billionaires, including expensive cigars, pink champagne and jewellery for his wife. Alleged wealthy benefactors include the Hollywood producer and media magnate Arnon Milchan as well as the Australian businessman James Packer.
In a statement, police said Netanyahu had accepted gifts valued at 750,000 shekels (£150,000, $208,300) from Milchan, and 250,000 shekels (or £51,000, $70,822) from Packer. In return, Netanyahu had helped Milchan, a producer who has worked on Pretty Woman and Fight Club, on US visa matters and Israeli tax breaks.
Separately, case 2000 relates to secret talks with the publisher of a leading Israeli newspaper, Yedioth Ahronoth, in which Netanyahu allegedly requested positive coverage in exchange for damaging a competitor, the pro-Netanyahu freesheet Israel Hayom.
Police said both Milchan and Mozes could be charged with bribery. Neither made an immediate comment.
Having ruled for close to 12 years during four terms, the 68-year-old leader heads a delicately balanced coalition that keeps him in power.
The former prime minister and Netanyahu political rival Ehud Barak called on Netanyahu to suspend himself and for the coalition to choose a replacement.
"The depth of corruption is horrifying," Barak said. "This does not look like nothing. This looks like bribery."
A poll by the local Channel 10 found last summer that 66% of Israelis believed the premier should resign if indicted. Weekly demonstrations over the slow pace of the investigations have also added pressure on officers to submit a recommendation.
Last week, the investigation was plunged into controversy when the police commissioner, Inspector General Roni Alsheich, suggested the prime minister had sent private investigators to collect information against police officers investigating him.
Read Full Article>>
Related:
World Politics
United States
Source: AP
The director of the FBI, Christopher Wray, has revealed new details on the background check for the former White House aide Rob Porter. Porter resigned this month after allegations of domestic abuse

Proposal aimed at keeping up with population growth would limit cities' power over housing, handing more control to state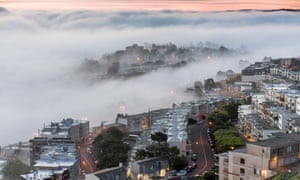 California state legislators are considering an overhaul of the city planning rulebook. Photograph: Alamy
The mayor of Berkeley, California, has called it "a declaration of war". A neighborhood group in Los Angeles said it would be akin to forcing Native Americans from their land.
Amid a desperate housing crisis, legislators in the Golden State have prompted an outcry with new proposals that threaten to take the rulebook that governs American city planning and throw it out the window.
Their proposition: reducing cities' power to decide what gets built and putting more control into state hands.
"We have a housing deficit in the millions and it grows every year," said the state senator Scott Wiener, author of a bill at the center of the fight.
To keep up with population growth, California needs to build 180,000 new homes each year. But for the last 10 years, it has constructed less than half that figure.
This scarcity has driven up rents and the prices of homes to the point where half of the state's current residents can no longer afford them and homelessness has surged. In San Francisco, the state's most expensive housing market, the median sales price of homes was $1.25m in 2016 and the median rent was $4,500.
Liberals have found themselves pitted against liberals, with urban environmentalists who want to build "smart cities" with dense housing around transit lines facing off against minority groups fighting to protect inner-city neighborhoods and suburbanites wanting to slow growth. It has divided renting millennials from their homeowning parents and created a passionate breed of housing activists calling themselves Yimbys.
Inspiration for Wiener's new bill stemmed in part from an unexpected corner: a squat, brown building that once housed a Kentucky Fried Chicken in San Francisco's desirable Mission district.
Over a decade ago, developers wanted to build 16 rental units there. But faced with neighborhood concerns ranging from the building's lack of parking spaces to the effects of construction noise on a next door theater, the project was subjected to some 20 hearings and review meetings as the approval process dragged out over a 10-year period, according to the landowner, Mark Rutherford. After getting through eight different board votes to win city approval, it was challenged again by a neighborhood lawsuit.
"It demonstrated an aversion to new housing, coupled with an expensive planning process, topped off with arbitrary decisions," Wiener wrote in a 2014 op-ed.
Last year, Wiener successfully pushed a bill that would override local objections in districts that don't produce their share of housing. It was among many other bids to help ameliorate the affordability crisis.
His new bill would wipe out height and density limits around all transit stations and major bus routes in the state to allow construction of buildings five to eight stories high. It has won support from a group of 100 Silicon Valley tech industry leaders, who signed a letter saying workers desperately need the housing. It also has financial backing from developers.
"Things are not going to get better by sticking to the status quo," said Ethan Elkind, director of the climate program at the University of California, Berkeley's Center for Law, Energy & the Environment. He said the state needed both affordable and market-rate housing near transit to reverse California's tendency toward suburban sprawl. "We have to go full bore by building as much transit-oriented housing as possible."
Opponents have declared the move "a war on local planning" that would unleash a huge wave of uncontrolled, private development and have unintended consequences, including gentrification and displacement of inner city minority populations. A Los Angeles city councilman said it could make beach neighborhoods look like "Dubai 10 years later" and Dick Platkin, a former Los Angeles city planner, said allowing eight-story towers around all transit stations would enforce a "one-size-fits-all" solution.
In an interview, meanwhile, Mayor Jesse Arreguin of Berkeley called the proposed rule change "extreme".
"This will change the character of neighborhoods in the Bay Area and throughout the state."
Others see Wiener's plan in even starker terms, underlining the challenge that he and Yimby groups face……..
The result, they said, would be the displacement of low-income residents on the scale of the Trail of Tears that followed President Andrew Jackson's 1830 Indian Removal Act.
"This will be the straw that broke the camel's back," said Damien Goodmon, director of the Crenshaw Subway Coalition.
Read Full Article>>

Letter with 15 signatories says Iran's leaders have failed to deliver on republican ideals
Women hold posters of the Iranian revolutionary founder Ayatollah Khomeini and the supreme leader Ayatollah Ali Khamenei during a pro-government rally. Photograph: Mohammad Ali Marizad/AP
A group of prominent Iranian intellectuals have said they have lost hope that the Islamic Republic can reform, and have called for a referendum to establish whether the ruling establishment is still backed by a majority.
A day after Iran's president, Hassan Rouhani, touted the idea of holding a referendum as a means to heal Iran's deepening political divisions, 15 figures – including some based in Iran – said leaders had failed to deliver on republican ideals.
Signatories to the letter include the Nobel peace prize-winning lawyer Shirin Ebadi; Narges Mohammadi, a human rights activist currently imprisoned in Tehran; Nasrin Sotoudeh, a rights lawyer; and the film-makers Mohsen Makhmalbaf and Jafar Panahi.
Rouhani did not elaborate on what he was proposing to put to a vote, but he has sounded increasingly frustrated about the political stalemate.
The judiciary has limited his ability to improve social freedoms despite his triumph in last year's presidential election, and critics say his recent budget, which allocated huge funds to state bodies under the control of hardliners, demonstrated his lack of power.
Meanwhile, the Iranian currency has taken another dive against the dollar in recent days, adding to fears about the state of the economy.
Speaking last week, Rouhani expressed concern about what he said was the unwillingness of his hardline opponents to listen to the voices of ordinary people, particularly after a wave of unrest that began in late December.
"The previous regime, which thought that its rule would be lifelong and its monarchy eternal, lost everything because it did not listen to the voices of criticism, advice, reformers, the clergy, elders and intellectuals," he said, referring to the late shah's rule. "The previous regime did not listen to the voice of people's protests and only listened to one voice, and that was the people's revolution. For a government that only wants to hear the sound of revolution, it will be too late."
The activists' letter states: "Four decades have passed since the establishment of the Islamic republic, a government whose obsession with Islamisation has left little room for republican ideals."
It criticises the conservative-dominated judiciary, which acts independently of Rouhani's government. "The judiciary is reduced to the executor of the political wishes of those who hold the reins of power. So many women, lawyers, journalists, teachers, students, workers and political and social activists have been harassed, arrested, convicted of serious crimes and sent to prison, solely for criticising officials, enlightening public opinion, inviting the rulers to respect separation of religion from government or demanding women's relief from the mandatory veil."
Last month Mehdi Karroubi, an Iranian opposition leader currently under house arrest, wrote a letter attacking the supreme leader, Ayatollah Ali Khamenei, who holds ultimate power in Iran. Direct criticism of Khamenei is rare.
Karroubi, a former speaker of parliament, wrote: "You have been Iran's top leader for three decades but still speak like an opposition. During the last three decades you have eliminated the main revolutionary forces to implement your own policies, and now you should face the results of that."
Iranian officials say high turnouts in elections show that the establishment is still popular. Critics dispute that, saying many voters participate in the hope of bringing about change.
Saeed Barzin, a London-based Iranian analyst, said Rouhani's call for a referendum was a threat to push back the economic and political meddling of an unelected faction dominated by hardliners, in particular the Revolutionary Guards…………………..Barzin said he was not impressed by the activists' letter, though the range of signatories was interesting. Even those based in Iran, he said, did not represent mainstream reformists, who would view holding such a referendum as the establishment acquiescing to its own destruction.