15 Jun
Trump's former campaign chairman, 69, awaiting trial on multiple federal felony charges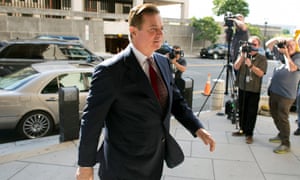 Paul Manafort arrives at the federal courthouse in Washington. Photograph: Michael Reynolds/EPA
Paul Manafort, formerly Donald Trump's campaign chairman, was taken into custody on Friday after a federal judge determined he had violated the terms of his bail as he awaits trial on multiple federal felony charges.
Prosecutors alleged that Manafort sought to tamper with witnesses in his case by contacting them and attempting to coordinate testimony. Manafort is said to have told witnesses their work together to influence European politicians on behalf of Ukraine was restricted to Europe and did not happen in the US.
Prosecutors argued there was no way to guarantee that Manafort would comply with orders if not in custody. A lawyer for Manafort said the court could be clearer on on the nature of contact Manafort was permitted to have with potential witnesses.
According to reporters in the room, judge Amy Berman Jackson of the US district court for the District of Columbia said she had "struggled" with her decision but could not "turn a blind eye" to Manafort's conduct. He had, she said, "abused the trust placed" in him and treated the court proceeding as "just another marketing exercise".
As he was taken into custody, Manafort waved to his wife. He was not placed in handcuffs.
Trump attempted to distance himself from Manafort in an interview at the White House earlier, falsely claiming that "Manafort had nothing to do with our campaign." In fact Manafort ran the campaign for five months and continued to advise Trump through the presidential transition.
Manafort, 69, who faces charges of alleged money laundering, tax fraud, failure to register as a foreign agent and obstruction of justice, faces a prison sentence of up to 20 years on the charges he faces in the District of Columbia. He also faces up to 270 years in prison on charges in district court in Virginia, meaning he could spend the rest of his life in prison if convicted.
To diminish his potential sentence, Manafort, who denies all wrongdoing, may seek to reach a deal with federal prosecutors investigating alleged collusion between Moscow and the Trump campaign. Manafort's protege and longtime deputy, Richard Gates, cut a similar deal with prosecutors in February, pleading guilty to felony charges of conspiracy and making false statements.
"I had hoped and expected my business colleague would have had the strength to continue the battle to prove our innocence," Manafort said at the time.
A spokesman for Manafort, Jason Maloni, did not immediately issue a statement on Friday.
A political lobbyist and Republican operator whose career in Washington reaches back to the Richard Nixon era, Manafort courted the Trump campaign in early 2016 and was hired that February to corral delegates for the presidential nomination as Trump won primary after primary.
Manafort's past, undeclared work in Ukraine and for Russian oligarchs drew scrutiny as the first questions began to surface about alleged coordination between the campaign and Moscow. Manafort stepped down after five months in the job.
The FBI has investigated Manafort, including conducting surveillance on him, since at least 2014. In late July 2017, agents conducted a pre-dawn raid on his home in Virginia, seizing computers and documents.
After the raid, Trump admitted that he knew the man who had run his presidential campaign during a crucial stage of the nominating process.
"I know Mr Manafort – I haven't spoken to him in a long time, but I know him," Trump said. "He was with the campaign, as you know, for a very short period of time, relatively short period of time. But I've always known him to be a good man."