21 Oct
Nancy Pelosi is ready to rumble.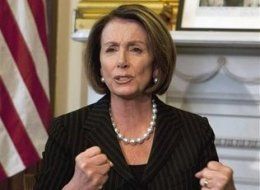 The House Speaker told her Democratic caucus Tuesday night that she plans to bring a health care reform bill with a robust public option to the House floor for a vote, Rep. Keith Ellison (D-Minn.) tells HuffPost. But first she needs to know that the party is with her.
The Congressional Progressive Caucus has been tallying support for a public insurance option tied to Medicare reimbursement rates over the last several weeks. According to people in the room Tuesday night, Pelosi told her members that the caucus is close to the 218 votes needed to pass the bill. She went on to say that the few remaining undecideds – or undeclareds – needed to let Majority Whip Jim Clyburn (D-S.C.) know by Wednesday where they stand.
The caucus will meet again Wednesday evening to retake the Democratic temperature. If the 218 votes are there, the party will plow forward and go to conference committee negotiations with a strong hand.
The challenge from Pelosi to her caucus puts the onus on her to find the votes. "Do I think it will get to 218? I have such confidence in our speaker Nancy Pelosi, that when she is determined, as a strong woman – I can't guarantee everything – but I do believe she's determined to go into the conference with the Senate with a strong public option," Rep. Nita Lowey (D-N.Y.) said Wednesday.
"As with so many other issues, the American public is way ahead of even those of us in Congress," said Rep. Donna Edwards, a progressive Democrat from Maryland. "It's good fortune and a lot of hard work on the part of the Speaker and the Democratic caucus for us to finally come where the American people are."
A progressive public option also puts pressure on Senate negotiators hammering out the final health care bill in the upper chamber. A robust public option on the House side could give Senate Majority Leader Harry Reid (D-Nev.) the political wiggle room to include a more conservative public option in his package. It would then come down to a duel between the chambers.
Pelosi was "upbeat" as she delivered her news and made the call to the caucus, said one person in the room. A Washington Post-ABC poll released Tuesday showed support for the public option climbing nationally.
The robust public option's ability to save money bodes well for its future. Pelosi shared the outlines of a preliminary Congressional Budget Office estimate of the costs of the House bill, telling the caucus it came in at well under $900 billion over ten years.
President Obama has demanded that the package come in at under $900 billion. "Without the public option, which has been scored as a big cost saver, it will be hard for us to meet the $900 billion mark and provide the affordability to Americans that is absolutely essential," said Rep. Jan Schakowsky (D-Ill.).