30 Jul

Guardian staff and agencies
Former archbishop of Washington DC stands down

Allegations concern sex abuse with minors and young men
Cardinal Sean O'Malley of Boston said he was "deeply troubled" by the McCarrick case. "Deeply troubled"? =

BULLSHIT!
"Accepted his resignation"? The bastard should have been fired back in 2005.
"Regular canonical trial"? A trial should be open to the World.
Damn it! Find out who else in the hierarchy knew about these crimes and did nothing. And prosecute them.
The McGlynn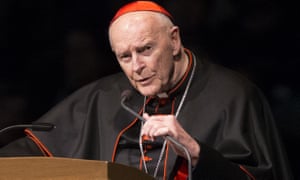 Theodore McCarrick has been removed from public ministry since 20 June. Photograph: Robert Franklin/AP
Pope Francis on Saturday accepted the resignation as a cardinal of Theodore McCarrick, a former archbishop of Washington DC and one of the most prominent figures in the US Catholic church, following allegations of sexual abuse, including one involving an 11-year-old boy.
The Vatican said in a statement McCarrick, 88, sent his resignation letter to the pope on Friday night.
Recent weeks have brought a spate of allegations that in the course of his distinguished career, McCarrick sexually abused both boys and adult seminarians. The revelations posed a test to Francis's recently declared resolve to battle what he called a "culture of cover-up" of such abuse in the Catholic church hierarchy.
McCarrick has been removed from public ministry since 20 June, pending a full investigation into allegations he fondled a minor more than 40 years ago in New York City.
A man, who was 11 at the time of the first alleged instance of abuse, says a sexually abusive relationship continued for two more decades. McCarrick has denied the initial allegation.
Several men have come forward to allege McCarrick forced them to sleep with him at a beach house in New Jersey when they were adult seminarians studying for the priesthood.
The New York Times reported last week that two dioceses in New Jersey reached financial settlements in 2005 and 2007 with men who said they were abused by McCarrick as adults decades ago.
McCarrick has not commented on the allegations of abuse of adult men and another minor.
Some American Catholics have said the Vatican should send an inspector to the US to determine who in the church hierarchy knew of the alleged incidents and why McCarrick's rise was not impeded.
Cardinal Sean O'Malley of Boston said he was "deeply troubled" by the McCarrick case, saying it and others pointed to "a major gap" in church policy on sexual conduct and sexual abuse by bishops or other top officials.
Besides agreeing to McCarrick's stepping down as a cardinal, Francis ordered him to conduct "a life of prayer and penance" until accusations against him are examined in a church trial.
McCarrick rose steadily through the US church, from auxiliary bishop in New York City to bishop in Metuchen, New Jersey, to archbishop of Newark, New Jersey and then to Archbishop of Washington DC, where the papal ambassador to the US is based.
While most scandals involving sexual abuse by members of the clergy have involved rank-and-file priests, some cases involved bishops and there are a few involving cardinals, including a current case in Australia involving one of Pope Francis's closest advisers, Cardinal George Pell.
In the case of Scottish cardinal Keith O'Brien, accused by former seminarians in 2013 of sexual misconduct, Francis only accepted his resignation after the Vatican's top abuse prosecutor conducted a full investigation, two years after the first revelations.
In its statement on McCarrick, the Vatican said: "Pope Francis accepted his resignation from the cardinalate and has ordered his suspension from the exercise of any public ministry, together with the obligation to remain in a house yet to be indicated to him, for a life of prayer and penance until the accusations made against him are examined in a regular canonical trial."
The last person to resign from the College of Cardinals is believed to be French theologian Louis Billot, who according to the National Catholic Reporter, a US newspaper, left over a disagreement with Pope Pius XI in 1927.
Related:
"They tell us 2,900 of my people are buried here but there are more. My people were tortured all over this area, even under these million dollar homes."