21 Jan
Sister Marches are solidarity events inspired by the Women's March on Washington, and organized by volunteers around the world. If you can't make it to Washington, D.C. on January 21, join or host a Sister March near you.
SISTER MARCHERS (EST):
2,226,540
Enter your zip/postal code to begin
Rolling coverage of events in the US and around the world as more than 20 countries host solidarity marches in wake of Trump inauguration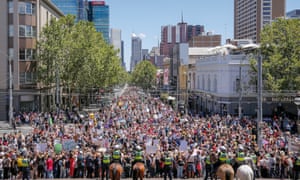 Protesters take part in a rally in Melbourne, Australia, to protest against the Trump Inauguration. Photograph: Wayne Taylor/Getty Images
Marchers from around the world have spoken to the Guardian about why they are protesting today. I'll post a few of these throughout the day.
Maria Kostaki, 43, author, Athens:
While not a citizen of the US, I am organising this march in Athens because I believe the issues it represents are global. It's about humanity. It's about women's rights, racism, equality, LGBT rights. I have a four-year-old son and I do not want him to grow up in a world where everything we have fought for is taken away. We can't allow anyone to reverse what we have built.
Lotje Horvers, 34, tour manager, Amsterdam
I want to be part of the message to the world that there are more people who love than people who hate, and I will not stand by silently while a lying bully is given one of the most responsible positions in the world. I cannot be at peace with the fact he uses his voice to set an example that it is acceptable to be demeaning to women and minorities.
Hundreds of people joined protests in Tokyo, including many American expatriates. "Trump presidency gets my blood boiling … Everything we value could be gone. It's time to speak your mind and concerns and to do our best to salvage the values we cherish in America," said Bill Scholer, an art teacher.
In Manila on Friday, about 200 demonstrators from a Philippine nationalist group rallied for about an hour against Trump outside the US embassy. Some held up signs demanding US troops leave the Philippines, and others set fire to a paper US flag bearing a picture of Trump's face.
Updated
Protesters in Australia and New Zealand were the first to start marching today. In Sydney, Australia's biggest city, about 3,000 people gathered for a rally in Hyde Park before marching on the US consulate downtown. A further 5,000 people rallied in Melbourne. In New Zealand there were marches in four cities, involving around 2,000 people.
"Feminism is my Trump card" and "Fight like a girl," were among the placards seen in Sydney. Organiser Mindy Freiband told Reuters:
We're not marching as an anti-Trump movement per se, we're marching to protest the hate speech, the hateful rhetoric, the misogyny, the bigotry, the xenophobia and we want to present a united voice with women around the globe.
Many of the protesters in Sydney and Melbourne wore pink hats, which activists referred to as their "pussyhats". Many said they were worried that Trump's politics and his attitude towards women and minorities could spread. "As a mature 56-year-old lesbian, I feel for the first time what is global is local," said Vicki Skehan. "We've come so far with inclusiveness and I don't want to see that go away."
This entry was posted on Saturday, January 21st, 2017 at 6:17 am and is filed under Civil Rights, General, Human Rights, Politics. You can follow any responses to this entry through the RSS 2.0 feed. Both comments and pings are currently closed.