01 Jun
Guardian analysis finds 102 people killed by police so far this year were unarmed, and that agencies are killing people at twice the rate calculated by US government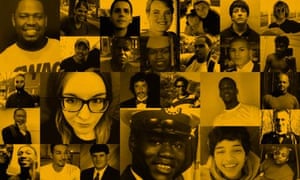 The figures illustrate how disproportionately black Americans, who make up just 13% of the country's total population according to census data, are killed by police. Composite: Guardian Design
Black Americans are more than twice as likely to be unarmed when killed during encounters with police as white people, according to a Guardian investigation which found 102 of 464 people killed so far this year in incidents with law enforcement officers were not carrying weapons.
An analysis of public records, local news reports and Guardian reporting found that 32% of black people killed by police in 2015 were unarmed, as were 25% of Hispanic and Latino people, compared with 15% of white people killed.
The findings emerged from a database filled by a five-month study of police fatalities in the US, which calculated that local and state police and federal law enforcement agencies are killing people at twice the rate calculated by the US government's official public record of police homicides. The database names five people whose names have not been publicly released.
The Guardian's statistics include deaths after the police use of a Taser, deaths caused by police vehicles and deaths following altercations in police custody, as well as those killed when officers open fire. They reveal that 29% of those killed by police, or 135 people, were black. Sixty-seven, or 14%, were Hispanic/Latino, and 234, or 50%, were white. In total, 102 people who died during encounters with law enforcement in 2015 have been unarmed.
The figures illustrate how disproportionately black Americans, who make up just 13% of the country's total population according to census data, are killed by police. Of the 464 people counted by the Guardian, an overwhelming majority – 95% – were male, with just 5% female.
Steven Hawkins, the executive director Amnesty International USA, described the racial imbalance as "startling". Hawkins said: "The disparity speaks to something that needs to be examined, to get to the bottom of why you're twice as likely to be shot if you're an unarmed black male."
Black teenager accused of shoplifting at Walmart killed in April by white officer Stephen Rankin, who had been suspended for shooting another unarmed man

An unarmed black 18-year-old accused of shoplifting was killed by a police officer in Virginia who had been barred from patrolling city streets for almost three years after fatally shooting another unarmed man.
William Chapman was shot dead by Stephen Rankin, a white Portsmouth police officer, during a struggle in a Walmart parking lot. Rankin, 35, a US navy veteran trained in martial arts, was once disciplined for posting violent remarks and Nazi images online.
Chapman's family likened his death to that of Michael Brown, another unarmed black 18-year-old who was suspected of a theft and shot dead following a struggle with a white officer. Brown's death last year in Ferguson unleashed nationwide protests.
But they noted with disappointment that Chapman's killing in April barely registered among activists and the media. "I feel alone," said Chapman's mother, Sallie. "Because my son is gone and because nobody is trying to help me understand why."
The Virginia chief medical examiner's office said in a statement only that the cause of Chapman's death was "gunshot wounds of face and chest". Chapman's mother said his hands were also wounded in the encounter, a claim supported by photographs of his body reviewed by the Guardian.
Chiefs only allowed Rankin to return to front line policing in March last year, almost three years after he killed an unarmed 26-year-old Kazakhstani immigrant in February 2011. Rankin was later found to have insulted the man and his family in other online postings…………………..A funeral service was held for Chapman last month but his body has not yet been buried because his family is unable to afford the $3,600 fee, relatives said………………….