08 Jan
United States Wars, News and Casualties
 ************************
The War Criminals
The war criminals of the Bush regime lied and fabricated evidence to go to war.
Bush,Cheney,Rice,Rumsfeld, Wolfowitz, and Powell

are war criminals and today they are enjoying freedom.
The thousands dead, the region in chaos, the creation of Islamic State and the trillions of dollars cost and for what? The worst of all is that they were so desperate for war that they had no plans for peace.
So where are the protests and demonstrations today in the US to bring Bush, Chaney, Wolfowitz, Rice, Powell and Rumsfeld to Justice? There are none. There has been none. And now the US people ask – why do we have so many enemies and why do peoples from other cultures hate us?


We condemned children to death, some after many days of writhing in pain on bloodstained mats, without pain relievers. Some died quickly, wasted by missing arms and legs, crushed heads. As the fluids ran out of their bodies, they appeared like withered, spoiled fruits. They could have lived, certainly should have lived – and laughed and danced, and run and played- but instead they were brutally murdered. Yes, murdered!
The war ended for those children, but it has never ended for survivors who carry memories of them. Likewise, the effects of the U.S. bombings continue, immeasurably and indefensibly.
The McGlynn
 ************************
War News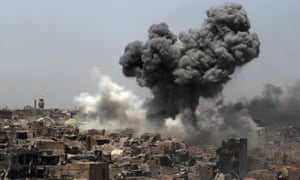 Smoke billows following an airstrike by US-led coalition forces targeting Islamic State fighters in Mosul, Iraq. Photograph: Ahmad Al-Rubaye/AFP/Getty Images
More than 15,000 civilians were killed by explosive weapons in 2017, a jump of 42% in a year, according to a global survey seen by the Guardian.
The rise – driven by airstrikes, which killed almost double the number of civilians in 2017 compared with the previous year – coincided with US-led military operations to reclaim the Islamic State strongholds of Mosul, in Iraq, and Raqqa, in Syria.
MPs said the figures were "deeply concerning" and raised questions over the transparency of legal criteria used by the Ministry of Defence to determine whether an individual is an Isis combatant.
The global survey, compiled by Action on Armed Violence, an organisation that highlights civilian harm from explosive weapons, suggests the civilian death toll from air-launched explosives rose by 82%, from 4,902 in 2016, to 8,932 in 2017.
SOUTHWEST ASIA, Jan. 5, 2018 — U.S. and coalition military forces continued to attack the Islamic State of Iraq and Syria between Dec. 29, 2017, and yesterday, conducting 58 strikes consisting of 84 engagements, Combined Joint Task Force Operation Inherent Resolve officials reported today.
Officials reported details of the most recent strikes, noting that assessments of results are based on initial reports.
Strikes in Syria
On Jan. 4, near Abu Kamal in Syria, coalition military forces conducted four strikes consisting of five engagements against ISIS target, destroying an ISIS supply route, a fighting position and a vehicle-borne bomb.
On Jan. 3, near Abu Kamal, coalition military forces conducted nine strikes consisting of 12 engagements against ISIS targets, destroying two ISIS lines of communication, a heavy weapon, four fighting positions, an ISIS vehicle, a logistics center and an ISIS supply route.
BEIRUT (Reuters) – An explosion in Syria's northwestern city of Idlib killed at least 23 people and injured tens more, including civilians, a war monitor reported on Sunday.
The Syrian Observatory for Human Rights said the explosion targeted the headquarters of a minor rebel faction in Idlib.
The nature of the attack was not immediately clear. The monitor said there were conflicting accounts, attributing the explosion that shook the Thalatheen district of the city to either a car bomb or a drone attack.
Ambulances were deployed to the explosion site and rescue teams were continuing efforts to recover bodies and the injured from the rubble of the targeted building and neighboring houses, the monitor added.
The majority of the deaths were fighters from the rebel group, in addition to seven civilians, with several people still unaccounted for, it said.

BEIRUT (AP) — Syrian government forces and allied militiamen are advancing on the largest remaining rebel-held territory in the country's north, forcing thousands of civilians to flee toward the border with Turkey in freezing winter temperatures.
The offensive on Idlib — a large province in northwestern Syria packed with civilians and dominated by al-Qaida-linked militants — was expected after the defeat of the Islamic State group late last year. Last week, Russia's Foreign Minister Sergey Lavrov said the main military operations against IS in Syria have ended and signaled that the focus would shift to al-Qaida-linked militants.
The Idlib offensive carries significant risks.
The province bordering Turkey is home to more than 2.6 million Syrians, according to the U.N., including more than 1.1 million who fled fighting elsewhere in the country. A full-blown government offensive could cause large-scale destruction and massive displacement.
Mosul (IraqiNews.com) Iraqi Federal Police forces said Monday they finished 50 percent of their works to rehabilitate war-scarred areas of western side of Mosul.
The service's chief, Shaker Jawdat, said in a statement that  "the force's 5th division has concluded the rehabilitation of 50 percent of western Mosul, repatriating refugees from camps to their living areas, as well as reopening schools and bridges".
Thousands of Islamic State militants and Iraqi civilians were killed since Iraqi forces, backed by a U.S-led coalition, launched an offensive to clear IS-held regions, starting with Mosul in October 2016.
Kirkuk (IraqiNews.com)  Two people were killed and tens others were wounded on Monday when mortar rounds targeted the town of Tuz Khurmatu in Kirkuk, an Iraqi Turkmen parliamentarian said.
Jassem Mohamed Jaafar was quoted by Alsumaria News saying that "the missiles were launched by Kurdish gangs", urging the government to send troops to the town to "curb those violations".
Ali al-Husseini, a spokesperson of the PMF northern area, told Alghad Press earlier that the town became under mortar shelling from nearby mountain areas.
He said the missiles "all landed in the middle of the town, and caused  damages and injuries among citizens".
GHAZNI (Pajhwok): Thirty Taliban insurgents have been killed and another 33 wounded during security forces' operations in southern Ghazni province, an official said on Sunday.
Maj. Gen. Shaor Gul, 203th Thunder military corps commander, told Pajhwok Afghan News that the operations had been ongoing over the past one week in Andar and Deh Yak districts.
He claimed 30 Taliban insurgents were killed and another 33 injured in the operations that also resulted in confiscation of 12 motorcycles and weapons. He further said they would extend the ongoing operations to areas under Taliban control.
Governor Abdul Karim Mateen, who attended the press conference, said cooperation of local residents with security forces had a great importance.
By Khaama Press on 08 Jan 2018 2:12pm
As the US military is gearing up to increase pressures on Taliban through military offensives as part of the new US strategy, the Pakistani officials have reportedly warned Washington regarding the negative consequences in the event the military operation does not yield any positive result. According to reports, Islamabad has told US interlocutors that a
By Khaama Press on 08 Jan 2018 1:20pm
A foreign soldier apparently belonging to the British forces has decapitated a ISIS militant during a fierce clash in eastern Nangarhar province of Afghanistan, it has been reported. The incident has taken place around six weeks ago as reports indicate that a group of ISIS fighters launched a coordinated attack on an ongoing meeting between
By Khaama Press on 08 Jan 2018 11:04am
The UN Assistance Mission in Afghanistan (UNAMA) on Sunday released its preliminary findings in to the suicide attack in Kabul on 4 January that killed 13 civilians and injured an additional 19. According to UNAMA, the attack, claimed by Islamic State, took place in the evening when the bomber detonated his body-borne improvised explosive device
This data is based on 51,544 database entries from the beginning of the war to 28 Feb 2017, and on monthly preliminary data from that date onwards. Preliminary data is shown in grey when applicable, and is based on approximate daily totals in the Recent Events section prior to full analysis. The full analysis extracts details such as the names or demographic details of individuals killed, the weapons that killed them and location amongst other details. The current range contains 36,537–38,380 deaths (20%–19%, a portion which may rise or fall over time) based on single-sourced reports.
Graphs are based on the higher number in our totals. Gaps in recording and reporting suggest that even our highest totals to date may be missing many civilian deaths from violence.
Recent Casualties
Color Denotes Today's Confirmation
The Department of Defense announced today the death of a soldier who was supporting Operation Freedom's Sentinel.
Sgt. 1st Class Mihail Golin, 34, of Fort Lee, New Jersey, died Jan. 1 in Nangarhar Province, Afghanistan, after being engaged by enemy small arms fire while on a dismounted patrol. Golin was assigned to the 2nd Battalion, 10th Special Forces Group (Airborne), Fort Carson, Colorado. The incident is under investigation.
The Department of Defense announced today the death of a soldier who was supporting Operation Inherent Resolve.
Spc. Avadon A. Chaves, 20, of Turlock, Calif., died Dec. 20 at Al Asad, Al Anbar Province, Iraq, from a non-combat related incident. Chaves was assigned to the 1st Battalion, 6th Infantry Regiment, 2nd Brigade Combat Team, Fort Bliss, Texas. The incident is under investigation.
**********************
The Department of Defense announced today the death of a soldier who was supporting Operation Freedom's Sentinel.
Staff Sgt. David Thomas Brabander, 24, of Anchorage, Alaska, died Dec. 11 in Nangarhar Province, Afghanistan, as a result of a non-combat related incident. He was assigned to 3rd Battalion, 509th Infantry Regiment, 4th Infantry Brigade Combat Team (Airborne), 25th Infantry Division, U.S. Army Alaska, Joint Base Elmendorf-Richardson, Alaska. The incident is under investigation.
**********************
Care for Veterans:
PTSD: National Center for PTSDPTSD Care for Veterans, Military, and FamiliesSee Help for Veterans with PTSD to learn how to enroll for VA health care and get an assessment.
All VA Medical Centers provide PTSD care, as well as many VA clinics.Some VA's have programs specializing in PTSD treatment. Use the VA PTSD ProgramLocator to find a PTSD program.If you are a war Veteran, find a Vet Center to help with the transition from military to civilian life.