14 Jan
United States Wars, News and Casualties
************************
The War Criminals
The war criminals of the Bush regime lied and fabricated evidence to go to war.
Bush,Cheney,Rice,Rumsfeld, Wolfowitz, and Powell

are war criminals and today they are enjoying freedom.
The thousands dead, the region in chaos, the creation of Islamic State and the trillions of dollars cost and for what? The worst of all is that they were so desperate for war that they had no plans for peace.
So where are the protests and demonstrations today in the US to bring Bush, Chaney, Wolfowitz, Rice, Powell and Rumsfeld to Justice? There are none. There has been none. And now the US people ask – why do we have so many enemies and why do peoples from other cultures hate us?


We condemned children to death, some after many days of writhing in pain on bloodstained mats, without pain relievers. Some died quickly, wasted by missing arms and legs, crushed heads. As the fluids ran out of their bodies, they appeared like withered, spoiled fruits. They could have lived, certainly should have lived – and laughed and danced, and run and played- but instead they were brutally murdered. Yes, murdered!
The war ended for those children, but it has never ended for survivors who carry memories of them. Likewise, the effects of the U.S. bombings continue, immeasurably and indefensibly.
The McGlynn
 ************************
War News
Photo
Hamouria, Syria
Sisters embrace amid the rubble after finding each other alive following an airstrike on Hamouria in rebel-held eastern Ghouta.
Photograph: Abdulmonam Eassa/AFP/Getty Images

A chlorine gas attack has been carried out on a besieged rebel-held enclave on the outskirts of the Syrian capital Damascus, reports say.
People in the Eastern Ghouta region, which is under daily bombardment, reported a smell of gas after a missile strike, the BBC has learned.
Health workers said six people were treated for minor breathing problems.
Some 400,000 locals have been under siege from Russian-backed government forces since 2013.
There have been a number of reports of chlorine gas attacks since Syria's civil war broke out, but the government has always denied using chemical agents.
On 10 January the UN's high commissioner for human rights said an upsurge in air strikes and ground attacks had killed at least 85 civilians in Eastern Ghouta since 31 December.
"In Eastern Ghouta, where a crippling siege has caused a humanitarian catastrophe, residential areas are being hit day and night by strikes from the ground and from the air, forcing civilians to hide in basements," Zeid Ra'ad al-Hussein said in a statement.
ISTANBUL (Reuters) – President Tayyip Erdogan said on Saturday that Turkey's military incursion in northern Syria's Idlib province would crush Kurdish militia forces that control the neighboring region of Afrin.
The Kurdish YPG militia said Turkish forces inside Syria fired shells into Afrin on Saturday, but no one was wounded.
Turkish troops entered Idlib three months ago after an agreement with Russia and Iran for the three countries to try to reduce fighting between pro-Syrian government forces and rebel fighters in the largest remaining insurgent-held part of Syria.
But the few observation posts which the Turkish army says it has established are close to the dividing line between Arab rebel-held land and the Kurdish-controlled region of Afrin.
"If the terrorists in Afrin don't surrender we will tear them down," Erdogan told a congress of his ruling AK Party in the eastern Turkish city of Elazig.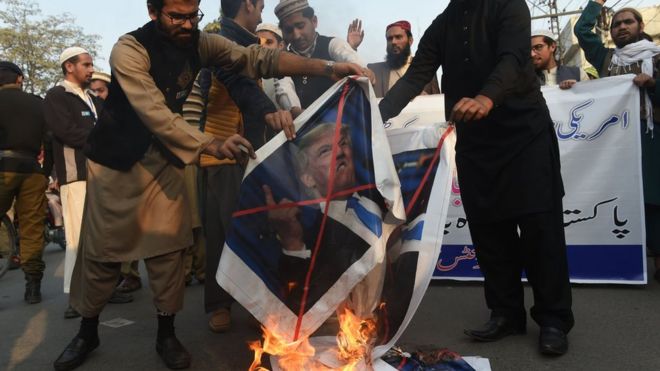 Pakistan's defence minister Khurram Dastgir Khan has announced that he has suspended intelligence sharing with the US – the latest twist in the US-Pakistan row. But how much does it matter?
Relations between Washington and Islamabad have been in the spotlight since US President Donald Trump's New Year's Day tweet, where he accused Pakistan of "lies and deceit".
Since then, Washington announced it would halt all security assistance to Pakistan, and Pakistani politicians have been quick to express dismay – with the foreign minister saying that the two aren't allies anymore, and the army chief saying he feels "betrayed".
But behind the rhetoric, both sides are actually responding more cautiously than you might expect.
Baghdad (IraqiNews.com) Two civilians were killed and four others were wounded on Saturday when bomb blasts hit areas in northern and southern Baghdad, a police source was quoted saying.
A police source told Alghad Press that  an explosive device planted near a popular market in Youssefiya, south of Baghdad, exploded, killing one person and wounding another.
Alsumaria News quoted another police source saying that a civilian was killed and three others were injured when an explosive device, placed near commercial stores in Husseiniyat al-Rashidiya, an area north of the capital, went off.
Baghdad has seen almost daily bombings and armed attacks since Islamic State militants emerged in 2014 and proclaimed a self-styled "Caliphate" before a military campaign claimed victory over the militant group early December.
According to the monthly release by the United Nations Assistance Mission in Iraq (UNAMI), a total of 69 civilians, excluding police personnel, were killed, while 142 others were wounded in December due to acts of terrorism, violence and armed conflict across the country.
BAGHDAD (AP) — Iraqi officials say a suicide bombing in Baghdad has killed eight and wounded at least 10 others.
Police and hospital officials say the Saturday blast struck a northern Baghdad neighborhood targeting a police checkpoint on a busy street, and that a number of policemen were among the wounded.
All officials spoke on condition of anonymity in line with regulations.
No group immediately claimed responsibility for the attack.
The number of bombings in Baghdad has decreased significantly over the past few months since the country's security forces retook nearly all the territory once held by the Islamic State group.
This data is based on 51,544 database entries from the beginning of the war to 28 Feb 2017, and on monthly preliminary data from that date onwards. Preliminary data is shown in grey when applicable, and is based on approximate daily totals in the Recent Events section prior to full analysis. The full analysis extracts details such as the names or demographic details of individuals killed, the weapons that killed them and location amongst other details. The current range contains 36,537–38,380 deaths (20%–19%, a portion which may rise or fall over time) based on single-sourced reports.
Graphs are based on the higher number in our totals. Gaps in recording and reporting suggest that even our highest totals to date may be missing many civilian deaths from violence.
Recent Casualties
Color Denotes Today's Confirmation
The Department of Defense announced today the death of a soldier who was supporting Operation Inherent Resolve.
Spc. Javion Shavonte Sullivan, 24, of Fort Mill, South Carolina, died Jan. 8 in Al Anbar Province, Iraq, from a non-combat related incident. Sullivan was assigned to the 16th Signal Company, 11th Theater Tactical Signal Brigade, Fort Hood, Texas. The incident is under investigation.
The Department of Defense announced today the death of a soldier who was supporting Operation Freedom's Sentinel.
Sgt. 1st Class Mihail Golin, 34, of Fort Lee, New Jersey, died Jan. 1 in Nangarhar Province, Afghanistan, after being engaged by enemy small arms fire while on a dismounted patrol. Golin was assigned to the 2nd Battalion, 10th Special Forces Group (Airborne), Fort Carson, Colorado. The incident is under investigation.
**********************
Care for Veterans:
PTSD: National Center for PTSDPTSD Care for Veterans, Military, and FamiliesSee Help for Veterans with PTSD to learn how to enroll for VA health care and get an assessment.
All VA Medical Centers provide PTSD care, as well as many VA clinics.Some VA's have programs specializing in PTSD treatment. Use the VA PTSD ProgramLocator to find a PTSD program.If you are a war Veteran, find a Vet Center to help with the transition from military to civilian life.