17 Jan
United States Wars, News and Casualties
 ************************
The War Criminals
The war criminals of the Bush regime lied and fabricated evidence to go to war.
Bush,Cheney,Rice,Rumsfeld, Wolfowitz, and Powell

are war criminals and today they are enjoying freedom.
The thousands dead, the region in chaos, the creation of Islamic State and the trillions of dollars cost and for what? The worst of all is that they were so desperate for war that they had no plans for peace.
So where are the protests and demonstrations today in the US to bring Bush, Chaney, Wolfowitz, Rice, Powell and Rumsfeld to Justice? There are none. There has been none. And now the US people ask – why do we have so many enemies and why do peoples from other cultures hate us?


We condemned children to death, some after many days of writhing in pain on bloodstained mats, without pain relievers. Some died quickly, wasted by missing arms and legs, crushed heads. As the fluids ran out of their bodies, they appeared like withered, spoiled fruits. They could have lived, certainly should have lived – and laughed and danced, and run and played- but instead they were brutally murdered. Yes, murdered!
The war ended for those children, but it has never ended for survivors who carry memories of them. Likewise, the effects of the U.S. bombings continue, immeasurably and indefensibly.
The McGlynn
 ************************
War News
Unicef says five children a day have been killed or injured since March 2015, with 'nearly every child in Yemen' in need of humanitarian aid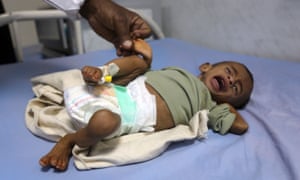 The war in Yemen has killed or injured more than 5,000 children and left another 400,000 severely malnourished and fighting for their lives, according to the UN children's agency.
In a report unveiled on Tuesday, Unicef said nearly 2 million Yemeni children were out of school, a quarter of them since the conflict escalated when a Saudi-led coalition intervened in March 2015.
More than 3 million children were born into the war, it said, adding they had been "scarred by years of violence, displacement, disease, poverty, undernutrition and a lack of access to basic services".
Unicef said the more than 5,000 children killed or injured in the violence amounted to "an average of five children every day since March 2015".
"An entire generation of children in Yemen is growing up knowing nothing but violence," said Meritxell Relano, Unicef representative in Yemen.
GENEVA (Reuters) – United Nations aid agencies called on Tuesday for the Yemeni port of Hodeidah to remain open beyond Friday, the date set by a Saudi-led military coalition, to permit continued delivery of life-saving goods.
Yemen is the world's worst humanitarian crisis, where 8.3 million people are entirely dependent on external food aid and 400,000 children suffer from severe acute malnutrition, a potentially lethal condition, they said.
The Arab coalition, under international pressure, eased a three-week blockade which was imposed on Yemeni ports and airports in November in response to a ballistic missile fired by the Houthi movement toward the Saudi capital Riyadh.
LONDON (Thomson Reuters Foundation) – Britain announced on Tuesday it would be putting girls and women at the heart of its work to end conflict in nine countries including Iraq, Nigeria and South Sudan.
"Empowering women and girls … improves peace and stability, economic growth and poverty reduction," senior ministers said in a National Action Plan on Women, Peace and Security.
The ministers said women and girls were disproportionately affected by conflict, but were also part of the solution.
Evidence shows peace agreements are more likely to last when women are involved, according to the five-year plan launched late Tuesday.
"Without question women must have a seat at the table," Foreign Office minister Tariq Ahmad said in a statement.
"We know that when women and girls participate in political processes, conflict resolution and mediation their contribution helps to build a more sustainable peace."………………The plan said evidence showed missions which included women were more effective and better able to engage with local people.
Turkish television channels have been reporting from the Syrian border every top of the hour with pictures showing the deployment of troops, tanks and armoured vehicles.
"The countdown has begun for Turkey's operation against Afrin," said one pro-government channel.
Its correspondent underlined that the troops on the border were already pointing at what the authorities term terrorist targets within Syria. There were also reports of Turkish artillery shelling the area.
Earlier this week, President Recep Tayyip Erdogan said an operation against the Kurdish-held enclave in northern Syria was imminent.
"We will get rid of terror nests one-by-one in Syria starting with Afrin and Manbij," he said.
BEIRUT (AP) — Syria's dominant Kurdish party is appealing on the international community to help ensure the security of a Syrian Kurdish enclave threatened by Turkey.
Ankara has threatened to launch an imminent military operation on the northwestern Kurdish enclave of Afrin, where an estimated 1 million people live.
The Kurdish Democratic Union Party, or PYD, is the political arm of the U.S.-backed Syrian Democratic Forces, which currently control nearly 25 percent of Syrian territory.
The PYD says in Wednesday's appeal that, should Turkey launch the operation, the world will bear responsibility for the lives of the people in the enclave.
BEIRUT (Reuters) – The main Syrian Kurdish political party called on world powers to stop Turkey's bombardment of the Afrin region in northern Syria.
"Afrin will not be alone," the PYD said in a statement on Wednesday, vowing that all northern and eastern Syria would stand with it.
Ankara has warned of an imminent military operation in Afrin, one of three autonomous cantons that Kurdish forces and their allies have set up since the start of Syria's conflict in 2011.
BEIRUT, Lebanon — A plan to create a new American-backed, Kurdish-led border force in northeastern Syria has raised alarms in the region that the United States may be helping to cement an autonomous Kurdish enclave that could further divide the country.
The 30,000-strong force, vehemently opposed by Russia, Turkey, Iran and the Syrian government, could also ignite a new phase in the war that could pit American allies against one another and draw the United States deeper into the conflict.
While Kurdish and American officials sought to tamp down the controversy on Tuesday, insisting that the force was really nothing new, they confirmed some of the fears.
They said the border force will help defend and preserve the section of northeastern Syria controlled by the Kurdish-led, United States-backed militia known as the Syrian Democratic Forces, an area that has become a de facto semiautonomous zone. And they said that the United States was committed to backing the force for at least two years.
Nasr al-Hariri, chief negotiator for Syria's umbrella opposition group, says without pressure there will be no settlement
The US is showing a new commitment to forcing the Syrian regime of Bashar al-Assad to make concessions to end the country's seven-year civil war, but must still do more to persuade Russia to put pressure on Assad to negotiate, the Syrian opposition leader has said.
Nasr al-Hariri, chief negotiator for the Syrian Negotiations Commission, Syria's umbrella opposition group, said he welcomed the US keeping 2,000 troops inside Syria, so long as it helped bring a political settlement.
He said, however, that the US should also look at sanctions and trade action to force the Syrian regime to negotiate. "The leverage on the regime is the critical issue," he said. "We saw during the last round of negotiations that the regime is under no pressure to negotiate. They had zero interest in the talks. Without pressure from Russia, the political process will not work.
Kurdish officials once dreamed of forging their own state out of the ashes of the war against the Islamic State. Now they are fighting for their very survival.
Just a few months ago, it appeared that the Kurds of Iraq and Syria were the biggest winners in the war against the Islamic State. Bolstered by alliances with the very Western powers that had once betrayed and divided them, they dared to dream that they were on the verge of undoing what they perceived as a historic wrong, when geopolitical maneuvering denied them a state following the end of World War I.
Yet, instead of witnessing the creation of an independent homeland, the Kurds have suffered a major setback. As the military campaign against the Islamic State winds down, the United States and its allies' enthusiasm for using the Kurds as their proxies against the jihadi organization has not translated into long-term military or diplomatic backing and certainly not into support for statehood.
Kurdish leaders were always aware of such dangers but nevertheless agreed to go along, seeking a fair reward for sacrifices made: the thousands of lives lost and massive investments diverted from the development of Kurdish areas to recapturing areas of great concern to the United States and its allies but not necessarily to Kurdish forces themselves. Such missions caused deep frustration among the Kurdish public. A Kurdish lawyer in the Syrian city of Qamishli noted that Kurdish forces had fought to liberate numerous Arab towns while majority Kurdish areas still suffered from a lack of basic infrastructure, such as schools and electricity……………As a result of this hubris, it is now increasingly doubtful whether they will be able to build Kurdistan anywhere at all.
Baghdad (IraqiNews.com) Three people, including a military conscript, were killed in an armed attack, north of Baghdad, a security source said on Tuesday.
"Unidentified gunmen opened fire against three persons, including a military conscript in al-Shaab region, north of Baghdad," the source told Alghad Press.
"The victims were taken to forensic medicine department," the source added.
According to the monthly release by the United Nations Assistance Mission for Iraq (UNAMI), a total of 69 civilians, excluding police personnel, were killed, while 142 others were wounded in December due to acts of terrorism, violence and armed conflict across the country.
The worst affected province was Baghdad with 122 civilian casualties (24 killed, 98 injured). Salahuddin ranked the second place, with 7 killed and 25 injured, then Kirkuk came third with 15 killed and 6 injured.
By Khaama Press on 16 Jan 2018 3:27pm
At least fifteen militants hailing from Tajikistan were killed were killed in a series of airstrikes conducted in northeastern Badakhshan province of Afghanistan. According to the 209th Shaheen Corps of the Afghan Military, the Afghan Air Force carried out a series of airstrikes against the militants hideouts in Jurm district using the A-29 planes. A
By Khaama Press on 16 Jan 2018 3:09pm
The Special Operations Forces of the Afghan National Defense and Security Forces (ANDSF) continue to apply pressure on the Taliban through an aggressive winter campaign in the northern parts of the country. With the new fighting season is due to kick off in coming months, the size and strength of the Afghan Special Forces are
This data is based on 51,544 database entries from the beginning of the war to 28 Feb 2017, and on monthly preliminary data from that date onwards. Preliminary data is shown in grey when applicable, and is based on approximate daily totals in the Recent Events section prior to full analysis. The full analysis extracts details such as the names or demographic details of individuals killed, the weapons that killed them and location amongst other details. The current range contains 36,537–38,380 deaths (20%–19%, a portion which may rise or fall over time) based on single-sourced reports.
Graphs are based on the higher number in our totals. Gaps in recording and reporting suggest that even our highest totals to date may be missing many civilian deaths from violence.
Recent Casualties
Color

Denotes Today's Confirmation
The Department of Defense announced today the death of a soldier who was supporting Operation Inherent Resolve.
Spc. Javion Shavonte Sullivan, 24, of Fort Mill, South Carolina, died Jan. 8 in Al Anbar Province, Iraq, from a non-combat related incident. Sullivan was assigned to the 16th Signal Company, 11th Theater Tactical Signal Brigade, Fort Hood, Texas. The incident is under investigation.
The Department of Defense announced today the death of a soldier who was supporting Operation Freedom's Sentinel.
Sgt. 1st Class Mihail Golin, 34, of Fort Lee, New Jersey, died Jan. 1 in Nangarhar Province, Afghanistan, after being engaged by enemy small arms fire while on a dismounted patrol. Golin was assigned to the 2nd Battalion, 10th Special Forces Group (Airborne), Fort Carson, Colorado. The incident is under investigation.
**********************
Care for Veterans:
PTSD: National Center for PTSDPTSD Care for Veterans, Military, and FamiliesSee Help for Veterans with PTSD to learn how to enroll for VA health care and get an assessment.
All VA Medical Centers provide PTSD care, as well as many VA clinics.Some VA's have programs specializing in PTSD treatment. Use the VA PTSD ProgramLocator to find a PTSD program.If you are a war Veteran, find a Vet Center to help with the transition from military to civilian life.