25 Jan
United States Wars, News and Casualties
************************
The War Criminals
The war criminals of the Bush regime lied and fabricated evidence to go to war.
Bush,Cheney,Rice,Rumsfeld, Wolfowitz, and Powell

are war criminals and today they are enjoying freedom.
The thousands dead, the region in chaos, the creation of Islamic State and the trillions of dollars cost and for what? The worst of all is that they were so desperate for war that they had no plans for peace.
So where are the protests and demonstrations today in the US to bring Bush, Chaney, Wolfowitz, Rice, Powell and Rumsfeld to Justice? There are none. There has been none. And now the US people ask – why do we have so many enemies and why do peoples from other cultures hate us?


We condemned children to death, some after many days of writhing in pain on bloodstained mats, without pain relievers. Some died quickly, wasted by missing arms and legs, crushed heads. As the fluids ran out of their bodies, they appeared like withered, spoiled fruits. They could have lived, certainly should have lived – and laughed and danced, and run and played- but instead they were brutally murdered. Yes, murdered!
The war ended for those children, but it has never ended for survivors who carry memories of them. Likewise, the effects of the U.S. bombings continue, immeasurably and indefensibly.
The McGlynn
 ************************
War News
It is time for the sternest leaders to find some humanity and help Syria's starving innocents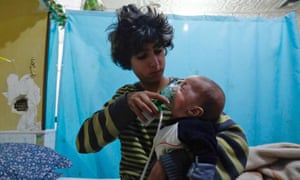 World leaders are meeting this week at the World Economic Forum in Davos. When they've finished counting their money, perhaps they could spare a moment to discuss the children of Syria. These innocents have been bombed, gassed and starved for four years in Ghouta and elsewhere, and it is time for even the sternest of leaders to search their souls for some humanity. The children bear no blame for this dreadful civil war, and they are our only hope for a better Syria.
As directors of Doctors Under Fire and advisers to the Union of Syrian Medical Charities (UOSSM), we and others persuaded the Russian government and the Syrian regime to allow nine children with curable cancer and 20 others out of Ghouta over Christmas; they will now live, but there are many others who might not. We also managed to do the same for 500 children in Aleppo on 16 December. We understand that the Russians, and in particular the foreign secretary, Sergei Lavrov, intervened directly with President Assad to make the evacuations of children happen. A few people have described our requests as appeasement of the Assad regime, but we have witnessed enough terror in the war zones of the world over the last 30 years to see things differently. This is pragmatic humanity. We want to give hope to a generation so completely let down by their own and global leaders.
The slaughter of the children of Ghouta is a disgrace to all, on all sides of this conflict.
Since 1 January, we have been in discussions with the Russians about the release of another 125 children from Ghouta who need life-saving medical treatment. We gave a list of these children, with their ailments, to the Russian embassy in London last week for onward transmission to Moscow, which promised to take up the cause with Damascus. Interviewed by the BBC last Friday, the Russian ambassador to the EU said that these children would be allowed out of Ghouta for medical care, but nothing as yet has happened.
BEIRUT (AP) — The Turkish attack on the Syrian border town of Afrin, controlled by Kurdish fighters, has been long anticipated — Turkish officials have been threatening to launch the offensive and preparing for it for months.
However, Ankara's stated strategic goals for the operation codenamed Operation Olive Branch come with a great deal of bluster and little clarity.
Some Turkish officials have said the main aim is the creation of a 30-kilometer (20-mile) deep "secure zone" in Afrin, which Turkey says is essential for its security. Others say the operation aims to oust a militia of between 8,000 to 10,000 fighters affiliated with the People's Protection Units or YPG, a Syrian Kurdish group that has controlled territory in northern Syria and a proven top U.S. ally in fighting the Islamic State group.
Turkey considers the YPG a terrorist organization and an extension of the outlawed Kurdistan Workers' Party or PKK, which has fought for Kurdish autonomy in Turkey. Founded in 2004, the group is the main defense force for the Kurdish areas in northern Syria, and has sought to expand Kurdish control and autonomy in the course of Syria's war.
On Wednesday, President Recep Tayyip Erdogan said Turkey's concern was to facilitate the return of 3.5 million Syrians who live in Turkey to their country. The shifting goals reflect Turkey's own evolving involvement in Syria's civil war.
Here's a look at some of the recent remarks by Turkish officials on the goals and extent of the Afrin offensive:
PARIS/VIENNA (Reuters) – France's foreign minister said on Wednesday there was no sign of a political solution for Syria other than U.N.-led peace talks in Vienna and they were the "last hope".
Several attempts at U.N.-sponsored peacemaking have fallen flat as Syrian government forces backed by Russia and Iran have recovered large swathes of the country from rebels since 2015.
Government forces recently escalated offensives against two remaining rebel pockets, Idlib in the northwest and eastern Ghouta near Damascus, while Turkey has poured troops into the north to fight Kurdish militias who have carved out regional autonomy and are seen by Ankara as a menace to its security.
Having regained the upper hand in the almost seven-year civil war, President Bashar al-Assad appears far from ready to negotiate with foes at all, let alone step down as part of any peaceful solution as rebel groups have demanded.
"Today, there is no political perspective that presents itself, other than – and it's the last hope – the meeting that will be held in Vienna tomorrow under the auspices of the United Nations, where the belligerents will be present and where we hope a peace agenda will be mapped out," French Foreign Minister Jean-Yves Le Drian told lawmakers in Paris.
WASHINGTON (Reuters) – U.S. President Donald Trump urged Turkey on Wednesday to curtail its military operation in Syria and warned it not to bring U.S. and Turkish forces into conflict, but a Turkish source said a White House readout did not accurately reflect the conversation.
Turkey's air and ground operation in Syria's Afrin region, now in its fifth day, targets U.S.-backed Kurdish YPG fighters, which Ankara sees as allies of Kurdish insurgents who have fought in southeastern Turkey for decades.
Turkish President Tayyip Erdogan said he would extend the operation to Manbij, a separate Kurdish-held enclave some 100 km (60 miles) east of Afrin, possibly putting U.S. forces there at risk and threatening U.S. plans to stabilize a swath of Syria.
Speaking with Erdogan by telephone, Trump became the latest U.S. official to try to rein in the offensive and to pointedly flag the risk of the two allies' forces coming into conflict.
"He urged Turkey to deescalate, limit its military actions, and avoid civilian casualties," a White House statement said. "He urged Turkey to exercise caution and to avoid any actions that might risk conflict between Turkish and American forces."
The United States has around 2,000 troops in Syria.
Recep Tayyip Erdogan vows to 'thwart' Kurdish opposition in move that may force US reaction
Turkey has said it will extend its incursion in Syria to the town of Manbij, taking its forces to the edge of the US-backed Kurdish presence in the country's north-east and raising the spectre of a military standoff with Washington.
Recep Tayyip Erdogan, Turkey's president, announced the move late on Wednesday as a Turkish military assault on the city of Afrin, in north-west Syria, continued for a fifth day.
The attack has displaced 5,000 people and killed scores of civilians as well as fighters among the Arab forces that Ankara is using as a proxy against the Kurdish-led People's Protection Units (YPG) in Afrin.
It has also led to a further deterioration in ties between Ankara and Washington, which had already been severely tested by US support for Kurdish groups in Syria………………….Up to 2,000 US forces are stationed in the area, along with more than 10,000 SDF members. The force is mainly Kurdish-led but has Arab fighters among its ranks.
Fresh from ousting Isis from Raqqa and Deir ez-Zor, the SDF had been emboldened by renewed Pentagon support, which Ankara believed turned battlefield victories into strategic gains and betrayed earlier undertakings that the US/Kurdish alliance was to be temporary.
The White House has attempted to walk back the Pentagon stance but with little success, underlining competing priorities in post-Isis Syria. Parts of the Trump administration remain wedded to the use of the Kurds as a backbone of the US presence, and others acknowledge Turkish fears that an emboldened Kurdish role may have implications for Ankara's 800-mile border with Syria.
WASHINGTON — American-backed Kurdish militias in northern Syria are detaining hundreds of Islamic State fighters and family members in makeshift camps, raising fears among United States military officials of potentially creating a breeding ground for extremists — repeating a key security mistake of the Iraq war.
Despite its concerns, the Trump administration has largely taken a hands-off approach toward the detainees, who come from more than 30 countries and were captured or surrendered after last year's collapse of Raqqa, the Islamic State's self-proclaimed capital.
Unlike suspected Islamic State militants seized in neighboring Iraq, largely from the northern city of Mosul and surrounding areas, the detainees being held in the Kurdish region of Syria fall into a legal gray area and face an uncertain long-term fate.
Kurdish authorities are meting out justice in ad hoc courts, but the region is still part of Syria, and Kurdish control is not internationally recognized. Some countries like Russia have signaled that they will repatriate their fighters, but many other nations are refusing.
The detention of the Islamic State fighters is just one issue the United States is grappling with in its partnership with Syrian Kurds.
Kirkuk  (IraqiNews.com) The ceasefire truce agreed between Iraqi forces and Kurdish Peshmerga troops remains prone to collapsing, a senior Peshmerga commander was quoted saying on Thursday.
Sirwan Barzani, a commander of the Makhmur zone in Peshmerga, told London-based Alhayat that "ceasefire truce between Baghdad and Erbil remains fragile, and Peshmerga remain on alert".
Explaining his statement, Barzani said "there are no guarantees from Baghdad or the Popular Mobilization Forces (for sustaining the truce)".
Makhmur, which falls to the west of Erbil, Kurdistan Region's capital, is a home to an Arab majority and a Kurdish minority. It was the stage of a military standoff between the two sides last October.
By Khaama Press on 25 Jan 2018 2:49pm
The chief executive of Jamiat-e-Islami Ata Mohammad Noor has warned that the international community will regret for the silence over the political deadlock between him and the government over the political leadership of northern Balkh province. Speaking during another gathering in Balkh province, Noor said the international community should intervene as per the commitments they
By Khaama Press on 25 Jan 2018 12:48pm
The Afghan security forces have foiled a deadly attack plot in Jalalabad city a day after a coordinated attack rocked the city leaving several people dead or wounded. The local officials said Thursday that a suspect has been arrested in connection to a major terrorist attack plot from planned for the Jalalabad city. The officials
By Khaama Press on 25 Jan 2018 9:34am
Two local commanders of the Taliban group were killed during the clashes with the Afghan national defense and security forces in northern Faryab province of Afghanistan. The 209th Shaheen Corps in the North said a clash broke out between the Afghan forces and the Taliban insurgents in Ghormach district. According to the Shaheen Corps officials,
By Khaama Press on 24 Jan 2018 6:53pm
At least three have reportedly been killed and around twenty others have sustained following a coordinated attack on a non-governmental organization in Jalalabad city in eastern Nangarhar province of Afghanistan. According to the local government officials, the siege of the militants on the non-governmental organization's office ended with the elimination of all four attackers earlier
This data is based on 51,544 database entries from the beginning of the war to 28 Feb 2017, and on monthly preliminary data from that date onwards. Preliminary data is shown in grey when applicable, and is based on approximate daily totals in the Recent Events section prior to full analysis. The full analysis extracts details such as the names or demographic details of individuals killed, the weapons that killed them and location amongst other details. The current range contains 36,537–38,380 deaths (20%–19%, a portion which may rise or fall over time) based on single-sourced reports.
Graphs are based on the higher number in our totals. Gaps in recording and reporting suggest that even our highest totals to date may be missing many civilian deaths from violence.
Recent Casualties
Color Denotes Today's Confirmation
The Department of Defense announced today the death of a soldier who was supporting Operation Inherent Resolve.
Spc. Javion Shavonte Sullivan, 24, of Fort Mill, South Carolina, died Jan. 8 in Al Anbar Province, Iraq, from a non-combat related incident. Sullivan was assigned to the 16th Signal Company, 11th Theater Tactical Signal Brigade, Fort Hood, Texas. The incident is under investigation.
The Department of Defense announced today the death of a soldier who was supporting Operation Freedom's Sentinel.
Sgt. 1st Class Mihail Golin, 34, of Fort Lee, New Jersey, died Jan. 1 in Nangarhar Province, Afghanistan, after being engaged by enemy small arms fire while on a dismounted patrol. Golin was assigned to the 2nd Battalion, 10th Special Forces Group (Airborne), Fort Carson, Colorado. The incident is under investigation.
**********************
Care for Veterans:
PTSD: National Center for PTSDPTSD Care for Veterans, Military, and FamiliesSee Help for Veterans with PTSD to learn how to enroll for VA health care and get an assessment.
All VA Medical Centers provide PTSD care, as well as many VA clinics.Some VA's have programs specializing in PTSD treatment. Use the VA PTSD ProgramLocator to find a PTSD program.If you are a war Veteran, find a Vet Center to help with the transition from military to civilian life.