23 Feb
United States Wars, News and Casualties
************************
The dead & suffering children of Iraq.
Video From Ten Years Ago
The War Criminals
The war criminals of the Bush regime lied and fabricated evidence to go to war.
B

ush,Cheney,Rice,Rumsfeld, Wolfowitz, and Powell

are war criminals and today they are enjoying freedom.
The thousands dead, the region in chaos, the creation of Islamic State and the trillions of dollars cost and for what? The worst of all is that they were so desperate for war that they had no plans for peace.
So where are the protests and demonstrations today in the US to bring Bush, Chaney, Wolfowitz, Rice, Powell and Rumsfeld to Justice? There are none. There has been none. And now the US people ask – why do we have so many enemies and why do peoples from other cultures hate us?


Shaima Naif's daughter, Jannat, who was killed in Mosul
We condemned children to death, some after many days of writhing in pain on bloodstained mats, without pain relievers. Some died quickly, wasted by missing arms and legs, crushed heads. As the fluids ran out of their bodies, they appeared like withered, spoiled fruits. They could have lived, certainly should have lived – and laughed and danced, and run and played- but instead they were brutally murdered. Yes, murdered!
The war ended for those children, but it has never ended for survivors who carry memories of them. Likewise, the effects of the U.S. bombings continue, immeasurably and indefensibly.
The McGlynn
 ************************
War News


The number of deaths in rebel-held Eastern Ghouta has climbed to 400 since Syrian government planes began bombarding the region on Sunday. Russia has denied any involvement in the air raids – the Kremlin says the situation in Syria "leaves much to be desired". The United Nations security council is considering a resolution to end the attacks on Eastern Ghouta.

A four-day-long bombardment by Syrian government forces is reported to have killed more than 300 civilians in the rebel-held Eastern Ghouta area. Here, people living there tell their stories.
The enclave – home to an estimated 393,000 people – has been under siege since 2013. But pro-government media say a major military operation might soon begin to clear rebel factions from their last major stronghold near the capital Damascus.
The relentless air and artillery strikes are leaving civilians, particularly women and children, in a state of fear and forcing them to seek shelter underground, where they are largely deprived of food and sanitation………………..

The Syrian Observatory for Human Rights, a UK-based monitoring group, says the government and its allies have carried out more than 1,290 air strikes on the Eastern Ghouta and fired 6,190 rockets and shells at the region since mid-November, when hostilities between government and rebel forces escalated.

A five-day-long bombardment by Syrian government forces is reported to have killed more than 300 civilians in the rebel-held Eastern Ghouta area.
The government is trying to clear rebels from the enclave, which is home to an estimated 393,000 people.
These children are part of the human cost.
BEIRUT (AP) — The Latest on Syria related developments (all times local):
Russia's amended U.N. resolution would rule out an immediate 30-day cease-fire in Syria to deliver aid and evacuate the critically ill proposed by Sweden and Kuwait and backed by most of the U.N. Security Council.
Instead, the Russian draft circulated Thursday to the U.N. Security Council demands that all parties "stop hostilities as soon as possible" and "work for an immediate and unconditional de-escalation of violence" and "humanitarian pause" for at least 30 days.
It would also condemn the "relentless shelling" of Damascus from the rebel-held suburbs of eastern Ghouta, and deplore "the ongoing attempts by terrorist groups to retake areas and attack civilians and civilian objects."
In a provision that appears aimed at U.S.-backed forces fighting against the Islamic State extremist group and al-Qaida affiliate, the Russian draft also stresses that "foreign military forces can operate in Syria only in coordination with official authorities."
Several council diplomats who examined the Russian draft, speaking on condition of anonymity because they were not authorized to speak publicly, said it was unacceptable.
UNITED NATIONS (Reuters) – The United Nations Security Council will vote on Friday on a draft resolution demanding a 30-day truce in Syria to allow aid deliveries and medical evacuations, but it was not immediately clear if the text had won the support of Syrian ally Russia.
The vote comes as warplanes pounded eastern Ghouta, the last rebel enclave near Syria's capital, for a fifth day running. U.N. Secretary-General Antonio Guterres appealed on Wednesday for an immediate end to "war activities" there.
Russia on Thursday proposed amendments to the resolution drafted by Sweden and Kuwait, arguing that the language was unrealistic and that the 15-member Security Council could not simply impose a truce on Syria without consulting the parties………………A resolution needs nine votes in favor and no vetoes by Russia, China, the United States, Britain or France. Russia has cast 11 vetoes on possible Security Council action on Syria since its civil war began in 2011.
Reports of civilian casualties in Syrian rebel enclave are 'mass psychosis', envoy claims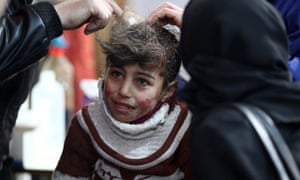 Hala, 9, receives treatment at a makeshift hospital in besieged eastern Ghouta. Photograph: Amer Almohibany/AFP/Getty Images
Russia has blocked a UN resolution that would have established a 30-day ceasefire and humanitarian deliveries in eastern Ghouta, saying that widespread reporting of heavy civilian casualties in the besieged area on the edge of the Syrian capital, Damascus, was a product of "mass psychosis".
The Russian envoy to the UN, Vassily Nebenzia, told an emergency meeting of the security council on the situation in eastern Ghouta that Russia would not support the ceasefire resolution put forward by Sweden and Kuwait in its present form, calling it unrealistic.
He circulated a list of proposed Russian amendments, thought to involve opening broad loopholes in the ceasefire, allowing a range of rebel groups to be targeted. A western diplomat said that at first glance the Russian amendments were "likely to be unacceptable". Diplomats said the resolution could go to a vote on Friday.
UN security council to vote on draft resolution demanding 30-day truce in Syria, as government and allies accused of destroying healthcare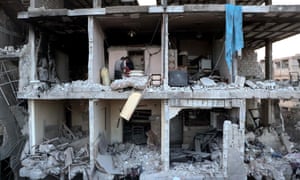 A view of damaged Arbin Hospital after an airstrike carried out by Assad regime forces in Arbin district of Eastern Ghouta in Damascus, Syria on 21 February Photograph: Anadolu Agency/Getty Images
The medical system in eastern Ghouta is near collapse, medics and doctors say, after nearly a week of airstrikes that have hit 22 hospitals and clinics and led to widespread claims that civilian healthcare in the besieged area is being systematically annihilated.
Medics inside Ghouta claimed only three medical facilities remained fully operational and all were overwhelmed with mass casualties that continued to arrive throughout Thursday – the fifth day of a blitz by Russian and Syrian jets across the opposition enclave. Médecins Sans Frontières said 13 hospitals it supported had been destroyed or damaged in the past three days alone.
As the damage and death toll from the strikes continued to mount, international organisations that monitor the Syria crisis alleged there was clear evidence that hospitals were deliberately targeted………"Shouldn't there be an emergency security council meeting to resolve this?," said Ghoutani. "We've had no electricity for four years; children are dying, no milk, no food and no water. The shelters that the families and women and children are hiding in are in terrible conditions; they have no floors, or windows.
Baghdad (IraqiNews.com) The United States-led coalition has said it had killed 841 civilians in its operations against Islamic State militants in Iraq and Syria, its combined command said on Thursday.
The Combined Joint Task Force of the coalition said in a statement it assessed, during January, 116 credible reports of civilian casualties resulting from coalition operations. " To date, based on information available, CJTF-OIR assesses at least 841 civilians have been unintentionally killed by Coalition strikes since the start of Operation Inherent Resolve".
According to the statement, " The Coalition and our partners have liberated over 98% of the area formerly controlled by Daesh (Arabic acronym for Islamic State), and have liberated 7.7 million Iraqis and Syrians once held under brutal Daesh rule". It added that, despite the proclaimed achievement, "much work still needs to be done to ensure the lasting defeat of the terrorist, criminal organization"…………..The war displaced nearly five million people, nearly half of which have returned to their home regions, while thousands were killed, either by IS or by botched coalition strikes.
By Khaama Press on 22 Feb 2018 6:17pm
At least twelve Taliban insurgents were killed in an airstrike conducted by the US forces in souther Uruzgan province of Afghanistan. According to the local security officials, the airstrike was carried out late on Wednesday night in the outskirts of Tarinkot city, the provincial capital of Uruzgan. A security source involved in the operations said
This data is based on 51,544 database entries from the beginning of the war to 28 Feb 2017, and on monthly preliminary data from that date onwards. Preliminary data is shown in grey when applicable, and is based on approximate daily totals in the Recent Events section prior to full analysis. The full analysis extracts details such as the names or demographic details of individuals killed, the weapons that killed them and location amongst other details. The current range contains 36,537–38,380 deaths (20%–19%, a portion which may rise or fall over time) based on single-sourced reports.
Graphs are based on the higher number in our totals. Gaps in recording and reporting suggest that even our highest totals to date may be missing many civilian deaths from violence.
Recent Casualties
Color Denotes Today's Confirmation
None
**********************
Care for Veterans:
PTSD: National Center for PTSDPTSD Care for Veterans, Military, and FamiliesSee Help for Veterans with PTSD to learn how to enroll for VA health care and get an assessment.
All VA Medical Centers provide PTSD care, as well as many VA clinics.Some VA's have programs specializing in PTSD treatment. Use the VA PTSD ProgramLocator to find a PTSD program.If you are a war Veteran, find a Vet Center to help with the transition from military to civilian life.