24 Feb
United States Wars, News and Casualties
 ************************
The dead & suffering children of Iraq.
Video From Ten Years Ago
The War Criminals
The war criminals of the Bush regime lied and fabricated evidence to go to war.
Bush,Cheney,Rice,Rumsfeld, Wolfowitz, and Powell

are war criminals and today they are enjoying freedom.
The thousands dead, the region in chaos, the creation of Islamic State and the trillions of dollars cost and for what? The worst of all is that they were so desperate for war that they had no plans for peace.
So where are the protests and demonstrations today in the US to bring Bush, Chaney, Wolfowitz, Rice, Powell and Rumsfeld to Justice? There are none. There has been none. And now the US people ask – why do we have so many enemies and why do peoples from other cultures hate us?
Fifteen years ago, on February 15, 2003, the world said "No to War": Some 10 million to 15 million people, in hundreds of cities and dozens of countries all over the world, embraced the same slogan, made the same demand, in scores of different languages. A war against Iraq was looming, with Washington and London standing virtually alone in their false claims that Baghdad had amassed stockpiles of weapons of mass destruction.
As we look at the consequences of that war today—Iraq still in flames, wars raging across the region—we need to remember.
Throughout 2002 and into 2003, while George W. Bush's "Global War on Terror" raged across Afghanistan, Washington continued to build support for a war against Iraq. We need to remember how the mainstream media obediently fell—or eagerly jumped—into line with the propaganda churned out by the Dick Cheney–Donald Rumsfeld policy shops. The most influential papers, including The New York Times and The Washington Post, led the way, helping to legitimize the spurious predictions of Iraqis welcoming US troops with sweets and flowers, of yellowcake uranium from Niger, of aluminum tubes that could "only" be used for nuclear weapons. Some among the liberal and independent media collaborated as well. Even Patrick Tyler of the Times (who coined the term "second superpower" to describe the February 15 mobilization) acknowledged years later the "grand deception in which we all share in the responsibility…. The military-industrial complex has its analogue in the press, the media-industrial complex."…………………….Bush had identified Iraq as part of his "axis of evil," claiming that it, along with Iran and North Korea, was "arming to threaten the peace of the world." Then–Secretary of State Colin Powell, just 10 days before the massive global protests, lied to the United Nations Security Council and the world regarding the so-called "WMD" claims, with CIA director George Tenet sitting behind him stone-faced and silent. The day before the protests, the UN's weapons and nuclear inspectors told the Security Council directly that they had seen no evidence of such weapons. We need to remember that the UN refused to endorse the war, aligning instead with the global protesters………………..
We need to remember that it was Bush's occupation of Iraq that gave rise to ISIS. The terrorist organization germinated in the cells of Camp Bucca, one of the myriad US prisons holding thousands of Iraqi detainees. In 2004, when the torture scandal in Abu Ghraib, another US prison, became public, there were 140,000 US troops occupying Iraq………………….We can't afford to leave behind the lessons of Iraq. Our multimillion-strong global protest in February 2003 wasn't able to prevent one war. But it's part of the reason we're not at war with Iran already, and it taught a generation that global protest is actually possible. It helped inspire uprisings and resistance around the world. Today's wars don't look just like the Iraq War, and future protests won't look just like the one in 2003. But as we build new movements for peace, we need to remember.
The Middle East is still suffering from the consequences of the US invasion 15 years ago.


Shaima Naif's daughter, Jannat, who was killed in Mosul
We condemned children to death, some after many days of writhing in pain on bloodstained mats, without pain relievers. Some died quickly, wasted by missing arms and legs, crushed heads. As the fluids ran out of their bodies, they appeared like withered, spoiled fruits. They could have lived, certainly should have lived – and laughed and danced, and run and played- but instead they were brutally murdered. Yes, murdered!
The war ended for those children, but it has never ended for survivors who carry memories of them. Likewise, the effects of the U.S. bombings continue, immeasurably and indefensibly.
The McGlynn
 ************************
War News
Muhammad Najem, a? 15?-?year?-?old ?resident of the ?devastated rebel enclave on the outskirts of Damascus, is using social media to share videos of daily bombardments, and food and medical shortages. With hundreds of civilians killed this week alone, Muhammad's latest posts have called on the international community to take action and accused President Bashar al-Assad of killing his childhood
UNITED NATIONS (AP) — The U.N. Security Council delayed a vote on a resolution demanding a 30-day humanitarian cease-fire across Syria until Saturday in hopes of closing a gap over the timing for a halt to fighting.
Russia's U.N. Ambassador Vassily Nebenzia has called an immediate cease-fire unrealistic, and in an apparent bid to get Russian support, sponsors Kuwait and Sweden amended the draft resolution to drop a demand that the cease-fire take effect 72 hours after the resolution's adoption.
Instead, the new text circulated Friday night "demands that all parties cease hostilities without delay."
Earlier, after six hours of negotiations, Kuwait's U.N. Ambassador Mansour Al-Otaiba, the current council president, told reporters Friday evening that members "are so close" to agreement, and negotiations are continuing.
He said the council will meet at noon EST on Saturday and there will be a vote.
The latest draft resolution says a cease-fire must be followed immediately by access for humanitarian convoys and medical teams to evacuate the critically ill and wounded.
It states that 5.6 million people in 1,244 communities are in "acute need," including 2.9 million in hard-to-reach and besieged locations.
Negotiations follow appeal by Macron and Merkel urging Putin to stop blocking resolution

The UN security council failed to agree after a second day of intensive talks on a proposed 30-day ceasefire across Syria to allow for emergency humanitarian deliveries and medical evacuations.
Backroom negotiations continued throughout the day on Friday. One deadline passed after another, as other council members tried to persuade Russia to agree to a resolution. The talks at the UN headquarters in New York followed an appeal by French and German leaders to Vladimir Putin, asking for Russia to stop blocking the measure's passage, pointing to the dire situation of the trapped civilian population in the rebel enclave of eastern Ghouta, a suburb of Damascus.
The draft resolution calls for a nationwide truce to come into force within 72 hours of its adoption, but it is not clear how forces in Syria would respond even if it was passed.
Eastern Ghouta has come under particularly intense regime bombardment in recent days as the government of Bashar al-Assad seeks to crush the resistance in the district, home to an estimated 400,000 people. Reports from the area said that more than 400 civilians had been killed there this week, and that hospitals and clinics had been directed targeted………………This week's sustained air campaign has led to strident criticism from aid agencies, but until Friday had generated little diplomatic momentum despite repeated claims that the attacks constituted war crimes.

BEIRUT (AP) — Syrian government warplanes carried out a sixth day of airstrikes Friday in the rebel-held suburbs east of Damascus, killing 32 people, activists said, as the death toll from a week of bombardment soared over 400.
At the United Nations, a vote on a Security Council resolution demanding a 30-day humanitarian cease-fire across Syria was delayed until Saturday to try to close a gap over the timing of a halt to fighting.
The new bombings came a day after Syrian army helicopters dropped leaflets over the rebel-controlled areas of eastern Ghouta, urging residents of those suburbs to leave for their own safety and calling on opposition fighters to surrender because they were surrounded by government troops.
Opposition activists reported airstrikes and artillery shelling on a string of towns on the edge of Damascus or eastern Ghouta.
At least 32 people were killed in raids on areas including Hammouriyeh, Zamalka, Douma and al-Marj, according to the Syrian Observatory for Human Rights, a Britain-based group that monitors the civil war through a network of activists in Syria.
The Ghouta Media Center, an activist collective, also reported 32 killed, saying the victims included 13 people in the Damascus suburb of Douma, five in Ein Tarma and five in Shiefouniyeh.
Syrian state TV reported that insurgents fired 70 shells on Damascus, killing one person and wounding 60 others. It said one of the shells hit a hospital, damaging its intensive care unit as well as cars parked nearby.
BRUSSELS (Reuters) – German Chancellor Angela Merkel and French President Emmanuel Macron hoped world powers would agree a Syria ceasefire on Friday after they asked Russian President Vladimir Putin to back a corresponding U.N. Security Council resolution.
The two European Union leaders appealed to Putin — whose military intervention in Syria gave President Bashar al-Assad the upper hand in the seven-year-old conflict — to stop bombardments of the rebel-held pocket of eastern Ghouta.
Warplanes from Assad's government forces and their allies pounded the densely populated enclave east of the capital Damascus for a sixth straight day on Friday.
"France and Germany call for an immediate cessation of hostilities and the implementation of a ceasefire to provide civilian support, humanitarian access and medical evacuation, as called for by the UN," the two governments said.
"France and Germany call on Russia to shoulder its responsibilities in this regard," they said in a joint statement as Macron and Merkel met other EU leaders for talks in Brussels.
Following the meeting, EU leaders' chairman, Donald Tusk told reporters: "The Assad regime is brutally attacking innocent men, women and children. Its backers, Russia and Iran, are allowing this to happen."
Russian mercenaries are reported to be in the thick of the fighting in Syria, helping President Bashar al-Assad's forces.
One shadowy group in particular, called Wagner PMC (Private Military Company), hit the headlines because of a clash on 7 February that resulted in dozens of Russian casualties.
The toll of dead and wounded is disputed, but it is still not clear why Russian irregulars attacked a base held by Kurdish anti-Assad forces and where US advisers were present. US forces retaliated with air strikes…………………..Russian media reports, quoting anonymous military sources, reveal that Mr Utkin earlier served in a special forces brigade of Russian military intelligence, the GRU. Then in 2013 he went to Syria with a group of fighters recruited by a company called "Slav Corps", reports say.
The GRU secretly oversees Wagner, according to security sources quoted by Russian RBC news. Russia's official military deployment in Syria began in September 2015; it has mostly taken the form of air strikes, sometimes hitting civilian areas hard.
Wagner is estimated to have as many as 2,500 men in Syria.
Its officers serving in Syria are reported to earn up to 300,000 roubles (£3,800; $5,300) a month.
KABUL, Afghanistan (AP) — A suicide bomber killed at least two and wounded seven in an attack claimed by the Islamic State group in the diplomatic area of Afghanistan's capital on Saturday, and at least 18 soldiers died in an attack on a checkpoint by Taliban insurgents in the country's west, authorities said.
Interior Ministry spokesman Najib Danish said the Kabul attack took place in the Shash Darak area near NATO headquarters and not far from the U.S. Embassy. Danish said the initial casualty count could rise.
The Islamic State group in a statement on its website claimed responsibility.
U.S. Gen. John Nicholson, commander of Resolute Support Mission in Afghanistan, said at a news conference he expected IS to continue such attacks.
"We will work hard with our Afghan security counterparts and teammates to help protect the civilians of Afghanistan as much as possible," he said.
In western Farah province, at least 18 soldiers were killed when their checkpoint came under attack by Taliban insurgents, said Dawlat Waziri, spokesman for the Defense Ministry. He said two other soldiers were wounded in the attack in the Bala Buluk district.
Read full story »
KABUL, Afghanistan (AP) — The Latest on bombing in Afghanistan capital and other violence (all times local):
An Afghan official says at least 18 soldiers have been killed after their checkpoint came under attack by Taliban insurgents in western Farah province.
Dawlat Waziri, spokesman for the Afghan Defense Ministry, said two other soldiers were wounded in the attack which took place in Bala Buluk district of Farah province.
An Afghan Interior Ministry official says two security personnel have been killed in a suicide bombing attack in the capital Kabul.
Najib Danish says the death toll in the capital Kabul could rise.
He says two security personals were killed in the attack which took place in the diplomatic area of Shash Darak and seven others were wounded.
By Khaama Press on 24 Feb 2018 2:36pm
A foreign insurgent was among at least three militants killed during a clash with the local public uprising forces in eastern Nangarhar province of Afghanistan. According to the provincial police commandment, the incident took place late on Thursday night in the vicinity of Goshta district of Nangarhar. The clash broke out in Torkani area of
By Khaama Press on 24 Feb 2018 1:46pm
At least twenty five Afghan national army soldiers lost their lives in a coordinated attack by the Taliban insurgents in western Farah province of Afghanistan, a provincial source said Saturday. The incident took place late on Friday night in the vicinity of Bala Bolok district after a large number of Taliban insurgents stormed a military
By Khaama Press on 24 Feb 2018 12:11pm
Three consecutive suicide blasts rocked Helmand province in South of Afghanistan leaving at least eleven people dead or wounded, according to the local officials. Two of the suicide blasts took place in the vicinity of Nad-e-Ali district while one suicide blast took place in Lashkargah city, the provincial capital of Helmand. The provincial government media
JANUARY 2018 TOTAL: 474 CIVILIANS KILLED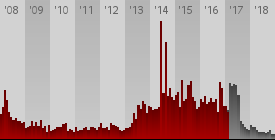 Iraq Body Count maintains the world's largest public database of violent civilian deaths since the 2003 invasion, as well as separate running total which includes combatants.
IBC's data is drawn from cross-checked media reports, hospital, morgue, NGO and official figures or records (see About IBC).
Recent Casualties
Color Denotes Today's Confirmation
None
**********************
Care for Veterans:
PTSD: National Center for PTSDPTSD Care for Veterans, Military, and FamiliesSee Help for Veterans with PTSD to learn how to enroll for VA health care and get an assessment.
All VA Medical Centers provide PTSD care, as well as many VA clinics.Some VA's have programs specializing in PTSD treatment. Use the VA PTSD ProgramLocator to find a PTSD program.If you are a war Veteran, find a Vet Center to help with the transition from military to civilian life.