25 Feb
United States Wars, News and Casualties
 ************************
The dead & suffering children of Iraq.
Video From Ten Years Ago
The War Criminals
The war criminals of the Bush regime lied and fabricated evidence to go to war.
Bush,Cheney,Rice,Rumsfeld, Wolfowitz, and Powell

are war criminals and today they are enjoying freedom.
The thousands dead, the region in chaos, the creation of Islamic State and the trillions of dollars cost and for what? The worst of all is that they were so desperate for war that they had no plans for peace.
So where are the protests and demonstrations today in the US to bring Bush, Chaney, Wolfowitz, Rice, Powell and Rumsfeld to Justice? There are none. There has been none. And now the US people ask – why do we have so many enemies and why do peoples from other cultures hate us?
Fifteen years ago, on February 15, 2003, the world said "No to War": Some 10 million to 15 million people, in hundreds of cities and dozens of countries all over the world, embraced the same slogan, made the same demand, in scores of different languages. A war against Iraq was looming, with Washington and London standing virtually alone in their false claims that Baghdad had amassed stockpiles of weapons of mass destruction.
As we look at the consequences of that war today—Iraq still in flames, wars raging across the region—we need to remember.
Throughout 2002 and into 2003, while George W. Bush's "Global War on Terror" raged across Afghanistan, Washington continued to build support for a war against Iraq. We need to remember how the mainstream media obediently fell—or eagerly jumped—into line with the propaganda churned out by the Dick Cheney–Donald Rumsfeld policy shops. The most influential papers, including The New York Times and The Washington Post, led the way, helping to legitimize the spurious predictions of Iraqis welcoming US troops with sweets and flowers, of yellowcake uranium from Niger, of aluminum tubes that could "only" be used for nuclear weapons. Some among the liberal and independent media collaborated as well. Even Patrick Tyler of the Times (who coined the term "second superpower" to describe the February 15 mobilization) acknowledged years later the "grand deception in which we all share in the responsibility…. The military-industrial complex has its analogue in the press, the media-industrial complex."…………………….Bush had identified Iraq as part of his "axis of evil," claiming that it, along with Iran and North Korea, was "arming to threaten the peace of the world." Then–Secretary of State Colin Powell, just 10 days before the massive global protests, lied to the United Nations Security Council and the world regarding the so-called "WMD" claims, with CIA director George Tenet sitting behind him stone-faced and silent. The day before the protests, the UN's weapons and nuclear inspectors told the Security Council directly that they had seen no evidence of such weapons. We need to remember that the UN refused to endorse the war, aligning instead with the global protesters………………..
We need to remember that it was Bush's occupation of Iraq that gave rise to ISIS. The terrorist organization germinated in the cells of Camp Bucca, one of the myriad US prisons holding thousands of Iraqi detainees. In 2004, when the torture scandal in Abu Ghraib, another US prison, became public, there were 140,000 US troops occupying Iraq………………….We can't afford to leave behind the lessons of Iraq. Our multimillion-strong global protest in February 2003 wasn't able to prevent one war. But it's part of the reason we're not at war with Iran already, and it taught a generation that global protest is actually possible. It helped inspire uprisings and resistance around the world. Today's wars don't look just like the Iraq War, and future protests won't look just like the one in 2003. But as we build new movements for peace, we need to remember.
The Middle East is still suffering from the consequences of the US invasion 15 years ago.


Shaima Naif's daughter, Jannat, who was killed in Mosul
We condemned children to death, some after many days of writhing in pain on bloodstained mats, without pain relievers. Some died quickly, wasted by missing arms and legs, crushed heads. As the fluids ran out of their bodies, they appeared like withered, spoiled fruits. They could have lived, certainly should have lived – and laughed and danced, and run and played- but instead they were brutally murdered. Yes, murdered!
The war ended for those children, but it has never ended for survivors who carry memories of them. Likewise, the effects of the U.S. bombings continue, immeasurably and indefensibly.
The McGlynn
 ************************
War News

Credit

Sergey Ponomarev for The New York Times
GROZNY, Russia — Every day, Belant Zulgayeva gets a knot in her throat watching her grandchildren play their violent games, what she calls their "little war." They talk very little, but they run around, hide and, occasionally, slam one another to the ground with a disturbing ferocity.
Ms. Zulgayeva is on the front line of a different kind of struggle: an effort by the Russian government to bring home and care for Russian children like her three grandchildren, who were raised by Islamist militants in the Islamic State, also known as ISIS or ISIL.
As the American-led coalition and Syrian government forces captured cities that had been held by the Islamic State, they found among the ruins a grim human wreckage of the organization's once successful recruitment drive: hundreds and perhaps thousands of children born to or brought with the men and women who had flocked to Syria in support of the Islamic State.
While Russia, which has so far returned 71 children and 26 women since August, may seem surprisingly lenient in its policy, its actions reflect a hardheaded security calculus: better to bring children back to their grandparents now than have them grow up in camps and possibly return as radicalized adults.
Isis says it carried out attacks that security sources say involved two car suicide bombers and six gunmen
At least 14 people have been killed and 40 wounded when car suicide bombers and gunmen tried to storm the headquarters of a Yemeni counter-terrorism unit in Aden on Saturday, security and medical sources said.
Islamic State, in a statement carried by its Aamaq news agency, claimed responsibility for what it described as two "martyrdom operations" targeting the camp in Tawahi district in south-western Aden. The agency provided no immediate evidence for the claim.
Security sources said two suicide bombers detonated two cars laden with explosives at the camp's entrance while six gunmen tried to storm the facility. They were all killed by guards and their bodies taken to a military hospital, a medical source told Reuters.
ANKARA (Reuters) – The United Nations should end a "massacre" by Syria's government in eastern Ghouta, the spokesman for Turkish President Tayyip Erdogan said ahead of a U.N. Security Council vote on Saturday on a demand for a 30-day ceasefire in Syria.
A draft resolution aimed at ending a deadly pro-government bombing campaign in the eastern Ghouta district and elsewhere in Syria was delayed by the U.N. Security Council on Friday after a flurry of last-minute negotiations caused a 24-hour delay.
The ceasefire will be put to the vote in the 15-member council at noon (1700 GMT) on Saturday.
Turkey, one of the main backers of rebels fighting to overthrow President Bashar al-Assad, on Saturday called for the world to jointly put an end to one of the deadliest pro-government bombing campaigns targeting rebels in the seven-year Syrian civil war.
"The Assad regime is carrying out a massacre in eastern Ghouta… A vote will be held in the UNSC for the attacks to end and aid to be delivered. The whole world should jointly say 'stop' to this massacre," Erdogan's spokesman, Ibrahim Kalin, wrote on Twitter.
The UN security council voted unanimously on Saturday for a month-long ceasefire across Syria to allow for humanitarian deliveries and medical evacuation.
The demand for a 30-day ceasefire was made effective immediately but it was far from clear what impact, if any, the resolution would have on Syria's battlefields. Minutes after the vote, the UK-based Syrian Observatory for Human Rights reported that Syrian regime warplanes had bombed eastern Ghouta, a besieged rebel enclave of 400,000 people.
The Syrian regime's envoy to the UN, Bashar Jaafari, appeared to shrug off the authority of the resolution, insisting his government had a right to defend its territory and would continue to "fight terrorism, wherever it is".
The vote on the resolution, proposed by Kuwait and Sweden, had been put off for three days in the face of Russian objections but the version that was approved on Saturday was little changed from the original. The vote was postponed for two hours on Saturday as Russia made a last-ditch attempt to water down its language.
Throughout the week, regime forces kept up their bombardment of eastern Ghouta. The medical aid agency MSF said hospitals and clinics it supported in the Damascus suburb had reported more than 520 deaths and more than 2,500 wounded in just the past five days…………..
Under the terms of the new resolution, the UN "demands that all parties cease hostilities without delay and engage immediately to ensure full and comprehensive implementation of this demand by all parties, for a durable humanitarian pause for at least 30 consecutive days throughout Syria, to enable the safe, unimpeded and sustained delivery of humanitarian aid and services and medical evacuations of the critically sick and wounded, in accordance with applicable international law".
The truce does not apply to military operations against Islamic State, al-Qaida and the Nusra Front "and other terrorist groups as designated by the security council".
BEIRUT (AP) — The Syrian capital and its embattled eastern suburbs were relatively calm on Sunday, following the U.N. Security Council's unanimous approval of a resolution demanding a 30-day cease-fire across Syria, opposition activists and residents of Damascus said.
The activists reported few violations, including some clashes, on the southern edge of the rebel-held suburbs, known as eastern Ghouta, and two airstrikes late on Saturday night, shortly after the resolution was adopted.
The calm came after a week of intense airstrikes and shelling that killed more than 500 people in eastern Ghouta and left dozens dead or wounded in the government-held Damascus, which rebels pelted with mortar shells.
"This has been the calmest night since last Sunday," said Rami Abdurrahman who heads the Britain-based Syrian Observatory for Human Rights, referring to the start of the bombing campaign on Feb. 19. He said there have been no deaths reported since the resolution passed.
ITV: Syrian civilians take shelter as east Ghouta bombing continues
Civilians in the Damascus suburb of eastern Ghouta have endured another day of bombing at the hands of the Syrian government, as divisions at the UN Security Council kept diplomats from agreeing a ceasefire.
BEIRUT (Reuters) – The Syrian Observatory for Human Rights said warplanes struck eastern Ghouta on Saturday evening, minutes after the U.N. Security Council adopted a resolution demanding a 30-day ceasefire in Syria.
The jets hit the town of Shifouniyeh in the rebel enclave, said the Britain-based monitoring group and two residents of the besieged suburbs near Damascus.
A surge of air strikes and shelling by the Syrian government and its allies has pounded eastern Ghouta since Sunday night, in one of the fiercest air-assaults of the seven-year war, residents, rescuers and the monitor say.
Baghdad (IraqiNews.com) One person was killed and two others were wounded on Friday when a bomb blast hit in area south of the Iraqi capital, a security source was quoted saying.
The source told Alsumaria News that an explosive device placed near a grocery market in Wardiya, Madaen, south of Baghdad, exploded, killing one and wounding two others.
A total of 115 Iraqi civilians, excluding policemen, were killed and another 250 injured in acts of terrorism, violence and armed conflict in Iraq in January 2018, according to casualty figures recorded by the United Nations Assistance Mission for Iraq (UNAMI).
Baghdad was the worst affected governorate, with 323 civilian casualties (90 killed, 233 injured). Diyala followed, with 8 killed and 15 injured; and Nineveh, with 13 killed and 7 injured.
As many as 3,298 civilians were killed and 4,781 others were wounded in 2017, excluding Anbar civilian casualty figures for November and December, which are not available, UNAMI said in a report in December.
BAGHDAD (AP) — Long beset by toxic divisions, Iraq seems to be growing even more fragmented ahead of national elections scheduled for May, with Iranian influence set to grow and the minority Sunnis seething as they fend for themselves in areas of the country shattered by the three-year war against the Islamic State group.
The Sunnis, many of them in displacement camps, bore the brunt of the war's destruction and have been left so bereft that many don't even have the papers needed to register to vote. If they don't end up feeling the vote was fair, that could badly undermine the international community's goal of bringing about the more inclusive government critical to maintaining a unified state and avoiding a repeat of the IS disaster.
Adding to the volatile mix are the Iranian-backed Shiite militias, now even more politically involved, which are allied with but not controlled by the Shiite-led Baghdad government, and appear set to gain influence that would alarm many in the region trying to check the power of Shiite, non-Arab Iran.
If divisions among Sunnis, Shiites and Kurds persist they could lead to more protracted talks to form a new government, potentially delaying the colossal task of rebuilding Iraq after IS overran nearly a third of the country in 2014, mostly Sunni towns, and then hung on as a U.S.-led coalition surrounded and bombarded the areas they controlled.
KABUL, Afghanistan — The Taliban staged three attacks in southern Afghanistan on Saturday, killing at least 20 Afghan soldiers as a high-level NATO delegation was visiting the country to discuss the peace process.
The insurgents have been striking checkpoints and small outposts at night in the turbulent southern provinces of Farah and Helmand.
In one attack, the insurgents detonated explosives packed into an American-made Humvee that had been captured from the Afghan Army. And in another, they made off with a Humvee, replenishing their supply.
In the most lethal strike, insurgents overran a checkpoint in Farah Province around 3 a.m. Saturday. An Afghan Army spokesman said that 18 government soldiers were killed and two others wounded, and that a firefight with the attackers had continued even after reinforcements arrived.
A member of the provincial council in Farah, Dadullah Qani, said that more than 20 soldiers had been killed and that the Taliban had captured the Humvee and burned an army truck.
By Khaama Press on 25 Feb 2018 10:04am
At least nine Taliban insurgents were killed during the operations of the Afghan National Defense and Security Forces in northern Baghlan province of Afghanistan. The 209th Shaheen Corps of the Afghan Military in the north said the militants were killed during Alburz-24 operations. The source further added that the operations were conducted in Turmosh valley
JANUARY 2018 TOTAL: 474 CIVILIANS KILLED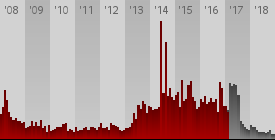 Iraq Body Count maintains the world's largest public database of violent civilian deaths since the 2003 invasion, as well as separate running total which includes combatants.
IBC's data is drawn from cross-checked media reports, hospital, morgue, NGO and official figures or records (see About IBC).
Recent Casualties
Color Denotes Today's Confirmation
None
**********************
Care for Veterans:
PTSD: National Center for PTSDPTSD Care for Veterans, Military, and FamiliesSee Help for Veterans with PTSD to learn how to enroll for VA health care and get an assessment.
All VA Medical Centers provide PTSD care, as well as many VA clinics.Some VA's have programs specializing in PTSD treatment. Use the VA PTSD ProgramLocator to find a PTSD program.If you are a war Veteran, find a Vet Center to help with the transition from military to civilian life.