26 Feb
United States Wars, News and Casualties
 ************************
The dead & suffering children of Iraq.
Video From Ten Years Ago
The War Criminals
The war criminals of the Bush regime lied and fabricated evidence to go to war.
Bush,Cheney,Rice,Rumsfeld, Wolfowitz, and Powell

are war criminals and today they are enjoying freedom.
The thousands dead, the region in chaos, the creation of Islamic State and the trillions of dollars cost and for what? The worst of all is that they were so desperate for war that they had no plans for peace.
So where are the protests and demonstrations today in the US to bring Bush, Chaney, Wolfowitz, Rice, Powell and Rumsfeld to Justice? There are none. There has been none. And now the US people ask – why do we have so many enemies and why do peoples from other cultures hate us?
Fifteen years ago, on February 15, 2003, the world said "No to War": Some 10 million to 15 million people, in hundreds of cities and dozens of countries all over the world, embraced the same slogan, made the same demand, in scores of different languages. A war against Iraq was looming, with Washington and London standing virtually alone in their false claims that Baghdad had amassed stockpiles of weapons of mass destruction.
As we look at the consequences of that war today—Iraq still in flames, wars raging across the region—we need to remember.
We need to remember that it was Bush's occupation of Iraq that gave rise to ISIS. The terrorist organization germinated in the cells of Camp Bucca, one of the myriad US prisons holding thousands of Iraqi detainees. In 2004, when the torture scandal in Abu Ghraib, another US prison, became public, there were 140,000 US troops occupying Iraq………………….We can't afford to leave behind the lessons of Iraq.


Shaima Naif's daughter, Jannat, who was killed in Mosul
We condemned children to death, some after many days of writhing in pain on bloodstained mats, without pain relievers. Some died quickly, wasted by missing arms and legs, crushed heads. As the fluids ran out of their bodies, they appeared like withered, spoiled fruits. They could have lived, certainly should have lived – and laughed and danced, and run and played- but instead they were brutally murdered. Yes, murdered!
The war ended for those children, but it has never ended for survivors who carry memories of them. Likewise, the effects of the U.S. bombings continue, immeasurably and indefensibly.
The McGlynn
 ************************
War News
BEIRUT — An air strike by the
U.S.-led coalition

against Islamic State has killed 25 people including children in the militant group's last enclave on the Euphrates in Syria, a war monitor said on Monday.
The air strike took place in the settlement of Dahra Alouni close to al-Shaafa region, and more than half of those killed were women and children, said the Britain-based Syrian Observatory for Human Rights.
Asked about the report, the coalition spokesman, Colonel Ryan Dillon said: "We take all allegations seriously and as we always do we will put it into our civilian casualty assessment and we will publish the results of those on a monthly basis."
Islamic State has lost most of the territory it had captured in Syria in the face of military campaigns by both the U.S.-led coalition that supports an alliance of Syrian militias and by Syrian government forces, which are backed by Russia and Iran.
GENEVA (Reuters) – United Nations Secretary-General Antonio Guterres called on Monday for warring sides to implement a 30-day ceasefire across Syria, in line with an appeal by major powers at the weekend.
U.N. aid agencies are ready to deliver life-saving aid and evacuate critically wounded from the rebel-held Damascus enclave of eastern Ghouta, where 400,000 people have been living under siege, Guterres said.
"Eastern Ghouta cannot wait, it is high time to stop this hell on earth," Guterres told the U.N. Human Rights Council, which opened its main four-week annual session in Geneva.
U.N. human rights chief Zeid Ra'ad al-Hussein said air strikes on eastern Ghouta were continuing on Monday morning.
BEIRUT (Reuters) – Iran said pro-Damascus forces would press ahead with attacks on an insurgent enclave near the Syrian capital, as ground fighting raged on there in defiance of a U.N. resolution demanding a 30-day truce across the country.
Turkey, too, said its military operations in another theater of war in the north of Syria would not be affected by the unanimous Security Council vote demanding the truce to allow for aid access and medical evacuations.
Anti-government rebels said they clashed with pro-government forces near Damascus on Sunday, as rescuers and residents said warplanes struck some towns in the eastern Ghouta pocket.
The Syrian Observatory for Human Rights said air strikes and artillery killed nine people and injured 31 in the eastern suburbs. The UK-based monitoring group said Sunday's bombing was less intense than attacks over the past week.
Offensives seen as Assad regime's bid to eliminate opposition and as challenge to security council's authority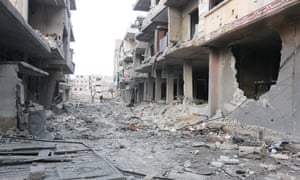 Buildings in eastern Ghouta damaged by Assad regime airstrikes in recent days. Photograph: Anadolu Agency/Getty Images
Syrian regime forces launched a fresh ground and air offensive on Sunday against rebel positions in the besieged and battered enclave of eastern Ghouta in defiance of a nationwide ceasefire ordered by the UN security council.
Witnesses said fighting erupted on several fronts in what was seen as a possible last-ditch bid by Bashar al-Assad, Syria's president, to eliminate opposition resistance in Ghouta, near Damascus, before the 30-day ceasefire can be enforced.
At least 14 civilians including three children were killed in strikes on Sunday, said the Syrian Observatory for Human Rights monitor, bringing the total number of dead in the week to 530, among them over 130 children. The monitor said the bombing was less intense than attacks over the past week.
Baghdad (IraqiNews.com) Seven people were killed and wounded in two bomb blasts that took place in Baghdad, a security source was quoted saying on Sunday.
Speaking to Baghdad Today website, the source said, "a bomb went off near a market in al-Radwaniyah region, southwest of Baghdad, leaving a civilian killed and five others wounded."
Moreover, "another bomb exploded at a civilian's vehicle in Sheikh Omar in central Baghdad, leaving the driver wounded.
The ambulances, according to the source, rushed to the scenes of both blasts and transferred the wounded to hospital for treatment, while the victim was taken to forensic medicine department.
A total of 115 Iraqi civilians, excluding policemen, were killed and another 250 injured in acts of terrorism, violence and armed conflict in Iraq in January 2018, according to casualty figures recorded by the United Nations Assistance Mission for Iraq (UNAMI).
Nineveh (Iraqinews.com) – Iraqi troops killed on Sunday 30 Islamic State (IS) militants while hiding inside a cave in western Mosul, the Turkish Anadolu Agency quoted an army official as saying.
"Upon accurate intelligence reports, Iraqi troops fired 27 missiles from a Stryker armored vehicle against a cave in Al-Ba'aj district, 150 km west of Mosul, leaving the cave completely destroyed," Major Abbas Abdel Azim from the 20th brigade of the Iraqi army said.
"All 30 IS militants who were inside the cave were killed in the bombardment," Abdel Azim pointed out, revealing that the cave is believed to be used as an explosives depot as a huge explosion was heard following the missile attack.
By Khaama Press on 26 Feb 2018 1:38pm
At least three militants were killed in a US airstrike in eastern Laghman province of Afghanistan. The 20st Silab Corps of the Afghan Military in the East said the latest airstrike was carried out in the vicinity of Alingar district. The source further added that a local commander of the militants was also wounded in
By Khaama Press on 26 Feb 2018 12:09pm
At least three militants were killed and their vehicle was destroyed in an airstrike in southeastern Paktia province of Afghanistan. The Ministry of Interior (MoI) said the airstrike was carried out in the vicinity of Gomal district. A statement by MoI said the militants were traveling in Shoranki area when they were spotted by the
By Khaama Press on 26 Feb 2018 10:10am
At least 14 militants were killed in a series of airstrikes in southern Helmand and western Farah provinces of Afghanistan. The Ministry of Defense of Afghanistan (MoD) said at least ten of the militants were killed in Bala Bolok district of Farah while 14 more were wounded. According to MoD, at least four others were
JANUARY 2018 TOTAL: 474 CIVILIANS KILLED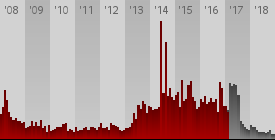 Iraq Body Count maintains the world's largest public database of violent civilian deaths since the 2003 invasion, as well as separate running total which includes combatants.
IBC's data is drawn from cross-checked media reports, hospital, morgue, NGO and official figures or records (see About IBC).
Recent Casualties
Color Denotes Today's Confirmation
None
**********************
Care for Veterans:
PTSD: National Center for PTSDPTSD Care for Veterans, Military, and FamiliesSee Help for Veterans with PTSD to learn how to enroll for VA health care and get an assessment.
All VA Medical Centers provide PTSD care, as well as many VA clinics.Some VA's have programs specializing in PTSD treatment. Use the VA PTSD ProgramLocator to find a PTSD program.If you are a war Veteran, find a Vet Center to help with the transition from military to civilian life.