27 Feb
United States Wars, News and Casualties
 ************************
The dead & suffering children of Iraq.
Video From Ten Years Ago
The War Criminals
The war criminals of the Bush regime lied and fabricated evidence to go to war.
Bush,Cheney,Rice,Rumsfeld, Wolfowitz, and Powell

are war criminals and today they are enjoying freedom.
The thousands dead, the region in chaos, the creation of Islamic State and the trillions of dollars cost and for what? The worst of all is that they were so desperate for war that they had no plans for peace.
So where are the protests and demonstrations today in the US to bring Bush, Chaney, Wolfowitz, Rice, Powell and Rumsfeld to Justice? There are none. There has been none. And now the US people ask – why do we have so many enemies and why do peoples from other cultures hate us?
NATION: United States Wars, News and Casualties
Fifteen years ago, on February 15, 2003, the world said "No to War": Some 10 million to 15 million people, in hundreds of cities and dozens of countries all over the world, embraced the same slogan, made the same demand, in scores of different languages. A war against Iraq was looming, with Washington and London standing virtually alone in their false claims that Baghdad had amassed stockpiles of weapons of mass destruction.
As we look at the consequences of that war today—Iraq still in flames, wars raging across the region—we need to remember.
We need to remember that it was Bush's occupation of Iraq that gave rise to ISIS. The terrorist organization germinated in the cells of Camp Bucca, one of the myriad US prisons holding thousands of Iraqi detainees. In 2004, when the torture scandal in Abu Ghraib, another US prison, became public, there were 140,000 US troops occupying Iraq………………….We can't afford to leave behind the lessons of Iraq.


Shaima Naif's daughter, Jannat, who was killed in Mosul
We condemned children to death, some after many days of writhing in pain on bloodstained mats, without pain relievers. Some died quickly, wasted by missing arms and legs, crushed heads. As the fluids ran out of their bodies, they appeared like withered, spoiled fruits. They could have lived, certainly should have lived – and laughed and danced, and run and played- but instead they were brutally murdered. Yes, murdered!
The war ended for those children, but it has never ended for survivors who carry memories of them. Likewise, the effects of the U.S. bombings continue, immeasurably and indefensibly.
The McGlynn
 ************************
War News
EAT THE APPLE  A Memoir
The trouble with writing the unvarnished truth in a memoir is that it requires you to be hard not only on others, but also on yourself.
Matt Young's inventive, unsparing, irreverent and consistently entertaining "Eat the Apple" is that, but it is also a useful corrective to the current idealization of the American soldier — or in this case a Marine. Patriotism and respect for the military is so high in this country that we have lately held a national debate over whether professional athletes should be required to stand for the national anthem. Men and women in uniform are given preference in boarding airplanes, and are so routinely thanked for their service that the expression has become rote. Each new season brings a crop of movies and glossy TV serials dramatizing the heroics of our Special Operations………..Service deserves respect, of course, but it does not in itself guarantee stirring and selfless acts of bravery. Young is his own case in point. He sees his experience — three tours in Iraq — as far from heroic. He is at least as disturbed by his duty as he is proud of it. These contradictory feelings are a central theme in his book. Years removed, he both loathes and pines for the man he became in the Marine Corps. What he calls his "Past-me" was a reckless, selfish, cruel and dangerous man……………….Young and his fellow Marines are horny, deeply insecure, often drunk, compulsively (and inventively) masturbatory and disturbingly driven to kill. Away from the war zone they drink themselves sick, fight, and cheat on their wives and girlfriends. Deployed, they sometimes desecrate corpses and shoot dogs for sport. They are also willing to risk their lives and to kill with abandon for their country. All too often they come home maimed or in coffins………………The terrible things Young saw in war disturb him, the random death, the gore, the unthinking cruelty, but not so much as the person he became during those four years. He feels as guilty about the things he did to those close to him at home as he does about anything he did in Iraq. At the same time he has real affection for that crude, flawed, authentic version of himself, the "Past-me," who he knows would disdain his introspective, self-critical present self, a teacher and a writer:
Russia blocked a resolution at the United Nations Security Council on Monday that would have pressured Iran over the illegal use of Iranian-made missiles by Houthi insurgents in Yemen. The Russian veto drew angry rebukes from the United States and its allies.
The resolution, which would have easily passed the 15-member Council, also had been intended to renew an expiring United Nations arms embargo against the Houthis and the mandate of a panel of experts that found Iran had violated it.
Despite the rancor over that resolution, which was drafted by Britain and strongly backed by the United States, the Council then unanimously approved a Russian-drafted resolution that renewed the embargo and the panel's mandate. That resolution conspicuously avoided the issue of Iranian weapons in Yemen.
The United Nations has called the nearly three-year-old civil war in Yemen the world's worst man-made humanitarian disaster. Millions of Yemenis have been displaced, a majority of the population lacks food and aid agencies have struggled to supply assistance.
Women in Syria have been sexually exploited by men delivering aid on behalf of the UN and international charities, the BBC has learned.
Aid workers said the men would trade food and lifts for sexual favours.
Despite warnings about the abuse three years ago, a new report shows it is continuing in the south of the country.
UN agencies and charities said they had zero tolerance of exploitation and were not aware of any cases of abuse by partner organisations in the region.
Aid workers told the BBC that the exploitation is so widespread that some Syrian women are refusing to go to distribution centres because people would assume they had offered their bodies for the aid they brought home.
One worker claimed that some humanitarian agencies were turning a blind eye to the exploitation because using third parties and local officials was the only way of getting aid into dangerous parts of Syria that international staff could not access.
First daily truce in rebel-held Syrian enclave follows days of artillery attacks and airstrikes
Syrians walk along a street covered in debris from shelling in Arbin in eastern Ghouta. Photograph: Abdulmonam Eassa/AFP/Getty Images
A five-hour truce has begun in the Syrian rebel-held enclave of eastern Ghouta to allow people to escape the area being targeted in a fierce offensive by Syria's Moscow-backed government.
The Russian president, Vladimir Putin, ordered the daily "humanitarian pause" in fighting from 9am to 2pm (7am to 12pm GMT) to let civilians leave the area, where government bombardment has killed hundreds since 18 February.
The Syrian Observatory for Human Rights said it had been largely calm in eastern Ghouta since midnight, though four rockets had hit the town of Douma on Tuesday morning.
The UN has failed to prevent the suffering – or even slow it down. The wording of its resolution let Russia resume bombing within hours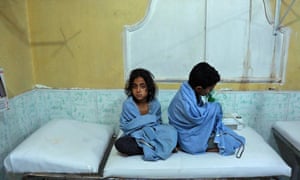 Syrian children receive treatment for a suspected chemical attack at a makeshift clinic in the rebel-held village of al-Shifuniyah, eastern Ghouta, on Sunday. Photograph: Hamza Al-Ajweh/AFP/Getty Images
When a UN-backed Syrian ceasefire was announced on Saturday, residents of Ghouta again took cover, fearing that what would come next would be anything but peace.
Nearly two days later, with more bodies dug from the ruins, more slain children wrapped in burial shrouds, Russian and Syrian warplanes still menacing the skies and claims of another chlorine attack, it's clear the so-called ceasefire has barely led to a lull.
As has been the case throughout the war, the UN again failed to prevent the suffering of Syria, or even to slow it down. In Homs and Aleppo, Zabadani and Madaya, Idlib and now Ghouta, international will has been trampled by the protagonists of a war without restraint. The unchecked savagery of Syria's disintegration has become so routine that those trying to prevent it have effectively become its underwriters.
Russia, a party to the UN security council resolution, breached its intent within hours, sending its warplanes to drop more bombs as Syrian and Iranian-backed troops launched ground incursions into the opposition enclave. And this to a binding resolution – not a gentle nudge.
GENEVA (Reuters) – Fighting and shelling continued in eastern Ghouta on Tuesday, preventing any aid from reaching the besieged Syrian enclave during a five-hour pause "unilaterally" declared by Russia, the United Nations said.
"It is a question life and death – if ever there was a question of life and death – we need a 30-day cessation of hostilities in Syria as the Security Council demands," Jens Laerke, spokesman of the U.N. Office for the Coordination of Humanitarian Assistance (OCHA), told a Geneva briefing.
More than 1,000 sick and wounded are on a list of people needing medical evacuation by the Syrian Arab Red Crescent, World Health Organization spokesman Tarik Jasarevic said. "But we don't have any updates on something like that taking place or coming right now," he added.
The Hague-based Organisation for the Prohibition of Chemical Weapons (OPCW) opened an investigation on Sunday into reports of the repeated use of chlorine bombs this month in the district near the Syrian capital, diplomatic sources told Reuters.
Political leaders in France, the United States and United Kingdom said this month they would back targeted military action against Damascus if there were proof of chemical weapons use by forces under President Bashar al-Assad.
The investigation comes as Russia ordered the establishment of an evacuation corridor and five-hour daily truce to allow residents to leave eastern Ghouta, where 400,000 people are living under siege and bombardment.
Among the attacks the OPCW's fact-finding team will examine is one on Sunday which local health authorities said killed a child and caused symptoms consistent with exposure to chlorine gas, the sources said.
LONDON (Reuters) – Britain would consider joining U.S. military strikes against the Syrian government if there is evidence chemical weapons are being used against civilians, Foreign Secretary Boris Johnson said on Tuesday.
Johnson said he hoped Britain and other Western nations would not stand by in the event of a chemical attack, voicing support for limited strikes if there is "incontrovertible evidence" of the Syrian's government involvement.
"If we know that it has happened, and we can demonstrate it, and if there is a proposal for action where the UK could be useful then I think we should seriously consider it," Johnson told BBC radio.
Over the past week, Syria's army and its allies have subjected the rebel-held enclave of Ghouta near Damascus to one of the heaviest bombardments of the seven-year war, killing hundreds.
Baghdad (Iraqinews.com) – Four Sunni fighters were killed and injured Tuesday after unknown gunmen opened fire at them in northern Baghdad, a security source was quoted as saying.
Speaking to Baghdad Today news website, the source said, "Four fighters of the Sunni Sahwa (awakening) movement were in a car when unidentified gunmen opened fire at them before fleeing the scene."
"One Sahwa fighter was killed and three others were seriously injured in the shooting," the source added.
Meanwhile, another security source noted that two people were found dead earlier in the day in southern Baghdad.
Baghdad (IraqiNews.com) Iraq is opposed to the rumored United States intentions to transfer its military base in Turkey to Kurdish areas in Iraq or Syria, an Iraqi government source was quoted saying on Tuesday.
Iraqi website Almaalomah quoted the source saying that "the Iraqi government has received with astonishment the news about U.S. plans to relocate its military base in Turkey's Incirlik to Iraqi Kurdistan or Kurdish regions in Syria".
According to the source, "Baghdad will reject any U.S. step in that direction and will not accept U.S. bases on its soil".
Benhas Anbari, an Israeli Middle East expert, has been recently quoted saying that the United States was earnestly considering the relocation of the Angerlick base to Iraqi or Syrian Kurdish areas.
The U.S. says it maintains slightly above 5000 troops in Iraq for assistance and training purposes.
KABUL — The Taliban urged the United States on Monday to begin talks to end almost 17 years of war in Afghanistan, adding to a series of signals that suggest a greater willingness to explore options for dialogue.
In its statement, two days before the start of a meeting of regional leaders in Kabul to discuss ways of ending the war, the movement said it wanted a peaceful resolution.
"The Political Office of the Islamic Emirate of Afghanistan calls on American officials to talk directly to the Political Office of Islamic Emirate regarding a peaceful solution to the Afghan quandary," it said.
"It would help in finding a solution if America accepts the legitimate demands of the Afghan people and [puts] forward its own concerns and requests for discussion to the Islamic Emirate through a peaceful channel," it said.
The statement referred to reported comments by Alice Wells, the Principal Deputy Assistant Secretary in the U.S. State Department's Bureau of South and Central Asian Affairs, that the "door is open" for talks with the Taliban.
By Khaama Press on 27 Feb 2018 8:34am
A major attack by the militants affiliated with the Islamic State of Iraq and Syria /ISIS) terrorist group was repulsed in northern Jawzjan province of Afghanistan, leaving several militants dead or wounded. The 209th Shaheen Corps of the Afghan National Arnmy in thr North said a large group of ISIS militants launched a large scale
Recent Casualties
Color Denotes Today's Confirmation
None
**********************
Care for Veterans:
PTSD: National Center for PTSDPTSD Care for Veterans, Military, and FamiliesSee Help for Veterans with PTSD to learn how to enroll for VA health care and get an assessment.
All VA Medical Centers provide PTSD care, as well as many VA clinics.Some VA's have programs specializing in PTSD treatment. Use the VA PTSD ProgramLocator to find a PTSD program.If you are a war Veteran, find a Vet Center to help with the transition from military to civilian life.