09 Mar
United States Wars, News and Casualties
************************
The dead & suffering children of Iraq.
Video From Ten Years Ago
The War Criminals
The war criminals of the Bush regime lied and fabricated evidence to go to war.
Bush,Cheney,Rice,Rumsfeld, Wolfowitz, and Powell

are war criminals and today they are enjoying freedom.
The thousands dead, the region in chaos, the creation of Islamic State and the trillions of dollars cost and for what? The worst of all is that they were so desperate for war that they had no plans for peace.
So where are the protests and demonstrations today in the US to bring Bush, Chaney, Wolfowitz, Rice, Powell and Rumsfeld to Justice? There are none. There has been none. And now the US people ask – why do we have so many enemies and why do peoples from other cultures hate us?
Fifteen years ago, on February 15, 2003, the world said "No to War": Some 10 million to 15 million people, in hundreds of cities and dozens of countries all over the world, embraced the same slogan, made the same demand, in scores of different languages. A war against Iraq was looming, with Washington and London standing virtually alone in their false claims that Baghdad had amassed stockpiles of weapons of mass destruction.
As we look at the consequences of that war today—Iraq still in flames, wars raging across the region—we need to remember.
We need to remember that it was Bush's occupation of Iraq that gave rise to ISIS. The terrorist organization germinated in the cells of Camp Bucca, one of the myriad US prisons holding thousands of Iraqi detainees. In 2004, when the torture scandal in Abu Ghraib, another US prison, became public, there were 140,000 US troops occupying Iraq………………….We can't afford to leave behind the lessons of Iraq.
Shaima Naif's daughter, Jannat, who was killed in Mosul
We condemned children to death, some after many days of writhing in pain on bloodstained mats, without pain relievers. Some died quickly, wasted by missing arms and legs, crushed heads. As the fluids ran out of their bodies, they appeared like withered, spoiled fruits. They could have lived, certainly should have lived – and laughed and danced, and run and played- but instead they were brutally murdered. Yes, murdered!
The war ended for those children, but it has never ended for survivors who carry memories of them. Likewise, the effects of the U.S. bombings continue, immeasurably and indefensibly.
The McGlynn
 ************************
War News
WASHINGTON — The United States military has carried out twice as many airstrikes against Islamic State militants in Libya since President Trump took office as it has publicly acknowledged, raising questions about whether the Pentagon has sought to obscure operations in the strife-torn North African nation.
The total number of strikes — eight since January 2017 — is relatively small. But the uptick points to the threat that the Trump administration believes Libya still poses, despite the president's focus on the American-led campaign against the Islamic State in Syria and Iraq that he has trumpeted as one of his administration's signature national security accomplishments.
Counterterrorism specialists warn that the Islamic State and Al Qaeda also still pose formidable threats in places like Somalia, Yemen and West Africa. On Tuesday, Gen. Thomas D. Waldhauser, the head of the Africa Command, said in congressional testimony that "we are heavily involved in the counterterrorism piece" in Libya.
On its website and in news releases, the Africa Command has acknowledged only four airstrikes in Libya in the last 14 months against the Islamic State, also called ISIS, ISIL or Daesh. All of the attacks have been carried out since September.
But on Thursday, a spokesman for the command, Maj. Karl J. Wiest, said four other previously undisclosed airstrikes had been carried out against Islamic State militants, most recently in January.
Children being treated in eastern Ghouta, Syria, after the recent gas attack. Photograph: Diaa Al-Din/Syrian American Medical Society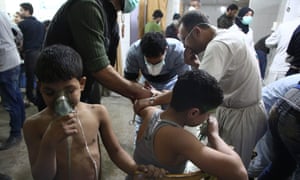 Syrian children receive treatment for breathing difficulties in eastern Ghouta after regime airstrikes. Photograph: Amer Almohibany/AFP/Getty Images
Doctors and rescue workers in the besieged Syrian region of eastern Ghouta have said are struggling to cope with another intense bout of what they described as "insane" violence, in which more than 90 people were killed overnight, according to war monitors.
The airstrikes and shelling of the enclave near Damascus led to the postponement of aid deliveries to more than 300,000 people under siege, amid military advances by forces loyal to the regime of Bashar al-Assad.
The suffering was compounded by overnight reports of incendiary weapons and chemical attacks targeting two towns in Ghouta, with doctors reporting symptoms consistent with exposure to organophosphorous or chlorine.
"To all of those outside Ghouta, living in peace and comfort … I wish to tell you that children, women, the elderly and infants are all dying today in full view of the world," said one rescue worker.
"We are civilians and humanitarian workers, and we cannot face these weapons except by carrying children or women or the injured [from the rubble]. We might die at any moment."
Doctors on the ground said at least 90 people had been killed on Wednesday as the death toll from a punishing military offensive on eastern Ghouta launched on 19 February approached 1,000 civilians. At least 300 people were wounded in the bombardment.
They said 29 people, including 15 children, were admitted to a medical centre with breathing problems after a suspected toxic gas attack on the towns of Hamoryah and Saqba.
"Most of those who came to me were from one shelter, 15 of them children, some three or four months old, blue in the face, coughing, [with] symptoms of bronchial irritation," said one doctor who treated the victims.
BEIRUT (Reuters) – The head of the United Nations children's agency UNICEF said on Thursday the besieged Syrian enclave of eastern Ghouta had become a "hell on earth" for children and aid was urgently needed.

"The bombing is almost unceasing and the amount of violence means that the child sees the violence, sees the death, the maiming. And now there is a lack of water and food, so disease is coming on," Henrietta Fore told Reuters in an interview.
Syria's government is two weeks into a fierce assault to retake eastern Ghouta from rebels, saying the offensive is needed to stop insurgent shelling of neighboring Damascus.
The military campaign has killed more than 900 civilians since it began on Feb. 18, according to the Syrian Observatory for Human Rights, a Britain-based war monitor.
The U.N. Security Council demanded a 30-day ceasefire across all Syria on Feb. 24, but the Syrian government and its ally Russia say the truce does not extend to the rebel groups in eastern Ghouta, which they describe as terrorist.
For the 400,000 people the United Nations says live in eastern Ghouta, the assault has come after years of siege that has caused shortages of food and medicine.
BEIRUT (AP) — Turkey's war on a Syrian Kurdish militia that is closely aligned with the United States is forcing the group to give up positions against Islamic State militants in the Syrian desert to defend against the advancing Turkish troops.
Ankara's go-it-alone campaign against the Kurdish People's Protection Units, known as the YPG, in a region called Afrin is reshaping military alignments in northern Syria and forcing the U.S. to pause its mop-up operations against pockets of the Islamic State group.
But the U.S. is not supporting the defense of Afrin, and the Kurds are looking to Damascus for help, despite the Syrian government's pariah status in the international community.
Washington and many Western nations hold President Bashar Assad's government chiefly responsible for the civil war that has engulfed the country for nearly seven years and still shows little sign of abating. To date, Damascus is the only major player to send forces to defend Afrin.
The move gives Assad particular leverage over the Kurdish self-administration at a time when global powers are jostling for influence in Syria.
"Afrin is in need of whoever can defend it," said Ilham Ahmed, a senior official in the Kurdish self-administration unit of northern Syria, which the Kurds call Rojava.
"We are ready for dialogue with the regime and to resolve our issues with them," she said.
The U.S. is naturally hesitant to enter into a military confrontation with NATO member Turkey, but White House officials may have underestimated the Kurds' determination to defend Afrin, says Mutlu Civiroglu, a Kurdish analyst in Washington.
BEIRUT (Reuters) – An emergency aid convoy crossed front lines into the besieged rebel enclave of eastern Ghouta on Friday, Red Cross officials said, as a war monitor reported a pause in Syrian government air strikes backing a massive ground assault.
In less than two weeks, the Syrian army has retaken nearly all the farmland in eastern Ghouta under cover of near ceaseless shelling and air strikes, leaving only a dense sprawl of towns – about half the enclave – still under insurgent control.
The onslaught has killed more than 1,000 people, the medical charity Medicins Sans Frontieres (MSF) said on Thursday. The war monitor, the Syrian Observatory for Human Rights, on Friday gave a death toll of 931 civilians in the campaign.
Kirkuk (IraqiNews.com) Nine Islamic State militants, including a suicide attacker, have been killed in an operation, west of Kirkuk, the pro-government paramilitary troops announced.
In a statement, the media service of al-Hashd al-Shaabi (Popular Mobilization Forces) said, "an ambush was set, depending on information from the intelligence, leaving nine IS members killed in Wadi al-Rahma, north of al-Zab town in Hawija. One of them was a suicide attacker."
No further details were provided.
On Wednesday, a security source was quoted saying that Federal Police forces engaged with IS elements in Altun Kupri, northwest of the province, leaving three militants dead.
Mosul (IraqiNews.com) Officials at Iraq's Nineveh province have warned that senior Islamic State leaders were still in hiding at tunnels in the city of Mosul, the birthplace of the extremist group's self-proclaimed "caliphate".
Hossam al-Abbar, a member of the Nineveh Province Council, was quoted saying in press statements that senior IS members were still hiding in underground tunnels in the western regions of Mosul, adding that those regions are of tough geography that makes it difficult to detect those tunnels.
The banks of Tigris River have become a hideout for the militants who entrench in tunnels well-hidden in the middle of the jungles, according to Abbar.
Nineveh officials have recently warned that several IS members were moving in the province with fake IDs.
BAGHDAD (Reuters) – Iraqi Prime Minister Haider al-Abadi issued a decree on Thursday formalizing the inclusion of Shi'ite paramilitary groups in the country's security forces.
According to the decree, members of the Shi'ite militias, an assortment of militia groups known collectively as the Popular Mobilisation Forces (PMF), which are mostly backed and trained by Iran, will be granted many of the same rights as members the military.
Paramilitary members will be given equivalent salaries to those members of the military under the Ministry of Defense's control, the decree said. They will also be subject to the laws of military service and will gain access to military institutes and colleges.
The decree had been expected for some time and comes two months ahead of a high-stakes general election. The PMF commands popular support among Iraq's majority Shi'ite population and is expected to sway voters.
Tens of thousands of Iraqis heeded a call to arms in 2014 after Islamic State seized a third of the country's territory, forming the PMF. The paramilitaries supported Iraq's military in ejecting Islamic State from areas the militants overran in 2014, when Iraqi military and police divisions deserted en masse.
By Khaama Press on 09 Mar 2018 1:59pm
At least sixty Taliban militants have been killed in the latest airstrike conducted by the US forces in southern Kandahar province of Afghanistan. According to the local government officials, the latest airstrike was carried out late on Wednesday night in the vicinity of Maiwand district. Provincial governor's spokesman Qudrullah Khoshbashkht confirmed that the US forces
By Khaama Press on 09 Mar 2018 11:55am
An explosion rocked Kabul city at around 11:30 am local time with the security officials saying a suicide bomber has detonated his explosives near a ceremony to mark the death anniversary of Abdul Ali Mazari. The incident took place in the vicinity of the 6th police district of the city after a suicide bomber detonated
By Khaama Press on 09 Mar 2018 9:15am
The Afghan military has confirmed the deadly airstrike on militants in eastern Kunar province of Afghanistan amid reports the son of Tehrik-e-Taliban Pakistan Chief Mullah Fazlullah has also been killed. The 201st Silab Corps of the Afghan Military in the East said the airstrike was carried out in Chogam and Chinar Banda areas of Shiltan
*******************************
War Casualties By Name – Search by Name
Recent Casualties
Color

Denotes Today's Confirmation
None
**********************
Care for Veterans:
PTSD: National Center for PTSDPTSD Care for Veterans, Military, and FamiliesSee Help for Veterans with PTSD to learn how to enroll for VA health care and get an assessment.
All VA Medical Centers provide PTSD care, as well as many VA clinics.Some VA's have programs specializing in PTSD treatment. Use the VA PTSD ProgramLocator to find a PTSD program.If you are a war Veteran, find a Vet Center to help with the transition from military to civilian life.
Memorial Day Video-If I Die Young-Memorial Day Military Tribute
The Bravest thing a man can do is to go fight for the freedom of those he loves, and is willing to lay down his life for that freedom. "Greater love has no one than this, than to lay down one's life for his friends."