13 Mar
United States Wars, News and Casualties

The dead & suffering children of Iraq.
Video From Ten Years Ago
The War Criminals
The war criminals of the Bush regime lied and fabricated evidence to go to war.
Bush,Cheney,Rice,Rumsfeld, Wolfowitz, and Powell

are war criminals and today they are enjoying freedom.
The thousands dead, the region in chaos, the creation of Islamic State and the trillions of dollars cost and for what? The worst of all is that they were so desperate for war that they had no plans for peace.
So where are the protests and demonstrations today in the US to bring Bush, Chaney, Wolfowitz, Rice, Powell and Rumsfeld to Justice? There are none. There has been none. And now the US people ask – why do we have so many enemies and why do peoples from other cultures hate us?
Fifteen years ago, on February 15, 2003, the world said "No to War": Some 10 million to 15 million people, in hundreds of cities and dozens of countries all over the world, embraced the same slogan, made the same demand, in scores of different languages. A war against Iraq was looming, with Washington and London standing virtually alone in their false claims that Baghdad had amassed stockpiles of weapons of mass destruction.
As we look at the consequences of that war today—Iraq still in flames, wars raging across the region—we need to remember.
We need to remember that it was Bush's occupation of Iraq that gave rise to ISIS. The terrorist organization germinated in the cells of Camp Bucca, one of the myriad US prisons holding thousands of Iraqi detainees. In 2004, when the torture scandal in Abu Ghraib, another US prison, became public, there were 140,000 US troops occupying Iraq………………….We can't afford to leave behind the lessons of Iraq.
Shaima Naif's daughter, Jannat, who was killed in Mosul
We condemned children to death, some after many days of writhing in pain on bloodstained mats, without pain relievers. Some died quickly, wasted by missing arms and legs, crushed heads. As the fluids ran out of their bodies, they appeared like withered, spoiled fruits. They could have lived, certainly should have lived – and laughed and danced, and run and played- but instead they were brutally murdered. Yes, murdered!
The war ended for those children, but it has never ended for survivors who carry memories of them. Likewise, the effects of the U.S. bombings continue, immeasurably and indefensibly.
The McGlynn

War News
Report warns generation faces psychological ruin, with most vulnerable the hardest hit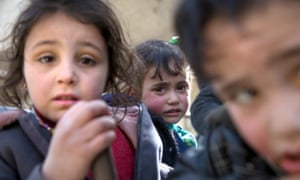 A generation of Syrian children face psychological ruin and ever increasing danger, with child deaths soaring by 50% last year and the number of young soldiers tripling since 2015.
A report by Unicef found 2017 was the worst year of the war for young Syrians, with 910 killed in a conflict that has spared them no mercy and has taken a vastly disproportionate toll on the country's most vulnerable people.
The figures undermine claims that the war, which will soon enter its eighth year, is losing steam. Those most at risk face escalating threats of being permanently maimed by fighting, or emotionally scarred by a litany of abuses including forced labour, marriages, food scarcity and minimal access to health or education.
"There are scars in children and there are scars on children that will never be erased," said Geert Cappelaere, Unicef's director for the Middle East and north Africa. "The protection of children in all circumstances that was once universally embraced – at no moment have any of the parties accepted."

Image caption
The largest rebel group in Syria's besieged Eastern Ghouta region says it has agreed with the government's key ally Russia to evacuate wounded people.
Jaysh al-Islam said the evacuations would take place in stages, but it did not say when they would begin.
There was no confirmation from Russia, but the UN said there had been talks.
More than 1,100 civilians have been killed and 4,000 wounded since the government stepped up its offensive on the Eastern Ghouta on 18 February.
Soldiers and allied militiamen have recaptured 60% of the enclave, which is just outside Damascus, the Syrian capital, and split it into three separate pockets in recent days.

This Sunday, March 11, 2018 photo, provided by Deana Lynn, from Detroit, Michigan, shows her, with her kids and other Syrian children at a shelter where they hide from Russian and Syrian government forces airstrikes, in eastern Ghouta, a suburb of the Syrian capital Damascus. Lynn is calling on President Donald Trump to put more pressure on Russia to "stop bombing us" amid an air and ground assault by government forces that has killed more than 1,000 people over the past three weeks. Lynn and her family are among nearly 400,000 people who are trapped in eastern Ghouta. (Deana Lynn via AP)
BEIRUT (AP) — An American woman living in the besieged suburbs of the Syrian capital on Monday called on President Donald Trump to put more pressure on Russia to "stop bombing us" amid an air and ground assault by government forces that has killed more than 1,000 people over the past three weeks.
Deana Lynn, from Detroit, Michigan, and her family are among nearly 400,000 people who are trapped in eastern Ghouta, surviving on limited amounts of food and spending most of their time squeezed into underground shelters. Lynn moved to eastern Ghouta with her Syrian husband in 2000, to be close to his elderly parents.
The mother of eight — seven daughters and one son — has been working as an English-language teacher in a town in eastern Ghouta that she prefers not to disclose for safety reasons. But since Feb. 18, when government forces began their latest assault, Lynn and her family have been mostly staying in the basement, rarely emerging for fear they might be struck by shelling or airstrikes.
"It's been horrifying, especially (that) I have small children and grandchildren," the 44-year-old woman told The Associated Press via the WhatsApp messaging service.
Lynn met her husband in the 1990s while she was studying English literature at the University of Michigan and he was on a visit to the United States. Five of their eight children were born in the U.S., while their four grandchildren were all born in Syria.
"We've been taking shelter in basements. We go up and downstairs," she said. "We go upstairs to eat, to cook. We have to go upstairs to use the bathroom."
BEIRUT (Reuters) – Sick and injured civilians were shown on Syrian state television leaving a besieged rebel enclave in eastern Ghouta on Tuesday in what insurgents and the United Nations said was a medical evacuation.

Women carrying small children, men hobbling on crutches and an old man in a wheelchair were shown walking among a group of Syrian soldiers near the al-Wafideen crossing point out of the enclave.
The army's near month-old campaign of air and artillery strikes in the last big rebel bastion near the capital has killed more than 1,100 civilians, the U.N. Office for the Coordination of Humanitarian Affairs says.
Syrian government forces have captured more than half of eastern Ghouta, a pocket of satellite towns and densely populated farmland where the United Nations says 400,000 civilians have lived under siege since 2013. Advances in recent days have cut off the major towns Douma and Harasta from each other and neighboring areas, splitting eastern Ghouta into separate enclaves.
Yasser Delwan, a political official with the Jaish al-Islam rebel faction, said the people who left Douma were the first of several batches of patients expected to be evacuated for treatment outside.
Read full story »
AMMAN (Reuters) – Syrian jets struck rebel-held towns in the country's south on Monday, the first aerial attacks on the area since the United States and Russia reached an agreement making it a"de-escalation zone" last year, rebels and residents said.
At least eight raids struck the rebel-held towns of Busr al-Harir, Hrak, al-Gharaiya al-Gharbiya and al-Sowara in rural areas in eastern Deraa province in southern Syria, two rebel officials told Reuters.
A rebel source said some of the targets hit in the raids were close to a front line in northern Deraa close to a major Syrian army garrison near the government-held town of Izra.
Another strike hit a civil defence centre in the Laja area and residential areas in several towns, a resident in Busr al Harir said.
The south is one of three parts of the country where large populations are still under the control of rebels opposed to President Bashar al-Assad, along with a northern area near the Turkish border and the Eastern Ghouta region on the outskirts of Damascus.
UNITED NATIONS/AMMAN (Reuters) – U.S. Ambassador to the United Nations Nikki Haley warned on Monday that Washington"remains prepared to act if we must," if the U.N. Security Council fails to act on Syria, as the Syrian army's onslaught in eastern Ghouta continued unabated.
The United States asked the Security Council to demand an immediate 30-day ceasefire in Damascus and rebel-held eastern Ghouta, where Syrian President Bashar al-Assad's forces, backed by Russia and Iran, say they are targeting"terrorist" groups which are shelling the capital.
The army's onslaught in eastern Ghouta, backed by air and artillery strikes, has killed about 1,160 people since Feb. 18, a war monitoring group said, as Assad seeks to crush the last big rebel stronghold near the capital Damascus.
"It is not the path we prefer, but it is a path we have demonstrated we will take, and we are prepared to take again," Haley told the 15-member Security Council."When the international community consistently fails to act, there are times when states are compelled to take their own action."
The United States bombed a Syrian government air base last year over a deadly chemical weapons attack.
The Security Council demanded a 30-day ceasefire across Syria in a unanimously adopted Feb. 24 resolution.
ANKARA (Reuters) – Turkey and the United States will oversee the withdrawal of Syrian Kurdish YPG militants from northern Syria's Manbij town, Turkish Foreign Minister Mevlut Cavusoglu was quoted by NTV and other local media as saying on Tuesday.
Speaking to reporters on his flight to Moscow, Cavusoglu said Turkey and the United States will decide on a plan for securing Manbij during talks on March 19, but said Turkish forces would carry out a military operation if those failed.
Cavusoglu also said Turkey had not made any demands from the Syrian government regarding Manbij, and added Ankara would monitor the return of weapons given to the YPG by the United States, an issue that has strained ties between the NATO allies.
RBIL, Kurdistan Region (Kurdistan 24) – Islamic State (IS) fighters killed more than ten people in an ambush on the Kirkuk – Baghdad road, security revealed on Monday.
A number of IS militants erected a fake security checkpoint on Sunday evening between the villages of al-Maftul and al-Sarha, located on Daquq – Tuz Khurmatu road, also known as Kirkuk – Baghdad highway.
The jihadist group forced vehicles to pull over by the roadside and killed many people, security in the area told Kurdistan 24.
Between 10 and 15 people were reportedly killed at the fake checkpoint. Kurdistan 24 could not independently verify the accuracy of the claims due to conflicting reports.
"Among the dead is one family – a man, his wife, his brother, and two children. Their bodies were also burned," the security added.
Such incidents bring to mind tactics that the jihadist group, and others such as Al-Qaeda, carried out before capturing Mosul and large swaths of territory in northern Iraq in 2014.
Nineveh (IraqiNews.com) Iraq's security media service has denied reports saying that 11.000 people who had been detained by Islamic State militants in Nineveh remain missing.
The Security Media Center said "some media outlets circulated fabricated, inaccurate news about the so-called missing people in Nineveh". The center particularly criticized Saudi-owned al-Arabiya for quoting an officer from Nineveh police whose name, the center said, does not exist among personnel.
News reports have recently quoted the officer saying that Iraqi government forces, though having run into numerous graves of IS victims, have failed to find out the whereabouts of those particular 11.000 people………………….IS militants have massacred and thousands of Iraqis for contacting security forces and attempting to flee the group's strongholds. The war against the group has displaced at least five million civilians.
Kirkuk (Iraqinews.com) – Suspected Islamic State (IS) militants have detonated a mosque on a road between Tikrit and Kirkuk, a move that is seen by commentators as a new escalation against worship places in Iraq, a security source was quoted as saying.
Speaking to Alsumaria News on Tuesday, the source said, "Armed men believed to be members of the Islamic State (IS) group have sneaked into al-Mustafa mosque on the road between Tikrit and Kirkuk and detonated it."
"The explosion caused material damage to the mosque but no human casualties were reported," the source, who spoke on condition of anonymity, pointed out.
The source noted that a security force rushed to the blast site and opened a probe into the attack………..In recent weeks, suspected Islamic State insurgents have carried out several attacks targeting security forces in the areas north-west of Kirkuk.
WASHINGTON — For 17 years, three successive presidents have told the American public that above all else, Afghanistan must never again provide "safe haven" to terrorist groups seeking to harm the United States and its interests.
But Defense Department and intelligence officials now say exactly that may be on the verge of happening.
With the war against the Islamic State in Iraq and Syria in its twilight, American officials are tracking foreign fighters veering to provinces in Afghanistan's north and east. Meanwhile, Al Qaeda remains a persistent and deadly threat across the country, a senior American general told senators last week.
And a report published in November by the Institute for the Study of War flatly stated that Afghanistan is "a safe haven for terrorist plots against the U.S. homeland."
Afghan officials believe there are now an estimated 3,000 Islamic State fighters in Afghanistan. Last week, the Islamic State in Khorasan released a video promoting Jowzjan Province in Afghanistan's north and Nangarhar Province in the east as the next spot for Islamic extremists to establish a caliphate now that the group has been routed from its de facto capital in Syria.
KABUL — The United States is picking up signs of interest from Taliban elements in exploring the possibility of talks with Kabul to end the more than 16-year-old war, U.S. Defense Secretary Jim Mattis said on Tuesday as he made an unannounced visit to Afghanistan.
"There is interest that we've picked up from the Taliban side," Mattis told reporters before landing in Kabul, saying the signs dated back several months.
Afghan President Ashraf Ghani offered talks without preconditions with the Taliban insurgents last month, in what was seen by U.S. officials as a major overture from Kabul.
Mattis said some of his indications, which he did not detail, dated back before Ghani's remarks.
"We've had some groups of Taliban – small groups – who have either started to come over or expressed an interest in talking," Mattis said.
"In other words, it may not be that the whole Taliban comes over in one fell swoop. That may be a bridge too far to expect. But there are elements of the Taliban clearly interested in talking to the Afghan government," he said.
By Khaama Press on 13 Mar 2018 11:29am
The local officials in eastern Kunar province say dozens of artillery shells were fired on Dangam district from the other side of the Durand Line. The district administrative chif of Dangam Mohammad Rahman Danish said more than 200 rounds of artillery shells landed on Dangam district late on Sunday night. He said the shelling started
By Khaama Press on 13 Mar 2018 10:09am
Amid ongoing efforts to bolster the capabilities of the Afghan Air Force with the deployment of the US-made helicopter, the Russian officials have said Moscow is keen to preserve the use of the Russian helicopters by the Afghan Air Force. Russian Presidential Aide for Military Cooperation Vladimir Kozhin has told the local media outlets that
By Khaama Press on 13 Mar 2018 8:15am
The Chief Executive of the Government of National Unity Abdullah Abdullah slammed the Taliban group for their silence regarding the proposal of the government for reconciliation. In his speech during the Council of Ministers meeting in Kabul on Monday, Abdullah condemned the brutal acts and recent attacks by the militant and terrorist groups. He was

War Casualties By Name – Search by Name

Recent Casualties
Color Denotes Today's Confirmation
The Department of Defense announced today the death of a soldier who was supporting Operation Inherent Resolve.
Sgt. 1st Class Maitland Deweever Wilson, 38, of Brooklyn, New York, died March 7 in Landstuhl, Germany from a non-combat related incident. The incident is under investigation.
Wilson was assigned to the 831st Transportation Battalion, 595th Transportation Brigade, Manama, Bahrain.

Care for Veterans:
PTSD: National Center for PTSDPTSD Care for Veterans, Military, and FamiliesSee Help for Veterans with PTSD to learn how to enroll for VA health care and get an assessment.
All VA Medical Centers provide PTSD care, as well as many VA clinics.Some VA's have programs specializing in PTSD treatment. Use the VA PTSD ProgramLocator to find a PTSD program.If you are a war Veteran, find a Vet Center to help with the transition from military to civilian life.
Memorial Day Video-If I Die Young-Memorial Day Military Tribute
The Bravest thing a man can do is to go fight for the freedom of those he loves, and is willing to lay down his life for that freedom. "Greater love has no one than this, than to lay down one's life for his friends."