BEIRUT (AP) — For Syrians marking seven years of war, their country has never looked as helpless or fragmented.
President Bashar Assad has decimated the rebellion, thanks to massive military aid from Russia and Iran, but foreign powers have carved out zones of influence across the country. Hundreds of thousands of Syrians are trapped in besieged areas, and heavy fighting is underway in the suburbs of Damascus and in the north, where al-Qaida-linked militants are clashing with rival insurgents and Turkish troops are battling a Syrian Kurdish militia.
The violence has accelerated even as the United States, Russia, Iran and Turkey worked diplomatic tracks to broker local truces and freeze the lines of conflict over the last year. Those efforts now appear to have been aimed at mapping out areas of influence.
"I don't even see Syria anymore," said Zaina Erhaim, a Syrian journalist who left the country in 2016 and now lives in London.
"It's called Syria on the map. But if you can think about an ordinary Syrian who wants to go from Daraa to Idlib, can you think about how many countries or nationalities he's going to be passing to reach there?" she asked.
A short list would include the remnants of Syria's Western-backed opposition, Lebanon's Hezbollah and other Iran-backed Shiite fighters from as far away as Afghanistan, Syrian troops, Russian pilots, al-Qaida-linked jihadis, U.S.-allied Kurdish forces and Turkish tank crews………………..Until now, the various foreign powers have been content to leave the fighting to their local proxies, but the risk of a direct confrontation — between Iran and Israel, or even Russia and the United States — has steadily grown.
"Tensions are rising in ways where the trigger becomes much easier to happen," said Maha Yahya, director of the Beirut-based Carnegie Middle East Center.
Syrians say their own country has become an afterthought.
"Syria has been swallowed up," says Wannous, the novelist. "In Syria you feel you no longer have a place, you no longer have a country."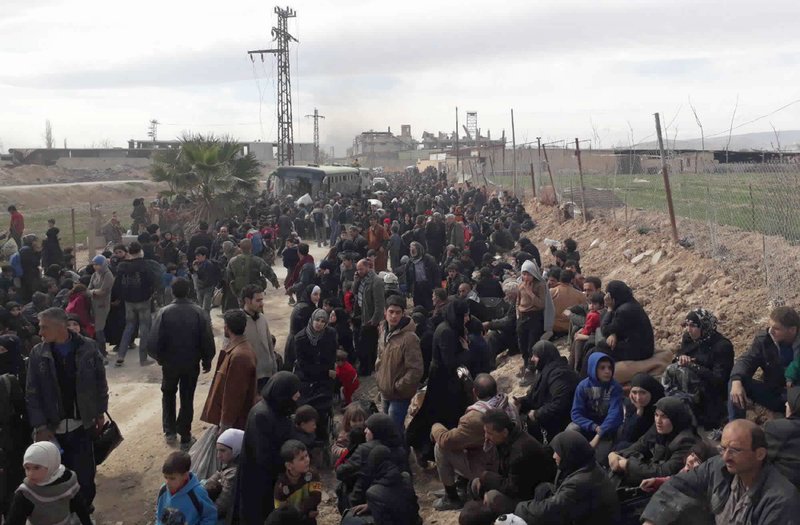 BEIRUT (AP) — Tens of thousands of terrified men, women and children streamed out on foot and in pick-up trucks Thursday from besieged enclaves on two fronts, fleeing bombings from the Syrian military near the capital, Damascus, and Turkish troops in the country's north.
It was the largest single-day exodus of civilians from fighting in Syria's civil war and a reminder of how the conflict that sparked the world's worst humanitarian catastrophe continues to hit new lows as it enters its eighth year.
The flight of an estimated 42,000 civilians came as their attackers— Syrian government troops, backed by Russian aircraft, and Turkish forces — pushed their way into civilian centers, in strategic military advances that could turn the page on some of the most volatile flashpoints of the conflict.
Near the capital, Damascus, the Syrian government is chipping away at one of the largest and most significant opposition bastions since the early days of the rebellion — communities where some 400,000 people are estimated to be holed up.
Since mid-February, Syrian troops have targeted the capital's sprawling eastern Ghouta region with shells, airstrikes and, at times, even toxic gas, according to opposition medics. They are now in control of the majority of the enclave that had been in rebel hands since 2012.
Over the weekend, Syrian troops divided the enclave into three sectors, isolating the major urban centers and enabling a swift advance……………….Amid the chaos, airstrikes continued on eastern Ghouta.
The opposition's Syrian Civil Defense said its first responders have been unable to reach the wounded in several towns in eastern Ghouta because of the intensity of the government's assault. It said one of its rescue workers was killed in an airstrike on the town of Hazeh.
"They are burning Ghouta to the ground," said Anas al-Dimashqi, a media activist and resident of Kafr Batna, a town also targeted in intense airstrikes Thursday.
The Russian military, meanwhile, said it had extended a "humanitarian pause" to operations targeting Douma through Thursday and Friday.