18 Mar
United States Wars, News and Casualties
The dead & suffering children of Iraq.
Video From Ten Years Ago
The War Criminals
The war criminals of the Bush regime lied and fabricated evidence to go to war.
Bush,Cheney,Rice,Rumsfeld, Wolfowitz, and Powell

are war criminals and today they are enjoying freedom.
The thousands dead, the region in chaos, the creation of Islamic State and the trillions of dollars cost and for what? The worst of all is that they were so desperate for war that they had no plans for peace.
So where are the protests and demonstrations today in the US to bring Bush, Chaney, Wolfowitz, Rice, Powell and Rumsfeld to Justice? There are none. There has been none. And now the US people ask – why do we have so many enemies and why do peoples from other cultures hate us?
Shaima Naif's daughter, Jannat, who was killed in Mosul
We condemned children to death, some after many days of writhing in pain on bloodstained mats, without pain relievers. Some died quickly, wasted by missing arms and legs, crushed heads. As the fluids ran out of their bodies, they appeared like withered, spoiled fruits. They could have lived, certainly should have lived – and laughed and danced, and run and played- but instead they were brutally murdered. Yes, murdered!
The war ended for those children, but it has never ended for survivors who carry memories of them. Likewise, the effects of the U.S. bombings continue, immeasurably and indefensibly.
The McGlynn

War News
BEIRUT (Reuters) – Thousands of civilians streamed out of their towns on Saturday to escape battles in the north and south of Syria, where two different offensives have prompted an exodus in recent days.
A new wave of people fled a rebel pocket to army lines in eastern Ghouta near the capital Damascus, as rescuers and a monitor said air strikes pounded the besieged zone.
In the northern Afrin region, people fled as Turkish war planes struck the main town, Syrian Kurdish forces and the monitor said. More than 150,000 people have left the town in the last few days, a senior Kurdish official said.
The two offensives – one by the Syrian army with Russia's support, the other led by Turkey with allied Syrian rebels – entered decisive phases this week. Both have shown how foreign backers and their Syrian allies are reshaping the map after the defeat of Islamic State's self-proclaimed caliphate last year.
BEIRUT (Reuters) – More than 150,000 people have been displaced in the last few days from Syria's Afrin town, a senior Kurdish official and a monitoring group said on Saturday.

Hevi Mustafa, a top member of the civil authority governing the Afrin region, said people were fleeing the main town to other Kurdish-held parts of the region and to government territory.
The Syrian Observatory for Human Rights, a UK-based war monitor, said Turkish warplanes and artillery struck the town overnight, and at least 150,000 had fled since Wednesday.
Doctors and civil leaders among signatories to open letter to the UN, demanding action to stop massacre by Syrian forces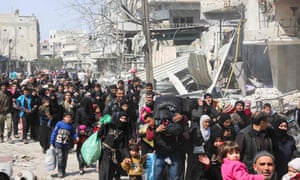 Civilians evacuate from the town of Jisreen in Eastern Ghouta. Photograph: STRINGER/AFP/Getty Images
Doctors and civilians in the besieged enclave of eastern Ghouta have published open letters asking for their safe passage under the supervision of international guarantors, as forces loyal to Bashar al-Assad continue a military offensive that has lasted nearly a month and killed more than 1,500 civilians.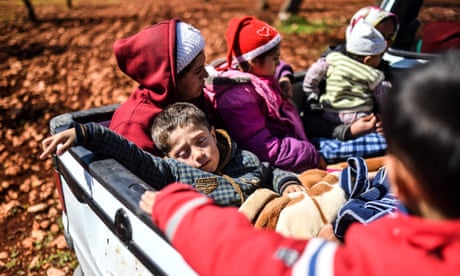 Their messages came as Assad's forces, backed by Russian airstrikes, took control of two more towns in the region bordering the capital Damascus, which housed 300,000 civilians. A mass exodus of tens of thousands of men, women and children continues.
"Doctors in East Ghouta ask for immediate and unconditional evacuation for them, their families, and all the civilians," wrote the signatories, who include civil leaders.
ISTANBUL (Reuters) – Turkish forces and their Syrian rebel allies swept into the northwestern Syrian town of Afrin on Sunday, taking control of the town center after Kurdish YPG forces pulled out, Turkish President Tayyip Erdogan said.
A spokesman for the rebel fighters said they entered Afrin before dawn from three fronts, meeting no resistance.
But a war monitor said clashes continued in parts of Afrin, the main town of the Afrin region which has been under Kurdish control for years. Afrin is one of three Kurdish cantons in northern Syria on the border with Turkey.
The fighting in a once stable pocket of northwest Syria has opened a new front in the country's multi-sided civil war, highlighting the ever greater role of foreign powers in the seven-year-old conflict.
Ankara, which says Syrian Kurdish YPG fighters are an extension of a militant group waging an insurgency inside Turkey, launched its campaign eight weeks ago and says it will extend the offensive to other Kurdish regions where U.S. forces are stationed alongside the YPG, an ally against Islamic State……………..Despite an exodus of more than 150,000 people in recent days, thousands of civilians remained in Afrin, it said.
Iraqi youth carry a victim of a terrorist attack that targeted a vehicle in Baghdad. File Photo
Anbar (Iraqinews.com) – Over 15 civilians, mostly women and children, were killed while 30 others injured in the Iraqi city of Fallujah over the past few months as bombs left by Islamic State (IS) militants went off in different parts in the city, a well-placed official was quoted as saying Sunday.
Speaking to Basnews website, Fallujah's Mayor Issa al-Sayer said "IS militants have left many explosive charges and booby-trapped houses at al-Shohada and al-Nuaimiya districts in southern Fallujah after Iraqi troops forced them out of the city in June 2016."
Sayer warned that the IS bombs "mainly target civilians, who return to their homes in southern Fallujah following the country's victory over the militant group last year."
The mayor called on the Iraqi government to step up efforts to eliminate all war leftovers in Iraq and provide additional equipment to detect bombs to prevent the fall of more victims.
Baghdad (Iraqinews.com) – An Iraqi lawmaker has warned of plots to expand U.S. military bases in Iraq, stressing that his country is no longer in need of American trainers or security advisers.
Knooz Media quoted MP Ali al-Morshidy as saying Sunday that the U.S. administration is plotting to expand its "military bases in Iraq under the pretext of fighting the Islamic State (IS) group and providing security advice for the Iraqi government."
Morshidy pointed out that the Iraqi government, if necessary, could make use of security expertise of any foreign country, other than the U.S., which he accused of exploiting the anti-IS war to ensure a longer presence in the country.
Earlier, an international coalition fighting IS militants in Iraq stressed that the enduring U.S. military presence in Iraq will be conditions-based and "proportional to the need and in coordination with the government of Iraq."
Baghdad (IraqiNews.com) Iraqi Prime Minister Haider al-Abadi has slammed media outlets, which he did not name, for drawing attention to terrorist attacks in the country after the declaration of victory over Islamic State militants.
"There are some who await the occurrence of terrorist attacks to promote the idea that victory has not been fully realized," Abadi said Saturday during a speech on the "Iraqi Martyr Day" an occasion marking the death of Ayatollah Mohamed Baqer al-Hakim, a senior Shia cleric and an opponent to former leader Saddam Hussein who was assassinated in an 2003 bombing that killed more than 80 others.
"A number of agencies have made false reports following bombings, attempting to stabilize security, this is a part of terrorism, a support of terrorism," Abadi said.
"When terrorism strikes, it needs media that highlights its crimes," Abadi stated.
"We have eradicated terrorism and we will never stop before eliminating terrorist ideology," said the prime minister.

Credit

Jim Huylebroek for The New York Times
KABUL, Afghanistan — The Afghan government is seeking to take financial control of independently run shelters for abused women, alarming aid workers who fear the move could bring the shelters under the sway of conservative figures who have condemned them.
Nongovernmental groups now operate about 40 shelters, legal aid offices and halfway houses for women fleeing horrendous abuse from husbands, fathers, brothers and in-laws. Women at the shelters often have had arms and legs broken, and lips, tongues and noses sliced off.
Nearly all the sites depend on donations from international groups and have succeeded by operating in ways that, while in accordance with Afghan law, run counter to the patriarchal culture here.
Often, for example, fathers will try to retrieve daughters from shelters to compel them back into relationships they have fled, such as arranged marriages to older men or to the women's rapists. The latter is still widely seen in Afghanistan as a satisfactory resolution to a rape case.
Under the government's proposal, donors would be obliged to pay into a fund at the Ministry of Women's Affairs, which in turn would disburse money to shelter operators, essentially putting the sites under government control………………Afghan culture, said Ms. Benafsha, of Women for Afghan Women, still lags behind the laws protecting women that Western nations pressed the government to pass. In large parts of Afghanistan, daughters are still considered chattel property, to be traded to settle debts or blood feuds, a practice known as baad, or married off to strengthen familial alliances.
"We talk to the husbands," Ms. Benafsha said. "When we ask, 'Why do you beat your wife?' They say, 'This is my right.'"
By Khaama Press on 18 Mar 2018 3:01pm
At least thirteen Taliban insurgents including two engineers expert in the making of the Improvised Explosive Devices (IEDs) were killed in the US airstrike in southern Kandahar province. (US Military Photo – 455 Air Expeditionary Wing – Bagram Airfield) According to the local security officials, the militants were killed during the airstrike late on Saturday
By Khaama Press on 18 Mar 2018 1:26pm
A Pakistani General has reportedly been killed in an explosion in the restive Zabul province of Afghanistan in the South, the local officials said. The incident has taken place in the vicinity of Shahjoin district late on Friday night and as a result a security guard of the General has also been killed. The provincial
By Khaama Press on 18 Mar 2018 12:17pm
At least one person was killed in an attack on a school in the vicinity of the 13th police district of the city. The security sources are saying that the attacker was a school student who was attempting to hurl a hand grenade on the school compound. The sources further added that the grenade explosion

War Casualties By Name – Search by Name

Recent Casualties
Color

Denotes Today's Confirmation
The Department of Defense announced today the deaths of seven airmen who were supporting Operation Inherent Resolve. They died March 15 when an HH-60 Pave Hawk helicopter crashed in western Iraq. The cause of the crash is under investigation.
Captain Mark K. Weber, 29, of Colorado Springs, Colorado. He was assigned to the 38th Rescue Squadron at Moody Air Force Base, Georgia.
Captain Andreas B. O'Keeffe, 37, of Center Moriches, New York.
Captain Christopher T. Zanetis, 37, of Long Island City, New York.
Master Sergeant Christopher J. Raguso, 39, of Commack, New York.
Staff Sergeant Dashan J. Briggs, 30, of Port Jefferson Station, New York.
Master Sergeant William R. Posch, 36, of Indialantic, Florida.
Staff Sergeant Carl P. Enis, 31, of Tallahassee, Florida.
Both were assigned to the 308th Rescue Squadron, Air Force Reserve, at Patrick Air Force Base, Florida. For more information, media may contact the 920th Rescue Wing public affairs office at 321-615-0329.
The Department of Defense announced today the death of a soldier who was supporting Operation Inherent Resolve.
Sgt. 1st Class Maitland Deweever Wilson, 38, of Brooklyn, New York, died March 7 in Landstuhl, Germany from a non-combat related incident. The incident is under investigation.
Wilson was assigned to the 831st Transportation Battalion, 595th Transportation Brigade, Manama, Bahrain.

Care for Veterans:
PTSD: National Center for PTSDPTSD Care for Veterans, Military, and FamiliesSee Help for Veterans with PTSD to learn how to enroll for VA health care and get an assessment.
All VA Medical Centers provide PTSD care, as well as many VA clinics.Some VA's have programs specializing in PTSD treatment. Use the VA PTSD ProgramLocator to find a PTSD program.If you are a war Veteran, find a Vet Center to help with the transition from military to civilian life.