19 Mar
United States Wars, News and Casualties
The dead & suffering children of Iraq.
Video From Ten Years Ago
The War Criminals
The war criminals of the Bush regime lied and fabricated evidence to go to war.
Bush,Cheney,Rice,Rumsfeld, Wolfowitz, and Powell are war criminals and today they are enjoying freedom.
The thousands dead, the region in chaos, the creation of Islamic State and the trillions of dollars cost and for what? The worst of all is that they were so desperate for war that they had no plans for peace.
So where are the protests and demonstrations today in the US to bring Bush, Chaney, Wolfowitz, Rice, Powell and Rumsfeld to Justice? There are none. There has been none. And now the US people ask – why do we have so many enemies and why do peoples from other cultures hate us?
Shaima Naif's daughter, Jannat, who was killed in Mosul
We condemned children to death, some after many days of writhing in pain on bloodstained mats, without pain relievers. Some died quickly, wasted by missing arms and legs, crushed heads. As the fluids ran out of their bodies, they appeared like withered, spoiled fruits. They could have lived, certainly should have lived – and laughed and danced, and run and played- but instead they were brutally murdered. Yes, murdered!
The war ended for those children, but it has never ended for survivors who carry memories of them. Likewise, the effects of the U.S. bombings continue, immeasurably and indefensibly.
The McGlynn

War News
Credit

Yahya Arhab/EPA, via Shutterstock
WASHINGTON — The Trump administration is furiously trying to fend off a bipartisan effort in Congress to halt American military support to the deadly Saudi-led bombing campaign in Yemen as the kingdom's influential young crown prince, Mohammed bin Salman, arrives in Washington this week for talks with President Trump.
Even as the State Department weighs approval of more than $1 billion in new arms to the Saudis, lawmakers are pushing for a resolution that they say would prevent Washington from giving the Saudis "a blank check" in the conflict. According to the United Nations, 10,000 civilians have been killed and 40,000 wounded in the fighting, exacerbating one of the world's worst humanitarian crises.
Top Pentagon and State Department officials rushed to Capitol Hill last week to warn senators in a closed, classified briefing that approving the Senate measure could seriously damage relations with Saudi Arabia. The crown prince is scheduled to meet with the president and other officials on Tuesday, and a vote on the measure could come later this week.
Since 2015, the United States has provided the Saudi-led air campaign in Yemen with air-to-air refueling, intelligence assessments and other military advice. "New restrictions on this limited U.S. military support could increase civilian casualties, jeopardize cooperation with our partners on counterterrorism and reduce our influence with the Saudis," Defense Secretary Jim Mattis said in a letter last week to Senator Mitch McConnell of Kentucky, the majority leader.
As the Syrian government tightens its noose around the Eastern Ghouta and air strikes pound the enclave from above, doctors and medical staff are locked in a desperate battle to save the wounded. Fearful of targeted strikes, they asked the BBC to withhold their real identities and locations. You may find some of the images upsetting.


Dr Hamid's family lives in one room now – a cramped, dimly-lit garage attached to the building that used to be their home. The rest of the house, in a suburb of the Eastern Ghouta, near Damascus, was destroyed a month ago, days after the Syrian government began a brutal escalation of force against the enclave.
Dr Hamid, 50, leaves the makeshift shelter three times a week for a nearby hospital, where he is a trauma doctor. Each time he kisses his wife and five children goodbye, he tries not to think that it might be the last time. He cycles to the hospital through deserted, rubble-strewn streets, mindful of the danger of being outside even for a few minutes. If the bombing is heavy, and there are many injured, he might work for more than 24 hours without a break. When he is treating wounded children he thinks of his own children, and in the short pauses between patients he prays for their lives. There is no respite.
On Thursday, Syria entered the eighth year of its civil war. More than 400,000 people are believed to have been killed or are missing. Three of Dr Hamid's own children, and many of the children brought to his hospital, have never known peace. The injured children arrive with penetrating shrapnel wounds, missing limbs, severe burns, or sometimes with no visible injuries at all, and yet lifeless, with a lingering smell of gas on their bodies.
Once a haven for refugees from the war in Syria, Afrin has found itself a flashpoint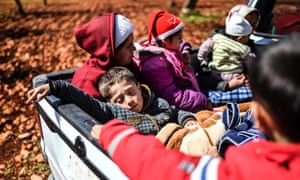 A family flee from the mainly Kurdish town of Afrin. Photograph: Bulent Kilic/AFP/Getty Images
On a muddy trail in northern Syria, the war's newest exiles are leaving. Most are Kurds, fleeing Afrin for the regime-held city of Aleppo, just over a grey horizon. Behind them, Turkish troops and Arab forces they sponsor have encircled their home city except for the squeeze point they used to flee. Ahead, Shia militants allied to the Syrian army man checkpoints deciding who can pass.
With Syria's war ticking over into its eighth gruelling year, the north of the country is once more on the move. The Kurds are bearing the brunt of the latest upheaval, fleeing their enclave near the Turkish border as a promised storming of Afrin draws near. At least 250 civilians have been killed in the bombardment of Afrin as the Turks and their proxies have advanced. Many abandoning the majority-Kurdish enclave fear they may not be allowed to return when – and if – the dust finally settles on this war without restraint. On Sunday morning, the Turkish backed Free Syrian Army rebels said they had entered the town after Kurdish forces pulled out. Everything appears up for grabs now: their homes, futures and even the Kurdish cause.
"We sat this out for the past seven years," said Hero, a Kurdish resident of Afrin who had made it to Aleppo. "We bothered no one and watched the storm pass all around us. Then the Turks came for us."…………..As the siege closes in, and as Syrians of all sects and ethnicities crisscross the battered north, the war is drifting further from resolution than ever before. The plaintive cries of the global aid community remain mostly ignored, as do the demands of United Nations leaders. "Basically, anything goes," said the western official. "There is no right or wrong any more. The international order is dying in the ruins of Syria."
MOSCOW (Reuters) – More than 6,000 people have left Syria's eastern Ghouta since Monday morning, Interfax news agency said, citing Russia's Defense Ministry.
ISTANBUL (Reuters) – A bomb blast in a four-floor building in the town of Afrin in northwest Syria killed seven civilians and four Free Syrian Army members overnight, state-run Anadolu news agency reported on Monday.
The explosion hit after the Syrian rebels swept into the town with Turkish forces on Sunday, declaring full control after an eight-week campaign to drive out Kurdish YPG forces.
Anadolu said the bomb, which it described as planted by terrorists, exploded as the Syrian fighters conducted a search. It ripped out a hole four meters (4.37 yards) deep and badly damaged other buildings and vehicles, it said.
A spokesman for the Turkey-backed Free Syrian Army rebels said on Sunday they had entered Afrin before dawn, meeting no resistance. A war monitor, the Syrian Observatory for Human Rights, said some YPG fighters defied orders to withdraw, but Turkish forces were in control.
YPG plans hit-and-run attacks on Turkish and Syrian rebel forces after pulling out of besieged city
Kurdish militants have vowed to wage a guerrilla war against the Turkish military and their Syrian rebel proxies after the latter swept into the northern Syrian city of Afrin, seizing control from Kurdish forces.
The Turks and their predominantly Arab allies moved quickly into the centre of Afrin and then its surrounds after more than seven weeks of clashes, which are thought to have claimed up to 250 civilian lives.
The rapid fall of Afrin – less than 48 hours after it was surrounded by the advancing Turks and Syrian rebels – belied expectations of a long, gruelling blockade, like the ongoing siege of eastern Ghouta by the Syrian military and its allies.
The withdrawing Kurdish forces framed their exit as a move to prevent more civilian suffering. However, up against a foe with heavier firepower and a modern airforce, and with no foreign backer of their own, the Kurds faced a formidable battle to defend Afrin from advancing forces.
Anbar (Iraqinews.com) – Paramilitary troops of al-Hashd al-Shaabi are reluctant to withdraw from Anbar province following the declaration of victory over Islamic State (IS) militants across Iraq last year, a security source was quoted as saying Monday.
The source, who spoke on condition of anonymity, told al-Quds al-Arabi that the pro-government troops, also known as Popular Mobilization Forces (PMFs), were "planned to leave Anbar after eliminating all IS cells in the province last November, but they did not."
He pointed out that the presence of those troops in Anbar is no longer necessary as there are enough army and police forces, who can face any possible threat by IS militants in the liberated areas.
Despite the crushing defeat of Islamic State in December, the PMFs reject to leave liberated areas under the pretext that there are still explosive bombs and booby-trapped houses there.
Popular Mobilization Forces, an alliance of volunteer Shia paramilitary forces, actively backed the Iraqi government's military campaign against IS since 2014, when they were formed upon a top Shia clergy edict to counter the militant group.
Ebil (Iraqinews.com) – Turkish troops, backed by air coverage, have been deployed in northern Iraq amid violent clashes with fighters of the Kurdistan Workers' Party (PKK), Arabs Today news website reported Monday.
"The forces are now stationed in the sub-district of Sidakan, northeast of the Kurdistan Region's capital, and have already set up fixed barracks in the border triangle between Iraq, Syria and Turkey," Krmanj Izzat, the mayor of Soran city, said.
Izzat expected Turkish troops not to leave their positions in Iraq soon.
Meanwhile, Sidakan Mayor Ihsan Chalabi pointed out that the Turkish troops penetrated deep into his district "by 15 kilometers and established some 12 barracks in the area."
He noted that heavy weapons and jet fighters were used in the clashes between the Turkish troops and PKK fighters.
Kirkuk (IraqiNews.com) Five civilians, including a woman, were killed in an armed attack, west of Kirkuk, a local source said on Sunday.
"A group of gunmen, believed to be members of Islamic State, attacked a village in al-Riyad town in Hawija, leaving five civilians, including a woman, killed," the source told AlSumaria News.
"Security troops transferred the victims to forensic medicine department," the source, who preferred anonymity, added without giving further details.
A total of 91 Iraqi civilians were killed and 208 others were injured in acts of terrorism, violence and armed conflict in February, according to the monthly report issued by the United Nations Assistance Mission for Iraq (UNAMI).
Baghdad was the worst affected Governorate, with 195 civilian casualties (49 killed, 146 injured). Anbar Governorate ranked second place, with 14 killed and 37 injured, and Diyala had 12 killed and 11 injured.
KABUL, Afghanistan — The Taliban appear to have rejected the bold proposal by President Ashraf Ghani of Afghanistan to invite them for direct peace talks with the government. In an unsigned commentary published last week on their official website, the Taliban said, "The permission of peace and war are with the Americans …." and claimed that their policy of wanting to "talk to American invaders about peace and stability rather than talking to their slave regime is now widely accepted by the independent Western analysts and other intellectuals."
Instead of dealing with the Kabul government, the Taliban want to talk to the United States, which they see as the decisive actor on the battlefield. Even with the United States' diminished direct combat role since 2015, American airstrikes and operations by American special forces pose the gravest danger to the Taliban.
Over years of interviews with Taliban fighters and leadership I have found that the narrative of the United States being the primary enemy unites them. In recent weeks, the Taliban too have called for peace talks but only with the United States.
Mr. Ghani's proposal and his speech did not mention the potential withdrawal of American and other foreign forces from Afghanistan, which is a core demand of the Taliban. A declaration signed by the participants at the Kabul Process meeting on Feb. 28, at which Mr. Ghani made his offer, hinted at the possibility of discussing such a withdrawal. The Taliban leaders turned out to be skeptical of a proposal that did not address the issue up front.
The Taliban's determination to talk to the United States is reinforced by their sense that ruling elites in Kabul are unwilling to negotiate a political settlement and unable to deliver on the group's primary demands. The Taliban see the perpetuation of the war, which guarantees continued Western military and financial support to Afghanistan, as serving the interests of the ruling elites more than a political agreement that would force them to share power. Taliban leaders also believe that the decision to withdraw foreign forces from Afghanistan does not rest with the Afghan government.
JALALABAD, Afghanistan — A bomb planted on a motobike exploded in Afghanistan on Monday outside a political rally being held by a veteran insurgent commander who made peace with the government last year, killing three people and wounding eight, officials said.
The former commander, Gulbuddin Hekmatyar, was not hurt in the blast that came 10 minutes after his rally ended, in the eastern city of Jalalabad, as people were leaving the site, said Attahullah Khogyani, spokesman for the provincial governor.
Hekmatyar, a major figure in Afghanistan's decades of conflict who served as prime minister for a period during civil war in the 1990s, was in recent years allied with the Taliban.
He returned to Kabul last year under a peace deal with the government, as head of his powerful Hizb-i-Islami party.
No group has claimed responsibility for the blast.
The Iraqi city has suffered decades of conflict, leaving thousands of people with physical and psychological scars
The Iraqi city of Fallujah has a decades-long legacy of conflict. It was a major battlefield during the US invasion 15 years ago, and in more recent years, has experienced the trauma of ISIL rule.
The armed group was pushed out of Fallujah two years ago, but people are still dealing with the psychological scars.
Locals are trying to turn the page with a new campaign to commemorate the dead and move on from the past.
By Khaama Press on 19 Mar 2018 1:58pm
An explosion rocked Jalalabad city the provincial capital of eastern Nangarhar province earlier this afternoon, leaving at least three dead. The incident took place in the vicinity of the 4th police district of the city after the explosives planated in a motorcycle went off. The provincial government media office confirmed the incident and said at
By Khaama Press on 19 Mar 2018 12:45pm
At least nineteen militants were killed during the operations conducted by the Afghan and US forces in southern Helmand province of Afghanistan. According to the local officials, the operations were conducted in Marjah and Nahr-e-Saraj disricts of Helmand in the past 24 hours. The provincial government media office in a statement said the Afghan Air

War Casualties By Name – Search by Name

Recent Casualties
Color

Denotes Today's Confirmation
The Department of Defense announced today the deaths of seven airmen who were supporting Operation Inherent Resolve. They died March 15 when an HH-60 Pave Hawk helicopter crashed in western Iraq. The cause of the crash is under investigation.
Captain Mark K. Weber, 29, of Colorado Springs, Colorado. He was assigned to the 38th Rescue Squadron at Moody Air Force Base, Georgia.
Captain Andreas B. O'Keeffe, 37, of Center Moriches, New York.
Captain Christopher T. Zanetis, 37, of Long Island City, New York.
Master Sergeant Christopher J. Raguso, 39, of Commack, New York.
Staff Sergeant Dashan J. Briggs, 30, of Port Jefferson Station, New York.
Master Sergeant William R. Posch, 36, of Indialantic, Florida.
Staff Sergeant Carl P. Enis, 31, of Tallahassee, Florida.
Both were assigned to the 308th Rescue Squadron, Air Force Reserve, at Patrick Air Force Base, Florida. For more information, media may contact the 920th Rescue Wing public affairs office at 321-615-0329.
The Department of Defense announced today the death of a soldier who was supporting Operation Inherent Resolve.
Sgt. 1st Class Maitland Deweever Wilson, 38, of Brooklyn, New York, died March 7 in Landstuhl, Germany from a non-combat related incident. The incident is under investigation.
Wilson was assigned to the 831st Transportation Battalion, 595th Transportation Brigade, Manama, Bahrain.

Care for Veterans:
PTSD: National Center for PTSDPTSD Care for Veterans, Military, and FamiliesSee Help for Veterans with PTSD to learn how to enroll for VA health care and get an assessment.
All VA Medical Centers provide PTSD care, as well as many VA clinics.Some VA's have programs specializing in PTSD treatment. Use the VA PTSD ProgramLocator to find a PTSD program.If you are a war Veteran, find a Vet Center to help with the transition from military to civilian life.