26 Mar
United States Wars, News and Casualties
The War Criminals
How many Iraqis have died as a result of the invasion 15 years ago? Some credible estimates put the number at more than one million. You can read that sentence again.
The invasion of Iraq is often spoken of in our country as a "blunder," or even a "colossal mistake." It was a crime.
Those who perpetrated it are still at large. Some of them have even been rehabilitated thanks to the horrors of a mostly amnesiac citizenry. (A year ago Mr. Bush was on "The Ellen DeGeneres Show," dancing and talking about his paintings.) The war criminals, 

Bush,Cheney,Rice,Rumsfeld, Wolfowitz, and Powell

who sold us the war still go on doing what they do.
 Iraq is now far worse than it was during Saddam's reign. And that is what America's war achieved and bequeathed to Iraqis.
Shaima Naif's daughter, Jannat, who was killed in Mosul
We condemned children to death, some after many days of writhing in pain on bloodstained mats, without pain relievers. Some died quickly, wasted by missing arms and legs, crushed heads. As the fluids ran out of their bodies, they appeared like withered, spoiled fruits. They could have lived, certainly should have lived – and laughed and danced, and run and played- but instead they were brutally murdered. Yes, murdered!
The war ended for those children, but it has never ended for survivors who carry memories of them. Likewise, the effects of the U.S. bombings continue, immeasurably and indefensibly.
The McGlynn

War News
SOURCE: Al Jazeera News
With millions displaced and disease rife, the human cost is already incalculable. The international community must act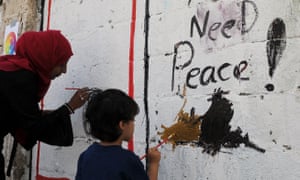 'Peace is the only thing that will allow us to rebuild our country; Yemeni people have been suffering for far too long.' Photograph: Xinhua / Barcroft Images
I

n three years, so many things can happen in a person's life. A child will start going to nursery, a student can get a bachelor's degree. In three years, someone can meet the love of their life and get married; someone can start a business and succeed. Imagine what change can happen to a country that is considered the poorest in the Middle East and exhausted by war.
The day that changed the lives of millions of Yemenis was 26 March 2015, when, within three hours, the sky filled with aircraft. People were shocked by what was happening, hoping that when the sun next rose, this would just have been a bad dream. They thought it would only last for a couple of days, but sadly three days passed and there was still war; three weeks passed and there was still war; three months passed and there was still war; and, today, three years will have passed, yet the situation keeps deteriorating.
Within just one month, more than 1.8 million people had been forced to flee their homes, becoming internally displaced within Yemen. There was a glimmer of hope when the airport reopened, and people were able to both come back and to travel abroad for medical treatment, education and other purposes. Students resumed school and universities also reopened. But, unfortunately, today, 2 million children are estimated to be out of school.
As the war entered its third year, Yemen's humanitarian needs increased tremendously, with 22.2 million Yemenis – nearly three in every four people – reliant on humanitarian aid to survive. On top of this, dengue fever, malaria, diphtheria and cholera began to spread fast. In May 2017, there was a huge outbreak of cholera, which went on to affect 1 million Yemenis before the end of the year. Yemenis will never forget the images we saw of crowded hospitals, and the fear of the disease spreading again.
As the war on Yemen enters its fourth year, women in Sanaa say death and destruction stalks every family.
Sanaa, Yemen – Suha Salem tries to hide her pain and anguish, but the suffering inflicted upon her by Yemen's relentless three-year-war is etched on her face.
As her eyes shift from left to right, the conflict has devastated nearly every neighbourhood in the densely populated capital, she says, with death and destruction stalking every family.
"My brother was injured by a landmine and had his right leg and left hand amputated," she told Al Jazeera.
"Another relative was shot and is now paralysed."
The indiscriminate loss of civilian life was so widespread, Salem said, that she feared for her children's psychological future.
PARIS (Reuters) – Seventy-five percent of French people want President Emmanuel Macron to suspend arms' exports to countries, including Saudi Arabia and the United Arab Emirates, involved in the Yemeni war, a YouGov poll showed on Monday.
Pressure has been mounting on Macron to scale back military support for the two Gulf Arab states over concerns that French weapons are being used in the offensive, which marks its third year on Monday.
The two Gulf Arab states are leading a coalition fighting the Iran-aligned Houthi group that controls most of northern Yemen and the capital Sanaa. The conflict has killed more than 10,000 people and displaced more than three million.
The poll showed that 88 percent of respondents believed their country should stop arms exports to all countries where there is a risk they could be used against civilian populations and specifically 75 percent for those operating in Yemen.
Seven in 10 people said the government should stop exporting weapons to Saudi Arabia and the UAE…………….The poll comes as some European states, notably Germany, have curtailed ties with the Saudi-led military coalition. France, Britain and the United States have not followed suit.
Official warns disease that hit more than 1m children in 2017 will return within months
Yemeni children present documents to receive food rations provided by a local charity in Sana'a, Yemen. Photograph: Hani Mohammed/AP
Yemen is likely to be hit by another outbreak of deadly cholera within months, Unicef's Middle East director has warned on the eve of the third anniversary of the country's civil war.
More than 1 million children were infected by cholera last year due to lack of access to water and vaccination. Unicef's Geert Cappelaere said one child every 10 minutes was dying from preventable diseases in Yemen.
"Let us not fool ourselves. Cholera is going to come back," he said on Sunday. "In a few weeks from now the rainy season will start again and without a huge and immediate investment, cholera will again hit Yemeni children."
Cappelaere said Unicef had to negotiate for months with both sides in the war for permission to start a vaccination programme, and some military factions still banned imported solar power as a means of pumping drinking water.
"We are using endless time, energy and money for issues that we should never have to negotiate. The lives of children should not be negotiable," he said.
At a press conference in Jordan, recounting a week-long visit to Yemen, Cappelaere accused the two pre-eminent sides in the war, Saudi Arabia and Yemeni Houthi rebels, of fighting a "senseless and brutal war on children".
Iraqis walk along a destroyed street in the old city of Mosul eight months after the Iraqi government forces regained control from Isis. Photograph: Ahmad Al-Rubaye/AFP/Getty Image
Months after Isis was forced out and tired of waiting for government action, volunteers have begun the urgent job of rebuilding Iraq's cities
"Even if we work every day for the next six months, we still won't finish this job – we don't have enough support or equipment," says Muhammed Shaban, an officer of the Civil Defence Force in west Mosul, in the exhausted tone of someone who is unable to separate his life from his work.
Shaban and his colleagues were recovering as many as 30 bodies a day in August last year, one month after the fighting ceased. More bodies still lie under the rubble along the banks of the Tigris river, where the last bloody battles were fought. "We are working with our hands and it is so hard," says Shaban. He is still waiting to be paid.
Thoughts of rebuilding Mosul are far from the minds of the men tasked with recovering the dead. The true number of the lives lost in the battle against Isis here – when, in the final months of the campaign, families trapped by Iraqi forces had no escape from airstrikes and snipers – is not known, but the Associated Press reported nearly 10,000 civilian deaths; the UN found the figure to be 2,521 at a minimum. The old city, once Mosul's economic centre and beating heart, became a burial chamber…………….Meanwhile, more than 2.3 million Iraqis remain displaced, including nearly 700,000 from Mosul. Peace is not enough for them to return home – they need accommodation, education and employment. For that, buildings and infrastructure must be repaired. With prices forced upwards by the shortage of undamaged housing, many families cannot pay rent, and risk being displaced again.
"The old city is completely destroyed," says Ahmed Saleh al-Jabouri, Mosul's assistant municipality director, speaking in his large office on the east side of the city, not far from Mosul University. "I don't know how much it will cost to rebuild Mosul, but it will be billions of dollars." The municipality alone owes $7m dollars, he says, including unpaid salaries for street cleaners.
Baghdad (IraqiNews.com) The Joint Operations Command has denied news about abduction of 50 security conscripts on the international road in Anbar.
In a statement posted by the Security Media Center, the command said, "Al-Ittijiah satellite channel posted false news about kidnapping of 50 conscripts of the border troops and army on the international road in Anbar."
The command stressed taking legal measures.
Abadi announced in December full liberation of Iraqi lands, declaring end of war against IS members. However, Islamic State continues to launch sporadic attacks across Iraq against troops. Security reports indicate that the militant group still poses threat against stability in the country.
Baghdad (Iraqinews.com) – The Islamic State (IS) group is still posing a security threat to civilians and security forces in oil-rich Kirkuk province despite its crushing defeat at the hands of Iraqi troops last year, Kirkuk governor Rakan al-Jabouri was quoted as saying.
In an interview with Alquds Alarabi Newspaper, Jabouri said, "It will not be easy to continue purging the province from IS insurgents, who started to carry out terrorists attacks again civilians and security forces again."
Jabouri blamed the "rapid liberation" of Kirkuk for the re-emergence of IS group; pointing out that it is impossible to accurately estimate the number of IS militants in the province as many of them had fled to the mountainous areas during the liberation operation of Kirkuk.
Jabouri, on the other hand, praised efforts exerted by the federal government and local authorities to eliminate terrorism in Kirkuk, stressing that Iraq will continue its offensives against the militant group.
Kirkuk (IraqiNews.com) Five personnel of the pro-government troops were killed as an armed attack targeted them, southwest of Kirkuk, a security source said on Sunday.
Speaking to AlSumaria News, the source said, "Islamic State members set up an armed ambush near Dugheila village, located between al-Riyad and Hawija towns, which left five personnel of al-Hashd al-Shaabi (Popular Mobilization Forces) killed."
"Security troops cordoned off the accident scene and transferred the victims to forensic medicine department," the source, who preferred anonymity, added.
Islamic State continues to launch sporadic attacks across Iraq against troops. Security reports indicate that the militant group still poses threat against stability in the country.
A total of 91 Iraqi civilians were killed and 208 others were injured in acts of terrorism, violence and armed conflict in February, according to the monthly report issued by the United Nations Assistance Mission for Iraq (UNAMI).
KANADAHAR, Afghanistan — The U.S. military has been flying UH-60 Black Hawk helicopter missions in Afghanistan for years, but the storied aircraft will soon take to the country's battlefields manned by pilots and crews from the Afghan military.
The first group of Afghan trainees is in the final phase of instruction by U.S. advisers at an air base in southern Kandahar province, as part of the process of transitioning Afghanistan's military from Soviet-era Mi-17 helicopters to the U.S.-made Black Hawks. They are scheduled to begin flying missions in May.
"The Mi-17 that the UH-60 is going to replace is not sustainable as a helicopter, so what we are doing, we are giving to the Afghan Air Force sustainable, very highly capable and battle-proven helicopters so that they can take the fight forward as they continue to safeguard this country," said U.S. Air Force Maj. Ted Rogers, director of operations for the 441st Air Expeditionary Advisory Squadron. He called the transition "hugely important."
By Khaama Press – Mon Mar 26 2018, 9:17 am
At least seven people including armed militants and ordinary civilians were killed or wounded in separate explosions triggered by the Improvised Explosive Devices in eastern Nangarhar province.
The provincial government media office in a statement said at least one civilian was killed and four others were wounded in an explosion in Khogyani district.
The statement further added that the incident took place at around 9 am local time after explosives planted a cart went off in Chamtal Township.
According to the provincial government, the wounded individuals have been shifted to hospital and their health condition has been reported as satisfactory.
By Khaama Press on 26 Mar 2018 9:55am
The former Afghan President Hamid Karzai condemned the explosion that targeted a sit-in camp of the supporters of Pashtun Protection Movement in Kabul. The office of the former President in a statement said Hamid Karzai strongly condemns the terrorist attack on the sit-in camp in solidarity with Pashtun Protection Movement across the Durand Line. The Read the full a

War Casualties By Name – Search by Name

Recent Casualties
Color Denotes Today's Confirmation
The Department of Defense announced today the deaths of seven airmen who were supporting Operation Inherent Resolve. They died March 15 when an HH-60 Pave Hawk helicopter crashed in western Iraq. The cause of the crash is under investigation.
Captain Mark K. Weber, 29, of Colorado Springs, Colorado. He was assigned to the 38th Rescue Squadron at Moody Air Force Base, Georgia.
Captain Andreas B. O'Keeffe, 37, of Center Moriches, New York.
Captain Christopher T. Zanetis, 37, of Long Island City, New York.
Master Sergeant Christopher J. Raguso, 39, of Commack, New York.
Staff Sergeant Dashan J. Briggs, 30, of Port Jefferson Station, New York.
Master Sergeant William R. Posch, 36, of Indialantic, Florida.
Staff Sergeant Carl P. Enis, 31, of Tallahassee, Florida.
Both were assigned to the 308th Rescue Squadron, Air Force Reserve, at Patrick Air Force Base, Florida. For more information, media may contact the 920th Rescue Wing public affairs office at 321-615-0329.
The Department of Defense announced today the death of a soldier who was supporting Operation Inherent Resolve.
Sgt. 1st Class Maitland Deweever Wilson, 38, of Brooklyn, New York, died March 7 in Landstuhl, Germany from a non-combat related incident. The incident is under investigation.
Wilson was assigned to the 831st Transportation Battalion, 595th Transportation Brigade, Manama, Bahrain.

Care for Veterans:
PTSD: National Center for PTSDPTSD Care for Veterans, Military, and FamiliesSee Help for Veterans with PTSD to learn how to enroll for VA health care and get an assessment.
All VA Medical Centers provide PTSD care, as well as many VA clinics.Some VA's have programs specializing in PTSD treatment. Use the VA PTSD ProgramLocator to find a PTSD program.If you are a war Veteran, find a Vet Center to help with the transition from military to civilian life.