30 Mar
United States Wars, News and Casualties
The War Criminals
How many Iraqis have died as a result of the invasion 15 years ago? Some credible estimates put the number at more than one million. You can read that sentence again.
The invasion of Iraq is often spoken of in our country as a "blunder," or even a "colossal mistake." It was a crime.
Those who perpetrated it are still at large. Some of them have even been rehabilitated thanks to the horrors of a mostly amnesiac citizenry. (A year ago Mr. Bush was on "The Ellen DeGeneres Show," dancing and talking about his paintings.)
The war criminals, Bush,Cheney,Rice,Rumsfeld, Wolfowitz, and Powell who sold us the war still go on doing what they do.
 Iraq is now far worse than it was during Saddam's reign. And that is what America's war achieved and bequeathed to Iraqis.
 
We condemned children to death, some after many days of writhing in pain on bloodstained mats, without pain relievers. Some died quickly, wasted by missing arms and legs, crushed heads. As the fluids ran out of their bodies, they appeared like withered, spoiled fruits. They could have lived, certainly should have lived – and laughed and danced, and run and played- but instead they were brutally murdered. Yes, murdered!
The war ended for those children, but it has never ended for survivors who carry memories of them. Likewise, the effects of the U.S. bombings continue, immeasurably and indefensibly.
The McGlynn

War News
From Corbyn's rise to Brexit and the collapse of trust in Westminster, this is Britain's Vietnam: a conflict without end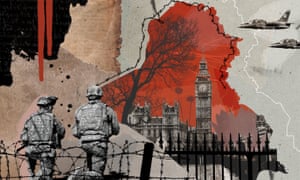 Illustration by Eleanor Shakespeare
"Y

ou can tell a true war story by the way it never seems to end," wrote Tim O'Brien in his novel about Vietnam, The Things They Carried. "Not then, not ever. In a true war story, if there's a moral at all, it's like the thread that makes the cloth. You can't tease it out. You can't extract the meaning without unravelling the deeper meaning."
For all the ways in which US politics remain unpredictable, the presence of the Vietnam war as an episodic inflection point remains constant. Only last week, after Donald Trump declared a ban on some transgender people serving in the military, it was pointed out that he avoided serving in Vietnam thanks to five deferments, the last for "bone spurs in his heels". (When asked which heel a few years ago he couldn't remember.) More than 40 years after the fall of Saigon, it continues to influence how Americans view politics at home.
What has been true for Vietnam and America has become the case for Britain and Iraq. It is 15 years this month since Britain and the US invaded Iraq. The most important consequences of that war are, of course, in the place where it was fought, where it has left an estimated million people dead, destabilised a region, and spawned far more jihadist terror, including Isis, than it could ever have thwarted.
BBC: Syria Photos, Getty Images



BEIRUT (Reuters) – The massive Russian-backed Syrian military offensive in suburbs east of Damascus is almost over, with rebels holed up in just a single town after abandoning the rest of the eastern Ghouta enclave, Moscow said on Thursday.


Russia and the rebel faction controlling Douma, the last Ghouta town still in insurgent hands, said they were still negotiating over the fate of the town. Moscow said it saw a chance of the remaining insurgents quitting Douma.
Thousands of fighters have accepted Russian-brokered deals to leave other parts of the enclave in the past week with their families on government-supplied buses, giving them safe passage to other insurgent-held areas. Tens of thousands of other civilians have stayed behind to accept state rule, and tens of thousands more have fled across the frontline.
The collapse of rebel control in eastern Ghouta, after one of the fiercest campaigns of the seven year war, has delivered the insurgents their worst defeat since they were driven out of Aleppo in 2016.
At a weekly briefing, Russia's Foreign Ministry spokeswoman said the "counter-terrorist operation" in eastern Ghouta had nearly finished, according to RIA state news agency.
PARIS (Reuters) – France's president on Thursday assured the Kurdish-dominated Syrian Democratic Forces (SDF) of Paris' support to stabilise northeastern Syria against Islamic State, and Kurdish officials said he had committed to sending troops to the region.
Emmanuel Macron has been criticized at home over his response to a Turkish military operation against YPG militants. The group makes up a large portion of the SDF, which have been at the forefront of the U.S.-led coalition's strategy to defeat the hard-line militants.
Macron met earlier for the first time with a delegation that included the YPG, which Turkey is trying to sweep away from its border, its political arm the PYD, and Christian and Arab officials.
"The president … paid tribute to the sacrifices and the determining role of the SDF in the fight against Daesh," Macron's office said in a statement.
"He assured the SDF of France's support for the stabilization of the security zone in the north-east of Syria, within the framework of an inclusive and balanced governance, to prevent any resurgence of Islamic State."
ISTANBUL (Reuters) – France's promise to back Syrian forces led by a Kurdish militia amounts to support for and legitimization of terrorist groups, Turkish Deputy Prime Minister Bekir Bozdag said on Friday.
French President Emmanuel Macron on Thursday assured the Syrian Democratic Forces (SDF), dominated by the Kurdish YPG, of Paris' support to stabilize northeastern Syria against Islamic State.
"Those who enter into cooperation and solidarity with terror groups against Turkey…will, like the terrorists, become a target of Turkey," Bozdag wrote on Twitter. "We hope France does not take such an irrational step."
LASHKAR GAH, Afghanistan (Reuters) – Last week, the Afghan air force dropped its first laser-guided missile on a Taliban compound in Farah, the western Afghan province that has seen increasing fighting since the beginning of the year.
The strike was an important milestone for the air force that underlined the growing importance of Farah, where hundreds of Taliban fighters have appeared since U.S.-backed Afghan forces stepped up operations in neighboring Helmand province.
Over the past month, Taliban fighters have delivered a series of blows to government forces, helped, according to officials in the area, by neighboring Iran, which shares a long, porous border with the province.
In one recent week, 180 soldiers and police were killed and hundreds wounded, according to a senior security official, who spoke on condition of anonymity. He said weekly death tolls for security forces in the province could reach as high as 250………."We don't know the reason for the escalation of violence but I can say people are very scared and people in the city haven't slept in peace for months because of the fighting," said Abdullah, a shopkeeper in Farah city who said he now struggles to pay the rent on his shop.
By Khaama Press on 30 Mar 2018 1:17pm
At least six militants affiliated with the Islamic State of Iraq and Syria (ISIS) terrorist group were killed in a drone strike carried out by the US forces in eastern Kunar province. According to the local officials, the latest drone was carried out on Wednesday in the vicinity of Chapa Dara district. Provincial governor's spokesman
By Khaama Press on 30 Mar 2018 11:12am
The Taliban insurgents have executed one of the abducted civilians hours after they were kidnapped from a highway in western Herat province of Afghanistan. According to the local government officials, at least five civilians were kidnapped by the Taliban insurgents from Shindand district late on Thursday afternoon. Provincial governor's spokesman Jilani Farhad confirmed the incident
By Khaama Press on 30 Mar 2018 10:02am
The Pakistani officials are claiming that the recent attack on a military unit in Swat district was carried out by the militants of Tehrik-e-Taliban Pakistan based in Afghanistan. The Ministry of Foreign Affairs of Pakistan in a statement has said that a dossier containing evidences and documents regarding their claims has been handed over to

War Casualties By Name – Search by Name

Recent Casualties
Color Denotes Today's Confirmation
The Department of Defense announced today the deaths of seven airmen who were supporting Operation Inherent Resolve. They died March 15 when an HH-60 Pave Hawk helicopter crashed in western Iraq. The cause of the crash is under investigation.
Captain Mark K. Weber, 29, of Colorado Springs, Colorado. He was assigned to the 38th Rescue Squadron at Moody Air Force Base, Georgia.
Captain Andreas B. O'Keeffe, 37, of Center Moriches, New York.
Captain Christopher T. Zanetis, 37, of Long Island City, New York.
Master Sergeant Christopher J. Raguso, 39, of Commack, New York.
Staff Sergeant Dashan J. Briggs, 30, of Port Jefferson Station, New York.
Master Sergeant William R. Posch, 36, of Indialantic, Florida.
Staff Sergeant Carl P. Enis, 31, of Tallahassee, Florida.
Both were assigned to the 308th Rescue Squadron, Air Force Reserve, at Patrick Air Force Base, Florida. For more information, media may contact the 920th Rescue Wing public affairs office at 321-615-0329.
The Department of Defense announced today the death of a soldier who was supporting Operation Inherent Resolve.
Sgt. 1st Class Maitland Deweever Wilson, 38, of Brooklyn, New York, died March 7 in Landstuhl, Germany from a non-combat related incident. The incident is under investigation.
Wilson was assigned to the 831st Transportation Battalion, 595th Transportation Brigade, Manama, Bahrain.

Care for Veterans:
PTSD: National Center for PTSDPTSD Care for Veterans, Military, and FamiliesSee Help for Veterans with PTSD to learn how to enroll for VA health care and get an assessment.
All VA Medical Centers provide PTSD care, as well as many VA clinics.Some VA's have programs specializing in PTSD treatment. Use the VA PTSD ProgramLocator to find a PTSD program.If you are a war Veteran, find a Vet Center to help with the transition from military to civilian life.