10 Apr
United States Wars, News and Casualties
The War Criminals
How many Iraqis have died as a result of the invasion 15 years ago? Some credible estimates put the number at more than one million. You can read that sentence again.
The invasion of Iraq is often spoken of in our country as a "blunder," or even a "colossal mistake." It was a crime.
Those who perpetrated it are still at large. Some of them have even been rehabilitated thanks to the horrors of a mostly amnesiac citizenry. (A year ago Mr. Bush was on "The Ellen DeGeneres Show," dancing and talking about his paintings.)
The war criminals, 

Bush,Cheney,Rice,Rumsfeld, Wolfowitz, and Powell

who sold us the war still go on doing what they do.
Iraq war: us soldier throws his medals and stars and quits
Just imagine one of those victims is your father, mother, brother, sister or friend.

 Iraq is now far worse than it was during Saddam's reign. And that is what America's war achieved and bequeathed to Iraqis.
 
We condemned children to death, some after many days of writhing in pain on bloodstained mats, without pain relievers. Some died quickly, wasted by missing arms and legs, crushed heads. As the fluids ran out of their bodies, they appeared like withered, spoiled fruits. They could have lived, certainly should have lived – and laughed and danced, and run and played- but instead they were brutally murdered. Yes, murdered!
The war ended for those children, but it has never ended for survivors who carry memories of them. Likewise, the effects of the U.S. bombings continue, immeasurably and indefensibly.
The McGlynn

War News
AL-MOKHA, Yemen (Reuters) – High-tech radar units stretch along the quay of this tiny Yemeni port and underwater fortifications have been built to block attacks from unmanned boats packed with explosives.
Once a thriving coffee exporting hub, al-Mokha is now a heavily guarded forward naval base from which the United Arab Emirates monitors shipping lanes and the movements of the Houthis, their foes in a conflict that has sparked a humanitarian crisis in one of the world's poorest countries.
"They cannot get close to this port anymore, they will be under fire," said a UAE soldier loading an anti-aircraft gun onto a patrolling warship.
Winning and keeping control of Yemen's ports in the Red Sea, no matter how small, is of paramount importance to the UAE, a key partner in the Saudi-led coalition that has overseen the effort to wrest the coast from the Iran-aligned Houthis as part of a strategy to box them in around the capital, Sanaa.
PARIS (Reuters) – A rights group filed a lawsuit against Saudi Crown Prince Mohammed bin Salman during his visit to France on Tuesday, accusing him of complicity in torture and inhumane treatment in Yemen, lawyers said.
The complaint on behalf of Taha Hussein Mohamed, director of the Legal Center for Rights and Development (LCRD), said the prince who is Saudi Arabia's defense minister was responsible attacks that hit civilians in Yemen.
The case was filed in a Paris court as pressure grows on President Emmanuel Macron to curb arms sales to Saudi Arabia and the United Arab Emirates, which spearhead a coalition fighting Iran-aligned Houthi rebels who control of most of northern Yemen and the capital Sanaa.
A Saudi government communications office and the royal court did not immediately respond to requests for comment. The Saudi-led coalition regularly says it does not target civilians.
The rights group, based in the Houthi-controlled Yemeni capital Sanaa, says on its website it monitors and documents rights' violations in Yemen.
"He ordered the first bombings on Yemeni territory on March 25, 2015," the group's lawyers, Joseph Breham and Hakim Chergui, said in the complaint seen by Reuters.
"The existence of indiscriminate shelling by the coalition armed forces affecting civilian populations in Yemen can be qualified as acts of torture," they wrote……………….The Yemen conflict has killed more than 10,000 people and displaced more than 3 million – more than 10 percent of the population.
The complaint also accuses the coalition of depriving millions of people of access to basic necessities due to indiscriminate bombings and a naval blockade of Yemeni ports. The war has pushed the country to the brink of famine.
Once cordial relations are breaking down amid Israeli fears that Moscow is failing to control Iran and its proxies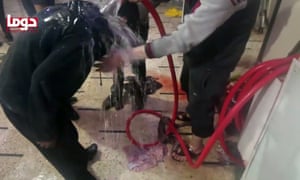 An image from a video released by the Douma City Coordination Committee shows volunteers spraying a man with water at a makeshift hospital after an alleged chemical attack. Photograph: AFP/Getty Images
Russia's decision to out Israel as being responsible for the attack on a Syrian regime airbase east of Homs marks a breakdown in the previously cordial relations between the Israeli prime minister, Benjamin Netanyahu, and the Russian president, Vladimir Putin.
Israel has launched many previous strikes into Syria, mainly to protect its borders from a buildup of Iranian-backed Hezbollah forces and armaments on the Golan Heights. Israel has not, as a rule, attacked al-Qaida or Islamic State positions in Syria.
On all previous occasions, Russia – which has controlled Syrian air space since it sent troops to defend the regime of Bashar al-Assad in 2015 – has turned a blind eye. There had been an understanding that Israeli interests in Syria would be preserved by Russia, primarily by limiting the presence of Iranian-backed troops in Syria's south-west. The Israeli fear is that access to the Syrian side of the Golan Heights allows Hezbollah to launch attacks into Israel.
The US and Russia have traded barbs at a UN Security Council meeting on the alleged chemical attack in Syria.
Russian representative Vassily Nebenzia said the incident in Douma was staged and that US military action in response could have "grave repercussions".
US envoy Nikki Haley said Russia – a Syrian military backer – had the "blood of Syrian children" on its hands.
Earlier, the UN human rights chief said world powers were treating chemical weapons use with a "collective shrug".
US President Donald Trump pledged later on Monday that the incident would "be met forcefully", adding that the US had a lot of military options and a decision on a response would be taken "tonight" or "shortly".
Calling Syrian President Bashar al-Assad a "monster", Ms Haley said that if the UN Security Council acts or not, "either way, the United States will respond".
"Meetings are ongoing, important decisions are being weighed even as we speak," she said.
After a seven-week government offensive has killed over 2,000 and a suspected chemical attack that killed at least 40, the Jaish al-Islam rebel group is evacuating Douma.
Video
Syrian rebel fighters are leaving Douma.
A Russian-sponsored deal requires that the Jaish al-Islam rebel group surrender all prisoners before leaving.
The deal comes as international condemnation increases over chemical attacks that claimed the lives of more than 40 people in the Damascus district.
No country comes out from the Syrian hell with any credit, says Chris Doyle as readers react to recent articles by Simon Jenkins, Patrick Wintour and Matthew d'Ancona
Video Source BBC
At least 70 people have died in a suspected chemical attack in Douma, the last rebel-held town in Syria's Eastern Ghouta, rescuers and medics say. Volunteer rescue force the White Helmets tweeted graphic images showing several bodies in basements. It said the deaths were likely to rise.
Just what sort of victory does Simon Jenkins believe that President Assad is going to get (Only Assad's victory will end Syria's civil war. The west can do nothing, theguardian.com, 9 April)? Syria is smashed, its cities in rubble, half its population displaced, and to bring this about Assad has had to mortgage his country's independence to Russia and Iran. Turkey is helping itself to a new security belt in the north. Assad has failed his country and people, and should be held accountable for this and his myriad crimes.
Merely pointing the finger at western failures in Syria misses the full picture. No country and no actor comes out of this hell with any credit at all. Moreover, the most damaging external interventions in Syria in terms of destruction and killing were non-western, those of Russia, Iran, Turkey and Islamic State. The Gulf states ran a largely inept proxy war as well.
The question now is, after so much destruction and suffering, how can we give some meaning to the hundreds of thousands of innocent Syrians killed in these wars? Reconstruction and reconciliation are vital, but so too is political change and more inclusive government.
RAQQA, Syria (AP) — Across the ruins of Raqqa, the streets are cloaked in grey, the color of bare cement and rubble left behind by the bombing campaign that finally drove out Islamic State militants. Among the people of this Syrian city, the fear, anger and desperation are palpable.
Six months after IS's ouster, residents feel they have been abandoned as the world moves on. They are trying to rebuild their lives, but they say they fear everyone around them: the Kurdish-led militia that administers the majority Arab city; the Syrian government, which has forces nearby; criminal gangs who kidnap or rob whoever shows signs of having money; and IS militants who may still be hiding among the people.
"Daesh is still among us," said a businessman, using the Arabic acronym for IS. To give an example, he said, a man lobbed a hand grenade at a recent funeral when mourners played music, something hard-line Sunni Muslims view as sacrilegious
The Associated Press spoke to over a dozen residents on a recent visit, most of who spoke of their woes on condition of anonymity because they feared for their safety. The businessman asked to be identified by the diminutive of his first name, Abdu.

After fleeing Raqqa during the coalition-led assault on the city last year, Abdu returned once the militants were driven out in October. He found his restaurant and his home next to it destroyed. He was angry, but practical. His life has been on hold for too long and he wanted to get on with his business. So he hired workers and started to rebuild.
WASHINGTON/UNITED NATIONS (Reuters) – U.S. President Donald Trump on Monday promised quick, forceful action in response to a deadly suspected chemical weapons attack in Syria, appearing to suggest a potential military response.
Trump told a meeting with military leaders and national security advisers he would make a decision by Monday night "or very shortly thereafter" on a response, adding that the United States had "a lot of options militarily" on Syria.
"But we can't let atrocities like we all witnessed … we can't let that happen in our world … especially when we're able to because of the power of the United States, the power of our country, we're able to stop it."
The suspected chemical weapons attack late on Saturday killed at least 60 people, with more than 1,000 injured at several sites in Douma, a city near the capital, Damascus, according to a Syrian aid organization.
Credit

Syrian Civil Defense White Helmets, via Associated Press
A year ago, the United States launched 59 Tomahawk missiles at a Syrian air base in retaliation for the government of President Bashar al-Assad's use of chemical weapons against his own population. Almost exactly a year later, Mr. Assad seems to have once again unleashed a chemical agent on the besieged suburbs of Damascus, killing dozens.
Will President Trump decide, again, that the use of chemical weapons is intolerable and respond with missiles? Perhaps. But it won't matter. When it comes to Syria, Washington is incoherent and, ultimately, disinterested. Mr. Assad knows this. He also knows that as long as there isn't prolonged, focused American military action, his regime can survive. He rarely puts himself in real danger. For years, he has carefully balanced his aggression and brutality with strategic patience. This has served him well with the United States; it most likely will again in the latest crisis.
Mr. Assad is a careful watcher of the signals from Washington and he understands America's appetites and anxieties in the Middle East. He likes what he's seen recently.
Just a week before this latest chemical attack, Mr. Assad heard President Trump announce that American troops would be leaving Syria "very soon," and that Syria would become someone else's problem. A few weeks before that, Rex Tillerson, then the secretary of state, announced that the United States would essentially be staying in Syria indefinitely and sought nothing less than Mr. Assad's removal. Then Mr. Tillerson was fired.
Given this chaos, contradiction and incoherence, it's little surprise Mr. Assad feels confident enough to use chemical weapons. In fact, he probably believes he can wait out limited strikes by an ambivalent president. He knows this because throughout the years he's learned that the United States and its allies don't have the appetite or commitment to hold him accountable for his serial obscenities. That means he can engage in periodic acts of extreme aggression and wait for the inevitable international outcry and limited backlash to pass.
Waiting out halfhearted enemies is a key Assad survival tool.
War Casualties By Name – Search by Name

Recent Casualties
Color Denotes Today's Confirmation
The Department of Defense announced today the death of a soldier who was supporting Operation Inherent Resolve.
Master Sgt. Jonathan J. Dunbar, 36, of Austin, Texas, died March 30 in Manbij, Syria as a result of injuries when an improvised explosive device (IED) detonated near his patrol. The incident is under investigation.
Dunbar was assigned to Headquarters, U.S. Army Special Operations Command, Ft Bragg, North Carolina.
The Department of Defense announced today the deaths of seven airmen who were supporting Operation Inherent Resolve. They died March 15 when an HH-60 Pave Hawk helicopter crashed in western Iraq. The cause of the crash is under investigation.
Captain Mark K. Weber, 29, of Colorado Springs, Colorado. He was assigned to the 38th Rescue Squadron at Moody Air Force Base, Georgia.
Captain Andreas B. O'Keeffe, 37, of Center Moriches, New York.
Captain Christopher T. Zanetis, 37, of Long Island City, New York.
Master Sergeant Christopher J. Raguso, 39, of Commack, New York.
Staff Sergeant Dashan J. Briggs, 30, of Port Jefferson Station, New York.
Master Sergeant William R. Posch, 36, of Indialantic, Florida.
Staff Sergeant Carl P. Enis, 31, of Tallahassee, Florida.
Both were assigned to the 308th Rescue Squadron, Air Force Reserve, at Patrick Air Force Base, Florida. For more information, media may contact the 920th Rescue Wing public affairs office at 321-615-0329.
The Department of Defense announced today the death of a soldier who was supporting Operation Inherent Resolve.
Sgt. 1st Class Maitland Deweever Wilson, 38, of Brooklyn, New York, died March 7 in Landstuhl, Germany from a non-combat related incident. The incident is under investigation.
Wilson was assigned to the 831st Transportation Battalion, 595th Transportation Brigade, Manama, Bahrain.

Care for Veterans:
PTSD: National Center for PTSDPTSD Care for Veterans, Military, and FamiliesSee Help for Veterans with PTSD to learn how to enroll for VA health care and get an assessment.
All VA Medical Centers provide PTSD care, as well as many VA clinics.Some VA's have programs specializing in PTSD treatment. Use the VA PTSD ProgramLocator to find a PTSD program.If you are a war Veteran, find a Vet Center to help with the transition from military to civilian life.