25 Apr
United States Wars, News and Casualties
The War Criminals
Rage Against The Dying
"Do Not Go Gentle Into That Good Night" by Dylan Thomas
How many Iraqis have died as a result of the invasion 15 years ago? Some credible estimates put the number at more than one million. You can read that sentence again.
The invasion of Iraq is often spoken of in our country as a "blunder," or even a "colossal mistake." It was a crime.
Those who perpetrated it are still at large. Some of them have even been rehabilitated thanks to the horrors of a mostly amnesiac citizenry. (A year ago Mr. Bush was on "The Ellen DeGeneres Show," dancing and talking about his paintings.)
The war criminals, Bush,Cheney,Rice,Rumsfeld, Wolfowitz, and Powell

who sold us the war still go on doing what they do.
We condemned children to death, some after many days of writhing in pain on bloodstained mats, without pain relievers. Some died quickly, wasted by missing arms and legs, crushed heads. As the fluids ran out of their bodies, they appeared like withered, spoiled fruits. They could have lived, certainly should have lived – and laughed and danced, and run and played- but instead they were brutally murdered. Yes, murdered!
The war ended for those children, but it has never ended for survivors who carry memories of them. Likewise, the effects of the U.S. bombings continue, immeasurably and indefensibly.
The McGlynn

War News

BEIRUT (AP) — Three years ago, Ahmad Mohsin was forced to relocate his campsite in Lebanon's Bekaa Valley after soldiers raided the community of Syrian refugees where he lived and smashed their belongings. The message was clear, he said: they were not wanted.
On Tuesday, Mohsin, 39, was preparing to break down his camp again, after an order came from the security services to move once more.
Even as donor nations raise money for Syria's neighbors to host refugees of the country's civil war, a leading international rights group and the U.N.'s refugee agency say Lebanese authorities are evicting refugees from towns and camps in the country on questionable legal grounds.
Mohsin, from Syria's third largest city Homs, said on the second order to move he went to a local official to ask for help.
"He said, go back to Syria," said Mohsin. Neither the local official nor the military could be reached for comment.
Human Rights Watch said it documented evictions in 13 towns and villages putting more than 3,600 Syrians on the streets since 2016. It said the Lebanese Army uprooted another 7,500 refugees near a military base around Christmas 2017.
Meanwhile, the country's General Security apparatus, which handles border security, arranged for 500 refugees in the Shebaa farms area to return to their villages in western Syria, one week ago. The U.N. did not participate in the operation, saying it did not believe Syria was safe enough for returnees. (The refugees said on Lebanese media they were returning voluntarily.)
In Lebanon's eastern Bekaa Valley, the Army can designate areas as military zones and close them off to campsites. Their boundaries are rarely clear and appear to shift without notice.
Humanitarian chief and special envoy warn of potential for another humanitarian catastrophe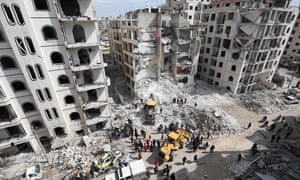 The UN's two most senior Syria experts have warned of an Aleppo-style humanitarian catastrophe in Idlib as an EU donor conference aimed to raise up to $6bn (£4bn)to help Syrians displaced both inside and outside the country.
Idlib is the last major territory still in rebel hands. It is partly held by Hay'at Tahrir al-Sham, a jihadi group that Russia and the Syrian government regard as a legitimate target in an area where civilians and fighters continue to pour in as part of evacuation deals in other parts of the country.
Jan Egeland, the head of the UN's humanitarian task force for Syria, said: "All my energies currently and in the coming weeks are dedicated to averting a fresh humanitarian disaster."
He described Idlib as "one giant area of displacement". "More than half of the population in Idlib of 2 million have already been displaced, sometimes multiple times, so there has to be a negotiated end to the conflict in Idlib. You cannot have a war in the midst of the largest cluster of refugee camps and displaced people in the world," he said.
"My fear is the Syrian government will say the place is filled with 'terrorists' and therefore you can wage war like they did during the sieges in Aleppo and eastern Ghouta … Yes, there are bad guys wearing beards, but there are many more women and children and they deserve protection. You cannot wage war as if everyone is a terrorist, or else will it be a nightmare."…………….

A displaced child in Idlib province. Photograph: Yahya Nemah/EPA
Jordan's planning minister, Imad Fakhoury, said the 1.3 million Syrian refugees in his country were costing $1.5bn, 16% of Jordanian spending and 4% of GDP. Jordan's economy has grown by only 2% a year in the last seven years, down from 6% in 2000-10.
WASHINGTON — So much for an abrupt U.S. pullout from Syria.
One month ago President Donald Trump surprised many, including some in his own administration, by announcing, "We'll be coming out of Syria, like, very soon. Let the other people take care of it now." He insisted that the time had come for the U.S. military to shift its focus away from Syria.
But on Tuesday, it was clear that something or someone had changed Trump's mind.
The president said at a White House news conference with French President Emmanuel Macron at his side that before the U.S. withdraws from Syria, "we want to leave a strong and lasting footprint." This long-term approach, he added, was "a very big part" of his conversation with Macron, who told reporters that he and Trump now agree that the Syria problem involves more than Trump's priority of ridding the country of Islamic State extremists.
The two leaders indicated that they see Syria as part of a broader problem of instability in the Middle East, which includes Iran's role in Syria and Iraq.
That kind of strategic thinking bears little resemblance to Trump's words in late March when he said it was time to leave Syria to others.
BRUSSELS (AP) — The European Union on Wednesday called on Russia, Iran and Turkey to ensure a halt to fighting in Syria, as international donors gathered in Brussels to drum up aid for the conflict-ravaged country.
As the conflict enters its eighth year, more than 13 million Syrians are in need of humanitarian assistance. Over 5 million refugees are displaced outside the country.
EU foreign policy chief Federica Mogherini said that Russia, Iran and Turkey have a "special responsibility" to establish a cease-fire and to press Syrian President Bashar Assad to return to the negotiating table.
"We are seeing an escalation in military activities which is exactly the contrary" to what they promised, Mogherini said.
Around 80 countries, organizations and partners backing Syria are taking part in the donor conference. The EU hopes the meeting will give impetus to stalled peace moves under U.N. auspices, on top of gathering humanitarian aid for Syria and for neighbors like Lebanon and Jordan, struggling to cope with millions of refugees.
The U.N. is seeking more than 7 billion dollars at this conference, even as donors weary of ploughing money into a conflict with no obvious end. German Foreign Minister Heiko Maas said his country will provide 1 billion euros in new funding for 2018 and subsequent years.
The EU, along with many other partners, refuses to help with serious reconstruction in Syria until meaningful peace moves to end the conflict resume in Geneva.
MOLKINO, Russia (Reuters) – The Kremlin says it has nothing to do with Russian civilians fighting in Syria but on three recent occasions groups of men flying in from Damascus headed straight to a defense ministry base in Molkino, Reuters reporters witnessed.
Molkino in southwestern Russia is where the Russian 10th Special Forces Brigade is based, according to information on the Kremlin website.
The destination of the Russians arriving from Syria provides rare evidence of a covert Russian mission in Syria beyond the air strikes, training of Syrian forces and small numbers of special forces troops acknowledged by Moscow.
Kremlin spokesman Dmitry Peskov said on Feb. 14 Russians may be in Syria but "they are not part of the armed forces of the Russian Federation". He referred Reuters to the defense ministry when asked why civilians fighting in Syria return to a military base. The ministry did not immediately respond.
A duty officer at the 10th special forces brigade, asked why non-military people were entering the military base, said: "Nobody enters it, as far as I am aware … You've seen them, okay. But you should not believe everything … You can maybe. But how can we comment on what other organizations do?"
KABUL (Reuters) – The Taliban announced the start of their annual spring offensive on Wednesday, dismissing an offer for peace talks by President Ashraf Ghani but pledging to focus on U.S. forces in Afghanistan.
The announcement of the Al Khandaq campaign, named after the so-called Battle of the Trench, fought by the Prophet Mohammad to defend the city of Medina in the early days of Islam, marks the symbolic start of the fighting season.
But heavy fighting has been going on in different parts of the country and hundreds of people have been killed and wounded in a series of high profile attacks in Kabul since the beginning of the year, despite Ghani's offer in February for peace talks "without preconditions".
The Taliban, in their statement on Wednesday, dismissed the peace overtures as a "conspiracy".
"Their main effort is to deviate public opinion from the illegitimate foreign occupation of the country, as the Americans have no serious or sincere intentions of bringing the war to an end," the Taliban said.
By Khaama Press – Wed Apr 25
A number of militants launched an attack on a check post located in the outskirts of Kabul city earlier this morning, leaving a number of police forces dead or wounded.
A spokesman for the Kabul police commandment Hashmat Stanikzai confirmed the incident took place in the vicinity of Company area in the 13th police district of the city.
Stanikzai further added that attack has left at least two policemen dead, citing the preliminary information but added that the an investigation is underway in this regard.
In the meantime, security sources in the area and eyewitnesses are saying that three policemen have lost their lives in the attack.
No individual or group including the Taliban insurgents has so far claimed responsibility behind the attack.
War Casualties By Name – Search by Name:

Recent Casualties:
Color Denotes Today's Confirmation
The Department of Defense announced today the death of a soldier who was supporting Operation Inherent Resolve.
Master Sgt. Jonathan J. Dunbar, 36, of Austin, Texas, died March 30 in Manbij, Syria as a result of injuries when an improvised explosive device (IED) detonated near his patrol. The incident is under investigation. Dunbar was assigned to Headquarters, U.S. Army Special Operations Command, Ft Bragg, North Carolina.
The Department of Defense announced today the deaths of seven airmen who were supporting Operation Inherent Resolve. They died March 15 when an HH-60 Pave Hawk helicopter crashed in western Iraq. The cause of the crash is under investigation.
Captain Mark K. Weber, 29, of Colorado Springs, Colorado. He was assigned to the 38th Rescue Squadron at Moody Air Force Base, Georgia.
Captain Andreas B. O'Keeffe, 37, of Center Moriches, New York.
Captain Christopher T. Zanetis, 37, of Long Island City, New York.
Master Sergeant Christopher J. Raguso, 39, of Commack, New York.
Staff Sergeant Dashan J. Briggs, 30, of Port Jefferson Station, New York.
Master Sergeant William R. Posch, 36, of Indialantic, Florida.
Staff Sergeant Carl P. Enis, 31, of Tallahassee, Florida.
Both were assigned to the 308th Rescue Squadron, Air Force Reserve, at Patrick Air Force Base, Florida. For more information, media may contact the 920th Rescue Wing public affairs office at 321-615-0329.
The Department of Defense announced today the death of a soldier who was supporting Operation Inherent Resolve.

Sgt. 1st Class Maitland Deweever Wilson, 38, of Brooklyn, New York, died March 7 in Landstuhl, Germany from a non-combat related incident. The incident is under investigation.Wilson was assigned to the 831st Transportation Battalion, 595th Transportation Brigade, Manama, Bahrain.

Care for Veterans:
PTSD: National Center for PTSDPTSD Care for Veterans, Military, and FamiliesSee Help for Veterans with PTSD to learn how to enroll for VA health care and get an assessment.
All VA Medical Centers provide PTSD care, as well as many VA clinics.Some VA's have programs specializing in PTSD treatment. Use the VA PTSD ProgramLocator to find a PTSD program.If you are a war Veteran, find a Vet Center to help with the transition from military to civilian life.