28 Apr
United States Wars, News and Casualties
The War Criminals
Rage Against The Dying
"Do Not Go Gentle Into That Good Night" by Dylan Thomas
How many Iraqis have died as a result of the invasion 15 years ago? Some credible estimates put the number at more than one million. You can read that sentence again.
The invasion of Iraq is often spoken of in our country as a "blunder," or even a "colossal mistake." It was a crime.
Those who perpetrated it are still at large. Some of them have even been rehabilitated thanks to the horrors of a mostly amnesiac citizenry. (A year ago Mr. Bush was on "The Ellen DeGeneres Show," dancing and talking about his paintings.)
The war criminals, Bush,Cheney,Rice,Rumsfeld, Wolfowitz, and Powell

who sold us the war still go on doing what they do.
We condemned children to death, some after many days of writhing in pain on bloodstained mats, without pain relievers. Some died quickly, wasted by missing arms and legs, crushed heads. As the fluids ran out of their bodies, they appeared like withered, spoiled fruits. They could have lived, certainly should have lived – and laughed and danced, and run and played- but instead they were brutally murdered. Yes, murdered!
The war ended for those children, but it has never ended for survivors who carry memories of them. Likewise, the effects of the U.S. bombings continue, immeasurably and indefensibly.
The McGlynn

War News
Photo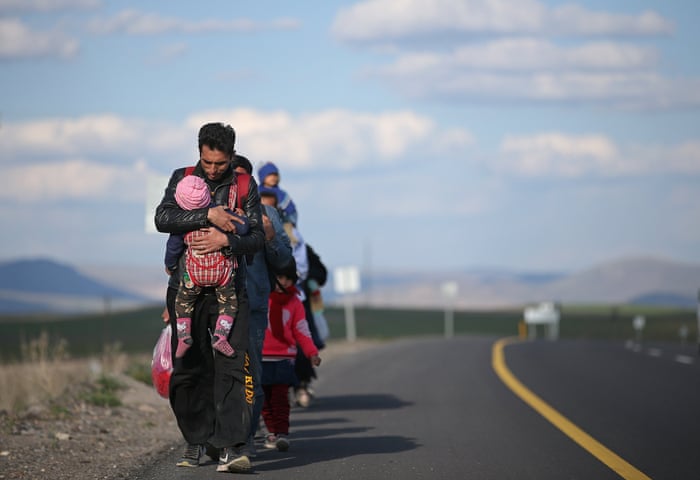 Erzurum, TurkeyRefugees arrive in Turkey where the government has deported at least 7,000 Afghan refugees back to Kabul recently. Nearly 20,000 refugees fleeing Afghanistan, Pakistan and Bangladesh have arrived in the country over the past three months.
Photograph: Erdem Sahin/EPA
NIAMEY, Niger (AP) — Under the watchful eyes of U.S. authorities, an elite group of local police officers in Niger's capital slipped into a home, rescued a "hostage," detained an "extremist" and pretended to kill another.
The police training in one of Africa's most remote, impoverished countries is crucial as extremists linked to the Islamic State group and al-Qaida carry out increasingly bold attacks in West Africa's vast Sahel region. In October, four U.S. soldiers and five Nigeriens were killed in an ambush claimed by Islamic State group-linked fighters in rural Niger.
Amid questions over the role of the U.S. military in this part of the world, there is a renewed focus on training local law enforcement officers in the hopes that extremism can be better countered at the community level and along borders. The challenges are great in Niger, where residents of its vast, largely ungoverned spaces say they are losing confidence in authorities.
As extremism grows "it's important not to lose sight of the issues at the core of their proliferation and recruitment success, notably bad and often abusive governance," said Corinne Dufka, Human Rights Watch's West Africa director. "The Islamist groups are cleverly exploiting local grievances to make inroads with local populations."
That includes abusive practices by local security forces, she said, calling efforts to professionalize them key.
The U.S. ambassador to Niger, Eric P. Whitaker, said the U.S. is addressing the "factors that create an environment for extremism" by investing more than $500 million over the next few years into local programs for better governance, education, health, agriculture, security and more.
A scheme funded by the EU is helping Syrian children join Turkish schools and be educated alongside local schoolchildren.
Since the project started in November 2016, the number of Syrian children enrolled in Turkish schools has doubled to nearly 350,000.
Video by Mark Lowen, Goktay Koraltan and Pinar Ersoy
BEIRUT (AP) — Fighting between Syrian troops and Islamic State group fighters in southern neighborhoods of the capital Damascus left dozens of people dead or wounded on Friday, according to a war monitor and Syrian state media, as government forces pressed their offensive to capture last parts of the city out of state control.
The Britain-based Syrian Observatory for Human Rights said government bombardment killed 17 people, including seven children and two women in the Palestinian refugee camp of Yarmouk mostly controlled by IS.
Syrian state media reported that IS shelling of the government-held neighborhood of Qadam in Damascus killed two children and wounded eight others.
State news agency SANA said government forces and their allies pushed deeper into the nearby Hajar al-Aswad neighborhood that is controlled by IS.
SANA added that the army offensive aims to "completely eradicate the terrorists from south Damascus."
The weeklong fighting in Hajar al-Aswad and the nearby Yarmouk camp has killed dozens of fighters on both sides. The area is the last district out of government control in Damascus and its capture would boost security in Syrian President Bashar Assad's seat of power.
State TV reported that Syrian warplanes struck an IS arms depot in the area, setting off explosions. IS claimed in a statement Friday that its fighters killed 20 soldiers in the area.
The U.N. agency for Palestinian refugees, UNRWA, warned of "catastrophic consequences of the severe escalation" of fighting affecting the Yarmouk refugee camp and surrounding areas.
(Reuters) – Islamic State's Amaq News Agency released a video on Friday showing what they said was Islamic State militants shooting "two advocators" for next month's Iraqi parliamentary elections in the town of al-Tarmiyah, in the Salah al-Din governorate north of Baghdad.
Islamic State said earlier this week that it would attack polling stations in Iraq during parliamentary elections next month and that anyone who participated in the vote would be considered an infidel.
In an audio message released on April 22, the militant group's spokesman accused Iraq's Shi'ite-led government of being a proxy of Iran and warned that anyone who runs or votes in the May 12 election would be targeted.
Iraqi officials have said polling stations will be well protected.
KUNDUZ, Afghanistan (Reuters) – Taliban fighters seized a district center in northern Afghanistan on Saturday, while a bomb at an army base in the southern province of Helmand killed at least five people.
The latest violence came as insurgents pushed ahead with a spring offensive.
Fighters captured the governor's house and police headquarters in Aq Tapa, in the Qala-e Zal district of Kunduz province and Afghan government forces were fighting to drive them out, said Sayed Assadullah Sadat, a provincial council member.
The Taliban's main spokesman Zabihullah Mujahid said fighters had captured a police headquarters, 10 security check posts and a market in Qala-e Zal, north of Kunduz city.
At the other end of the country, in Helmand, insurgents launched a vehicle bomb attack on a military base in Nad Ali district, killing four civilians and a soldier, according to a statement from the provincial governor's office.
The Taliban announced the official start of their annual spring offensive this week, continuing the heavy fighting seen across Afghanistan recently as warmer weather has set in.
KABUL, Afghanistan — A Taliban suicide bomber attacked an army base in southern Helmand province Saturday killing four civilians and two soldiers, officials said.
Omar Zwak, spokesman for the provincial governor in Helmand, said three civilians and two soldiers were wounded in the attack in Nad Ali district. He said the bomber was a Taliban fighter who targeted the base using a mini-van, said Zwak.
Maj. Abdul Qadeer Bahadorzai, the army corps commander's spokesman in the south, confirmed the attack. He said the death toll could change.
No one immediately claimed responsibility for the attack, but Taliban insurgents announced the start of their annual spring offensive on Wednesday even as insurgents are already regularly launching attacks and battling security forces.
In another report, in eastern Nangarhar province five people were killed and 15 others wounded in separate attacks, said Attahullah Khogyani, spokesman for the provincial governor.
By Khaama Press on 28 Apr 2018 3:40pm .
A key Taliban group militant involved in the making of improvised explosive devices was killed along with five others during the operations of the Afghan Intelligence operatives, National Directorate of Security (NDS), in eastern Nangarhar province. The provincial government media office in a statement said the operations were conducted in Adwar area of Khogyani district
By Khaama Press on 28 Apr 2018 2:29pm.
The Afghan Special Forces and Air Force intervened as the Taliban group attempted to seize the control of Qalai Zal district in northern Kunduz province of Afghanistan. The 209th Shaheen Corps of the Afghan Military in the North said the Taliban insurgents launched a coordinated attack on Aaq Tapa Bazaar at around 5 am this
War Casualties By Name – Search by Name:

Recent Casualties:
Color Denotes Today's Confirmation
The Department of Defense announced today the death of a soldier who was supporting Operation Inherent Resolve.
Master Sgt. Jonathan J. Dunbar, 36, of Austin, Texas, died March 30 in Manbij, Syria as a result of injuries when an improvised explosive device (IED) detonated near his patrol. The incident is under investigation. Dunbar was assigned to Headquarters, U.S. Army Special Operations Command, Ft Bragg, North Carolina.
The Department of Defense announced today the deaths of seven airmen who were supporting Operation Inherent Resolve. They died March 15 when an HH-60 Pave Hawk helicopter crashed in western Iraq. The cause of the crash is under investigation.
Captain Mark K. Weber, 29, of Colorado Springs, Colorado. He was assigned to the 38th Rescue Squadron at Moody Air Force Base, Georgia.
Captain Andreas B. O'Keeffe, 37, of Center Moriches, New York.
Captain Christopher T. Zanetis, 37, of Long Island City, New York.
Master Sergeant Christopher J. Raguso, 39, of Commack, New York.
Staff Sergeant Dashan J. Briggs, 30, of Port Jefferson Station, New York.
Master Sergeant William R. Posch, 36, of Indialantic, Florida.
Staff Sergeant Carl P. Enis, 31, of Tallahassee, Florida.
Both were assigned to the 308th Rescue Squadron, Air Force Reserve, at Patrick Air Force Base, Florida. For more information, media may contact the 920th Rescue Wing public affairs office at 321-615-0329.
The Department of Defense announced today the death of a soldier who was supporting Operation Inherent Resolve.

Sgt. 1st Class Maitland Deweever Wilson, 38, of Brooklyn, New York, died March 7 in Landstuhl, Germany from a non-combat related incident. The incident is under investigation.Wilson was assigned to the 831st Transportation Battalion, 595th Transportation Brigade, Manama, Bahrain.

Care for Veterans:
PTSD: National Center for PTSDPTSD Care for Veterans, Military, and FamiliesSee Help for Veterans with PTSD to learn how to enroll for VA health care and get an assessment.
All VA Medical Centers provide PTSD care, as well as many VA clinics.Some VA's have programs specializing in PTSD treatment. Use the VA PTSD ProgramLocator to find a PTSD program.If you are a war Veteran, find a Vet Center to help with the transition from military to civilian life.