05 May
United States Wars, News and Casualties
Rage Against The Dying
"Do Not Go Gentle Into That Good Night" by Dylan Thomas
The War Criminals
How many Iraqis have died as a result of the invasion 15 years ago? Some credible estimates put the number at more than one million. You can read that sentence again.
The invasion of Iraq is often spoken of in our country as a "blunder," or even a "colossal mistake." It was a crime.
Those who perpetrated it are still at large. Some of them have even been rehabilitated thanks to the horrors of a mostly amnesiac citizenry. (A year ago Mr. Bush was on "The Ellen DeGeneres Show," dancing and talking about his paintings.)
The war criminals, Bush,Cheney,Rice,Rumsfeld, Wolfowitz, and Powell

who sold us the war still go on doing what they do.
We condemned children to death, some after many days of writhing in pain on bloodstained mats, without pain relievers. Some died quickly, wasted by missing arms and legs, crushed heads. As the fluids ran out of their bodies, they appeared like withered, spoiled fruits. They could have lived, certainly should have lived – and laughed and danced, and run and played- but instead they were brutally murdered. Yes, murdered!
The war ended for those children, but it has never ended for survivors who carry memories of them. Likewise, the effects of the U.S. bombings continue, immeasurably and indefensibly.
The McGlynn

War News
Boost for campaigners trying to prevent use of British weapons by Saudi forces in Yemen as judges cite concern over international law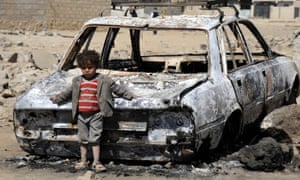 A child leans against a burned-out car following airstrikes by the Saudi-led coalition in Sana'a, the capital of Yemen. Photograph: Anadolu Agency/Getty Images
Campaigners have been granted an appeal against a high court ruling allowing the UK to continue selling arms to Saudi Arabia that may have been used by Saudi forces in Yemen.
The court of appeal, responding to an attempt by the Campaign Against Arms Trade (CAAT) to overturn last summer's verdict, said the key issue that needed to be examined was the accepted principle that the British government should "not grant a licence if there is a clear risk that the items might be used in the commission of a serious violation of international humanitarian law".
The issue of British arms sales to Saudi Arabia, and the government's support for the Saudi intervention in Yemen, has become more controversial as the war in Yemen has dragged on, plunging the country into increasing chaos and hunger.
Saudi-led forces have also been accused of air raids in which civilians have been killed.
The granting of the appeal will allow campaigners to challenge the high court ruling that the secretary of state for international trade had not acted unlawfully or irrationally in refusing to block export licences for the multi-billion sale and transfer of arms and military equipment.
Meet Hamoudi, kidnapped and tortured after standing up to Islamic State group in Raqqa.
As the extremists imposed their harsh rule on his city, Hamoudi decided to mobilise protests against them, but then he must face the consequences.
THE HAGUE/PARIS (Reuters) – Western powers are weighing a French proposal to create a new mechanism at the world's chemical weapons watchdog that would enable it to assign blame for attacks with banned munitions, diplomatic sources told Reuters.
The Organization for the Prohibition of Chemical Weapons (OPCW) in The Hague currently only determines whether such attacks have taken place, not who carried them out.
A new mechanism could fulfill that role, which had been carried out since 2015 by a joint United Nations-OPCW investigation in Syria until its renewal was vetoed by Russia in November.
"On Syria everything is blocked at the U.N. Security Council and in general we are seeing repeated and systematic flouting of multilateral frameworks, including proliferation of chemical weapons," said a senior French diplomat.
"We need a mechanism to apportion blame. Salisbury was a step too far."
Creating a global mechanism for accountability is also seen as important due to a rising number of incidents with nerve agent since they were banned two decades ago under an international treaty.
AMSTERDAM (Reuters) – Chemical weapons inspectors have returned from a mission to the Syrian town of Douma, where they took samples and interviewed witnesses to determine whether banned munitions were used in an attack last month, a diplomatic source said on Friday.
A team of experts from the Organization for the Prohibition of Chemical Weapons returned to the Netherlands on Thursday night after going to Damascus on April 14, the source said on condition of anonymity.
The suspected chemical attack prompted missile strikes by the United States, France and Britain on April 13 against several alleged chemical weapons facilities in Syria.
The OPCW is investigating the deaths of dozens of people in Douma, an enclave in Ghouta on the oustskrts of the Syrian capital, on April 7.
The United States and its allies say they were caused by chemical weapons, possibly a nerve agent, used by forces of the Russian-back government of President Bashar al-Assad.
BAGHDAD — Iraq's top Shiite cleric has warned that "foreign influence" in the upcoming national elections could undermine the country's ability to carry out a free and fair vote.
Grand Ayatollah Ali al-Sistani's message, delivered by his representative Sheikh Abdul-Mahdi al-Karbalai after Friday prayers in Karbala, emphasizes that Iraq's Shiite religious leadership does not support any one candidate or party.
Sistani is also calling on all Iraqis to vote in the elections, scheduled for May 12, but says votes should not be award to Iraqi officials currently in office who have proven to be ineffective or corrupt.
Sistani is one of the most respected voices in Iraq and after a fatwa he issued in 2014 that mobilized thousands to fight the Islamic State group, he launched a campaign against government corruption.
KABUL — Taliban fighters seized a district in Afghanistan's remote northern province of Badakhshan after several days of fierce fighting, officials said on Friday, as the insurgents pushed forward their annual spring offensive launched last month.
Fighting across Afghanistan has picked up in recent weeks with the return of warmer weather, putting government forces under pressure in several areas, underlining the risk to parliamentary and district council elections due in October.
Thursday night's loss of Kohistan, north of Fayzabad, the capital of Badakhshan, came after security forces failed to receive supplies or reinforcements and pulled out of district police headquarters, provincial police spokesman Sanaullah Rohani said.
A number of security posts in Teshkan district, to the south of Fayzabad, were also abandoned to the insurgents, who were stepping up pressure in the area, he said.
By Khaama Press on 05 May 2018 12:22pm .
The leader of Hezb-e-Islami Gulbudddin Hekmatyar claims that the foreign militants affiliated with the Islamic State of Iraq and Syria (ISIS) terrorist group are intruding into Afghanistan via Iran. He made the remarks while speaking during a gathering in northern Parwan province of Afghanistan. Hekmatyar said there are three types of militants currently operating under .
By Khaama Press on 05 May 2018 11:09am .
The Afghan armed forces pounded the Taliban hideouts with heavy artillery and airstrikes in northeastern Badakhshan province of Afghanistan. The 209th Shaheen Corps of the Afghan Military in the North said at least seven militants were killed and seven others were wounded during the operations. The source further added that six militants were killed in
By Khaama Press on 05 May 2018 9:46am .
At least ten civilians who were kidnapped by the militants affiliated with the ISIS terrorist group have been rescued in eastern Nangarhar province of Afghanistan. The provincial government media office in a statement said the civilians belonged to Chaparhar district of Nangarhar province and were abducted six days ago. The statement further added that the .
By Khaama Press on 05 May 2018 9:24am .
The Chief Executive of Jamiat Islami Ata Mohammad Noor says the new political coalition will soon declare its existence in capital Kabul. In a statement posted after the political agreement between political figures and elders, Noor said the new coalition is relatively larger than the previously agreed coalition. He says the political figures and elders.
War Casualties By Name – Search by Name:

Recent Casualties:
Color Denotes Today's Confirmation
The Department of Defense announced today the death of a soldier who was supporting Operation Freedom's Sentinel.
Spc. Gabriel D. Conde, 22, of Loveland, Colorado, was killed in action April 30 as a result of enemy small arms fire in Tagab District, Afghanistan. The incident is under investign.
Conde was assigned to 3rd Battalion, 509th Infantry Regiment, 4th Infantry Brigade Combat Team (Airborne), 25th Infantry Division, U.S. Army Alaska, Joint Base Elmendorf-Richardson, Alaska.
The Department of Defense announced today the death of a soldier who was supporting Operation Inherent Resolve.
Master Sgt. Jonathan J. Dunbar, 36, of Austin, Texas, died March 30 in Manbij, Syria as a result of injuries when an improvised explosive device (IED) detonated near his patrol. The incident is under investigation. Dunbar was assigned to Headquarters, U.S. Army Special Operations Command, Ft Bragg, North Carolina.
.

Care for Veterans:
PTSD: National Center for PTSDPTSD Care for Veterans, Military, and FamiliesSee Help for Veterans with PTSD to learn how to enroll for VA health care and get an assessment.
All VA Medical Centers provide PTSD care, as well as many VA clinics.Some VA's have programs specializing in PTSD treatment. Use the VA PTSD ProgramLocator to find a PTSD program.If you are a war Veteran, find a Vet Center to help with the transition from military to civilian life.